MURFREESBORO, Tennessee — Storefronts are boarded up in this quiet town of 108,000 about a half hour southeast of Nashville as the town awaits an unwelcome visitor: a parade and rally of white supremacists hoping to open up old wounds and inflame lingering anti-immigrant sentiment in the region.
An array of neo-Nazi and white supremacist groups such as Vanguard America, the Traditionalist Youth Network, and League of the South will gather Saturday under the "White Lives Matter" banner on Saturday. Organizers have planned twin rallies; one in rural Shelbyville, about 30 minutes south of Murfreesboro, and then Murfreesboro itself for another rally later in the day.
It's no accident that they picked middle Tennessee as the venue for what some groups are billing as their first official gathering since August's violent "Unite the Right" rally Charlottesville.
An uptick in the region's immigrant population over the past decade, a refugee resettlement program, and the construction of Islamic center have stirred resentment among an increasingly disaffected white working class. Hate groups and anti-immigrant activists have viewed towns like Murfreesboro and nearby Shelbyville, which have undergone recent demographic shifts, as fertile ground for their messaging.
The week before the event, Mayor Shane McFarland warned the community that the rally organizers had obtained permits for the event, but stressed that in no way means the town, or its people, are endorsing it.
"The City, as is the case for all governmental entities, is very limited in its ability to restrict the content of any speech in a public area," McFarland said. "We want to condemn in no uncertain terms the ideology of white nationalists and white supremacists who are planning to bring their ideas to Murfreesboro."
READ: This protester shot at by Nazis in Gainesville tells his story
On Friday night, Solomon Smith, 24, was one of many residents helping board up storefronts in anticipation of violence on Saturday. "Murfreesboro is relatively progressive," he said. "It could be worse. I mean, it's the south, but racism here is more about subtleties, confederate flags and such. Also there are some places where I know I'm not welcome."
Murfreesboro made national headlines in 2010, when a proposed mosque turned the quiet Tennessee town into an ideological battleground for anti-Islam activists, such as Pamela Geller and neo-Conservative Frank Gaffney. It also became a political football, as the proposal coincided with the GOP primaries.
A GOP candidate for Tennessee's 6th congressional district Lou Ann Zelenik, a GOP candidate, called the proposed mosque an "Islamic training center" whose purpose was to "fracture the moral and political foundation of Middle Tennessee."
Similar rhetoric came out of the mouths of elected officials. "You could even argue whether being a Muslim is actually a religion," said Tennessee Lt. Gov. Ron Ramsey, who at the time was running for Governor. "Or is it a nationality, way of life, a cult, whatever you want to call it." In late August 2010, arsonists set fire to the mosque's construction site.
Residents of Rutherford County even sued county officials, saying they were wrong to approve a permit for the construction of a new Islamic Center because Islam was "an ideology," not a religion.
The Justice Department's Civil Rights Division ultimately weighed in, throwing its support behind the mosque. The DOJ even had to file a brief affirming that, in fact, Islam is considered a major world religion.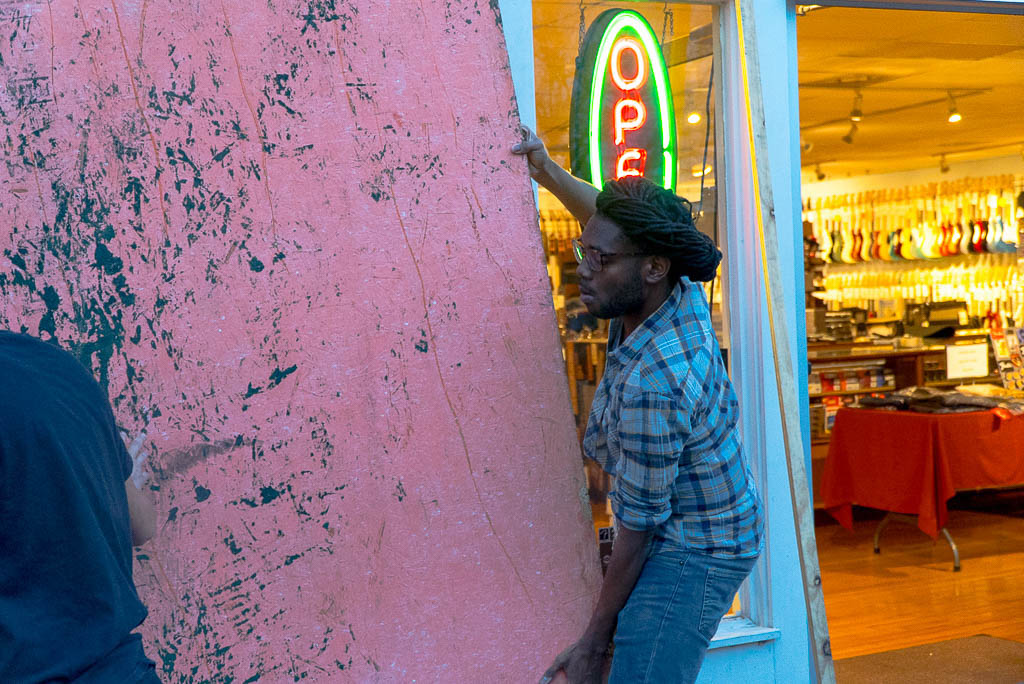 Saleh Sbenaty, a Syrian engineering professor at Middle Tennessee State University and spokesperson for the Islamic Center has lived in Murfreesboro for more than 25 years — said that until then, he'd rarely experienced hostility, even in the wake of 9/11 as hate crimes against Muslims soared.
"My experience was overwhelmingly positive," Sbenaty said. "Here we turned that terrorist attack and ugly incident into an opportunity where we extended our hand to others in the community and others extended their hands back to us. We were invited to churches, invited to form multifaith councils."
The mosque opened finally in 2012 — but since then, it has been far from smooth sailing.
White supremacists held similar twin rallies in Murfreesboro and Shelbyville in 2013. There were about 60 who showed up that time, and faced off with around 120 counterprotesters. The mosque has been a frequent target of hate and vandalism. Sbenaty said he experienced an uptick in Islamophobic incidents in the wake of the 2016 election.
READ: White supremacist shut down a Florida town for nothing
In September, a federal grand jury indicted a young man from Murfreesboro for his alleged involvement in a July incident where two vandals graffitied the mosque with offensive slurs and put bacon around the entrances. "Both men wore masks during the crime to conceal their identities," stated a press release from the office of acting U.S. attorney Jack Smith. "Including a World-War-II-era Nazi gas mask."
"The community is scared," Sbenaty said. 'It's really strange to see ourselves being held hostage by a small group. This is not the United States. We live in the 21st century, in the leader of the free world. We are now being held hostage by a small group of thugs, neo-Nazis and white supremacists? This is nonsense."
Nearly 33,000 people immigrated to Tennessee between 2010 and 2014, according to a recent study by New American Economy, a coalition of business leaders and mayors. In 1990, foreign born immigrants once made up a little more than 1 percent of the state's population. Today, they comprise approximately 5 percent of the population — still in the minority, but a noticeable enough uptick to make waves.
By 2012, the Nashville metropolitan area had the fastest-growing immigrant population of any American city, and was home to the country's biggest Kurdish population, as well as to large numbers from other countries, including Somalia and Sudan, according to a 2015 article in the Tennessean.
More recently, a shooting by a Sudanese immigrant from Murfreesboro at a predominantly white church in nearby Antioch left one woman dead and seven injured. Organizers of the "White Lives Matter" rally have seized on that tragedy to stoke lingering anti-immigrant hostilities, claiming that the shooter was acting in retaliation for the 2015 Dylann Roof shooting at a black church in Charleston, which left nine dead.
In that case, Roof was a self-avowed white supremacist who wanted to start a race war. The motive for the shooter in Antioch is unclear, but the fact that it received less attention "illustrated that the national media only cares about pushing its false narrative of White racism and black victimhood," the event page states.
This weekend, it's not clear how many neo-Nazi sympathizers will convene in Middle Tennessee; estimates range from a few dozen, to a couple hundred. A strong counter-protester contingent is expected, particularly given the large student population in Murfreesboro and the proximity of Nashville.
For those who don't want to be part of the chaos, a coalition of activist groups under the banner "#MurfreesboroLoves" have organized alternative events — suitable for families, or for undocumented immigrants who worry about coming into contact with law enforcement — such as a cookout and picnic, and a peaceful march elsewhere in town.
A group that's affiliated with the Islamic Center called "Murfreesboro Youth" is planning to deliver support to law enforcement throughout the weekend in the form of snacks, bottled water and individually packaged lunches on Saturday.