When Russian pop star Emin Agalarov hit the stage at the 2013 Miss Universe pageant in Moscow, Bob Van Ronkel sat watching his longtime acquaintance from the front row. As Agalarov broke into his hit "In Another Life," Van Ronkel looked to his left. There, a few seats away, sat the pageant co-owner: Donald Trump.
Later that night, Van Ronkel wound up at a vodka-soaked afterparty with Trump, Emin, and Emin's billionaire father, Aras. Trump was "shaking hands and meeting anyone he could and trying to do business," Van Ronkel says. Nobody appeared to be discussing politics.
But this week it was reported that the Agalarovs, along with Englishman Rob Goldstone, a publicist who has represented Emin and who promoted the Moscow Miss Universe pageant, allegedly brokered a meeting in June 2016 between Donald Trump Jr. and a woman Goldstone said was a "Russian government attorney" with incriminating information about Hillary Clinton that could help Trump Sr.'s campaign for president.
As his emails show, Trump Jr. was eager to talk to her.
The meeting, also attended by Jared Kushner and then–Trump campaign manager Paul Manafort, came not long after Trump secured the Republican nomination for president, a candidacy U.S. intelligence agencies say was supported by Russian President Vladimir Putin and his country's meddling in the election. Now, amid raging controversy, Trump Jr. has reportedly been asked to testify about the encounter before the Senate Judiciary Committee.
Van Ronkel recently moved to Las Vegas after spending 15 years as a celebrity fixer in Moscow. As part of his job introducing Russian oligarchs to Hollywood stars, he says he arranged Steven Seagal's 2003 trip to Russia during which he met Putin, who would later personally present the actor with a Russian passport.
And Van Ronkel isn't sure the story of the Trump Jr. meeting adds up.
"Knowing Russia the way I do, I think it's strange that you'd go to the Agalarovs, if you're anybody, to get to Donald," Van Ronkel said. "Nobody with any power would do that."
Experts who spoke to VICE News, including a former senior diplomatic envoy to Russia, Kremlinologists, academics, and intelligence specialists, tend to agree, saying that while it's possible Goldstone and the others were actors in an intricate Kremlin plot, the miscellaneous cast of characters and low-level operational security make that version of events seem suspect. Goldstone and others involved with the June meeting may simply have been opportunists pursuing their own private agendas — or a uniquely Russian combination of personal and Kremlin interests.
"This is a professional operation. Coincidence takes a lots of planning."
"The boundaries of who is and who is not representing the Russian state are often blurry by design," said Timothy Frey, a professor of post-Soviet foreign policy who chairs the department of political science at Columbia University. "This creates plausible deniability for powerful Kremlin figures, but it also creates space for freelancers to trade on the name of a state patron."
One person who believes it is a meticulously planned intelligence plot is Malcolm Nance, a career Naval counterterrorism intelligence operative and cryptologist.
"None of this is amateur hour," he said. "This is a professional operation."
Nance, author of "The Plot to Hack America" about Russian involvement in the 2016 campaign, says it would actually make sense for the Agalarovs to be used to reach Trump because they were the Russians who Trump appeared to know best.
"The Russians are working an operation that takes the form of water running down a rock field — it flows through all the easiest paths," Nance said, referring to the many different touch-points that have emerged between the Trump campaign and the Russian government. "You've got primary, secondary, and backup pathways of information. It's fucking brilliant. Coincidence takes a lots of planning."
Yet the architects of the Trump Tower meeting sound more like characters out of a Coen brothers film than agents of a grand conspiracy to undermine America's elections. Goldstone, a former tabloid journalist with an outlandish social media presence, once penned an article for the New York Times about the perils of "Traveling While Fat." Emin Agalarov is known as "Russia's Ricky Martin," and his father as the "Donald Trump of Russia."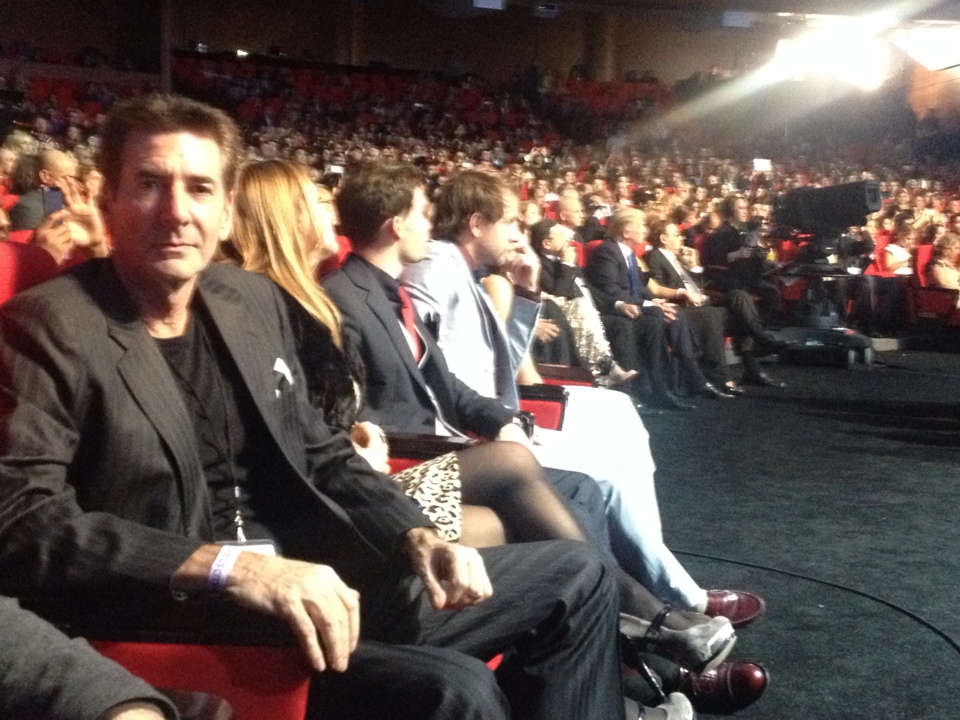 The Agalarovs have said they first met Trump after Emin made a music video in 2012 for his song "Amor" that featured Venezuela's Olivia Culpo, Miss Universe 2012. During the shoot, "we got pretty close with the Miss Universe organization," Emin told Forbes in February. It was then, according to Emin, that he started a conversation about bringing Miss Universe to his family's 7,500-seat Moscow venue, Crocus City Hall.
At Trump's invitation, Emin says, he and his father later flew to Las Vegas, where they agreed to hold the 2013 Miss Universe in Russia. Footage from that time released this week shows Trump having dinner with the Agalarovs. At one point during the dinner, Trump leans over to talk to a heavyset man — Goldstone.
Whatever role the Agalarovs and Goldstone played, the key to figuring out what happened at the meeting with Trump Jr. may be figuring out the true relationship to the Kremlin enjoyed by Natalia Veselnitskaya, the lawyer with whom the Trump team met. In the emails released by Trump Jr., Goldstone says Emin asked him to set up a meeting with her. Veselnitskaya hasn't said how she was connected to Goldstone, although she told NBC that she's never met Emin.
On Friday Russian-American lobbyist Rinat Akhmetshin revealed that he too accompanied Veselnitskaya to the Trump Tower meeting. Akhmetshin told the AP that his rumored ongoing ties to Russian intelligence agencies was a "smear campaign," but confirmed he served in a Soviet military unit affiliated with counterintelligence.
Since the meeting came to light, Veselnitskaya has maintained that she wasn't working for the Russian government, and that she simply wanted to talk about the Magnitsky Act, an Obama-era U.S. law that allows Washington to impose sanctions on Russian officials accused of human rights violations.
Michael McFaul, Obama's ambassador to Russia, tweeted Tuesday: "I find it hard to believe she would have a meeting with the Trump campaign at that level & have NO contact with the govt." And experts have said that Veselnitskaya may have indeed been intending to talk about the Magnitsky Act — but she may have also let the Kremlin know she was having the meeting.
"There's a range of possibilities," said Stephen Sestanovich, ambassador-at-large to the former Soviet States under Bill Clinton, and adviser to ex-Secretary of State Madeleine Albright. "She could be a complete freelancer, or she could be a completely controlled instrument of Kremlin policy. And if the two extremes are plausible, why isn't everything in between?"
"If you're trying to score a meeting, you don't show up and say, 'Hello, I'm a mid-ranking semi-nobody.'"
Lawyers representing Goldstone, the Agalarovs, and Trump Jr. did not respond to requests for comment for this story. Veselnitskaya could not be reached. Emin Agalarov's manager, Ric Salmon, wouldn't comment on the Trump Jr. meeting, but told VICE News that Emin is "releasing a current album. He's getting on with his life. There's nothing else more to it. He's focused on his music career."
Salmon said Goldstone stopped working with Emin "at the end of last year."
There's yet another possibility of how the meeting came to be: Veselnitskaya may have claimed government connections she didn't have in order to get her foot in the door at Trump Tower. Private players in Russia often try to puff up their relationship with Kremlin's ruling elite in order to enhance their positions, says Mark Galeotti, senior researcher at the Institute for International Relations Prague who's been studying Russian politics and security issues since the 1980s.
"This is how you do business in Russia; you imply you have close friends in the Kremlin," Galeotti said. "If you're trying to score a meeting, you don't show up and say, 'Hello, I'm a mid-ranking semi-nobody.'"
Chris Weafer, a consultant with 19 years in Moscow who advises global companies on how to thrive in Russia, put it this way: "If Putin were to invite all the people who have claimed to be part of his inner circle around for afternoon tea, he'd need to use [81,000-seat] Luzhniki Stadium."
The ultimate goal of claiming close ties with the Kremlin may be exactly that — forging close ties with the Kremlin. Galeotti says people often attempt to make themselves appear important and interesting enough for Putin to notice them and decide he wants them on his team. In the process, the line between private and state interests becomes blurred.
"As far as Putin is concerned," Galeotti said, "everyone and everything in Russia is there for the state to use when the state needs it."