CAPE TOWN — South African President Jacob Zuma is facing massive protests and public backlash after he abruptly axed finance minister Pravin Gordhan last week, infuriating business leaders and citizens, and plunging the South African rand into a free fall.
Protesters took to the streets Friday, as opposition from all sides grows by the day, with a staggering 70 percent of South Africans saying the president should resign and a parliamentary vote of no confidence scheduled for April 18.
The firing of Gordhan, widely respected as a bulwark protecting South Africa from what opposition groups have labeled a full state capture by Zuma's cronies, has sparked fierce criticism from within the ruling African National Congress party, the opposition, and ordinary South Africans.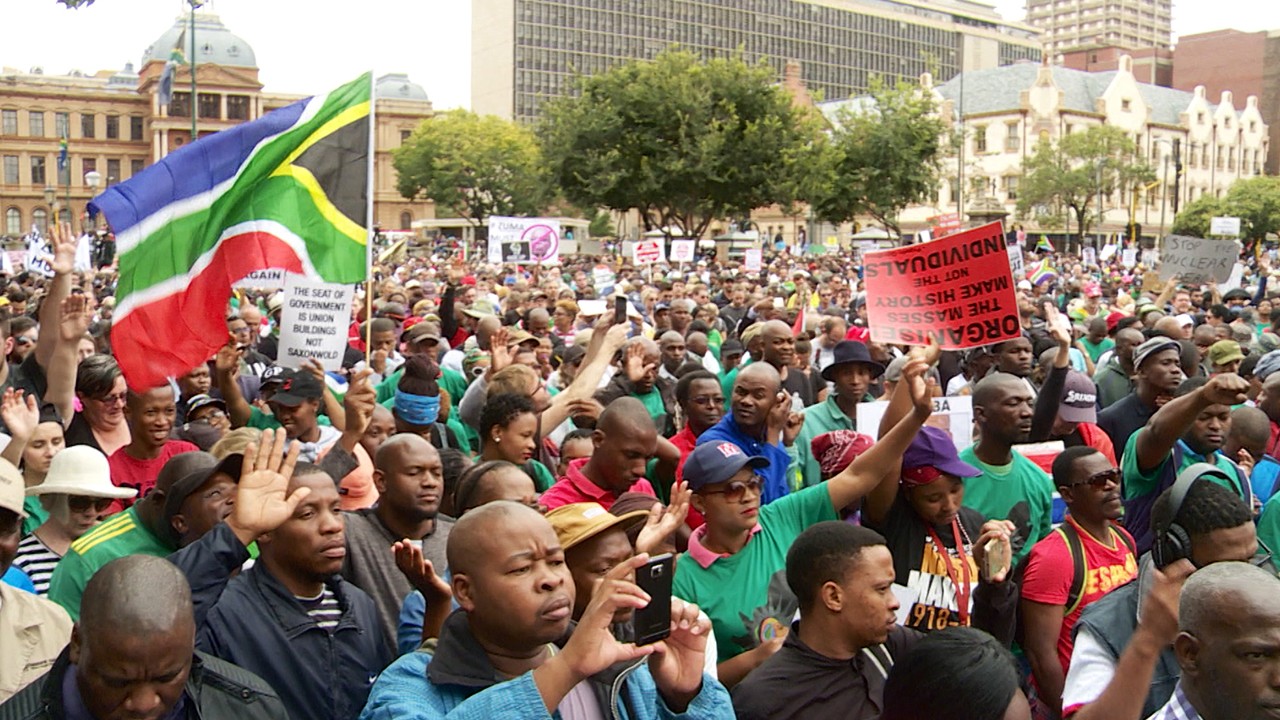 "There is a breaking point, and there are many people who've never protested before who are now participating," protester Alexander Sawas said to VICE News. Along with thousands of South Africans, Sawas marched in protests swelling by the hour, calling for Zuma's resignation.
Marches targeted government buildings, roads and highways were blocked by trucks draped in anti-Zuma flags, and protesters formed human chains in major city centers across the country, holding signs saying #Zumamustfall.
In Johannesburg and in the president's home region Kwazulu-Natal, police clashed with Zuma supporters trying to reach otherwise peaceful protests. Rubber bullets were reportedly fired by police, with one person said to be detained.
Gordhan's departure, and the insertion of Zuma loyalist and former interior minister Malusi Gigaba is meant to "bring about radical socioeconomic transformation" to South Africa, Zuma said.
The South African rand dropped to the level of early December 2015, when Zuma shuffled through three finance ministers in four days before appointing Gordhan, who managed to steady the shaky currency.
Commentators like South African political analyst Ralph Mathekga believe Zuma, serving since 2009, will now try to impose his populistic policies to regain support for the scandalized ANC party, which has been reeling since its devastating defeat in last summer's local elections.
"That is happening already, talks of radical transformation of land distribution, for example, and that is just one element," Mathekga told VICE News. Zuma has recently promoted the idea of expropriation without compensation.
Daniel Silke, a South African political analyst, also emphasizes land expropriation without compensation as the most attention-grabbing among what he labels populistic policies. "Others include opening a new state bank, entrenching black empowerment by regulating business ownership, and the loosely defined idea of using levers of the state to reduce inequality," he says to VICE News, noting that Zuma will struggle to implement these with the current strains on the treasury.
Many pundits, critics, and political opponents like Mmusi Maimane, leader of the biggest opposition party Democratic Alliance, fear that local business tycoons and friends of Zuma will bank on state-financed activities. He's labeled Zuma's recent Cabinet reshuffle "an act of complete state capture."
Analysts like Mathekga believe that Zuma is ultimately focusing on his legacy and setting up to choose his own successor as he faces looming corruption charges.
"That is the bigger plan. Nobody wants to be on the losing side, and the firing of Gordhan gives him the upper hand in that game," Mathekga says.
The rand tanks
The sacking of Gordhan caused the South African rand to plummet, further dragging down the stagnated South African economy and costing banks 61 billion rand ($4 billion U.S. dollars) so far. Bad turned to worse this week, with credit agencies Standard & Poor and Fitch both downgrading South Africa's credit rating to junk, and Moody's placing South Africa under review for a downgrade.
In a heavily criticized response to the downgrade, new finance minister Gigaba, under fire for withholding knowledge of the downgrade over the weekend, suggested that "reducing reliance on foreign savings to fund investment and relying less on debt to finance public expenditure will secure South Africa's fiscal sovereignty and economic independence."
Gigaba's comments, among his first as finance minister, mirrored his boss's rhetoric. Zuma has previously espoused conspiracy theories to deflect from criticism. In March last year the beleaguered president claimed that "white monopoly capital" had orchestrated moves to topple him.
Gigaba's response was described by some South African economists as "compiled by someone who doesn't know anything about economics."
Analyst Ralph Mathekga agrees with that assessment: "We are an economy interlinked with the global community. Gigaba fails to understand the importance of that."
Shortly after his firing last Friday, Gordhan hosted a press conference encouraging people to organize.
Only days before being sacked, Gordhan attended the memorial service of the late anti-apartheid icon Ahmed Kathrada. Gordhan used his memorial speech to warn South Africans of a streak of authoritarianism creeping into the system.
As the service turned into a de facto political rally, Barbara Hogan, former minister of health and the widow of Kathrada, addressed the absent Zuma in her eulogy, saying he had sacrificed everything the movement stood for on the altar of corruption and greed, and pleading the president to step down.
It was a plea reiterated by numerous ANC veterans this week, underlining the clear divisions in the ANC. Besides numerous ANC icons, decadeslong ally, the South African Communist Party, also denounced Zuma.
In an attempt to close ranks, ANC Secretary-General Gwede Mantashe, who's usually critical of the president, yesterday stated that the party accepts Zuma's explanation of Gordhan's sacking.
ANC in crisis
Despite having a majority in Parliament, Nelson Mandela's ANC party finds itself in what analysts and pundits describe as perhaps the biggest crisis since rising to power in South Africa's first democratic election in 1994.
Worried ANC veterans last week released a document posing the question: "How can we, as a nation, lurch from crisis to crisis' and state there is no crisis?"
Cyril Ramaphosa, vice president and leading contender for succeeding Jacob Zuma, used the sacking of Gordhan to launch what could be interpreted as an attack on the faltering president. In a speech delivered Saturday, Ramaphosa called the firing unacceptable, saying the moment has arrived to get rid of "greedy and corrupt" people.
Since 1994, the ANC has been part of a tripartite alliance with the Congress of South African Trade Unions and the South African Communist Party.
The two support parties have both called for Zuma to resign, while opposition party Democratic Alliance has initiated a vote of no confidence, relying on ANC parliament members to turn on the 74-year-old Zuma.
Zuma's tenure comes to an end in December this year as the ANC chooses their new leader, likely to become president after elections in 2019, but Zuma might leave office early.
Analysts say Zuma is under immense pressure, as people are openly coming out in unprecedented numbers saying they are willing to fight him. "The question is: How far are they willing to go? If opposition in the ANC coordinates with the public, then you have an historic alliance," Mathekga said
For his part, Sawas is ready: "This is a movement against the root of the problems in this country. The most unified push I've seen in South Africa for years."
Today, he joins thousands of South Africans in protests against their president, whose political luck may have finally run out.