Two NYPD detectives accused of raping an 18-year-old while she was handcuffed in the back of an unmarked police van walked out of Brooklyn Supreme Court on bail Monday. They had just pleaded not guilty to a 50-count indictment including charges of first-degree rape, second-degree kidnapping, and bribery after weeks of angry calls from local activists and the accuser herself for justice.
"If you can be raped by cops and they can walk out the door, it's just open season on women," said Sonia Ossorio, president of the National Organization for Women's New York chapter. She called the indictment a positive step but said she was outraged the men hadn't been kicked off the force immediately.
The NYPD confirmed to VICE that Detectives Edward Martins and Richard Hall of the Brooklyn South Narcotics Division were demoted to the rank of police officer and suspended without pay on Friday. That was exactly six weeks after they kidnapped and attacked the woman in the back of their Dodge Charger on September 15, prosecutors said Monday.
According to the Brooklyn District Attorney's office, the detectives abandoned a buy-and-bust drug operation in Coney Island and stopped the teenager while she was driving with two young men in Calvert Vaux Park in Gravesend. After she admitted she had some loose pills of Klonopin and a small amount of marijuana, she was cuffed and forced to call her friends from the phone of a detective so they could be instructed not to follow her, the indictment said.
"[Martins] said they were freaks and [asked] what did she want to do to get out of her desk ticket [for the drugs]," Assistant DA Frank DeGaetano recounted in court Monday. "Instead of uncuffing the complainant, [Martins] made the cuffs tighter."
---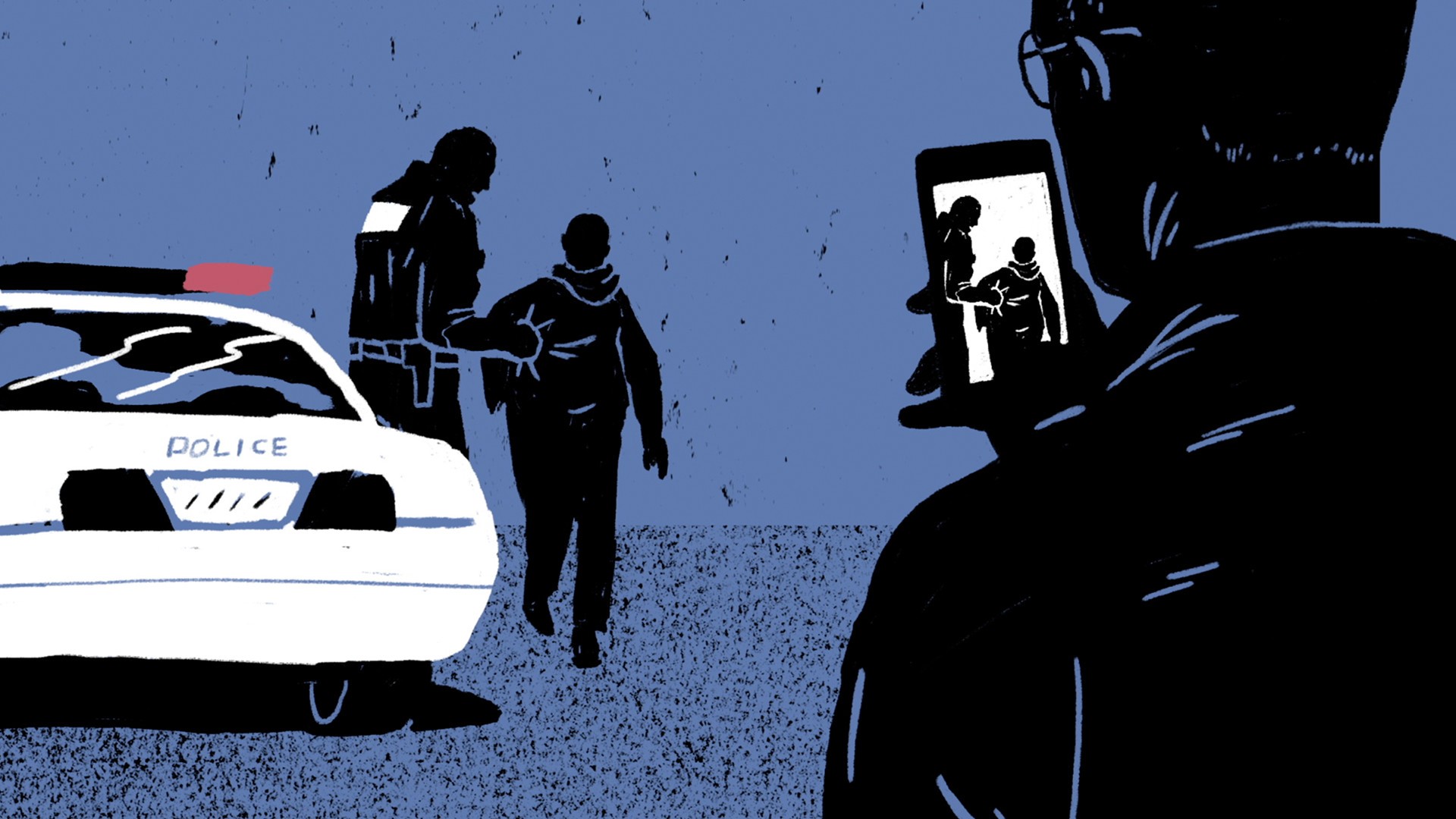 ---
Martins then forced the woman to perform oral sex on him before raping her while she cried for him to stop, DeGaetano said. Afterward, Hall stopped the van in the parking lot of the Chipotle on Cropsey Avenue, climbed into the third row, and "held her head onto his penis until he ejaculated into her mouth," the prosecutor charged.
Acting Brooklyn district attorney Eric Gonzalez called the crime "a real betrayal of their badge," while the woman's lawyer, Michael David, said it was "the worst [case of police misconduct] I've ever seen."
But nightmarish accounts of rape by police are nothing new to the NYPD. Like other forms of brutality and abuse, they occur in New York and around the country with troubling regularity, as in the 2015 case of Oklahoma City police officer Daniel Holtzclaw, who was convicted on 18 charges of rape, sexual battery, and oral sodomy, among others.
Yet rarely has a police rape case—or a complainant—so thoroughly captured the public imagination.
The saga's prominence owes partly to the simmering outrage over Manhattan district attorney Cy Vance's handling of sexual assault allegations against Harvey Weinstein at a time when sexual harassers and assailants are under real scrutiny. But what makes it truly unique is the very public accuser who tweets daily about her case under the name Anna Chambers.
"Since my pic was blasted everywhere… How disgusting," the woman tweeted Monday afternoon as pictures of the accused officers circulated online. In an era of #metoo, her account is testing the limits of what it means to be a public survivor.
"I believe she's particularly brave," Gonzalez said in reference to the outspoken Twitter account on Monday. "Many young people choose to express themselves that way, and I stand behind her."
Of course, attorneys for the two disgraced officers have been following the woman's social feeds as well. John Arlia, who represents Hall, cited an alleged exchange in her Twitter mentions about the precise legality of consent while in custody as evidence of quid-pro-quo with the officers for her release on the drug arrest. Martins's attorney Mark Bederow, for his part, claimed the woman's social media feeds contain "substantial evidence that we believe respectfully will undermine her credibility—and I'm not talking about photographs."
The attorneys said the bribery charge supports their narrative of quid pro quo, which would appear to be the only other remotely plausible explanation to offer for the detectives' DNA matching with the victim's rape kit, as has been previously reported. The idea that anyone could legally consent to sex while in police custody defies moral logic, but in New York, as in much of the country, it's the law.
Chambers frequently retweets activists who say the power differential between a police officer and someone in custody make consent impossible—"that she's incapable of consent because she's under arrest," as Gonzalez put it. Indeed, New York State law says sexual contact between a corrections worker and an inmate, or someone detained in jail, is always illegal for precisely this reason.
But such protection "does not exist currently" for those in police custody, Gonzalez said, noting that his office has been inundated with inquiries from politicians looking to change that, a move he called "a good idea." As the law stands now, DNA evidence alone can't prove that what happened to Chambers was illegal.
Meanwhile, it's the focus on Chambers's photos that have earned the most public ire. Early news reports overlaying the allegations' grim details onto mirror selfies of the complainant in a green bikini sparked fury from activists and wounded outrage from the survivor.
"Fucking sickening how you try to smear me as if I dont have enough to deal with!!!!" she tweeted on October 22, in response to a story about her "provocative" selfies.
But just as New York law holds that sex in custody can be consensual, so too are selfies sometimes admissible as evidence, albeit not in the way you might expect.
"The victim's sexy selfies will only be admissible in court if the photos demonstrate a motive for her to be lying," said Andrew Cherkasky, a former military prosecutor turned defense attorney who specializes in rape and sexual assault cases. He said rape-shield laws in New York and elsewhere protect a complainant's sexual history, their photographs and how they dress from most legal scrutiny. "But where the behavior informs the suspect's belief that the victim was consenting, the evidence is likely to be admissible," he added.
It's hard to imagine the accuser's self-portraits will clear that bar. But her prolific posts since September may perversely serve to bolster the defense, even as they draw her support and accolades from around the globe.
"In some cases, victims post stories about their victimization—if that story is different than what they told police, that posting will be used to demonstrate a lack of credibility," Cherkasky continued. "If sexualized posts boast or brag about how the victim is going to "get back at" or "get money" from their victimization, that too would be admissible in most situations."
Both Arlia and Bederow suggested to the judge Monday that's exactly what Chambers has done.
The defense's strategy aside, even with compelling evidence, the fact remains that it's been remarkably difficult for New York prosecutors to prove police-involved rape cases over the years.
The cop who admitted to sodomizing Abner Louima with a broom handle in 1997 pleaded guilty mid-trial, but three officers convicted of obstructing justice (and, in one case, violating his civi rights) later saw their convictions overturned. The attorney who defended Officer Michael Pena for the gunpoint assault of a 25-year-old school teacher initially won a mistrial on multiple counts despite the fact that his client was arrested in the act and his semen was found in the victim's underwear. Prosecutors apparently couldn't prove he'd actually inserted his penis into her vagina.
Pena eventually pleaded guilty to first-degree rape and is currently serving 75 years to life in prison. But Kenneth Moreno, who was acquitted of all serious charges in the 2011 case in which he and Franklin Mata claimed they only "cuddled" with the woman who accused them of rape, went on to file suit against his accuser and the city.
"That had a profound effect on how New Yorkers felt about cops," Ossario said.
She suggested the Coney Island case could be decisive in shaping long-term public opinion about Gonzalez, who just won a crowded Democratic primary that included challengers critiquing him from the left on criminal-justice issues.
"It's a real test for him," she said. "They have to win."
Follow Sonja Sharp on Twitter.