It started like a regular Monday night. At some point, Tom Hanks' oldest and most successful son sat down in front of his record player. He wanted to feel … something. That jolt when an album knocks its way around inside your brain like a too-drunk lad stumbling by the bar and yells I'VE ARRIVED. He wanted a rock-solid run of at least three consecutive bangers.
Then he saw it. U2's Joshua Tree, which Dad had given young Colin Hanks for his 15th birthday. The needle hit its A-side, and the chords of "Where the Streets Have No Name" crescendoed. Then "Still Haven't Found What I'm Looking For" followed. "No, no more! It's just too good" he howled, as "With or Without You" completed the opening trifecta.
He grabbed for his phone, fired up Twitter. "Look at the first 3 tracks on @U2's Joshua Tree," he tapped out on the screen. "There another album on earth that opens with THREE timeless anthems? Don't think so." And that's how he, master Hanks, asked the gaping void of the internet to try and find a better contender for an album that opens with three equally strong tracks. In his own words: "Each MASSIVE songs. Each could open an album." The other criteria for this totally arbitrary status given to Bono and co? "Those three opening tracks are quintessential U2 songs. Each one as powerful and popular as the other. It's like a trilogy with no weak link." But come on m8, here are better options off the top of our heads.
BARENAKED LADIES – STUNT
I'm not going to pretend I gave this more thought than opening iTunes and seeing Barenaked Ladies Stunt sitting in front of me, but let's have it. "One Week", "It's All Been Done Before", "Light Up My Room" – probably the greatest hat-trick since Robbie Fowler smashed in three against an unwitting Southampton in 1993 or the last time your mother bought three items in one day at a DFS. Golden. RYAN BASSIL
COHEED & CAMBRIA – IN KEEPING SECRETS OF SILENT EARTH: 3
Bangers, is it? It's bangers you want? Then name a more iconic alt-rock trio, and I most certainly will wait. Each of these could easily open an album too, whether all eight goddamn minutes of "In Keeping" or "Cuts Marked" with its bouncy 3/4 time signature while Claudio Sanchez sings about whatever beautiful gibberish related to the album/graphic novel's storyline. TSHEPO MOKOENA
LE TIGRE – LE TIGRE
IDGAF, if you'd rather hear Bono – a man who can be seen here wearing spherical grape-coloured sunglasses and shaking the hand of Mike Pence – wail and hock his way through "The Streets Have No Name" instead of the opening drum pummels of "Deceptacon" by Le Tigre then you need take a good look around you, see if there are any seats and then take several of them. DAISY JONES.
EMINEM – THE MARSHALL MATHERS LP
So, I don't feel great about this. However… I mean, let's just break it down real quick. Without "Public Service Announcement 2000", Tyler, the Creator's early discography would look a whole lot different, so we have Eminem to thank – or not, as the case may be – for that. "Kill You" is either a playfully self-aware and beautifully constructed piece of social commentary that cuts right to the heart of the suburban American zeitgeist at the turn of the millennium, or an MRA manifesto. And I can't begin to fathom the conversation that brought rap's own Leatherface into a creative partnership with a wispy-voiced English rose so bland she might as well be an egg sandwich in a flipped bob wig, but "Stan" is one of the most powerful collaborations this side of Santana and Rob Thomas of Matchbox Twenty. Fight me. EMMA GARLAND
DAFT PUNK – DISCOVERY
Picture your 11-year-old self in your bedroom. Visualise the first time you hear the first three tracks of Daft Punk's Discovery on your headphones. Suddenly your legs are lifting off the floor. One more time you gonna celebrate. No, not just one more time, a thousand more times, don't let it ever end. This is like nothing else. This is a shiny plastic heaven. You're aerodynamic now, soaring through the yellow-flecked, purple-scored galaxy in your pants like Astro Boy. You no longer know where voice ends and guitar solo begins. The bell tolls, your heels thud on the floor as you dance wildly on star beams. Your parents tut below – that racket is ruining Monarch of the Glen – but you don't give a crap! You are in digital love, and this spell will never be broken.
So, yes, Discovery by Daft Punk has the best three opening tracks of any album ever. ANGUS HARRISON
SPICE GIRLS – SPICEWORLD
If you did not immediately trap a nerve due to the force with which you threw your head back in delight and agreement upon viewing this entry, I can't help you. EMMA GARLAND
BRITNEY SPEARS – …BABY ONE MORE TIME
In Christianity, God isn't one person, but three – the Father, Son and Holy Spirit. I would like to posit that Britney Spears, is also three people, and the three opening tracks from her very first album ..Baby One More Time tell us a bit about each of those personas. The title track is Sexy Britney (also seen: everywhere); "(You Drive Me) Crazy" is Fun Party Britney (also seen: "Me Against the Music," "Circus," etc.); and "Sometimes" is inward-looking, Sombre Britney ("Everytime," "Perfume"). Now please, hand me my Theology degree. LAUREN O'NEILL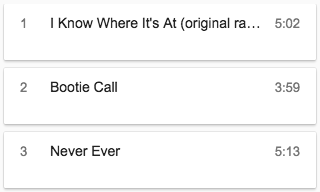 TELL ME I'M WRONG, COLIN. TELL ME I'M WRONG. TSHEPO MOKOENA
be your own PET – Be Your Own Pet
Not really enjoying all this dishing that's going on regarding Colin Hanks and his music taste, TBH. Are we not all Colin Hanks here, pulling up albums we enjoy, decreeing them to be godly harbingers of three-song-introductory specials? For example: here's another album I found on my iTunes that starts with three Very Good Songs. Are we not all heroes in our own story, begging for the unenlightened to follow us to the other side, believing in any one moment we are listening to the greatest music ever recorded, unsurpassable in its brilliance? Maybe just me and Colin. Good album though. RYAN BASSIL
CARLY RAE JEPSEN – E·MO·TION
When will your fave open their album with a sax solo so important it has its own seal meme? And when will your fave have the sense to follow up that initial shot of pure pop adrenaline with something that "ostensibly takes things down a notch" while still managing to be the spiritual child of "Club Tropicana" by Wham! and Whitney Houston's "So Emotional"? Pray, when will that same fave end their trio of album openers with a single that laughed in the face of every idiot who dared to even think of her as a one-hit-wonder, featuring a chorus that lyrically ("did I say too much? / I'm so in my head / when we're out of touch) and sonically captures the exact, monumental, dizzying, sick-making feeling of having a crush?
Never, is the answer. Your fave can and will never. LAUREN O'NEILL
BLINK-182 – ENEMA OF THE STATE
Do you know how much fucking audacity you have to have to open an album with a track as hard as "Dumpweed"? Loads. Audacity coming out of your ears. So spoiled you must be for audacity that you should be required by law to donate the rest to an NGO. Imagine opening an album with something that can land you in hospital with shattered fingers because it is physically impossible not to drum on the nearest hard surface to, and then follow it up with two equally lethal compositions. I'm not sure if you're familiar with the rule of three, but the writing principle suggests that things introduced in threes are usually more hilarious, satisfying or engaging. It's pretty obvious to me that one of the most iconic music trios, to that end, is Mark, Tom and Travis. By that logic it's also pretty obvious to me that a trio of songs that perfectly encapsulate them all both individually and as a unit must be a trio of timeless anthems. EMMA GARLAND
LIGHTNING BOLT – WONDERFUL RAINBOW
Lightning Bolt are the best ever two-piece to ever exist – sorry, Robson and Jerome – and this is their undisputed Technicolour, whiplash-inducing masterpiece. Ever wanted to experience what it'd be like to be shoved into an industrial drying unit and rolled around an abattoir for 42 minutes? Great – this is the record for you. The opening run of "Hello Morning," "Assassins" and "Dracula Mountain" will have you communicating with God one-on-one. Actually, given just how abrasive it all is, it's more likely you're stuck on the sofa next to Satan himself, but when it sounds like every great metal record ever being chucked into a blender you won't care. JOSH BAINES
WHITNEY HOUSTON – I'M YOUR BABY TONIGHT
Whitney's voice is one of the most perfect musical instruments to have ever been recorded in the contemporary pop world. I won't hear anything to the contrary. Opener: banger with an frankly spectacular video (for both versions). Track two: If you didn't make up a dance routine to "My Name Is Not Susan" with your sibling(s) in your parent's bedroom while they were still at work then I'm sorry your childhood was so empty. Track three: gloves off, slow-jam Whitney with added minor chords and a key change. Timeless; don't so much as even think of @-ing me. TSHEPO MOKOENA
FALL OUT BOY – TAKE THIS TO YOUR GRAVE
Maybe objectively this one doesn't work so well, but Take This To Your Grave is one of those albums I "grew up with" so I'm choosing it anyway. "Tell That Mick," satisfies my type of dickhead music nerd-dom (it follows the early 2000s emo and hardcore trend of naming songs after lines from the movie Rushmore). "Dead on Arrival" propels you speedily along into the album's first big hit, "Grand Theft Autumn/Where Is Your Boy Tonight." If you've never known the joy of screaming to that song in a rock club with a mate or five swinging off you, then my friend, you have not known the joy of life. LAUREN O'NEILL
GWEN STEFANI – LOVE ANGEL MUSIC BABY
I'm sorry but is Colin Hanks actually using his words? Has he only ever heard one album in his life? Is he tripping? What was he fed as a kid? Because how could you even vaguely glance in the direction of U2's Joshua Tree when, in 2004, Gwen Stefani dropped her magnum opus Love Angel Music Baby, which opens with three bangers so cold they could turn Bono and The Edge into ice blocks the moment the words "take a chance you stupid hoe" come floating out of Gwen's mouth. The first three songs are entirely different genres. She ad-libs with actual sex noises and it doesn't sound gross. She made bananas more impactful than they already were. I feel passionately about this one. DAISY JONES.
BAD BRAINS – BAD BRAINS
Bad Brains changed punk forever in the same amount of time it took U2 to communicate "I'm sad" in a song so dull it's venerated by Ross Geller. Next. EMMA GARLAND
You can find Emma, Tshepo, Lauren, Ryan, Daisy, Angus and Josh on Twitter but you have to click their names to do so.