A nubby rock creature embarks on a journey, cartwheeling through a mystical painted world hinting at Far East aesthetics. The animation fuses the two artists' diverse backgrounds with the appeal of stop-motion animation, and joins a myriad of different mediums. Zétéo presents a dreamscape of supple ink paintings with traditional Chinese artifacts like blazing red fans and paper blossoms. In full, the short required 1,000 stop-motion shots and included mixed collage, watercolor, found objects, natural plants, sculpture. The animation's electronic score is also an original composition by the artists.
Having met by DJing together and later creating murals, an artistic partnership blossomed between Oakland artists Louis Chinn (AKA Jyun Jyun) and Meng Yu (AKA missTANGQ). A shared interest in exploring Platonic principles, celebrating their mixed heritages, and up-cycling their past artworks created a unique environment for collaboration. Creators spoke with the co-animators to answer a few questions about the short film's development: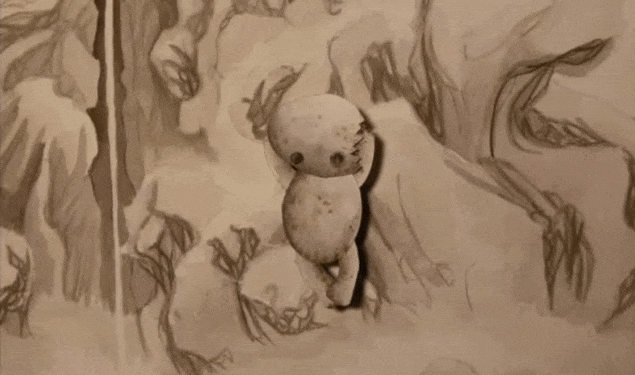 Creators: Can you tell us more about the materials you use, like the collage, watercolor, tropical plants, etc?
Jyun Jyun: For Zétéo, we actually created several versions of the rock characters in different materials. One version is a watercolor painting, the other is a clay sculpture, and the third is the real, original rock. So far, people have had a hard time telling which one is which! Some of the diversity comes from recycling found materials and also utilizing our previous artworks our collections.
Why are you interested in the concept of "zétéo" in Plato?
missTANGQ: We didn't start off creating Zétéo with the notion of interpreting this mythology from Plato's Symposium. Also, with Jyun being mixed-race and me being first-generation Chinese-American, we are fascinated by these stories of the hyphenated or in-between experience. In the inundated sea of the Information Age, we feel it is important to return to mythology, which acts like a compass that can provide us with the guiding stories of who we are.
How long did it take you to make this stop motion?
JJ: This animation took us over a month to complete. The process started with sourcing natural materials in Hawaii, and also in Washington and California, then moved onto researching the theme and concepts in the story, creating a visual story board, making all of the 2 dimensional and 3-dimensional art pieces in the video and then of course shooting each of the scenes. We had well over 1,000 shots in the animation before we started any editing.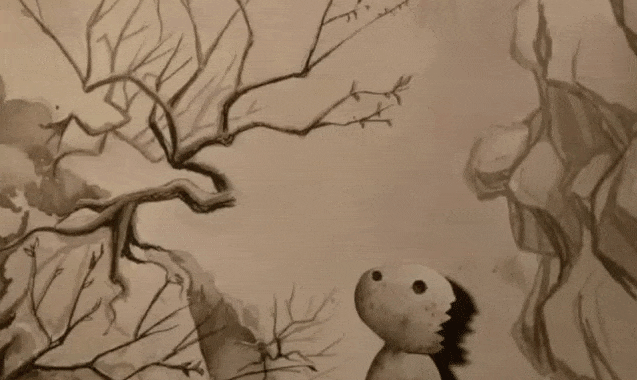 Why did you guys decide on such a time-consuming art form?
M: It's true—animation is an extremely time consuming and tedious process involving massive attention to detail in both the creation and editing. It can be very frustrating. Especially when you are using a minimal amount of computer/digital processing and doing all these micro-adjustments by hand. But no matter how many times I create an animation—there's a magic moment that appears at the end when you string all the frames together, and you gasp, 'It worked!' That moment when you see the work come to life, to literally "animate," hasn't ceased to surprise me. I really love that. I think there is also something special about stop motion to the viewer as well—you can feel the human presence in each frame, and at least subconsciously you are registering that human hands have touched each element.
JJ: Right now, we live in a highly digitized world, and often you can get immediate results and gratification using software programs. But in creating something that is time consuming, you are actually using time as a medium; time becomes a something that is felt, seen and experienced by the viewer. By using hand-made artwork and materials from nature, along with low-tech editing, all of the little imperfections create a sense of human warmth. We feel like that is a much-needed perspective right now, particularly for folks living in urban environments.
To see more from Zétéo and its artists, visit the short film's Vimeo page, here.
Related:
A Short Animation Bends Dimensions in Its Depiction of Family Drama
Adorably Spooky Stop-Motion Animation Explores Life After Debt