Photo by Mark J. Rebilas-USA TODAY Sports
The plan today was to take a look at the careers of Quinton 'Rampage' Jackson and Muhammad 'King Mo' Lawal. It might have focused on the "Why hasn't King Mo reached his potential?" angle, or it might have been a "the decline of Rampage" piece, but it feels like both of those have been beaten like a dead horse. That fight is all that is happening this weekend. Well, that and Sergei Kharitonov is going to fight another unknown heavyweight. Yet the talk of the MMA world this week was not Bellator 120, or even the upcoming UFC 210, instead the MMA world is ruminating on perhaps the most unforeseen 'money fight' to tease us in a long time.
Fabricio Werdum and Luke Rockhold have no reason to fight on paper—the former is a heavyweight hanging around the title picture, and the latter is a recently dethroned middleweight champion. A victory here gains neither man any marks on their checklist of 'Things to Do Before Another Title Shot', yet the beef between the two seems legitimate and in the new era of the UFC booking fights that are irrelevant to the title picture in hopes of cashing in, this one might actually please the fans. With the middleweight division on an unofficial hiatus and many of the top contenders swimming in circles until St-Pierre versus Bisping is done, and the heavyweight as shallow as ever, this bout isn't going to stall any contenders or hold up any belts. Most importantly though, the more thought you give this left field hypothetical fight, the more compelling it sounds.
Fabricio Werdum might be the larger man, but Rockhold is among the biggest men to make the cut to middleweight. Tall for his class, at six foot three, Rockhold could likely hold his own in the light heavyweight division—especially in its current state. Let's not play make believe though, weight is a big factor. Werdum has been in with giants like Travis Browne, after all. With that being said there are a number of other factors that make Rockhold an interesting stylistic matchup for Werdum. The first of which is his length. Get that one Instagram picture out of your head for a moment; we're talking about height, reach, stance and style. Rockhold fights from a long stance and will skip straight back at the first sign of an advance. His fights with Michael Bisping are perfect examples of this. In recent years Rockhold has walked his man down, punting their arms and body whenever they stand still, only to skip back with the southpaw check hook whenever they advance.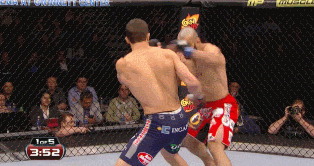 Now at middleweight that is especially effective because the length of Rockhold's kicks encourages his opponents to desperately get on the offensive. Rockhold's height and the way that he holds his head back in his lengthy stance encourages opponents to punch up and to reach for him.
If there is something that Fabricio Werdum does with consistency, it is charge and chase. Werdum has learned that in a division of front runners, it's a great idea to jump in and try to overwhelm the guy immediately. Pumping the one-two into low kicks, running with his punches, slapping on the double collar tie whenever his opponent hits the fence or stops moving—this is Werdum 101. While his frustrated bull rush at Stipe Miocic was a caricature of his usual behaviour, Werdum has broken his stance to run and lead with his chin in most of his UFC bouts against far less evasive opponents than Rockhold.
In terms of wrestling, Werdum doesn't hit an awful lot of takedowns and has never been the guy to sneakily time his shots. Luke Rockhold's performances against Jacare Souza and Tim Kennedy back in the day showed him in a more hittable and 'takedownable' light but he did an admirable job of stuffing the takedowns or fighting his way back up in both. Werdum is a bigger fighter but has never shown the offensive wrestling ability of those two men. And of course, Rockhold has grown considerably as a fighter since then, as the cutting of his surfer dude mop clearly shows.
As one of the main training partners of two of the best wrestlers to compete in the heavyweight division—Daniel Cormier and Cain Velasquez—you would have to imagine that Rockhold is used to wrestling at a weight disadvantage. It isn't too far out to imagine Rockhold coming in at a comfortable 215 / 220lbs and stuffing the kind of long, lunging shots that Werdum was trying to get in on Mark Hunt and Alistair Overeem.
With that being said, do you know who else often overcommits on the lead? Luke Rockhold. The magic punch against Bisping, like Werdum's loss to Miocic, is often treated as a fluke occurrence due to a momentary mistake on Rockhold's part. Admittedly, His Fistic Majesty was gifted a lovely shot at Rockhold's chin—I recommend watching it in slow motion while playing the soundtrack from Chariots of Fire to achieve absolute British ecstasy…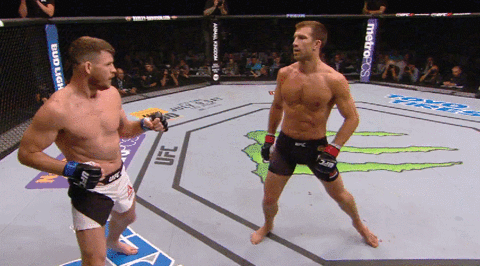 But Rockhold has always been vulnerable on the lead. He steps deep, he drops his hands, he forgets to move his head. Rockhold was dinged up several times by the very basic counter punching of Jacare as he stepped in to punch in a very aggressive performance. Rockhold's work in the UFC up to the title loss showed him to be far less prone to counter punches simply by hanging back, kicking on the lead (especially along the fence) for the most part and only really committing to punching on the counter. Bisping's improvement in that second fight was to work on getting Rockhold to lead.
Fabricio Werdum is not always the most crisp, technical striker but he is a wily, thoughtful fighter. One need only look at his fight with Mark Hunt to see that—in which he found zero luck getting Hunt to the mat and so shot a desperate takedown, returned to his feet, and ducked in as if to shoot again before jumping into a knee to knock Hunt out. If he could avoid attempting to rush Rockhold he could certainly take advantage of Rockhold's porous guard on the lead. Werdum doesn't land crisp counter punches so much as throw rapid one-twos whenever his opponent steps in, but this could do the job handily.
One factor that has the potential to make this hypothetical match up a lot of fun for the viewer (though not so much for the men involved) is that Rockhold is a southpaw who loves body kicks, Werdum is an orthodox fighter who loves body kicks Both Werdum and Rockhold rely heavily on draining and winding their opponents with body work. With both men kicking into the open side of the opponent it becomes a quick draw duel and both men are likely come out with purple arms and shins.
Sure, Rockhold would be a fair bit smaller than Werdum so any error or slip he made which resulted in getting hit or ending up on the bottom would be more punishing. But then, Rockhold lost his title on a momentary error: there are few other fights that could force him to watch his 'Ps and Qs' like this one. His striking is sharp enough and fast enough to trouble Werdum, Werdum has never been known for his takedowns in mixed martial arts, and a number of Werdum's habits on the feet—which other heavyweights just aren't sharp enough to exploit for the most part—play directly into Rockhold's striking style. Of course the fight is extremely unlikely to happen but with some of the fights going on now, there's no rule saying that it couldn't. And those are the hypothetical fights that are interesting to this writer: not sport versus sport or man versus woman, but just regular old catchweight contests. With the belts and rankings meaning less and less, it would be nice to see some of these come to fruition just for the fun of it. Not even catchweight, sometimes it can just be the act of getting two guys from opposite sides of the world into the same room.
Here's one you didn't know you wanted: Marlon Moraes versus Kyoji Horiguchi at 130lbs in Rizin. Pounding low kicker and counter hooker meets fleet footed karate-ka / boxer. The thought is enough to get a fan of the flyweights or bantamweights salivating. Or how about Ben Askren versus Justin Gaethje at 165lbs? One of the best pure wrestlers in MMA, with a unique of grappling, meets his stiffest opponent in years in a guy whose best shots are the uppercut and the counter low kick and who is strong as an ox as a lightweight. Gaethje is the kind of guy who concedes position by accident and then will scramble through to come out on top, Askren is the kind of guy who isn't really comfortable until he's in a wild scramble.
It is easy to get discouraged with the UFC announcing strange, barely relevant fights and new belts seemingly every month, but there is some joy to be found in imagining the strange 'money' fights you never even knew you wanted and hoping that the UFC brass have had the same thoughts.