Ken Blaze-USA TODAY Sports
Four years ago, the Boston Celtics won 25 games. They had the fifth-worst point differential in the NBA, and Jeff Green was their leading scorer.
Today, they're the youngest one-seed in 40 years, an Eastern Conference finalist, and now, thanks to one of the most lopsided trades in NBA history, official owners of the first overall pick in the 2017 NBA draft.
Rather than retrace the steps Boston's front office took to get here, let's just say that it's an abnormally charmed story, one that reads more like a fairytale for Celtics fans. While it's true they've been blessed with several pinches of good luck, they also didn't cut corners on their way from the bottom of the league to the Eastern Conference finals, repeatedly refusing to forfeit valuable future assets or continuity in favor of an ostensible short-term upgrade.
Now the Celtics are at a crossroads: either continue on that slow and steady path by keeping their pick and selecting their next franchise player, or trade it for an established star to make an immediate full-blown run for the title. This is a once-in-a-lifetime opportunity for Boston. The lottery was designed to provide hope for the league's most dejected teams. It's not here to supplement a conference finalist with the most attractive asset in professional sports.
"I think the top of the draft isn't as obvious as some [years], and it's more obvious than others," Boston's President of Basketball Operations Danny Ainge told reporters on Tuesday night. "But I think that it's going to be a tough choice for us where we sit at No. 1."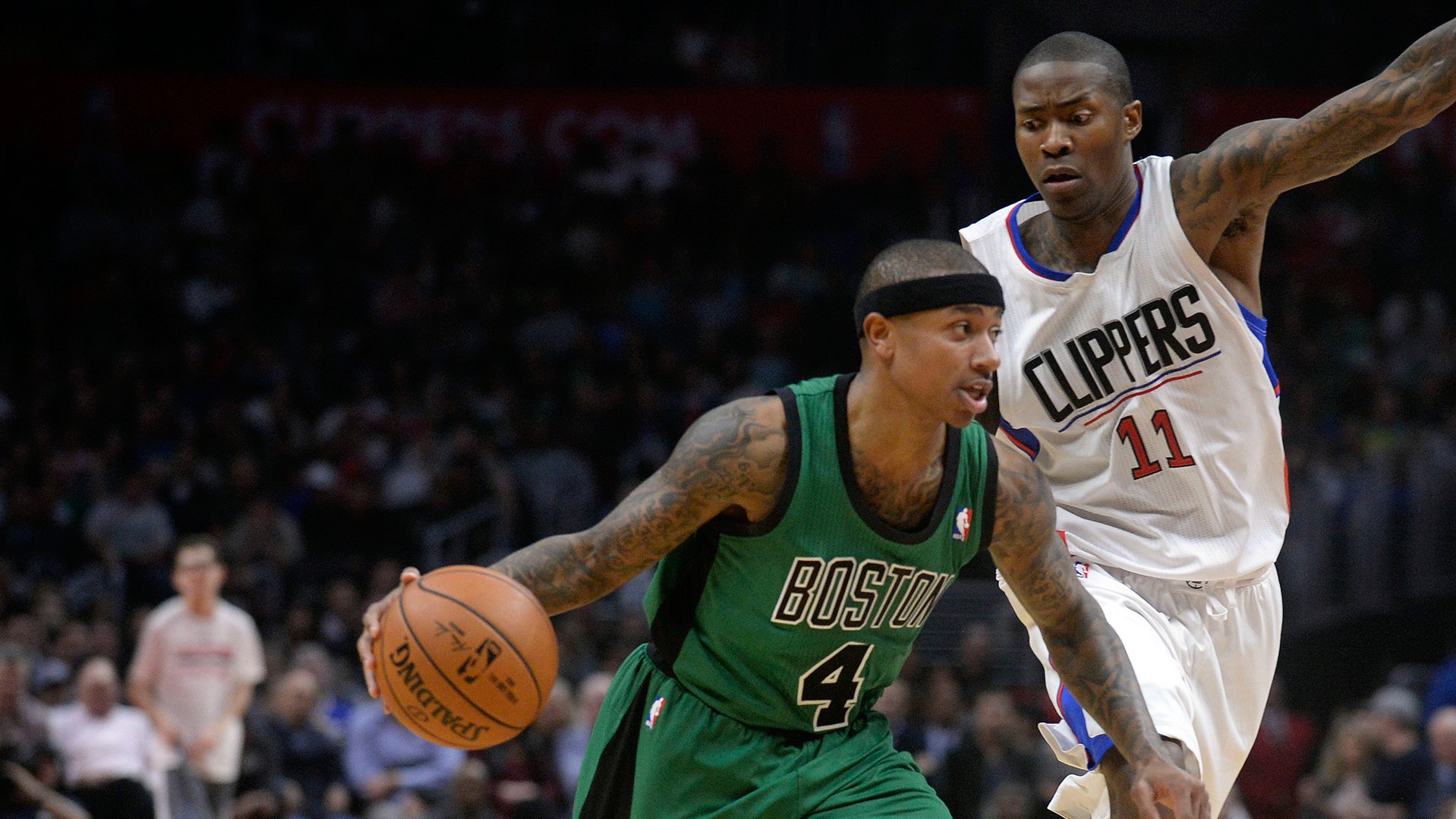 All drafts are a crapshoot, at least to some degree, but the odds would be in Boston's favor to add a potentially transformative talent to the team. Here are the first overall picks since 2008: Derrick Rose, Blake Griffin, John Wall, Kyrie Irving, Anthony Davis, Anthony Bennett, Andrew Wiggins, and Karl-Anthony Towns. Not a bad club.
If the Celtics keep the pick, they have a few options. Lonzo Ball floats around the court with transcendent selflessness, and it's scary to picture a Josh Jackson/Jaylen Brown tandem terrorizing opposing wings for the next ten years. But more likely than not, Ainge's eyes won't stray too far from Markelle Fultz.
The 19-year-old, 6'4" combo guard averaged 23.2 points, 5.9 assists, and 5.7 rebounds during his freshman year at the University of Washington. Fultz's physical makeup was NBA-ready yesterday; with a wingspan measuring 6'10'', he's built to handle himself on the defensive end, and he's strong enough to finish through contact. He's also a cloud-hopping acrobat with tremendous vision and patience who could probably commandeer pick-and-rolls with his eyes closed if it were necessary. He finished college with the highest PER in his conference, and shot 41.3 percent from beyond the arc and 50.2 percent inside it.
"Perennial All-Star" might as well be tattooed across Fultz's forehead, which makes some of Boston's other looming personnel decisions just a bit easier to swallow than they'd otherwise be. If the Celtics want to sign Gordon Hayward or Blake Griffin this summer—and they do—that max contract plus the first overall pick's cap hold means that a few players on this year's 53-win team will need to become sacrificial lambs.
Nearly all of Boston's free agents—Amir Johnson, Jonas Jerebko, Tyler Zeller, Gerald Green—are as good as gone, but even that won't shed enough salary from the payroll. If the Celtics take Fultz, the most obvious places to cut would be at his position, which means looking at Isaiah Thomas, Marcus Smart, and Avery Bradley.
Smart isn't going anywhere. He's 23 years old and already an elite perimeter defender who oscillates between an ox and a cheetah—he's immovable in the post and can slide step for step with any primary ball-handler in the league. His shot remains a question mark, but there's reason to believe that will improve from below average to acceptable by the time Boston is smack dab within its window to seriously contend for a title.
Smart may never finish at the rim or draw fouls like the league's great scorers do, but his playmaking skills and two-way versatility make him a critical cog in Boston's present and future. Nobody plays harder.
Thomas, the best and oldest of the three, also stays. A free agent in 2018, he's more than deserving of a max contract; at the same time, he will be 30 years old in the first season of his next deal. A lot can change between now and July 2018, but given his reliance on speed in space and athletic bursts at the rim, paying Thomas $179 million over five years is a risky commitment. If the Celtics can negotiate a slight hometown discount over the contract's life, or even a four-year max with a player option in the final season, the situation becomes a bit more tenable.
That leaves Bradley, and, well, trading him won't be easy, but doing so could potentially allow Boston to retain Kelly Olynyk and Terry Rozier (assuming Guerschon Yabusele either stays overseas or is traded), and bring in a star like Hayward or Griffin. Bradley's tenacious on-ball defense has real value around the league, and with the Celtics backcourt as crowded as it will be, dealing him for future assets is the logical option.
Drafting Fultz doesn't automatically mean Bradley is gone. If Hayward stays with the Utah Jazz and Griffin re-signs with the Los Angeles Clippers, the Celtics can roll this current roster back and use their cap space on a lesser-but-still-helpful player like Andre Iguodala, Patrick Patterson, C.J. Miles, or Taj Gibson.
If Hayward wants in, however, Bradley is out the door. That call won't be fun for Boston's front office, but it will be necessary if the Celtics want to dethrone 33-year-old LeBron James and the Cleveland Cavaliers. Boston will be even better the following season, with Jaylen Brown, Rozier, Smart, Ante Zizic, and Fultz all evolving as Thomas and big man Al Horford begin to decline.
Fultz and Thomas should be able to co-exist. The rookie would probably start off as a backup ball-handler who gets to run the second unit, learn the NBA game inside young, ultra-athletic lineups, and also spend plenty of time alongside the starters. Even if Hayward doesn't come aboard, Fultz's development as a reliable playmaker will reduce Thomas's usage rate and lessen his burden as the years go by. As he journeys toward the other side of 30, there's a good chance Thomas will be even more efficient against defenses that aren't able to load up with double or triple teams.
And with Olynyk and Horford still around (potentially), IT will have complementary bigs who space the floor and make his life so much easier in ways that don't directly show up on a stat sheet. But before we get too deep into the weeds, it's worth considering another route the Celtics will surely consider: trade the pick.
This is a popular move that doubles as borderline irresponsible. In Boston, the first overall pick will have no immediate pressure to become the face of the franchise. He can comfortably work on his game within a defined role that expands as he develops and as the organization needs it to.
In other words, the first pick is always valuable, but for the Celtics in particular, it's mega-ridiculously important, the key to unlocking another decade of top-tier basketball even as they already sit a few feet away from the NBA summit. It's tempting to swap a mysterious 19-year-old for an established star like Jimmy Butler or Paul George, but doing so would narrow the window Boston has to contend while the Golden State Warriors and Cleveland Cavaliers are still favorites to win it all.
The Celtics also wouldn't be able to afford Hayward or Griffin in free agency and, depending on who or what else is involved in the transaction, they may lose some of the depth and continuity that makes them so formidable.
As if the first overall pick in the 2017 draft isn't enough to set themselves up for a fortunate future without making any trades, Boston also owns Brooklyn's first-round pick in 2018, protected picks from the Los Angeles Clippers and Memphis Grizzlies in 2019 (the latter of which becomes unprotected in 2021), and all their own selections.
Swinging for the fences sounds like a really fun idea, but there's no need to do it when the bases are loaded and the pitcher's high. The Celtics built their last title-winning team with a blockbuster trade, but that core only raised one banner and had a clock ticking overhead the entire time. Hold on to Fultz, and Boston may successfully compete at the highest level for a much longer time.
They're set up to contend now and in a future post-Thomas/Horford world, when Fultz, Brown, Smart, and whatever comes of the 2018 Nets pick are all in their prime or close to it. Boston has some hurdles to clear in the next 15 months, but almost every other team in the league would be overjoyed to be in their lane.
Want to read more stories like this from VICE Sports? Subscribe to our daily newsletter.