Strathclyde Police officers load cannabis into bags. Photo: Andrew Milligan/PA Archive/PA Images
Six years ago police were busting more than 20 cannabis farms a day. Local newspapers were filled with images of officers wading through illegal grows in urban lofts, warehouses and abandoned banks and churches. Police were seizing so many plants they had to burn them in skips because they had no room to store them.
But now, despite high profile cannabis farm busts this year inside a nuclear bunker in Wiltshire and a mansion metres from Buckingham Palace, evidence is emerging that the police's assault on Britain's cannabis cultivation industry is fizzling out.
In 2014, an analysis of the domestic industry by the National Police Chief's Council declared cannabis farms to be a "significant threat" to the UK because of their association with organised crime groups who use profits from grows to fund cocaine smuggling enterprises.
Yet last year the police seized 393,702 plants, a drop of almost a half compared to the 758,000 plants they recovered in 2009-10. In some parts of the country police are seizing as little as one tenth of the plants they were grabbing six years ago. The number of individual cannabis farm busts has fallen by around a third in five years, from 16,590 during 2011-12 to 9,577 last year.
There's been a fall in people convicted for growing cannabis, too. Ministry of Justice figures seen by VICE show the number of people sentenced for producing class B drugs fell by almost a third between 2013 and 2015, from 6,240 to 4,668.
---
WATCH: The Great Council House Scam – The Weed Grower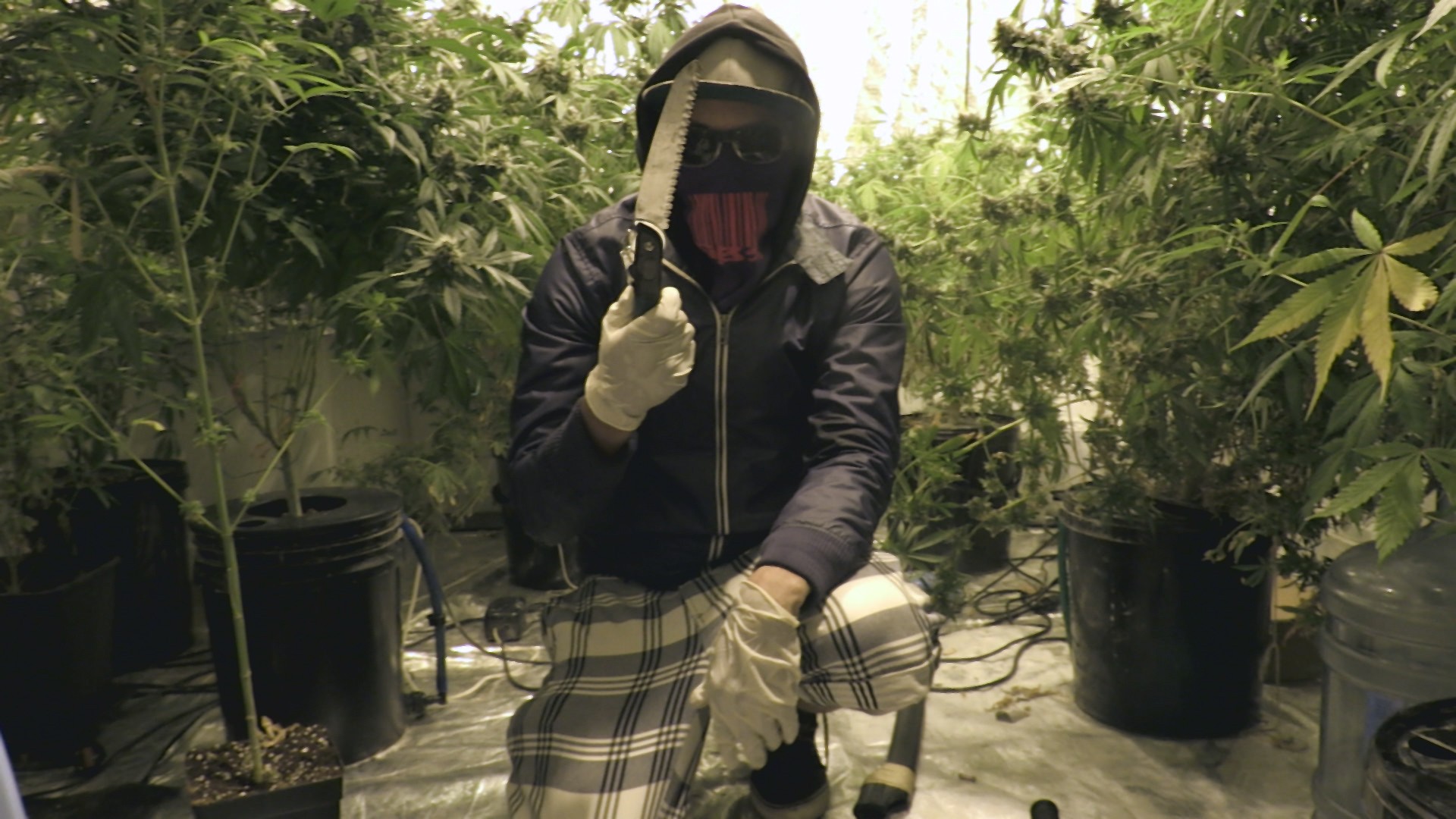 ---
So what's going on? Why has Britain's favourite recreational drug become so elusive? Either there are fewer cannabis farms to bust or police just aren't finding them. Maybe police chiefs have decided to add cannabis farms to the list of drug crimes that can be quietly ignored, part of a climb down already evidenced by a move by some forces to run almost de facto decriminalisation policies towards drug possession and an admission by one senior cop that tip offs about cannabis farms might not be acted upon?
In Humberside, for example, where the number of plants recovered by police plummeted from 23,000 in 2009-10 to 2,600 last year, police admit they have more pressing drug concerns.
"Policing constantly changes, and our current drugs policy focuses on the people that cause the most harm," said Superintendent Dave Houchin, Humberside Police's drugs lead. "We still tackle growers, however most of the drug enforcement activity is focus on organised criminality and those dealing class A drugs. We have worked closely with local authority health partners in developing our approach, which takes into account the risk that drugs pose users, especially those using multiple substance simultaneously and the rise in the use of synthetic new psychoactive substances."
I asked Assistant Chief Constable Bill Jephson, the national lead for cannabis policing, to explain what's going on. He was not specific about the main driver behind the decline in cannabis farm busts and plant seizures, but admitted there were two main factors at play here: criminals changing their tactics and police pulling resources away in order to focus on catching bigger fish: "In terms of the reduction in cannabis farm finds, law enforcement has to look at the threat, harm and risk of crime – so we are focusing resources on the high-end stuff."
The high end stuff he is talking about here is class A drug supply and organised crime, both being more of a target than the supply of cannabis, a class B drug, and the majority of grows, which on average consist of 30 plants. So the message from the cops seems to be: if you are growing cannabis and not part of a criminal gang, you are less likely to be caught than you were a few years ago.
It's not just the police; it's the criminals, too. Growers are finding new ways to protect their verdant bounty. "As they get to understand our capability, they change their tactics," says ACC Jephson. "For example, growers now have improved heat dissipation and ventilation systems to stop our heat tracking helicopters finding farms. They insulate loft space better so the heat doesn't show through the roof. Or they grow it underground. Recently in Hertfordshire we found a cannabis farm in a cargo ship container buried underground."
Unfortunately for the police, because of successive budget cuts the National Police Air Service, which provides the helicopters with cannabis farm-seeking thermal imaging cameras, has had to close half its 30 bases since launching in 2012.
Another reason for the fall in the volume of plants seized is the "diversification of risk" by cannabis farm gangs. "There has been a move away from large industrial cannabis farms into [gangs setting up] cannabis farms in a network of small residential rooms. So we only get part of the crop. There might be another other ten rooms that we have not found," says ACC Jephson.
Everyone agrees, from cops to academics, that a decade after the proliferation of cannabis farms across Britain there is no evidence of a reduction in the amount of the drug cultivated here.
The UK Revenue Protection Association, which monitors illegal energy theft, told me that one third of stolen electricity is down to cannabis farms. The UKRPA said it had seen no reduction in the amount electricity surges associated with cannabis farms in the last four years, although admitted that most organised crime groups bypass meters anyway, so there could be way more farms than blip onto their radar.
Despite the booming cannabis farm industry, domestically grown weed accounts for less than half of the cannabis smoked in the UK, according to the National Crime Agency. The majority is imported from countries such as the Netherlands, and all the signs point to the fact that imports are going up. Last year 27 tons of herbal cannabis – nearly three times the previous year – was seized at the border coming into the UK. Still, domestic grows do continue to play a role in Britain's £1 billion cannabis market.
"Domestic cannabis cultivation hasn't gone away," says Britain's leading expert on the cannabis farm industry, Gary Potter, Senior Lecturer in Criminology at Lancaster University. "In fact it's likely that as much, if not more, of it is happening as it ever has been. The criminals are getting smarter, spreading their growing over numerous smaller sites, which are less likely to be detected and less likely to be linked back to organised crime if they are. At the same time, the police are having to deal with austerity and budget cuts and may no longer see cannabis cultivation as a priority."
Expert witnesses who regularly appear in court cases to provide independent analysis of how much plant seizures are worth tell me that in recent years it's become clear that police do not now have the time to properly investigate grows.
"I've seen some monster-sized plants, up to 100g in weight. People are growing one giant plant where they used to have ten of them."
Matthew Atha, of the Independent Drug Monitoring Unit, told me: "Any drop in busts will be down to reduced police budgets largely putting a stop to proactive investigations. Farms are now usually found by accident. Even when they get a tip off they will investigate, but to the minimum extent possible."
In one recent case two Albanian illegal immigrants who had only just arrived in the UK were found tending mature plants in a house. "They were clearly trafficked and under a degree of duress, but no attempt was made – for example by mobile phone analysis – to locate and prosecute the people running the grow," said Atha, adding that since sentencing guidelines were introduced on what constituted a commercial cannabis farm – over 25 plants and use of sophisticated lights and hydroponics – growers have been cultivating fewer but larger plants, resulting in less prosecutions. "I've seen some monster-sized plants, up to 100g in weight," he said. "People are growing one giant plant where they used to have ten of them."
What is clear is that the Vietnamese grow gangs, who ran up to three quarters of cannabis farms busted in Britain a decade ago, have moved onto pastures new. Just 111 of the 4,668 offenders convicted for producing class B drugs in 2015 – two percent – were people with a Vietnamese or Chinese background.
The net result of all this is that, despite a Herculean effort by police in seizing more than 5.5 million cannabis plants over the past six years, Britain's behind closed doors cannabis cultivation industry for the first time, unlike the exploited workers who water the plants, has breathing space. As the growers adapt and use new tactics, and source new lackeys to man the farms, the police have been forced to curtail their assault on the industry as resources are needed elsewhere. On top of this, imports appear to be increasing, and are likely to as punters get sick of Britweed and look for finer varieties from Holland and over the internet.
Its indicative that cannabis grows are being found in the empty shells of abandoned high street businesses, which, unlike the drug trade, have been unable to survive the harsh economic climate. While Britain's relatively new cannabis cultivation industry has so far been austerity-proof, the same cannot be said of the government's war on drugs.
The scaling down of cannabis farm enforcement marks a waypoint in this country's slow, but seemingly inevitable, move towards legal medical cannabis, decriminalisation and a Canadian style model of regulation. In the meantime, perhaps cannabis plants will start to come out of the closet, and like the Czech Republic, begin to be a regular fixture in front gardens across the land.