A knife collected by the Met during Operation Sceptre in the first week of May (Photo: Met Police)
London is always "shapeshifting", says Detective Chief Superintendent Michael Gallagher.
The senior officer – the Metropolitan Police's lead on knife crime – talks about a city where few neighbourhoods remain static for long. "It's the greatest city in the world," he says. "But the amount of change and movement makes it a very challenging place to police."
Gallagher is currently dealing with an alarming series of knife attacks and killings that have forced knife crime back into the headlines. Having thought they were getting on top of the problem, recent figures proved grim reading for the Met. More than 4,400 violent offences with a knife have taken place in London over the past year – a 24 percent increase on the year before.
In the past three weeks alone there have been 13 people stabbed to death on the streets of the capital. Understandably, there's a growing sense of anger, confusion and despair about why these deaths keep happening, particularly to young people. In 2016, 49 Londoners aged 25 or under died after being stabbed – almost one a week.
Last weekend, hundreds of friends and family members of knife violence victims staged a huge, defiant and moving rally on Islington Green. But the crowds returned home to switch on the news and find that Elijah Dornelly, just 17, had been stabbed to death on his way home from the event.
---
WATCH: The Great Council House Scam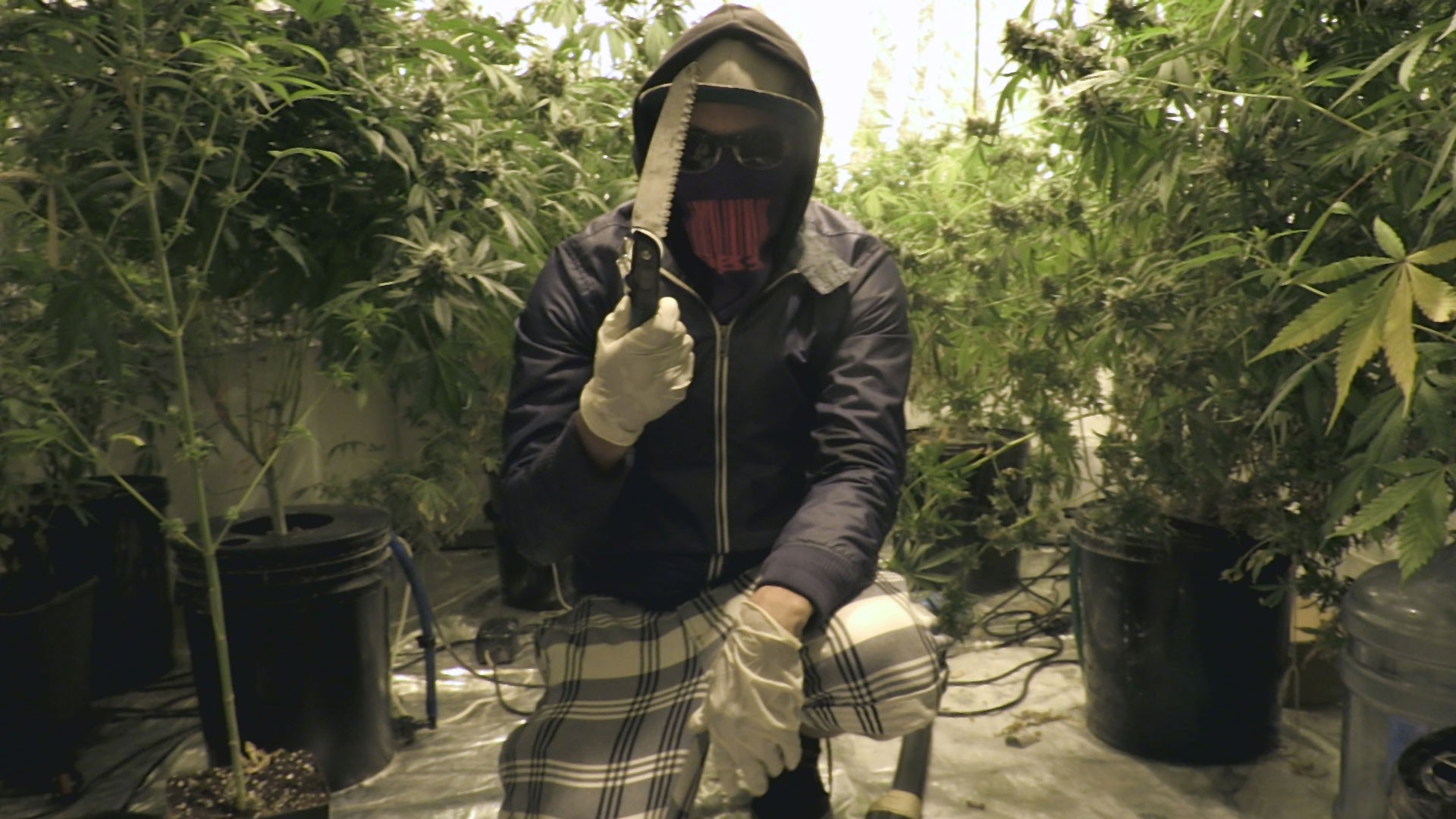 ---
What's at the root of London's knife-carrying culture and this bleak cycle of violence? And how much can the police really do to stop it?
Inside New Scotland Yard, I met with senior officers who shared their latest thinking on the nature of the problem and how they plan to tackle it.
Operation Sceptre – established in July of 2015 – remains the enforcement side of the Met's efforts. The first week of May saw officers across London out hunting for knives, targeting ten boroughs where knife possession has been prevalent, stopping and searching people in the street, stopping and searching cars, and conducting sweeps across parks, back lanes and housing estates.
Officers hauled in 300 knives and 62 other offensive weapons, and made 393 arrests in seven days.
Now, a new Met task force will try to "replicate" this kind of intense activity on a regular basis. Around 80 officers – a mixture of detectives and uniformed police – will act on specific intelligence to conduct a more targeted kind of stop and search operation in local hotspots.
"We are getting a lot of good information from people," Gallagher explains. "We've got a pretty good fix, geographically, on exactly where we need to be, with the caveat that regardless of the area, there still has to be reasonable grounds to stop and search an individual."
DCS Gallagher – himself the victim of a knife attack, back in 1982 – is also keen to talk up the preventative, educational work going on with young people to dissuade them from carrying a knife. The Met believes the "peak" age for knife carrying in London is now between 13 and 17. The new task force wants to strengthen partnerships with credible community leaders, people with real influence on teenagers.
"It's become clear that there is a broader spread to the problem outside of gang activity," Gallagher explains. "There is this genuine fear among some young people, who think, 'My area is dangerous, and I need to arm myself as a deterrent from people who might harm me.' Who am I to say they don't feel that fear? But the fear is overriding the pragmatic perspective. It stops them thinking clearly about how they are exacerbating the problem."
Police research shows that if you carry a knife for protection, you are more likely to be victim of a knife attack. Gallagher is at pains to make this point unmistakably clear, but he admits the police need more help getting it across.
"I'm a 55-year-old white man – a senior police officer. So if it was purely up to me to deliver the message, it would be lost," he admits. "The conversations we have with community groups, schools and colleagues in charities – that improves our reach. Those people are delivering messages they believe in, from their perspective."
In the northwest borough of Brent, a not-so-salubrious patch of the metropolis between splendid central London and the leafier outer suburbs, I catch up with Daniel Coyle, head teacher of Newman Catholic College, as he finishes patrolling the streets around the school. There have been a series of stabbings in the area, with one taking place worrying close to the school earlier this month.
"I know bad things have been going on, but it's not in the schools – it's out there on the streets," says Coyle. "It breaks my heart there isn't the same care and support outside the school as there is inside."
Coyle explains that his teachers have worked with Safer Schools Officers to deliver assemblies warning of the potential dangers of possessing knives, as well as setting up semi-regular "knife arches" to security screen pupils and make sure they're not concealing weapons.
Where does Coyle think the violence beyond the school gates is coming from? "Many years ago there was a young pupil of mine – a really lovely lad – who died because of knife crime. I remember the judge explained that it had happened because of 'urban posturing'. And I've never forgotten that phrase," he says. "It can be a wrong look – some slight, however minor – that becomes escalated into a dispute. So I still try to warn the young people of the dangers of urban posturing. You try to explain they have a future as an adult, and there are a million ways adults deal with problems without resorting to that."
It's tough, though, to think like an adult when you aren't one yet. Weighed down in the intense present, it's often difficult to avoid getting caught up, emotionally, in perceived threats and grudges going in the neighbourhood and neighbourhoods nearby.
Pastor Joseph Mullings has been working across Brent to break down some of the territorial boundaries and dilute the air of anxiety. The 36-year-old church leader thinks the shock tactics – showing teenagers the bloody consequences of violence – isn't the best way of going about things.
"The kids get it. They live it. They don't actually need to be reminded of it. What they do need is a positive focus on opportunities that might be out there for them," he argues. "A lot of these guys just haven't had someone give them an opportunity that opens up their horizons."
Mullings launched the "Cut Out for Business" project, connecting young people with black business leaders at workshops in the hope of raising aspirations and passing on sound advice. The pastor thinks the police value the work he and others are doing. "I think the Met is more cognisant than even before of listening to what's working and thinking about partnerships with communities," he says. "It's just a shame that, funding-wise, with so many funding cuts, there is not an ability to support more of the best youth work going on in London."
In fact, around £28 million has been cut from the youth service budget in London over the past five years. At least 457 youth worker jobs have been lost since in that time, and 36 youth centres have been shut.
If there is danger of reducing knife crime to a youth problem, it's worth remembering there have been perpetrators and victims of all ages among this year's knife killings.
Michelle McPhillips lost her son less than three months ago. Jonathan, a 28-year-old known to his friends and family as "JJ", was on a night out in Upper Street in Islington when he was stabbed to death, victim of what the Metropolitan Police describe as a "motiveless attack".
"It really can happen to anyone," says Michelle. "JJ was a loner. JJ was not involved in any trouble at all. When he went on a night out, it was for the first time he had done that in about two years. It just so happened to be him in the wrong place that night.
"I haven't got justice yet, but I know JJ's killer will be caught. And when I get justice I actually want to sit down and ask that person, 'Why? What made you get up that morning and arm yourself with a knife? What made you think you had to use it?'"
McPhillips has spoken to many other grieving mothers, and senses some younger kids are carrying knives on the advice of gang leaders. "I do think there's the influence of older people in an area sending out younger people to patrol an area, or do things they know they could do a lot of [prison] time for," she says. "But other than that I'm struggling for any answers as to why this is going on. I think parents need to start with the stop and search at home, before your kid walks out with a knife in their bag. Parents need to ask them why – 'Why are you carrying a knife? What's going on here and who are you listening to?'"
Back at New Scotland Yard, DCS Gallagher admits there are limits to what the police can achieve alone.
"The mood music within a lot of communities is now that the police shouldn't have to do this on their own," he says. "We're getting less of the narrative of 'we hate the police', and more a sense that everyone needs to be part of the solution."
Anyone with any information on the murder of Jonathan "JJ" McPhillips can call 020 8345 3775 or contact Crimestoppers on 0800 555 111.
More on VICE: