Photos via Alec Steinfeld's Instagram account
Gone are the days of admiring rats for trying to eat an entire slice of pizza, of smiling down at them from a subway platform as they scurry along the tracks, of taking them home as pets and feeding them bok choy. These are times of war, and for one Brooklyn man, the rats struck first.
Last Friday, Alec Steinfeld was driving to work from Brooklyn to Manhattan when he caught a whiff of roadkill, local station WGN reports. He kept on driving, knowing that encountering a dead animal in New York wasn't too out of the ordinary. But once he got to the Lower East Side of Manhattan, the smell had developed into an olfactory cocktail of burned plastic and death, and smoke started to billow out of his vehicle.
"Then smoke started to pillar," Steinfeld wrote on Facebook. "I pulled over and got out of the car."
Then his Volkswagen just burst into flames, and the fire department dispatched a truck to come put it out, though within three minutes, his engine was toast. When he popped the hood, he found two dead baby rats inside—his first clue as to what the hell he'd been smelling during his drive. He took a closer look and discovered that they'd nibbled through his electrical wiring, likely suffering a brutal end. Soon, two more rats emerged from the wheel of his car, where presumably they had been camping out, munching on his car's insides.
As if rats blowing up your car in the middle of Manhattan isn't weird enough, Steinfeld's day took an even stranger turn, and out of the smoke plumes, a golden ray of light emerged. As his car was spiraling into a fiery doom, he noticed Tony Hawk, the pro skater, was standing nearby filming the whole hellish scene before him.
"So I am watching my car get mauled by a rat fire, seeing Tony Hawk capture this across the street," Steinberg told WGN.
Though the Birdman didn't really do anything to help Steinberg out, he did join him for a selfie, which isn't nothing.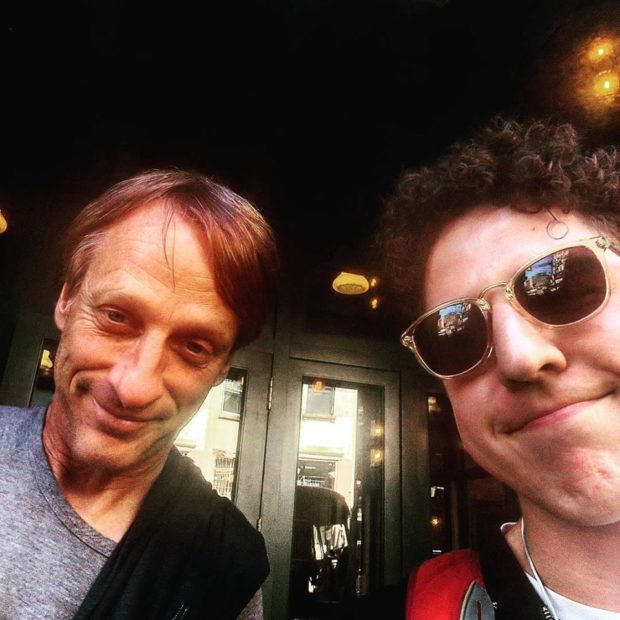 Just another Friday in Gotham, baby.
Follow Drew Schwartz on Twitter.