The Portland Trail Blazers had one of the NBA's ten worst defenses last season. Before the All-Star break, only the Denver Nuggets, Los Angeles Lakers, and Brooklyn Nets were less competent on that side of the ball. Night-to-night mental consistency was a chronic issue, effort waned, important details were made trivial, and murmurs about whether Damian Lillard and C.J. McCollum could co-exist inside a balanced framework swelled into a roar.
But that was last year. Now just over one month into the 2017-18 season, Portland is the fourth-best team in the Western Conference (trailing only the Golden State Warriors, Houston Rockets, and San Antonio Spurs). They also have the league's lowest assist rate, a bottom-10 offense, and lost Al-Farouq Aminu—their best defender—to a sprained ankle on the first day of November.
Yet somehow, instead of standing on the shoulders of two missile-launching shotmakers, the Blazers have won 13 games and elevated their overall stature by deploying one of the NBA's stingiest defenses. According to Cleaning the Glass, they're currently allowing 100.7 points per 100 possessions, which is bested only by the Boston Celtics and Oklahoma City Thunder.
Given the fact that there was no major change in personnel, and only slight tweaks to their conservative scheme, sustainability is deservedly called into question. Is this a mirage or a leap? And how far can a stabilized Trail Blazers squad go in the Western Conference playoffs if they preserve a top-three defense throughout the regular season?
I'll try and answer those questions in a bit, but for now let's look at why Portland is so good, and how it's doing what it's doing. A quick look at their numbers from last year, compared to how they're performing today, reveals that there hasn't been a dramatic change to their game plan.
The Blazers still rank near the bottom of the league in deflections and charges drawn per 36 minutes, while only two teams force fewer turnovers. Their bigs still drop back near the elbow when defending a pick-and-roll, and once more they're forcing opponents into a ton of long twos while holding them to league-low shooting percentage at the rim. Good luck pulling off a clean assist against this team, as they're also only allowing 17.8 per 100 possessions, which leads the NBA.
"Our focus [heading into this season] was not necessarily making wholesale changes, but just being more consistent," Blazers head coach Terry Stotts said before last night's game against the New York Knicks. "We looked at some of the stats last year, where we could improve, and debated about making some changes—maybe being aggressive, trying to create more turnovers—but we ended up just trying to do what we do and being consistent with it."
They're also fouling less, rebounding more, and getting back in transition with increased discipline. According to Cleaning the Glass, Portland ranks first in defensive transition efficiency, a modest improvement from where they ranked (24th) last year. Talk to any player on the team (I interviewed quite a few) and the phrase "attention to detail" springs up sooner than later. It's a simple concept that's made a world of difference. They now know what type of punch the other team wants to throw before they can step into it.
"We communicate through other team's plays. In shootaround everybody's like 'What's the name of that play?' We communicate amongst each other in how we're gonna guard it. 'Let's talk about this, let's talk about that,'" Lillard said. "So not only is the communication up ten levels, and the activity is up ten levels, but we're doing our homework. We know what's coming before the game. We're watching clips on our iPads. We're studying them. We're doing the stuff that it takes to be a good defensive team."
---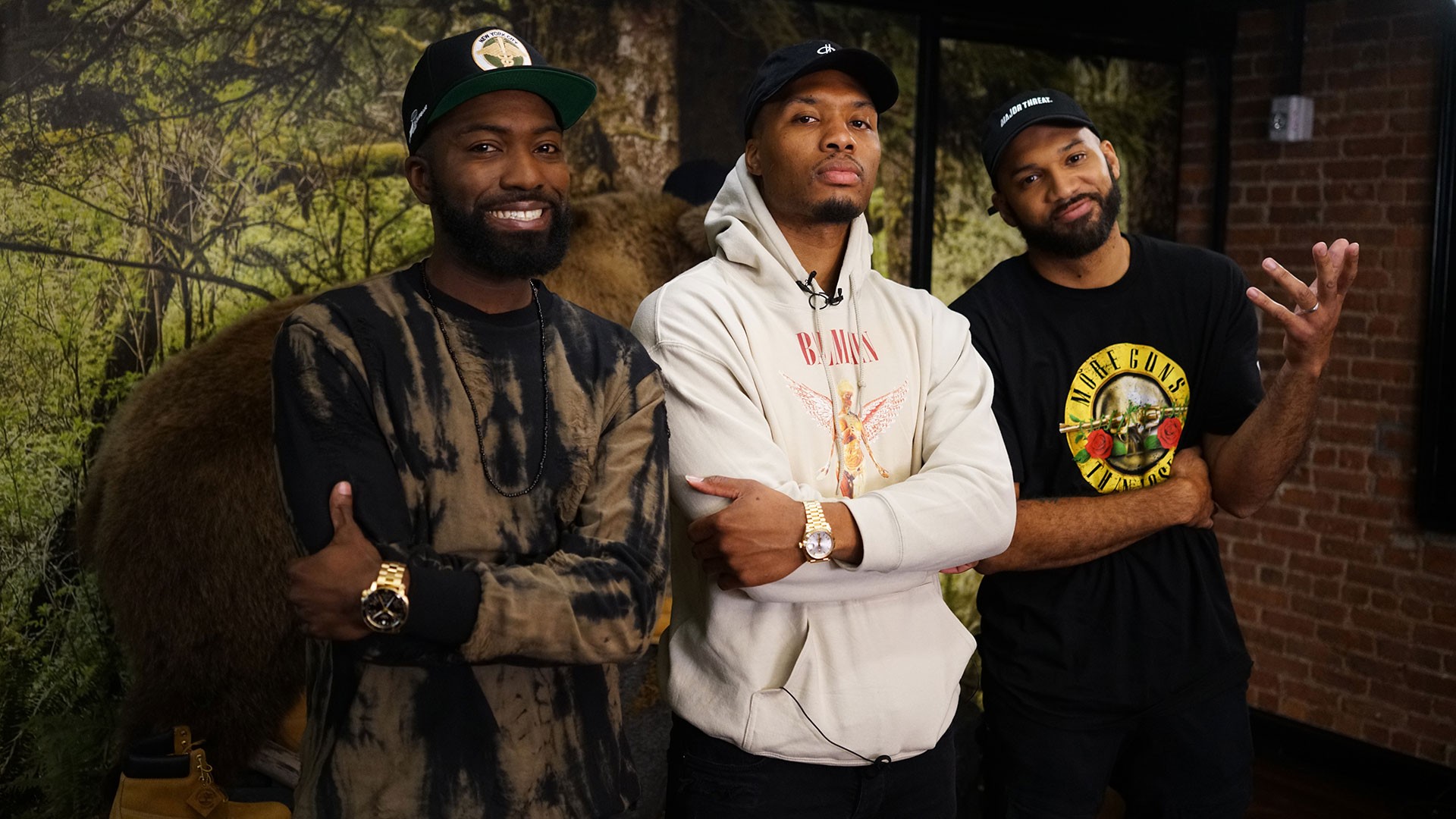 ---
Much like an offense wants to get on a roll by stringing together successful scores, the Blazers preach a "three stops" mantra. Halt the offense on three straight trips down the floor and good things will happen. To help get them there, Portland's coaching staff absorbs data provided by its analytics team on a regular basis, in an attempt to place the opponent in a position where they don't normally find much success.
The Blazers also aim to hold the other team to under 24 points in every quarter. That sounds like an impossible task in today's three-point hungry NBA, where offenses regularly crack 100 points with ease, but Portland has taken logical steps towards making it a reality.
"They can look up at the scoreboard and know that 'Damn, they scored X amount of points this quarter. We've got three minutes left, we gotta lock up. These next few minutes they can't score any points.'" Blazers assistant coach David Vanterpool told VICE Sports. "When we break it down like that, I think they kind of gravitate towards the competition of it all. It can become a game within a game."
In last Friday's afternoon game against the Brooklyn Nets, the Blazers got off to an understandably sluggish start, but watch what happens on Portland's very first play after Brooklyn comes within one possession of reaching 24 for the quarter.
It's not necessary to walk through every pivot point from this sequence. Instead just watch as all five guys help, recover, dive under screens, pressure the ball, shut down driving lanes, and eventually force a turnover without making any massive gambles. Portland's season is filled with plays that look exactly like this one.
Their coaching staff has also placed an emphasis on closeouts. Instead of racing out to the three-point line just to get a hand up and contest the shot, the Blazers want their guys to close out to the touch—that is, getting so tight that a three-point attempt turns into a drive, or situation where the ball-handler picks up his dribble. To date, it's worked like a charm.
This isn't a brand new adjustment—the Blazers ranked first, first, eighth, and fourth, respectively, in opposing three-point frequency since the 2013-14 season—but it's something Portland has valued even more of late. Right now only the Miami Heat permit fewer three-point attempts per 100 possessions, and only three teams allow a lower percentage from beyond the arc than Portland. (According to NBA.com, only the Heat allows fewer "wide open" threes than the Blazers, and from those attempts opponents are shooting a below-average 36.2 percent.)
Here's one example from Monday's game against the New York Knicks. Notice how Pat Connaughton treats Courtney Lee after he catches a threatening pass in transition. The third-year guard takes away the three, downs the screen, forces Lee to drive away from the middle and towards Jusuf Nurkic, then watches as the pass back to Kyle O'Quinn results in a satisfying air ball.
For that sort of aggressiveness to take place along the arc, Portland's perimeter defenders have to believe that even if/when they get beat off the bounce, their man won't embarrass them by scoring easily at the rim. It's here where trust and backside help enter the equation and become so critical to the Blazers' early-season triumph.
It's evident in both clips already shown, but not only does Portland approach the defensive end with obvious effort, but its help rotations are consistently crisp. Everyone knows where everyone else is supposed to be, while being cognizant of the opponent's desire. Their success boils down to a rigidity that bleeds from possession to possession, quarter to quarter, night to night, and week to week.
"We want [our defense] to be as solid and basic as possible, because if my teammates know exactly what I'm going to force this ball to do, then we don't have any problems," Vanterpool said. "As soon as it starts to get randomized and you get a guy just doubling out of nowhere, everybody's looking around and you end up giving up points. The overall philosophy is solid. Be as solid as possible and stay as basic within our parameters, as far as what we want to accomplish defensively, no matter what. Always know where the ball is going to be forced towards, or where it's supposed to be forced towards. If somebody makes a mistake, cover their backside."
Watch here as Connaughton finds himself slightly out of position helping Lillard on Elfrid Payton's drive.
Once the ball hits the corner and Terrence Ross starts to drive baseline, Lillard immediately slides off Payton to cut it off. Connaughton is then able to retreat back and make a smart closeout on a career 29.7 percent three-point shooter, forcing a swing pass to Aaron Gordon. Here's where Mo Harkless finishes out the play with another solid closeout that persuades Gordon to put the ball on the floor and commit a travel.
Scheme, execution, and effort are all significant ingredients found in any good defense, but so too are quality individuals. Lillard and McCollum were once scapegoats thanks to their one-dimensional reputations, but when both are on the floor Portland allows only 102 points per 100 possessions, a figure still good enough to rank in the top ten. Each has been feisty while maintaining composure, and a relentlessness unseen in the past.
"I know from working with them in the summer…defensively has been where the focus has been, and the three of us have done a lot of different defensive drills for individual defense, help side stuff, and I think they've taken to it and done a great job," Vanterpool said.
Here's Lillard matched up with Otto Porter in a recent win against the Washington Wizards.
It's a sideline out-of-bounds play designed for Porter to pop off Marcin Gortat's flare screen for an open three. He eventually scores on a long two, but Lillard's effort on the play, battling through two picks and contesting the shot as a trailer, makes a difference.
"Let the media tell it," Ed Davis tells VICE Sports, with a smirk. "We got two guards that don't play defense. But obviously they're showing that they're very good defensive players, so that's helping us a lot."
Behind those two, Portland is filled with length, versatility, and quickness. Evan Turner is as stout and fluid as any NBA wing off the bench, Harkless is a gazelle, Aminu (when healthy) allows Portland to go small without sacrificing too much, Noah Vonleh is able to switch onto guards whenever absolutely necessary, Shabazz Napier's hands are a pissed off rattlesnake, and Davis has been an agile ogre on the glass.
And then there's Nurkic, the inside presence who simultaneously has no place in a modern league that's exterminating cement-footed big men, and also rank 16th in Defensive Real Plus-Minus. The 23-year-old shores up the paint, slides from one block to the next, and does a decent job putting out fires whenever they pop up elsewhere on the floor.
"He's very smart about when to come up on a guy, when to step back," New York Knicks head coach Jeff Hornacek said. "He clogs that lane, and then that allows the guards to put a little more pressure on the outside players and get up on guys because they know he's back there."
The Blazers have an elite defense whenever Nurkic is on the floor, and don't improve (or decline) when he sits. Here he is switching from Ian Mahinmi to Porter to Bradley Beal, shuffling his feet all the way to an impressive rejection.
Portland's defense isn't perfect, though. They still miscommunicate on switches, and the NBA's Karma Gods have so far blessed them with a few timely misses when they do screw up. In their big comeback win against Washington, Beal was left wide open for two three-point tries in the fourth quarter because Connaughton thought he was supposed to switch onto the screener instead of fight through the pick. Portland doesn't win the game if one of those falls.
"Even if we are top five, I'm on their behind daily about certain things we are not doing as well as we need to do, at certain things that we need to improve at, about a lot of things that, basically, we've gotten away with," Vanterpool said. "Sometimes people miss shots. People miss wide open shots. We've been missing wide open shots. Our offense hasn't been what it normally is. I try to keep that temperament involved in the equation so we don't just start thinking—start poking your chest out and almost break your arm patting yourself on the back, and you end up 26th again."
Add all this up and it's hard to think Portland hasn't turned a meaningful corner in an area that's plagued them over the past couple seasons. Assuming the offense comes around sooner than later, possibly even climbing up to a top-ten level, the Blazers will have the profile of a spunky championship contender.
But executing in the regular season vs. doing so inside a seven-game series are two separate animals, and it'll be interesting to see how sturdy their defense holds against a team that's able to ruthlessly pick apart a relatively weak individual defender (like Connaughton, Lillard, Nurkic, or McCollum) who has physical limitations.
Maybe it won't matter. Maybe their offense is a fireworks display by then, with a defense still strong enough to keep Lillard and McCollum on the court without fear of habitual abuse. We'll see. But Portland has spent the opening month of a season that could've spiraled out of control into an opportunity to reshape who they are and what they're about.
"I think [defense] has become our identity, which is…it's strange for us," Vanterpool said. "This is my sixth season and we've always been an offensive juggernaut. I had this conversation with our players and I'm like 'Look, until our offense gets back to where we know it should be, our defense—that's who we are now—so that has to be just as consistent as our offense has been over the past five, six years.' I just take my hat off to them for being true to it, and just sticking to it."