TEGUCIGALPA, Honduras — In August 2016, reporter Dina Meza was leaked a list of names given by the Honduran government to its elite police intelligence unit, SERCAA. She was on it.
A week later, Meza went home for lunch and found an armed stranger lingering in the doorway of her family home. Over the following months, her tires were punctured, her internet was cut off, and other unknown men were spotted around her house.
By October, the situation had become unbearable. "I was afraid they'd break inside and attack me and my children," Meza said. With the support of international NGOs, she and her family gathered their possessions and abandoned the house. It was the sixth time they'd been forced to move in just five years.
Meza was being harassed because of her reporting on human rights and corruption in Honduras, one of the world's most dangerous countries for journalists. Despite winning awards from Amnesty International and Oxfam for her work, Meza is blackballed from the country's mainstream press — another consequence of her defiant reporting — so she's relied on social media to get her work to Hondurans. That recipe proved powerful during the disputed elections in November. It also provided most of the coverage of the human rights crisis that followed, which saw 38 people killed in protests against widely suspected electoral fraud.
Now, activists warn that the Honduran government is trying to crush reporting like Meza's and the social media platforms like Facebook that Hondurans rely on. The country's lawmakers have introduced legislation that gives the government sweeping powers to censor social media, and muzzle dissenting digital news sites. Specifically, legislation being discussed in the country's congress aims to create a "cybersecurity commission," able to order users to delete tweets and Facebook posts, or face fines of up to $50,000.
The deputies proposing the law argue it's necessary to stem a tide of online abuse that has flooded Honduras in the wake of the November vote. But critics say hate speech is covered by existing laws, and the new bill is really about suppressing critical coverage of the government.
"Social media provided the main forum for opposition views before the election and a key mechanism for the protest movement afterward," said Edy Tábora, director of the Honduran Committee for Free Expression (C-Libre). "Now the government wants to create an organ of censorship that will bring this space under its control."
During the election, Honduras' traditional press fell into line behind conservative incumbent Juan Orlando Hernandez. The EU's monitoring mission reported a "significant imbalance" in his favor, including a state media that "openly discriminated" against the main opposition candidate, Salvador Nasralla. Hernandez benefited from 64 percent of paid electoral propaganda, while Nasralla obtained just 15 percent, the commission found.
The election ended with a narrow victory for Hernandez, but it was quickly marred by accusations of fraud. With 57 percent of the vote counted, the opposition held an "irreversible" five-point lead. Then the data transmission system crashed. The OAS's observation team noted numerous irregularities which, combined with the "extreme statistical improbability" of the shift in voting patterns once the system came back online, led them to call for new elections.
But the body's firepower was defused just a few days later, after the U.S.-backed Hernandez's victory.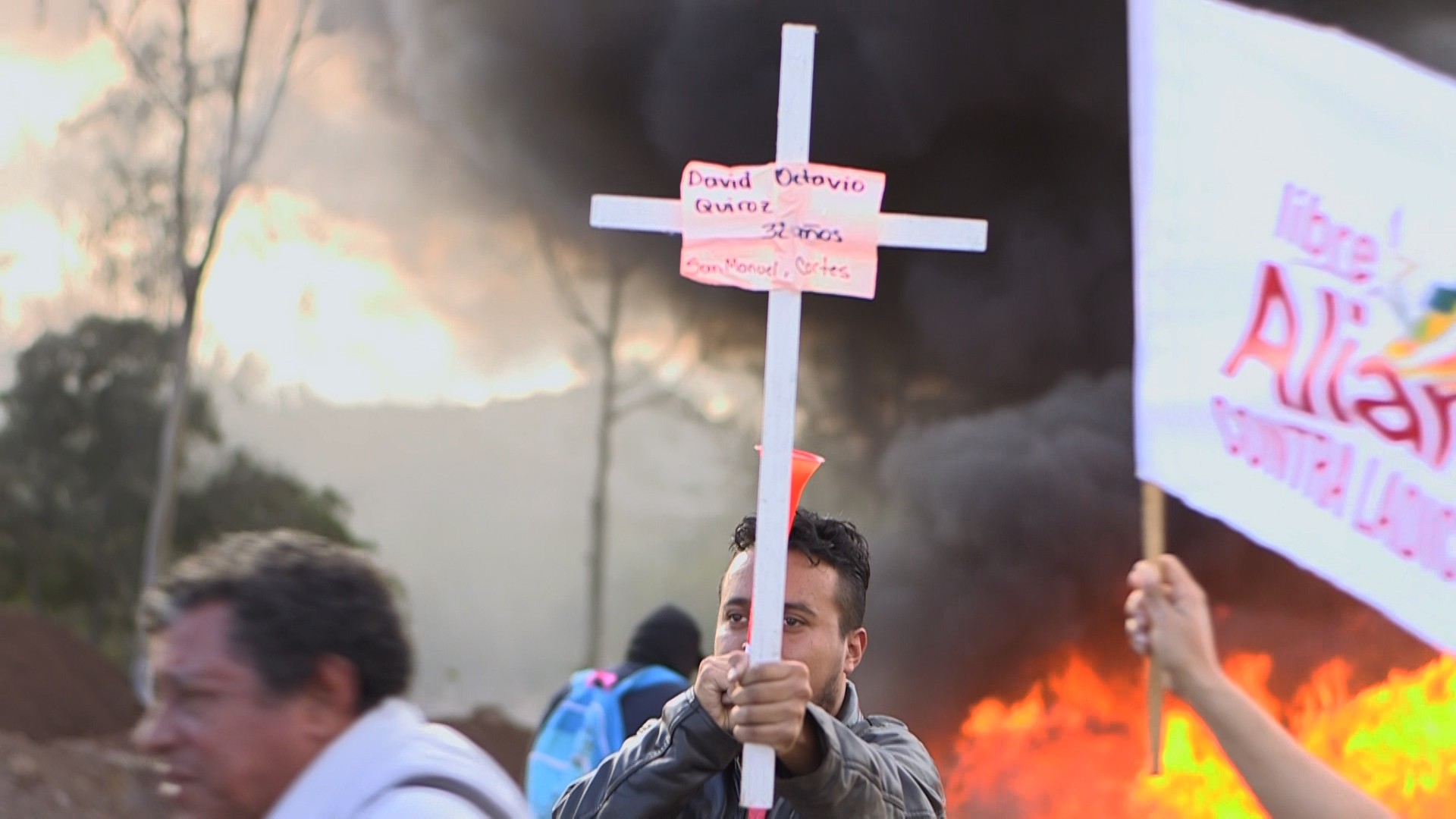 Protests erupted across Honduras. State security forces, bolstered by millions in U.S. aid, responded brutally. Over the ensuing months, besides 38 killings, human rights groups documented 76 cases of torture and 400 serious injuries. A report from human rights observatory COFADEH described five assassinations of protest leaders "with paramilitary characteristics," intended to "generate terror among the political opposition." Twenty-six political prisoners remain in jail, according to activists, who describe "huge violations of the rule of law and due process in nearly all cases."
"Nearly everyone here suffers from corruption, nepotism, abuses of authority and impunity."
But such news is rarely covered by mainstream press, which has minimized reports of the killings at the same time it's emphasized the government line linking protesters to organized crime.
Increasingly, social media has become the primary source for publicizing government abuses. On Facebook and Twitter, videos of the military firing at and killing protesters circulated widely. One story on Meza's Pasos de Animal Grande site that outlined rights violations and included a petition for Hernandez to be tried at the International Criminal Court was read 70,000 times, with traffic driven through Facebook.
The power of social media for journalists in Honduras can't be overstated, said Meza. "Working in digital media frees me from the censorship that's everywhere here," she said. "This made a big difference during the elections, when we saw a surge in visitor numbers. Lots of new people came to us through Facebook and Twitter."
But the new law, if passed, could cripple sites like Meza's and further bolster fears that Honduras under Hernandez is sliding into a dictatorship.
The law avoids targeting Facebook or Twitter specifically, as neither publishes anything directly and they're clearly beyond the reach of the Honduran government. Instead, fines would be levied against media companies and individuals within Honduras.
"The commission would give a media outlet 24 hours to take down a post, for example, a tweet sharing one of its stories," Tábora explains. "And, facing a $50,000 fine if they refuse, what will the site do? They'll take it down."
While the law doesn't require Facebook itself to take any action, a spokesperson emphasized that "free expression is fundamental" to the platform.
"We have a set of clear rules that determine what type of sharing is allowed, and what type of content may be reported to us and removed," they said.
For Hondurans, the danger goes far beyond abstract concerns over freedom of speech.
"Nearly everyone here suffers from corruption, nepotism, abuses of authority and impunity," Tábora notes. "Social media has become an essential space for denouncing and exposing these issues and behaviours. This law could take that away."
The government's turn to social media follows previous legislation targeting the traditional press, threatening to extend an entrenched culture of self-censorship into digital journalism.
"Journalists are afraid."
Laws menacing the mainstream media include Article 335-B, under which journalists can be sentenced to eight years in prison for "defending, justifying, or glorifying" terrorism. While it hasn't yet been used to prosecute anyone, Meza calls it a "strong latent threat that they will make us prisoners."
"It has generated lots of self-censorship," she said. "Journalists are afraid. They tell me they'd rather be quiet, stick to the program, than risk passing three years in prison."
The Inter-American Commission on Human Rights (IACHR) has warned the bill could be used to "sanction the work of human rights defenders."
Also criticized by international observers is the 2014 Official Secrets Act, which prohibits the publication of information relating to "security, defence or the attainment of national objectives." As with article 335-B, the IACHR warns that such ambiguous language leaves journalists unclear on what will and won't constitute criminal language.
Even more chilling, a Guardian investigation found that Honduras had bought £300,000 of sophisticated surveillance equipment from the U.K. government just before the November election. Meza said she has seen this equipment firsthand when arriving at commitments to find someone already there, watching her.
Assaults have taken more direct forms, too, with journalists beaten by police while attempting to cover protests. On March 25, a reporter with the digital news site Mega Red Nacional was punched, electrocuted, and forced to delete his material during a demonstration in the northern city of Choloma.
In February, Cesar Silva, a presenter with the opposition-aligned UNE TV, narrowly evaded a knife attack live on air.
"I almost found myself narrating my own death," Silva said. He believes his assailant had mental health problems, but adds that he was likely stirred up by rhetoric used to delegitimize the political opposition.
"He called me a gangster and a defender of delinquency, which is exactly what the government says about us," Silva said. "It shows how much they really [don't] care about hate speech."
Toby Hill is a freelance journalist reporting on social and environmental issues in Latin America and the UK.
Cover image: A man passes in front of burning tires during a protest opposing the government of President Juan Orlando Hernandez and calling on international investigators to continue looking into allegations of corruption within the country, in Tegucigalpa, Honduras, Friday, Feb. 2, 2018. (AP Photo/Fernando Antonio)