The numbers of people attending churches have been in decline for decades.
It doesn't help that Christian communities can be out of step with the rest of the country when it comes to certain issues. While 50 percent of American adults believe that global warming is manmade, according to the Pew Research Center only 28 percent of white evangelicals would agree (for what it's worth, the same study found that 56 percent of black Protestants do attribute a warmer Earth to people). Another Pew Research Center study from earlier this year found that 62 percent of Americans in 2017 supported same-sex marriage. Just under 45 percent of black Protestants and 35 percent of white evangelical Protestants shared that view.
The young Christian leaders below are advocating to change some of those discrepancies in how churchgoers tend to view everything from the death penalty to immigration to climate change: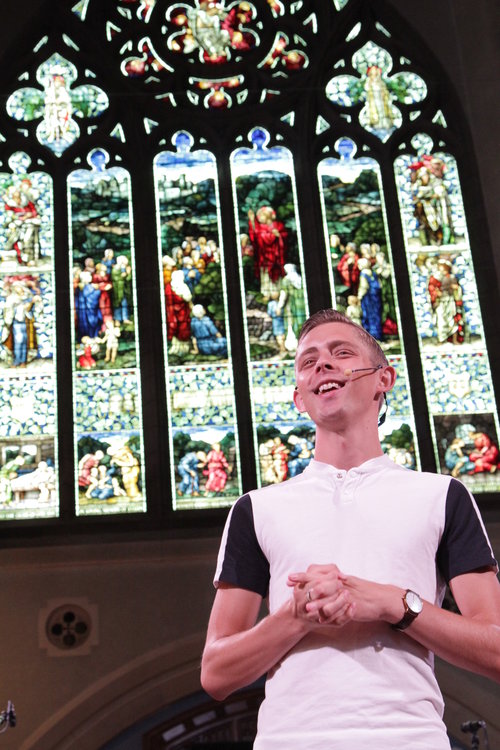 Brandan Robertson
Age: 25
Issue: LGBTQ Rights
Brandan Robertson felt called to Christian ministry at age 12. He was street preaching a year later. At age 15, he created a podcast, and later a radio show in his college years, where he interviewed well-known evangelicals. Somewhere during that time, he began thinking about his sexuality, and publicly came out as bisexual last year. "Sexuality is a fluid thing for me," he explained. Although his calling and his sexuality might seem a contradiction to some, Robertson has blended the two. He is now the lead pastor of Missiongathering Christian Church in San Diego, a church he describes as like "a typical evangelical church, but we are unashamedly progressive" on LGBTQ issues. Despite losing a Christian book deal for his stance on marriage equality, Robertson wants to see churches get over the fear that being political will drive people away. For Robertson, that looks like a recent meeting with two potential presidential candidates on engaging faith voters with a progressive message, or speaking with politicians in Northern Ireland about banning conversion therapy. And Robertson might one day run for office himself. However, his ultimate goal is simpler. "I want to bring as many people forward as I can into this redemptive life I have found," he said.
Rachel Lamb
Age: 27
Issue: Climate Change
Rachel Lamb grew up with plenty of voices questioning the magnitude of climate change, but a love for the outdoors won out. Now, she is an environmentalist because of her faith, not despite it. Lamb did environmental studies for her undergrad and completed two master's degrees, one in public policy and the other in sustainability and conservation. To support and gather other evangelicals that share a love for the environment, Lamb co-founded Young Evangelicals for Climate Action five years ago. "As Christians, we should be doing all we can to participate in [climate change] solutions," said Lamb, adding that the organization helps bridge environmental advocacy to "Christian witness." Lamb is currently working on a PhD in geographical sciences and her day job involves identifying areas for afforestation, which is creating new forests. In the future, Lamb sees her role as a policy adviser or working for a think tank. "A parallel part of my identity is communicating to people in my own faith," she added. Practically, that looks like speaking at Christian colleges and seminaries or at local churches on "creation care," which is Christian speak for environmental stewardship.
Matthew Maly
Age: 24
Issue: Death Penalty
Almost 70 percent of white evangelical Protestants support the death penalty. Matthew Maly could easily have been one of them after growing up in the "thick of evangelical culture" in Nebraska—church every Sunday, conservative parents and siblings who are missionaries. Instead, it was the words of Jesus in the Bible that led him to join the anti–death penalty movement; advocating against the death penalty gelled with the social justice emphasized by his faith. It also fit nicely into his fiscally conservatives views. It costs Nebraska $14 million a year to maintain the death penalty rather than sentencing people to life without parole. As the operations coordinator for Nebraskans for Alternatives to the Death Penalty, Maly spends his days speaking on the issue and enlisting death-row exonerees to share their stories at schools and churches. He also rallies church leaders to speak against the death penalty because "a lot of people will change their minds based on what they hear from the pulpit," said Maly. Although the death penalty in Nebraska was reinstated after it was momentarily abolished in 2015, Maly believes within three decades the death penalty in the US will be no more.
Broderick Greer
Age: 27
Issue: Racial Inequality
"When it is easier for a 21-year-old white supremacist to obtain a gun than for a 21-year-old black person to get registered to vote we must cry 'Do you not care that we are perishing?'" said Reverend Broderick Greer, in a recent sermon. The sermon's title, Charleston Nine, referred to the Bible study attendees massacred by terrorist Dylan Roof in a South Carolina church in 2015. Greer is black, gay, and Canon Precentor at Saint John's Cathedral in Denver, Colorado. He also isn't afraid to bring the black experience into his sermons, the articles he writes and his well-followed Twitter feed. That experience, Greer told me, is reflected in the earthly life of Jesus, a target of state-sanctioned violence and an unfair criminal justice system. Greer is concerned with changing that black experience. That could mean partnering with nonprofits to expunge nonviolent criminal records, which disproportionately impact black lives, or simply walking out his home each day. "A lot of it is just existing, waking up and saying I have value, and I have dreams, and I want to enjoy my life," he said.
Tabitha McDuffee
Age: 23
Issue: Refugees
Tabitha McDuffee believes the lackluster support among some American Christians—or in some cases, the outright rejection of generous refugee policies—is due to a disconnect with what the Bible teaches. Yes, Jesus said in Matthew 25, "I was a stranger and you welcomed me," but it also goes much deeper, according to McDuffee. Her ebook, Refugees in the Bible: Understanding Today's Refugee Crisis, takes a deep dive, detailing several Bible characters who would be labeled refugees today. Like Moses and the entire nation of Israel when they left Egypt. "We are seeing a lot of people chose their political opinions over what the Bible has to say… which is heartbreaking to me," said McDuffee. Along with her ebook and working for an organization that resettles refugees, McDuffee runs a website called Faith and Forced Migration. When President Trump signed the first executive order on the travel ban earlier this year, traffic to the website grew 500 percent, she said. To McDuffee it shows that Christians are at last searching to understand the refugee crisis from a biblical perspective, an intrigue she intends to satisfy with more books on the issue. Ultimately, a change in how evangelicals see refugees "could force the hand of the Republican Party on this issue," McDuffee said.
Liz Dong
Age: 28
Issue: Immigration
Liz Dong, who came to the US from China at the age of ten, is a recipient of Deferred Action for Childhood Arrivals (DACA). "I struggled a lot with identity especially because I couldn't drive, or work or go to school," she said. Her Christian faith, she said, filled out that identity. It also guides her passion for her idea of "sensible and just immigration policies." Dong is a member of Evangelical Immigration Table, which advocates for immigration reform that lines up with biblical values. She is also hoping to change the perception some conservatives have of undocumented immigrants like her. That means sharing her story in the media and at forums both in and outside of churches. "I do think many folks are willing to absorb information," she said. "That information just needs to come from people they can trust." And often that means someone from the same faith.
Update (November 6 2017): An earlier version of this article incorrectly stated that Broderick Greer is the associate rector at Grace-St. Luke's Episcopal Church and School in Memphis, Tennessee. This is his old job.
Follow Serena Solomon on Twitter.