Photo by Cliff Welch/Icon Sportswire via Getty Images
Slowly but surely the Blue Jays' offseason has started to take on a defined shape. There are still moves to be made, and still a whole lot of uncertainty among fans about just how good the team will be, and what will happen next. The outfield seems to have gone beyond looking set, and now looks like an area where the club might move someone to add pitching.
Will they? Which player will be moved next? Which pitchers might they be targeting?
All these questions, and more, will be the subject matter for this week's edition of the ol' mailbag—so let's have at it!
And remember, if you have a Blue Jays question you'd like me to tackle for the next mailbag, be sure to send it to stoeten@gmail.com. As always, I have not read any of Griff's answers.
How absolutely amazing/bonkers is it that we have two prospects in Baseball America's top 10? Should I be doing cartwheels right now?
Leemo Legs
I don't know if it's so much about just having prospects who rank that high, but what the scouts and these sorts of organizations are actually saying about them. You could have a class of prospects that was so great that you could rank in the mid-20s in one year, but be a consensus top ten in other years, you know? What should excite us is hearing people who take their jobs seriously, and who genuinely try to give a sense of what the industry really thinks, using words like "superstar" or "Miguel Cabrera all over again," or giving out 80 grade hit tools (which everybody seems to be doing for Vlad) or 70 grade hit tools (as MLB Pipeline has done this week on Bo Bichette).
---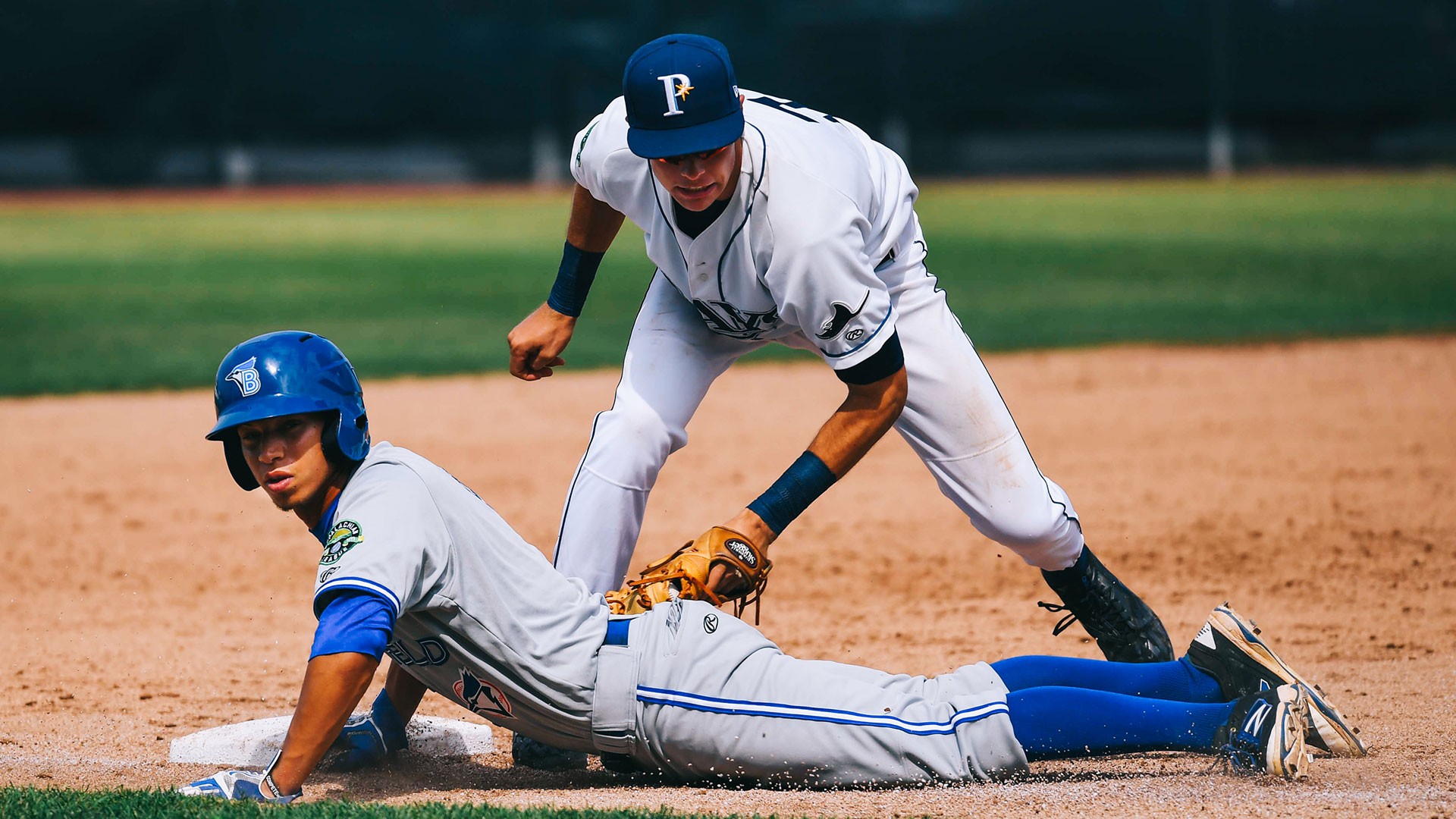 ---
The rarity of the kind of praise these guys are getting is much more impressive than whatever number is next to their name. I mean, Vlad is No. 3 on a couple lists because the Braves' Ronald Acuna is such a great prospect in his own right (and big league ready) and Shohei Ohtani has arrived in North America as a ready-made front of the rotation starter, but the three doesn't make him any less exciting. There have been a lot of years recently where I'm sure he'd have been the clear No. 1. And while it will take more than just two players to make a team, and it's tough even still to be counting on these guys to be everything we hope they can be, the Jays have some massively impressive building blocks for their future. Be excited.
---
Hey Andrew,
With the Blue Jays stating that they now plan to focus on improving the pitching, who do you see them targeting? I would love to see Alex Cobb, if they could sign him for 3-4 years, it would help after this season, especially if both Estrada and Happ leave, and after the last few seasons of Mat Latos and company, I definitely believe in the you can't ever have too much pitching mantra…
Thoughts?
Thanks,
Ron
I'm with you thinking that Cobb would be a nice move if they could make it, especially because I think you're right that they're likely going to need additional starters next season (though I wouldn't put it past them to get Happ or Estrada re-signed at some point). But I think even asking for Cobb is probably a little too much at this point.
My suspicion is that the Jays would be more inclined to trade for a pitcher with some cheaper years of control left, rather than building their club through free agency, and if they're going to go the free agent route they'll be looking at some of the cheaper options—including Chris Tillman, whom Jon Morosi says the Blue Jays have shown interest in.
Now, there's a long way from two sides "talking" and there actually being a deal between them, and if there's not actually much to this it wouldn't be the first time a rather innocuous comment from Morosi had been blown up into a big Blue Jays story. But there are certainly some reasons Tillman makes sense—especially if we keep our heads on straight about what a fifth starter actually looks like. Tillman soaked up innings for the Orioles, making at least 30 starts for four straight years from 2013 to 2016. He had a shoulder problem that required a platelet-rich plasma injection in December 2016, which kept him out until May of last year, and when he did get on the field he was awful—his ERA ballooned to 7.84, and he just couldn't keep the ball in the park, allowing 24 home runs in 93 innings. But what that means for 2018 is that some team is likely going to take a pretty cheap look at him, and if he returns to being the guy he was before 2017, he can be a real useful piece.
Over 758.2 innings from 2013 to 2016 Tillman pitched to a 3.91 ERA for the Orioles, with opponents hitting just .244/.312/.409 off him. The walk rate was a little high (8.3 percent, 3.1 per nine innings), the strikeout rate a little low (18.6 percent, 7.0 per nine), and FIP and xFIP liked him a little less than ERA (4.27 and 4.28, respectively), but those are solid numbers for a guy you'd really only be bringing in to take a chance at being your fifth starter. Fifth starters usually aren't that good.
If they made a bigger bet, like a multi-year deal or something, that would change the equation entirely, but if it's a one-year deal where the club can eat the money fairly easily if he doesn't work out? Why not?
---
Hey Andrew,
Maybe this is a little premature since we haven't hit spring training yet, but why aren't Hernandez and Alford being discussed as regular OF candidates? The former clearly proved he can be an explosive player last September (offensively, at least), and while I imagine the latter may still need some development, he has always been considered a top prospect in that position. Am I just jumping the gun here?
Thanks,
Cam
"Clearly proved"????
Look, Teoscar is a nice prospect and had a great September in the power department, but his strikeout rate in the big leagues last year was still 37.9 percent. Sure, that can be masked by the kind of power production he displayed, but we just can't expect that at all from him going forward. Like, the .505 slugging percentage he put up in Buffalo in 2017 was the highest mark of any stint he'd had at any level since he was in High-A in 2014, then he gets to the big leagues and it jumps to .602. That's proooooooooobably not a skill that suddenly got that much better, especially after a jump up to face the best pitching in the world. I'm not buying it.
---
---
Teoscar can still be a nice piece, don't get me wrong. But he's behind Randal Grichuk now in just about every way—both are low OBP sluggers from the right side with enough glove to maybe cover centre a bit but probably better suited to a corner, and it seems that in all those strengths, Grichuk is better. So I actually wonder if Hernandez is a guy the Jays might look to trade—and if he's maybe a guy who they were never really looking to as a building block to begin with, as much as he was just the best value they thought they could get out of trading Francisco Liriano. That's just a guess, though.
Alford, I think, genuinely is a building block, but I can't fault the club at all for erring on the side of caution in terms of giving him more development time. He missed so much of 2017, and he was already a guy who missed so much baseball time early in his pro career because he was off playing football. That he's as advanced a prospect as he is is a testament to his talent and his work ethic and is something I think fans should rightly be excited about, but bringing him up to start the 2018 season with such little time at Triple-A, such little exposure to the big leagues, and (presumably) not much of a safety net behind him, just doesn't seem like a great idea. Hitting his way past Kevin Pillar shouldn't be terribly difficult, and he'll get there in time, but yeah, I think it's rushing to just assume he's ready to step in and be a productive, everyday big leaguer right away. That learning curve can be awfully steep!
---
Should the Blue Jays value Pearce over Carrera because Pearce provides first base depth in case of injury to Smoak? Seems they'd have an easier time covering an outfield injury now than one at first base.
Miscount Dark
I don't think so, no. Kendry Morales would be passable at first in the event of a Justin Smoak injury, and beyond that I don't think it would be too tough for them to find someone on the roster to go there. That said, I do suspect it's more likely to be Carrera who is on the outs, and that's because he's a lefty bat and now seems a bit redundant on the roster with it looking like Pearce and Curtis Granderson will be platooning in left field.
I wouldn't put it past the Jays to look to move Pearce, because he's not really an outfielder, and because I wonder if Teocar Hernandez might be just as good, all things considered, as the righty half of that platoon. So maybe it's both of them who go!
---
The Jays now have 5 potential outfielders - Pearce, Pillar, Granderson, Grichuk, and Carrera. I doubt the Jays will carry all of them on their roster to start the season. Whom do you think is most realistically to be traded? My guess is that either Carrera or Pearce will be gone. But part of me wonders if management is willing to part with Pillar for pitching. Your thoughts?
Regards,
Derek
As it stands, the Jays could carry all five outfielders if they went light on their middle infield depth and started the season with Aledmys Diaz in the minors. Yangervis Solarte can play all over the diamond, and they could probably make it work for a game or two if Troy Tulowitzki and Devon Travis were to go down at the same time, but you're right that this doesn't exactly seem ideal. As I said above, I could see them moving out both Pearce and Carrera and going with an outfield of Granderson and Hernandez in left, Pillar in centre, and Grichuk in right, which would be quite a defensive upgrade over last year and I think a pretty good step forward offensively, too. But you're right that, especially with Grichuk in the fold, Teoscar hanging around, Dalton Pompey in a crucial year for his career (unless he spends the vast majority of this season in the majors he'll be out of options in 2019 and unable to be sent to Buffalo without being exposed to waivers), and Anthony Alford seemingly very close to making the Jays' centre field job his for the foreseeable future, moving out Pillar for an arm makes a whole lot of sense, too.
Personally I like that option quite a lot. Pillar has two more trips through the arbitration process before free agency, and if his defence slips at all again like it did in 2017, I think that in at least one of those years he's going to end up a non-tender candidate. He hasn't been helped by Statcast, which has exposed a lot of his highlight catches to be the products of poor initial breaks on balls, and for now is slated to be playing alongside an outfielder in Grichuk who almost matches him in sprint speed (Pillar was at 27.9 feet per second in 2017 per the Statcast Leaderboard, Grichuk was at 27.8), and was judged to be two outs above average last season, as compared to Pillar's two outs below. Granted, Grichuk played mostly in either right or left field last season, so we're not exactly comparing apples to apples here, but in 2016 he played almost exclusively in centre and ended up grading out better than Pillar did in 2017, at one out below average. Thing about that is, in 2016 Pillar was 15 outs above average, and if that guy comes back this conversation is moot. But if the Jays don't think he's going to, or if they think Alford really is that close, they certainly have the pieces to move Pillar in a trade if that's where they think their best opportunity to strengthen their pitching staff lies.
---
Who will replace Gregg Zaun?
Lucas
Jason Grilli?
I mean, I have no idea, and obviously J.P. Arencibia has been angling hard for that gig—since even before Zaun's ignominious departure earlier this winter—but Grilli would be an interesting choice, too. Maybe that's the secret mission!
---
I love Josh Donaldson and hope they extend him. But do you think the Jays are hesitant to do so knowing they have Vlad Jr. waiting? Obviously both together would be incredible, but has to be part of the thought process right?
Kevin
I absolutely do not think that has to be part of the thought process. They won't have any trouble finding a place for Guerrero to play while Donaldson is here.
You can send Andrew Stoeten questions for VICE Sports' Blue Jays Mailbag at stoeten@gmail.com, and follow him on Twitter.