This article was originally published in Dutch on MUNCHIES NL.
---
As soon as spring rolls around, restaurant owners know what to expect: a lot of people who don't show up for the table they reserved. Together with a group of fellow restaurant owners, Jim de Jong is raising awareness about this frustrating phenomenon.
With winters that seem endlessly cold, rainy, and gray, spring is always a welcome change in The Netherlands. The first rays of sunshine peek through the clouds, flowers are slowly starting to bloom, and fleece-lined pants and down coats make way for long, pale limbs in shorts and t-shirts. Suddenly, we're all a bit less responsible and a bit more impulsive, combining laissez-faire with joie de vivre, which usually results in mid-week hangovers.
Nothing wrong with that, unless our new-found lust for life effectively destroys someone else's day or evening. Those first warm days present a yearly challenge to restaurant owners: people either fail to show up for their reservation or call ten minutes before they were expected to show, citing their "comfortable back yard" as a reason for their cancellation. Jim de Jong, owner of Restaurant De Jong in Rotterdam, aired his unhappiness about all of this in a post on Facebook, which prompted a massive response from fellow restaurant owners who all agreed with him.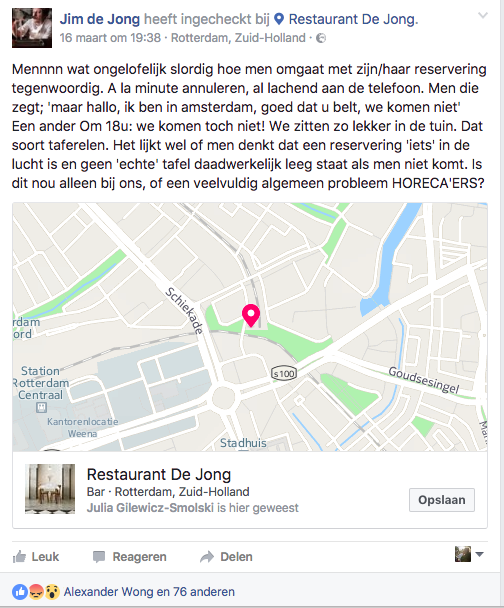 Translation: Man, what a disgrace how people handle their reservations nowadays, cancelling when they were supposed to be here, while laughing on the phone. People say, "I'm glad you called; we can't make it!' Someone else, at 6 PM will say: "We can't make it! We're so comfortable in the yard." It seems like people think a reservation is a concept and not a real table which will stay empty when they don't show up. Does this happen only with us? Or is it a common problem, people in the hospitality business?
In over 60 comments, restaurant owners and managers—from cities like Rotterdam and Amsterdam, and also from smaller towns—shared similar experiences. Pepijn Schmeink of restaurant Dertien says he was verbally abused one recent Friday night by a man who canceled a table for four only 15 minutes before he was supposed to show up. All Schmeink did to deserve an earful was ask the man if he could have called sooner. Someone else complained about a no-show reservation of ten people. The commenters also discussed possible solutions ranging from calling guests the day before to confirm their reservation to sending a text message to remind them, to more drastic measures like sending a bill for a late cancellation, or starting a blacklist with names of no-shows.
READ MORE: Why You Should Never Cancel Your Restaurant Reservation Last Minute
A blacklist might sound a bit extreme, but it's not the first time restaurant employees have talked about such a solution. A friend who works in the kitchen of one of Amsterdam's best restaurants recently told me that her team used to share names and phone numbers of no-shows with a few other businesses in a special WhatsApp group. "Don't tell anybody who I am, or which restaurants I'm talking about. If people know they could end up on a blacklist, they won't make reservations anymore. They'll end up going somewhere else, or using a different number or different name to claim a table." According to her, the blacklist wasn't all that official, "more like a way to channel frustration and notify each other of people we couldn't trust. We've since stopped doing it, because there was no good way to keep track of all the names."
Translation: Last Saturday 2 x 4 no-show. When we called to ask where they were… oh, forgot to cancel. Won't be able to fill that up after 8 PM. Fuckers! We'll be making a blacklist with phone numbers.
Based on what De Jong writes on Facebook, it's clear that more restaurants are toying with the idea of creating a blacklist. I called him and a few other restaurant owners to ask them about the increasing number of no-shows, the effect this has on their business, and a possible solution. Will a blacklist actually make a difference?
"The same night I posted, a girl canceled at the exact time we were expecting her. She was laughing and didn't apologize", De Jong tells me. "The night before, a table of four didn't show up, and when I asked them about it, the man said, "But with this weather—we are in Amsterdam." He got angry when I explained that he could have notified us."
Last-minute cancellations happen constantly in Restaurant De Jong, at least a few times a week, and the frequency increases when the weather gets warmer. The number of no-shows has at least doubled compared to a few years ago. Other restaurants are facing the same issues. Freek van Noortwijk of restaurant BREDA says that last-minute cancellations happen on a daily basis. "With us, people make their reservations weeks or months in advance. People don't usually walk in, so it's hard for us to fill up an empty table. We have a waitlist, but at the very last minute, that doesn't really help all that much."
Last year, hospitality magazine Misset Horeca calculated that top-rated restaurants in the Netherlands lose about 10,000 euros a year due to no-shows. "A table of four that doesn't show up easily costs me 250 euro," says De Jong. "We have paid our suppliers, done our shopping, hired the staff—all of that costs money and we end up throwing away the food. On top of that, it's embarrassing to seat people who reserved their spots weeks in advance to make sure they would be seated next to an empty table on a Saturday night. It makes them think, "Why did I have to wait this long if [the restaurant] isn't even fully booked?" Of course I understand that last-minute cancelations happen. What I don't understand is the sloppiness and lack of respect that goes along with it. People walk around thinking a restaurant table is somehow not a real thing; they don't realize that an actual table will stay empty when they don't come, and that the consequences for the restaurant can be devastating."
Many restaurant owners cite sending people a bill, even when they don't show, as a possible solution, along with requiring credit card information when a reservation is made. According to Dutch hospitality laws, you enter into a verbal contract when you make a reservation. If you don't cancel within 24 hours, the restaurant is allowed to charge you for a meal. "The Jane has integrated this very clearly and professionally into their reservation system", one Facebook commenter wrote. Still, De Jong and other restaurant owners feel like they can't quite go there. "The Jane can do this, because they have a waitlist that is seemingly endless", says De Jong. "In cities like London and New York, it's normal—every restaurant uses the same system to make reservations—but we can't do that. Upon hearing our rules around cancellations, customers often feel like they're treated like a criminal. So they end up not making a reservation, and they find another busy, good restaurant that doesn't have these rules."
At the moment, De Jong charges no-show reservations of larger groups a set price of 45 euros a person. "We communicate this very clearly at the time of the reservation, but even so, people get very angry sometimes when we send them a bill afterwards. Their answer is that "everyone forgets sometimes." This is true, but if you forget something, it's your problem, and also your responsibility to fix it. When you make a reservation for a flight, the dentist, the hair salon or a hotel, you also pay when you don't show up, right? A restaurant is one of the only places this isn't a custom, and it's a problem."
If all restaurants started working together by implementing the same system for making and handling reservations, similar to London and New York, people would take a reservation much more seriously, according to De Jong, who believes that dinner plans would be penciled into calendars in big, red letters. He's not the only restaurant owner who admits that the current way of making reservations has its flaws.
Alexander Wong of Nixy & Lexy Chinese Breakfast has come up with a solution for this. He says: "There should be a system for reservations that is linked to Facebook. Once people lose their anonymity, they won't treat their reservations so flippantly. A fine-and-rewards system would also be great. Imagine: just like guests rate us on [a website like Yelp], we can rate them. Their rating goes down if they've not handled their reservation well, and we'd know about it by looking at their profile." This would also take care of prank calls, a common problem in the Chinese restaurant owned by his parents.
I'm not sure a system like this would actually be a good thing, but it's clear that the rising number of no-shows puts a lot of pressure on restaurant owners. When I ask if people in Rotterdam ever talk about creating a blacklist, I get a resounding "yes" from De Jong. "It has a big impact on us, so after we close we often discuss it. We've started making a list of no-show names on the first page of our book of reservations—in part to protect the business, but mostly for [the customers], so we can educate them the next time they try to make a reservation. This way, we can refuse to reserve a table, and hopefully they will be ashamed and possibly gain some insight when it comes to the proper way to handle a reservation." He's not the only one who is considering this. I spoke to many restaurant owners who toy around with the idea of a blacklist, though they're not sure how to implement one and how they can most efficiently share it with other restaurant owners. Natasja Postma of restaurant Wink in Amsterdam, who tried to make a blacklist, tells me: "It's not very practical. As soon as people call, you have to go through an entire list to make sure they are not on it. It's a hassle." There aren't any mobile or desktop apps available to tackle this problem.
A real blacklist with the names of all no-shows doesn't exist yet, but if the current trend continues, it could happen. Restaurant owners are just as unhappy about that development as we are. "I really don't want to call people out or worry about a secret list. I also don't want to send bills [to people who don't show up]. It's more administrative work for me. But we're almost being forced to go that route. It's a shame. We understand that customers aren't trying to harm the restaurant by not showing up, but they do. It would be great if people became more aware of the consequences of their actions, and treat reservations with more respect going forward."
He's right. Chefs respect us by working hard and serving us gorgeous meals. Let's return that respect by honoring our dinner appointments.