This article originally appeared on Noisey Australia. [movie trailer voice over]
Greg and Steve are about to have the summer of their lives. Two buddies spending their vacation hanging out at O.J.'s Drive-In burger joint and Pete's Pinball Arcade. Trying to make it with bouncy and fun sisters Donna and Suzy and make an escape from Bert and his nasty biker gang. It's a pinball summer, jump in the backseat and come along for the ride.
Shot in the summer of 1979, George Mihalkas's debut feature Pinball Summer is a classic late 70s t&a teenage romp/comedy. High school buddies Greg and Steve's fun-filled summer vacation involves driving around in a van, girls, amusement parks, the beach and culminates in a hotly contested pinball competition. But to be honest, none of the film's target audience was watching for the pinball.
What set Pinball Summer apart from other bawdy, low brow, teen comedies of the time, besides it being filmed in the very un-California/Florida beach location of Montreal, is a soundtrack packed with power pop bangers.
Written and performed by French-Canadian musicians Jay Boivin (who was an original member of Quebecois garage band Les Sinners) and Germain Gauthier, tracks such as the the film's theme "Pinball Summer", "Sweet Madness" and "Summer Magic" glow with 70s AM sunshine and power pop.
It captures a time when the pop of Cheap Trick and The Cars and the soft rock of 10CC and ELO ruled the airwaves. "Sally Joy" an ode to the film's blonde, high-waisted-jean-and-no-bra-wearing character could have been lifted straight from a Milk 'n' Cookies' album.
Originally released in 1980 on Canadian label Celsius Records, the soundtrack LP has become quite rare, often fetching high prices from collectors. New York label Mighty Mouth Music has recently reissued the album on vinyl.
We got in touch with Jay to find out more about the film and soundtrack.
Noisey: At the time were you aware of or appreciate the irony of a typical California sun/summer romp type film being produced in Montreal?
Jay Boivin: Movies are shot in Montreal all the time because of tax breaks and the variety of settings that can be found there. Most of the movie was filmed on the west island.
Were you given any kind of brief? Did you write the songs after reading the script?
When Germain and I met with George Mihalka he was working on the rough cut that was about three hours long, and he told us where he wanted music. The rest was up to us. We wrote and recorded the whole thing in ten days.
There are huge hooks in the songs. Do you ever wonder what would have happened if you had released the album as your own power pop album?
I don't think that either of us ever thought that the album would become as popular.
The songs have been compared to the pop of Sparks, Nick Lowe, Dwight Twilley and Todd Rundgren. What music were you digging at the time?
Germain and I both love great harmonies. I don't recall exactly what we were listening to at the time but "Summer Magic" has a bit of Electric Light in there somewhere. We have always dug the Everly Brothers, the Beach Boys, Simon and Garfunkel, Fleetwood Mac, all the good stuff.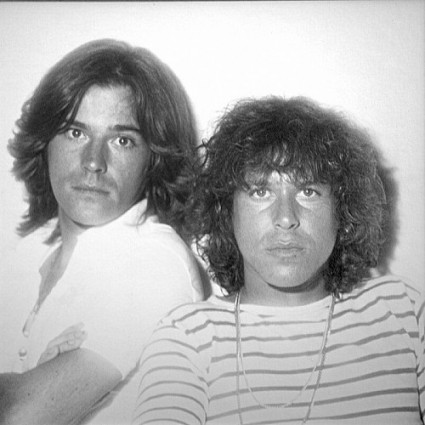 Had you done much writing for film soundtracks before this?
Germain and I are old friends and we had worked together many times prior to Pinball Summer. A year earlier we had had a big hit under the name Sea Cruise which featured a medley of Beach Boys songs with a dance beat lasting about 15-minutes. It was released in 27 countries. The Pinball people heard it and were interested in using the medley for their movie. I met with them and we struck a deal to write, record and produce the music to Pinball. This included an album on the Celsius label of Trans Canada records the biggest Canadian distributor at the time.
How did you approach or share the songwriting?
At the time Germain and I would get together 3 to 4 times a week with whatever bits and pieces we had and walked away at the end of the day with a good rough song music and lyrics.
You remastered the album before Mighty Mouth came on board?
I heard that Pinball vinyl was popular some 6 years ago and decided to remaster it to make it available on CD. Harry approached us a bit later to release the vinyl.
What was the premiere like?
It was at the National Film Board in Montreal complete with red carpet. It was a real buzz seeing the final cut on the big screen.
'Pinball Summer' is available now on Mighty Mouth Music.
Images: YouTube