Four years ago, Swedish duo Icona Pop made one hell of an entrance with their relentless, unapologetic banger, "I Love It." The song garnered international attention (it peaked at number 3 on the U.S. Billboard Hot 100), and propelled Caroline Hjelt and Aino Jawo—now 29 and 30, respectively—from small shows on college campuses to supporting mega-stars like Katy Perry, Miley Cyrus, and One Direction on their stadium tours. They toured for four long years. Now, for the first time since "I Love It," the duo have come up for air. This past October, they released the new single "Brightside," a breezy, melodic ode to their friendship, and now they're back in the studio. (Special shout out for that Grammy nomination for "Best song written for visual media" for "Can't Stop the Feeling!")
During a recent trip to New York, we caught up with Hjelt and Jawo on the Lower East Side to find out what they've been up to, but before we look fully to the future and the next era of Icona Pop, the duo honoured #throwbackthursday by excavating some their most memorable moments together.
Noisey: Hi Caroline and Aino! Recently, you finished up an extensive few years of touring. How is life different, now?
Caroline Hjelt: Hi! Well, we've been touring for four years, and we needed to write. We have so much we want to say, so much we've been through. So we decided to say no to everything [for now], when it comes to shows, which is hard. But we just felt like we have to believe that [our fans] will still be there. And go into the studio and write.
Aino Jawo: I think it's also important for yourself. When you're onstage, singing the same songs for four years, you can kind of feel like, "OK, this was me four years ago, and now I need to write something that's me today." Going back to the studio was hard, though. You're stressed!
You 're using a totally different part of your brain.
Caroline: It was stressful taking it easy. You're so used to [traveling to] different cities, working 24/7. It's a rush that you get addicted to. You feel like you're so productive and it's so fun. But suddenly, when you're supposed to sit down and you don't have that tempo…
Aino: It's horrible sometimes. When you're on tour, you go through a lot of different emotional things like heartbreaks, or you get in a depression, and you can't really take care of yourself. It comes [over you] when you sit down and start to think. You meet yourself in a different way.
Caroline: When it's quiet, you're like, "Hello, [self]."
Aino: We've definitely developed so much in the past three months [in the studio], more than we've actually done in four years. I think we put ourselves on hold, just because of the music. So this time we just went into the studio, we took our time, and we were like, "So, what do we want to write about?" The typical thing is love, but I don't feel the need to write about love. So we decided [to focus on] friendship. That's the most important thing. Is that the inspiration for the new single, "Brightside "?
Caroline: Yeah! "Brightside" is about how we've been though so many ups and so many downs together. [The idea of being] there for your best friend when you see them feeling like shit. You'd do anything to make that person smile again.
Aino: That's how we function. If someone's a little bit down, it's not like we cancel a promo day—the other one just steps up. It's pretty beautiful that way.
Caroline: We felt like it was important to do a song to celebrate friendship. We have so many other songs that we're writing, but it felt like it was the right time to put this song out.
Aino: Also I think you need a little brightness in dark days like this. There's so much going on, with the election… it affects the whole world, because [the United States] is such a big country. It's been such a weird [time] in Sweden, because we know that it's going to affect us, as well. Hopefully something good will come out of the dark. People will get more involved.
Caroline: You have to realise how important it is to care, make up your own opinion, and then fight for it. I hope something a little bit positive can come out from such a disgusting situation.
Agreed. Let 's go through these photos!
Caroline: So, this is actually the deli on the corner on Allen Street [on the Lower East Side]. This is a very, very drunken night. I am actually sleeping. I'm taking a nap. I think you can see the makeup and everything is such a mess. But we needed food. And you were not sleeping…
Aino: I was so hungry! This [night] was the last stop on the Miley Cyrus's Bangerz Tour. We were out at Electric Room. Our friend Klaus got super drunk, and we were like, "Shit, we need to take him home." We got to the hotel, and he said he was fine. So we went to grab food at this deli…
Caroline: We were gone for maybe an hour! It took a long time. But when we came back and pressed the elevator, he fell out! So this was a chaos night, but a very beautiful one.
Aino: How was touring with Miley Cyrus?
Caroline: She's the coolest chick on earth. She's so talented. Some tours, when you're a warm-up act, people don't take care of you. But she came and talked with us… we were hanging out. We were like a big circus, a big family.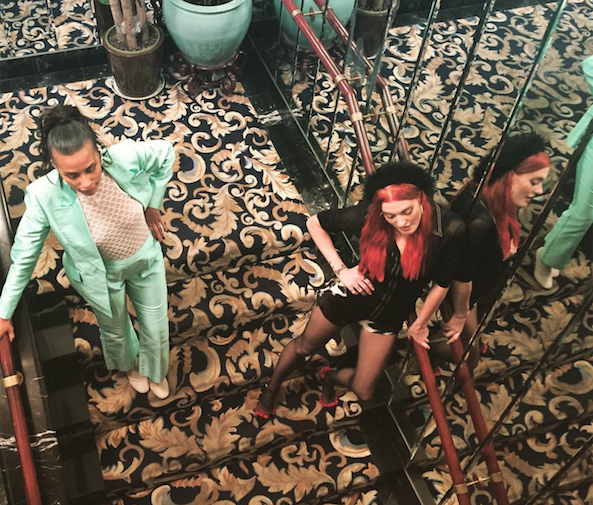 Caroline: This was a couple of weeks ago. We were recording our new music video for "Brightside." We decided we wanted to do it in Los Angeles. So we got some friends together—a good crew that we usually work with—and we styled ourselves. We decided on a venue together with the video director, and we shot it in a couple hours. The video is about our friendship, so it was making a statement with just us in it.
Aino: The venue is a Chinese restaurant in Downtown LA, called Ocean Seafood.
Caroline: This was at the [film] Trolls premiere. In the movie, we're fashion trolls from Scandinavia. And our hair is united, so at the premiere, we decided we were going to be united as well. So we braided our hair together, which was kind of complicated.
Those look like really involved extensions…
Aino: Yes, very heavy.
Caroline: And then we just cut them off. We'd started walking in different directions. Like, ow.
Aino: We stayed that way for three hours. It was pretty difficult. But that's friendship.
Caroline: This is from early Icona Pop days! We must have been 22. This is from a party where we celebrated New Years in the middle of the summer… we even had a countdown in the middle of the club. But we found this picture and we were like, "Whoa!"
Aino: We look like we're 12, still! Untouched!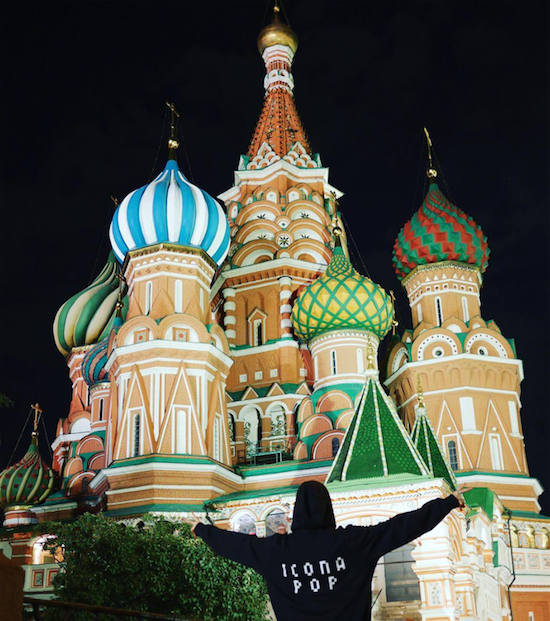 Caroline: This is from when we went to Russia for the first time. It was so beautiful. We've had so many fans in Russia for a long time, but we'd never been there… we had a Vogue shoot [there] and we played at a venue in Moscow.
Aino: [Moscow] was one of those places where it feels like a lot of things have been happening. It feels very vibrant. We definitely want to go back.
Caroline: This is with Alicia Vikander. We used to live with her in London [years ago]—on Portobello Road, in a very dodgy apartment with rats. We slept on the floor, and the carpet that we slept on was so nasty. We were stealing food from the market.
What food did you steal?
Caroline: Avocados. They fill you up!
Aino: We don't really eat meat, so that was the perfect way to fill up and empty stomach.
Caroline: And then beer, of course. [Those years] was so beautiful, but a very struggling time for us, and for her. She got a few roles while we were there, but we were really struggling with our music.
Aino: Fighting together. At that time, we were [around] 22.
Caroline: I have so many memories of when we were crying on the bed because nothing was going our way and things were just shit, and she [would] come in and be like, "Girls, dry those tears. We're going to go out and we're going to celebrate."
Aino: And now we're so proud of her. But this photo was very meaningful. This was last year, at the ELLE Women in Hollywood Awards. Alicia won [an award], and the girl who was supposed to talk about her got sick. So, they called us and were like, "Can you please do this?" And we were like, "Yeah sure!" But we didn't understand how big this thing was. We were talking between Selma Hayek and Lena Dunham and Meryl Streep.
Caroline: And they all had like, 30-minute speeches that were just beautiful and we were like, "Shoot me." And English is not our first language, so we were just like, "Oh, let's do it our way." So we talked about our time in England and we made it pretty short, which I think people liked. We're proud stage moms.
Caroline: This is in the very south of Sweden. We picked this picture because we love seasons. We've been in LA lately a lot and we love the heat, but we also love and miss seasons! Even though you complain that you're cold, you still want it. And now, we have clothes. Before, we were walking around in Converse when it was sowing. Now I'm like, "I'm putting on my big gear!"
Do you both ski?
Aino: I'm pretty bad! Caroline: I ski, but I injured my knee. My dad was competing for Sweden with the National [skiing] team, and then my mom was a skiing teacher—that's how they met. So I started skiing early, but then I injured my knee so I did handicapped skiing—sit-skiing—growing up.
Caroline: This is on the One Direction Tour. I don't even know which stop this, but it takes me back to one year ago. It was just, this is what we were doing. It was insane. It was so many people.
Aino: I remember, the weirdest part when we were standing onstage, and no one was looking at us—people were looking to the sides! But we realised that the stage is so big that they had big screens on the sides! It took me like, three or four shows [to realise]. I was like, "Caroline, are we doing something wrong?" And then we were like, "Oh, because they don't see us." But that's a picture that explains what we were doing every day for three months [on that tour]. It was unbelievable.
Caroline: Life as an artist!
Aino: Sleep whenever you can—that's the goal! This was in London, when we did the Make Up Forever collaboration. We did lipsticks with them—[the photo-shoot] was two 20-hour days. We were jet-lagged and so destroyed.
Caroline: Imagine when you're going to represent beauty products! Like, "I'm trying to look beautiful, but my features disappear because I haven't slept." So, this is in the dressing room. We had 30 minutes for lunch so we ate, and then took a little nap before it was time to shoot again.
Caroline: This was the last show [on the One Direction tour]. We lay down and were wiggling our legs. We usually do that because it's such an amazing feeling… I don't know why we started doing that.
Aino: We started with being like, "Thank you so much!" And then we sat down and bowed, and people went insane. After that, we just started laying down! And then we got stuck.
Caroline: That feeling—it's like you just become one with the audience.
Caroline: This was last year. We went to Mexico for our first mini-vacation, and we met this baby lion … at a shelter where they save them. It was intense but amazing.
Aino: They'd rescued this little guy. He was the cutest thing ever. His paws were so big.
Caroline: We're such animal lovers. Oh, God. The only thing we do is send each other pictures of dogs. If anyone wants to make us happy, bring an animal… you can't be stressed! This little [one] made us very happy.
Caroline: This picture is when we're cliff jumping in Ibiza, around two years ago. We did it together with Nike. We wanted to inspire young women to run. We went to Paris, Amsterdam, and would run half-marathons—we had a personal trainer five times a week. And then we did this.
Are either of you scared of heights?
Aino: I'm super scared of heights. Also, the water was see-through, so it looked even deeper! Caroline: It was very intense.
Aino: It took many hours to make us do it! But it was great. We were having such a good time.
Icona Pop's Brightside remix EP is out tomorrow.
1. Brightside (Fawks Remix)
2. Brightside (Borgeous Remix)
3. Brightside (I M Alec Remix)
4. Brightside (Just Kiddin Remix)
Let us know if you have any other questions.
Avery Stone is on Twitter. You should follow her.