There was once a time when being nerdy was considered uncool. In case you haven't noticed, though, those days are long gone.
Look around any major fandom convention, and you'll see people from all walks of life who aren't too worried anymore about the stigma of being labelled as "geeks." In all likelihood, amongst that very same crowd, you'll also come across super-attractive women at cosplay booths whose followings can rival that of the characters they're portraying.
Holly Wolf is one of those women. With nearly 4 million followers on Facebook alone, Wolf's popularity is a force to be reckoned with. As someone who has modelled for Playboy, she falls on the "sexy cosplayer" side—a controversial descriptor that seeks to separate "regular" cosplayers from those who wear more revealing getups, showing off cleavage, butt, midriff, or all of the above.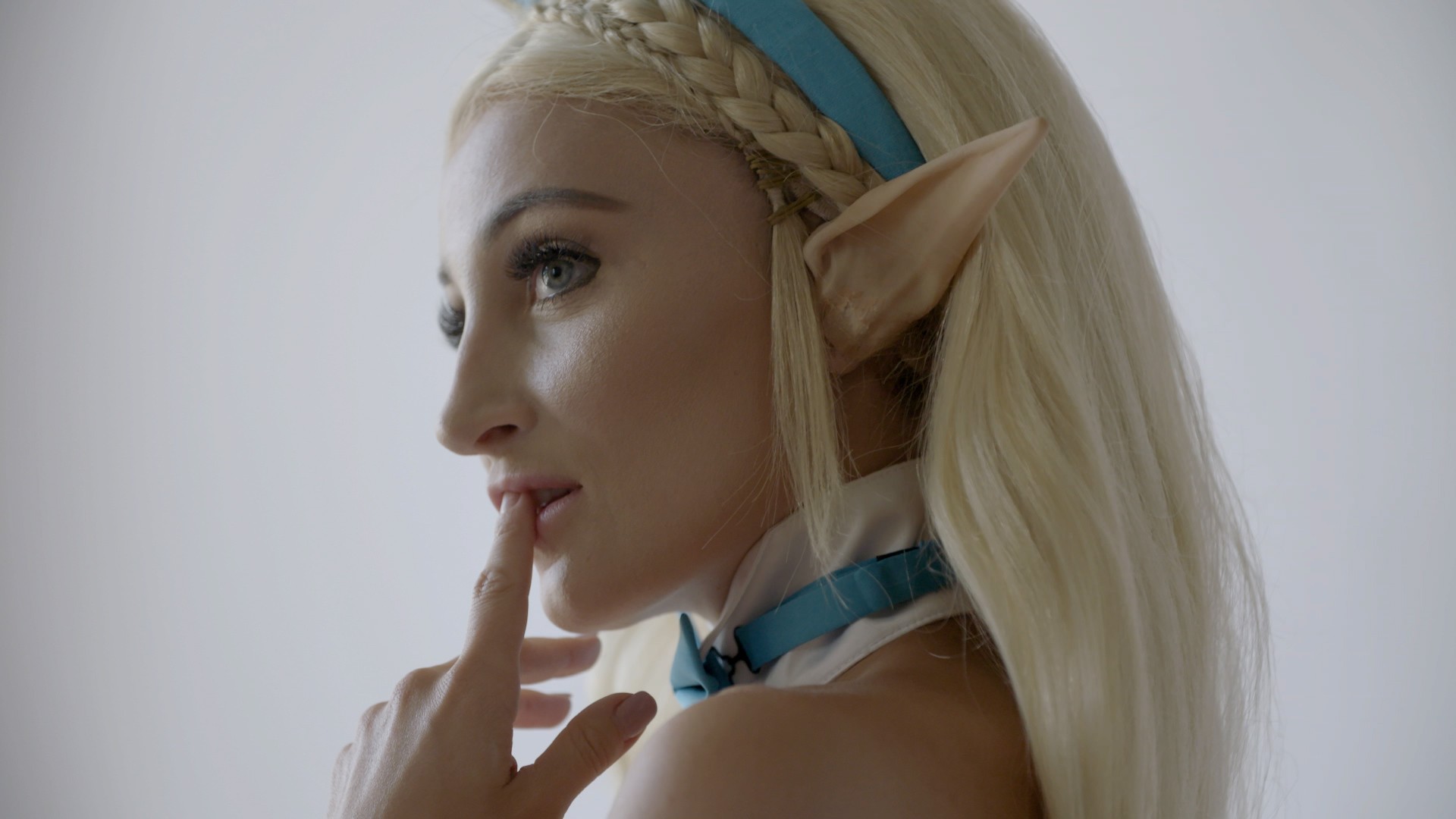 "There is no difference between [a] cosplayer and sexy cosplayer," Wolf explained to me at her apartment in Toronto. "There are so many characters that are half-naked or have skin-tight clothing… So does that mean a cosplayer can't cosplay a character that is in nature drawn sexier?" Wolf was wearing a T-shirt of herself in a Street Fighter character cosplay while she was decompressing after broadcasting on Twitch and her first day as an official guest at Fan Expo Canada. This year, official cosplayer guests at that con skewed heavily female—20 women versus three men.
Before any men were added to this year's Fan Expo Canada lineup on the website, actor Adrianna Prosser noted this in a tweet, asking, "Why are #cosplay guests just… women? Is there no (identifies as) men cosplayers that get this kind of clout/status at cons?"
"It's hard to get 'clout status' when you don't have excessive cleavage and aren't walking around looking like a stripper," one man replied.
Though sexy cosplayers have earned huge followings, it seems nerd establishment isn't exactly sure how to handle their popularity.
Part of that means the popularity sexy cosplayers achieve often comes with hate.
Wolf sometimes deals with online backlash to her cosplays, often in the form of slut-shaming or dismissing her as attention-seeking. When it comes to game franchises such as The Legend of Zelda, which are childhood favourites seen as "family-friendly," some people don't enjoy seeing sexed-up versions of characters. Example A: Wolf posted a photo in August of her in a Playboy bunny-style Zelda cosplay, and a guy commented saying, "That's about as stupid as it gets..makes u look like some cheap dumb ass child molester in a bunny suit."
Another cosplayer I interviewed for this article said a commenter once told her, "You used to be a cosplayer, now you're just a whore." Multiple women I interviewed who do sexy-style cosplay said they often see some version of "just do porn already" in their comments.
Fandom conventions, too, sometimes have a wholesome image to uphold. I, for one, can attest to this from my own experience: Once, when I put in a press pass request with an anime convention to write about hentai, I was warned to be conscientious of the fact that the con was "family-friendly"—even though it literally had an infamous "hentai room" where anime porn screened all hours of the night.
That penchant for a family-friendly image extends to other popular fandom conventions since kids and adults alike enjoy video games, anime, and comics. It's an image that increasingly poses a challenge for sexy cosplayers—a demographic that seems to be growing, as do their followers—to navigate. Though Wolf has now officially guested at a number of conventions, she expressed difficultly in initially getting bookings because of her association with Playboy.
Vera Bambi, who was previously a camgirl, has been cosplaying for five years. However, despite her social media following—at the time of publish, 675K on Instagram, nearly 270K on Facebook—she often has to pay her own way to conventions.
At Emerald City Comic Con in Seattle last year, a security person approached her booth, asking her to change out of her Vampirella cosplay, which Bambi described to me as "a sling" that covers "your nipples and your bits." The thing is, her Vampirella outfit was nearly identical to the comic book character's. Yet, apparently, it was seen as unacceptable at a convention specifically for comics. Bambi told the security guard she would cover up with a sweater, but when they left, she said she didn't keep it on.
"Sexy is just a style. It has nothing to do with how hard you are working."
Bambi is not the only cosplayer who has been approached with similar concerns. In 2012, Jessica Nigri, who is regarded as one of the top cosplayers in the world, was asked to change her outfit or leave at PAX (Penny Arcade Expo) East when she cosplayed as the main character from Lollipop Chainsaw.
PAX notoriously has a ban on "booth babes," which is a colloquialism for scantily clad promotional models. But when it comes to cosplay, even though some of the women participating in it are attractive and scantily clad, it's something completely different: It's an art form. And for the women interviewed for this article, it's even more: It's a career they support themselves with.
"Sexy is just a style. It has nothing to do with how hard you are working," Bambi said. "The sexy design is an art form in itself." Bambi used to design her cosplays for a seamstress to make, but has started making her own now: a recent cosplay she made from top to bottom was a gender-bend version of Khal Drogo from Game of Thrones. "It's a lot of work, but when I was finished, it was really rewarding," she said. In addition to the level of skill associated with creating some cosplays, it can take hours getting ready. Bambi said she spends five hours getting ready anytime she wears her Joker cosplay, for example.
"There's a lot of stigma in being a hot girl."
Despite the hard work and time women such as Bambi and Wolf put into cosplay, they're not immune from being dismissed as "fake gamer girls" or having the authenticity of their cosplay-creating skills called into question.
"It's so weird that it's still a thing to think that people who look a certain way are not allowed to like certain things," Wolf said.
Like Bambi, redhead Canadian camgirl and cosplayer Clara Cosmia has sometimes blurred the lines between cosplay and the adult industry. Cosmia, who makes most of her cosplays from scratch, began cosplaying over five years ago and is especially known for a cosplay of Leeloo from Fifth Element. She occasionally cosplays on cam, such as in her boudoir version of Jessica Rabbit.
"There's a lot of stigma in being a hot girl," Cosmia told me while on the photoshoot for this article. "[People think] you clearly didn't achieve anything because you're hot."
Cosmia has yet to be officially booked by a convention and pays her own way when she appears at them.
Bambi described how other cosplayers who don't dress up in styles as sexy as she does will get booked for conventions, even though some have weaker followings than her. "I understand why people don't take it as seriously when it's more sexual, but I am frustrated by it," she said.
Unlike Bambi, Cosmia has yet to have a direct confrontation about her sexy-style cosplay at a convention. She considers one of her first sexy cosplays to be when she dressed up as a particularly unique spin on Cookie Monster.
"A kid obviously came up to me, and I was a little nervous about that because I made this super goth, slutty version of Cookie Monster—a child character, basically," she said. "But it didn't faze her at all."
The cosplay that really blew up her image, though, was when she dressed up as bandage Leeloo from Fifth Element: "I had adrenaline pumping through me to the max," Cosmia said about her first time wearing that cosplay to a con.
When I asked Cosmia if there is any pressure to do cosplay that falls into the "sexy" category because they are so popular, she replied, "Yes, and it can be really frustrating for girls who straddle the line."
"I could spend 10 times the amount of time and skill level doing an armour build, but if it covers skin, odds are it's not going to get as much attention as a boudoir version of something—it sucks, but that's just the way it is," Cosmia explained.
It's a sentiment Atlanta-based sexy cosplayer Kay Thomas (aka KayBear) echoed when I interviewed her over the phone. "You could feel pressured probably to do the more sexy route when you see that the internet will tend to over-share the sexy cosplay." she said. "A lot of people feel the larger, intricate armour builds or sewing projects get overshadowed by the sexy content—sex sells, that's obvious."
Karli Woods, a Canadian cosplayer who has been in the industry professionally for three years, said she has "definitely have felt those pressures before." She said while she has done "sexier things," that's not her focus now and that she is focusing on doing what she is "comfortable with" and building what she calls her "community." Woods is especially known for incorporating tutus she makes into her portrayal of characters, such as a version of R2D2 she calls "R2-tutu."
"I want people coming into cosplay to know that you do not have to do the sexier stuff and show a lot of skin to be successful," Woods told me when we sat down for an interview in her house.
When she entered the cosplay industry, Woods did so with keen business senses. She had already worked in TV, including as an on-camera host. "I knew already that you couldn't cross certain boundaries to work with certain brands," she said.
Even though Woods doesn't have as high of a following on social media (over 48,000 followers on Instagram) as the other cosplayers in this article who do primarily sexy styles, she doesn't have problems being booked by conventions or working with brands.
Woods also creates content for Patreon, a site where many cosplayers sell subscription-based content for a monthly fee. Woods, for instance, offers Q&A videos and behind-the-scenes cosplay photos. The more you pay per month on Patreon, the more content you receive from creators.
Patreon takes on another use for cosplayers like Wolf, Bambi, and Thomas, giving them the ability to sell sexy content, such as "lewds" or NSFW images. But as of October 17, Patreon changed its guidelines, requiring creators to mark content as "sexual imagery or nudity." It's a move that has, in part, led a number of adult content creators to sign an open letter urging the site not to "abandon" them. (In the past, Patreon discriminated against adult content creators in the form of limited payout options.) The open letter to Patreon includes signatures from at least 13 creators who make cosplay content.
Thomas, who is putting herself through college with her cosplay career, also sells content on Patreon. The exclusive perks for her highest tier include all her "bikini/lingerie selfies and videos" (over 75 images each month), a bonus 10-photo self-shot set, and the occasional "cute personalized gifts as a thank you." Thomas doesn't do nudes, but does what she calls "implied nudity."
For Thomas, though, the "sexy" aspect came before sexy cosplay did—she said she posted sexy-style photos on her Instagram before she ever started getting into that side of cosplay. Though she just started cosplaying professionally this year, her following has already grown to nearly 170,000 on Instagram. Her first official booking as a guest at a convention was in Trinidad in January, and she has had numerous bookings at other cons since.
"I always wanted to do cosplay, but I'm African-American," she told me. "I never saw anyone that was like me doing it—that was my skin colour or ethnicity… It scared me off because it didn't really feel like it was a place for me to join."
Thomas, who is 22, said she had hesitation when she was a teenager about dressing up as white characters.
When she cosplayed as Jinx from League of Legends and Hinata from Naruto , both characters she described as "small, skinny white girls," she experienced a slew of racist online hate.
"It got nasty really quick, with people telling me I was not allowed to do cosplays because I am black, and that was their only argument," she said. Thomas said that racist backlash to her cosplay was her "biggest fear" when she started out in the industry, and it became a reality.
Despite the hate, though, Thomas said that cosplay has changed her life for the better, including how it's aided in building her self-confidence.
For Cosmia, she said getting into sexy cosplay has been a "freeing experience" for her. But, she told me she used to have a different perspective before she got into it.
"People are really surprised to find out that I was that bitchy girl who judged sexy cosplayers when I first started," she said. "If my mentality can change, anyone's can change."