Updated: 12:42 p.m. E.T.
The U.S. carried out a surprise military strike on a Syrian government airfield late Thursday in retaliation for a deadly chemical attack blamed on Syrian regime forces, winning cautious praise from its international allies and raising tensions with Russia in a dramatic escalation of American involvement in the six-year conflict.
Here's a rundown of everything you need to know about the strike:
The strikes on al-Shayrat airfield southeast of Homs in western Syria, employing 59 Tomahawk cruise missiles launched from U.S. destroyers in the eastern Mediterranean, marked the U.S.'s first direct action against the regime of President Bashar Assad.
Syria's state-run news agency SANA reported that nine civilians, including four children, were killed in the strikes on the airfield and a nearby village, but those reports have not been independently verified. The Syrian military said the strike was a "blatant act of aggression" that made the U.S. a "partner" of terrorist groups like ISIS.
Pentagon spokesman Capt. Jeff Davis said the strikes took place at 8:40 p.m. ET (3:40 a.m. local time), at a time when activity at the base was likely to be minimal. They targeted "the things that make the airfield operate," he said: aircraft and aircraft shelters, air defense systems, ammunition supply bunkers.
U.S. Secretary of State Rex Tillerson said the administration believed the attacks were proportional, and that the U.S. had informed their Russian counterparts about the attack before it took place, as part of standing policies in place to avoid direct confrontations between the powers in their respective campaigns in Syria. The U.S. also took care not to target sections of the base where Russians were believed to be present, the Pentagon said. A Syrian military source told AFP Friday that Syrian forces were warned in the hours before the strikes that U.S. action was coming, but not where they would be struck; the source said that precautions were taken at a number of sites, including al-Shayrat, in response.
But Thursday's strikes represented a dramatic turnaround from the Trump administration's previous position, articulated by senior officials as recently as Monday, that the U.S. was not focused on Assad as it prioritized the war on ISIS instead.
Tuesday's chemical attack on the rebel-held town of Khan Sheikhoun, which killed more than 80 people, clearly changed the president's calculations. Autopsies on some of the victims point to the toxic nerve gas sarin. Russia and Syria say that the deaths were caused when a rebel stockpile of chemical weapons was hit by a Syrian strike, but Western governments and chemical weapons experts have said that that account lacks credibility.
In a statement announcing the strikes Thursday, President Trump said it was "in the vital national security interest of the United States to prevent and deter the spread and use of deadly chemical weapons." The strikes were necessary after previous efforts to rein in Assad "had failed, and failed very dramatically."
"Even beautiful babies were cruelly murdered in this very barbaric attack," Trump said. "No child of God should ever suffer such horror."
Facing questions over the legality of the mission and the future direction of U.S. military action in Syria, U.S. officials were quick to characterize the strikes as a "one-off" response in "the national interest" intended to deter Assad from using chemical weapons again. Secretary of State Rex Tillerson argued that the strikes did not represent a "change in our policy or our posture in Syria."
"There has been no change in that status," he said. "It does demonstrate that President Trump is willing to act when governments and actors cross the line … and cross the line in the most heinous of ways."
Russia is not happy, but it's unclear what it will do
The strikes are undeniably a significant escalation in Washington's involvement in the conflict, and all eyes are now on Russia, Assad's most powerful backer, as to how it will ultimately respond to the surprise attack.
Russia condemned the strikes, with Kremlin spokesman Dmitry Peskov describing them as an act of "aggression against a sovereign state in violation of international law" that had been carried out under a "made-up pretext," and seriously damaged ties between Washington and Moscow. And it warned of negative consequences in response, with Viktor Ozerov, head of the Russian Federation Council's defense committee, saying military cooperation between the U.S. and Russia in their campaigns against jihadi groups could be halted. Both powers have been sharing basic information on their separate campaigns in Syria in an effort to avoid accidentally striking the other, and potentially triggering a broader conflict.
But analysts such as Charles Lister, a senior fellow at the Middle East Institute, speculated that Moscow's harsh condemnation was "likely to be largely bluster."
Sergey Markov, a political analyst based in Moscow, told VICE News' Joshua Hersh that the strikes "will hardly result in a conflict with Russia," and that Russia "understands [the strike] was staged for an American domestic agenda."
By Friday afternoon Russia had backed down from some of its earlier threats that military cooperation between the two countries could grind to a halt, agreeing to maintain deconfliction hotlines, senior U.S. military officials told the Associated Press.
An emergency meeting of the U.N. Security Council was called for 11.30 a.m. ET Friday to discuss the strike.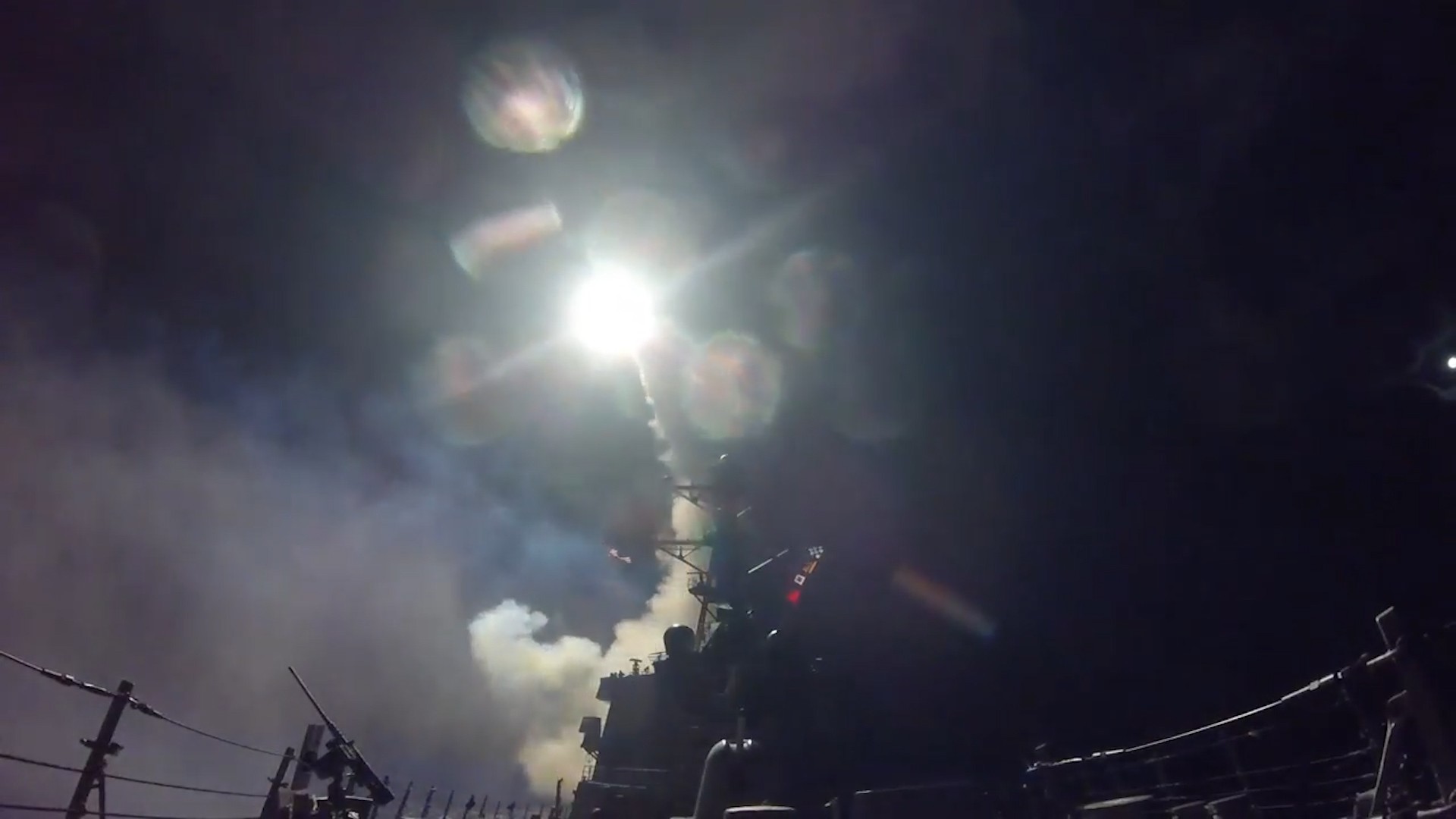 The international response: "crisis mode"
The U.N.'s special envoy for Syria, Staffan de Mistura, said his office was in "crisis mode" after the U.S. strike and called for an emergency meeting in Geneva, where long-running peace talks have been held intermittently, in response.
Syria's other major ally, Iran, spoke out strongly against the U.S. strikes, with Foreign Ministry spokesman Bahram Ghasemi quoted as saying that while Tehran condemned the use of chemical weapons, it believed it was a "dangerous, destructive… violation of international laws to use it as an excuse to take unilateral actions."
But among the wider international community there was broad support for the strikes, as well as calls for all parties to move forward with caution.
Britain said it fully supported the strikes, which it had been informed about beforehand, while German Chancellor Angela Merkel and French President Francois Hollande issued a joint statement saying, "Assad alone bears the responsibility for this development."
That position was echoed by NATO Secretary-General Jens Stoltenberg: "Any use of chemical weapons is unacceptable, cannot go unanswered, and those responsible must be held accountable."
Other countries voicing support for the U.S. action included Israel, Turkey, Saudi Arabia, Japan, Australia, Poland, Jordan, and Canada. Syrian rebel groups were reportedly jubilant at the U.S. strikes, but called on the U.S. to press on with its campaign against Assad or risk reprisals against civilians in rebel-held areas.
Chinese Foreign Ministry spokeswoman Hua Chunying said at a press briefing that "what is urgent now is to avoid further deterioration of the situation," and said Beijing opposed "use of chemical weapons by any country, organisation or individual in any circumstance, for any purpose."
The strikes also had an impact on international markets, with the price of oil rising sharply.
What now?
Trump's decisive action in striking Assad – a measure that his predecessor once threatened but ultimately avoided during his time in office – raises questions about the future direction of American involvement in the Syrian quagmire.
Until now, the U.S. has restricted itself to focusing on a counterterror campaign targeting ISIS and al-Qaida, and has avoided complicating its involvement in the highly fractured and intractable conflict by striking Assad. Trump himself had repeatedly signaled — both on the campaign trail and since taking office — that this was a prudent course; he cautioned Barack Obama explicitly against attacking Assad back in 2013, amid an earlier standoff over chemical weapons, and on the campaign trail he regularly espoused a staunch anti-interventionist approach to U.S. foreign policy.
His administration has been quick to characterize this sudden about-face as a "one-off" response, intended to demonstrate American resolve over the use of chemical weapons, rather than the start of a wider campaign intended to topple Assad. Doing so may also help the administration sidestep the messy questions about the longer-term strategy in a conflict with no easy path ahead.
If Trump plans a deeper intervention in the conflict, he will likely need the approval of Congress, as a number of U.S. lawmakers were quick to stress when news of the mission broke.
Sen. Ben Cardin, the senior Democrat on the Senate Committee on Foreign Relations, voiced his support for the strikes but said that any longer-term or larger military operation in Syria would need to be done in consultation with Congress.
Washington's European allies also insist that the Syrian issue must be resolved through diplomacy. "Efforts to stem the spiral of violence in Syria and work toward a lasting peace should be redoubled. Only a political transition can lead to such an outcome," said European commission President Jean-Claude Juncker. And Stewart Wood, chair of United Nations Association UK, warned in a blog post that it was "unclear how U.S. airstrikes will make civilians safer."
Trump's decisive action in striking Assad is likely to send a strong signal to other international actors that the new administration is prepared to play a more decisive role on the world stage, but what that role is remains to be seen.