Neither chamber of Congress has had a true gun control debate since 2013, even as the nation has witnessed a historic string of mass shootings, including one at a baseball practice for Republican lawmakers in 2017. While Republican leaders have avoided gun debates at all costs, Democrats are attributing many of their electoral gains last fall to their strong positions on gun reform.
And that means a robust Second Amendment debate is coming to Capitol Hill soon.
Back in 2013 the bipartisan Manchin-Toomey limited background check bill died by filibuster, falling six votes short of even being allowed to be openly debated and amended. The legislation was sponsored by Sen. Joe Manchin of West Virginia — one of the most conservative Democrats in the chamber — and Sen. Pat Toomey of Pennsylvania, a Republican with the conservative enough credentials to stand up to the NRA without fear of a primary challenge.
That legislation would require background checks for online and gun show sales, but it still allows arms sales among family members with no background checks, and it explicitly bans the government from setting up a national gun registry.
Read: 5 big fights Democrats plan to pick with Trump in January
Still, just getting a vote on it was a breakthrough for advocates. But since its defeat, it hasn't been seriously revived. Today's a new day, though.
"I am having conversations with people about it, and I think we should do it," Sen. Pat Toomey (R-Pa.) told VICE News right after the election.
For the past five years, the Republican senator tried to deflect attention from his own bill. But then the Tree of Life Synagogue shooting in Pittsburgh this past fall left 11 of his constituents dead, and that slaughter on his home turf, coupled with the new dynamics on Capitol Hill, has changed his tune.
"There really never was a path forward, but that may have changed."
"There really never was a path forward, but that may have changed," Toomey said.
The dynamics have changed too, and many in the incoming freshmen class of Democrats say that bill's no longer good enough.
"I think there's a lot more we can do," Rep. Mary Gay Scanlon (D-Pa.), who won a special election in November so was already seated, told VICE News at the Capitol. "I think times have changed since then. I think this election brought more change and hopefully we'll see that continue."
It wasn't just in Pennsylvania. After the Parkland, Florida high school shooting claimed the lives of 17 students and school officials last February, the Republican governors of Nevada, Ohio, Florida and Vermont all bucked the NRA and endorsed gun-control measures.
And in November Democrats saw big House gains in gun country, including places like Colorado, Texas, Wisconsin, Virginia, Florida, Georgia, South Carolina and Kansas. That wasn't lost on the more than 50 survivors and relatives of gun-violence victims who came to the Capitol after the election to rally support around the issue.
"You put gun violence on the ballot this November and we won."
"You put gun violence on the ballot this November and we won," Sen. Richard Blumenthal (D-Conn.) told the tear-soaked crowd, most of whom were gripping pictures of loved ones lost to firearms. "We have a social movement of undeniable force. It has a momentum that is unstoppable."
"It's not a campaign issue"
And a part of the new contingent of Democrats that voters sent to Washington includes some for whom the issue is deeply personal, like Congressman-elect Steven Horsford (D-Nevada) who lost his dad to a bullet when he was 19-years-old. "It's not a campaign issue, and it's something that has impacted the lives of millions of people and continues to," Horsford told VICE News at the Capitol. "We need to be bold in our action – not timid, because lives are at stake."
Down in Georgia, Congresswoman-elect Lucy McBath lost her son, Jordan Davis, in 2012 at a gas station in Florida to a man enraged by the loud music bumping in the car he pulled up in with friends. The Democrat won a longtime suburban GOP district after running on strict gun-control measures.
Other Democrats won running on their proud military records coupled with their calls for gun reforms – like Reps.-elect Jason Crow (Colorado), Mikie Sherrill (New Jersey) and Elaine Luria (Virginia). These gains showcase how the narrative is slowly changing in Washington.
Back in 2006 former Rep. Rahm Emanuel (D-Ill.) helped orchestrate the Democratic takeover of the House by running moderate, pro-gun Democrats, but the incoming class of House Democrats are far from moderate when it comes to taking on gun violence. And they're not worried that the Senate remains in GOP hands.
"We've got to do what we can do over here – that's what my constituents did," Horsford said. "They didn't elect me to pass legislation out of the Senate. They elected me to work on it here in the House, so I'll do what I can."
After the Pulse nightclub shooting in 2016, Democrats stormed the House chamber and held a sit-in on the historic floor, breaking archaic yet strict rules about recording videos from inside the chamber while loudly demanding action on gun-control measures. That won lots of press coverage but didn't move Speaker Paul Ryan into relenting.
"So we had to go to an extreme length and that didn't get it done," Rep. Karen Bass (D-Calif.), who joined the sit-in, told VICE News at the Capitol. "Now that we have an opportunity to be at the majority, I'm sure we'll get it done."
While most Democrats want to start with a big, sweeping gun-control measure, others who support such a proposal say their party must also be realistic. And with Manchin-Toomey already drafted and having proven it can win the support of the majority of senators (even if it fell short of the 60 votes needed for it to pass), some say the party should start with that low hanging fruit.
"I think it shows that common sense gun measures can be a majority position in Washington. That has not been the case – and not just a majority, but even an almost super majority," Sen. Bob Casey (D-Pa.) told VICE News at the Capitol.
But even Manchin-Toomey — watered down though it is — may never see the light of day in a Senate run by Republican Majority Leader Mitch McConnell. "I don't know what's dead on arrival. I don't know exactly what can be done. We won't know until we actually consider legislation and have some votes," Toomey, the bill's lead GOP sponsor, said. "I'm open to revisiting the details of Manchin-Toomey, but I would say that's a very good place to start, considering it did have bipartisan support not that long ago."
For others, this is an area where they want to see Speaker-elect Nancy Pelosi and her chamber take the lead.
"Let's see what the House passes and that will give us a floor to operate from. Obviously, there's a lot who voted for Manchin-Toomey in the Senate, but I'd love to do more," Sen. Chris Murphy (D-Conn.) told VICE News. "I'm under no illusions that Mitch McConnell has this thing teed up for a lot of floor time in 2019, but we can make his life hard by even getting a big, bipartisan vote in the House."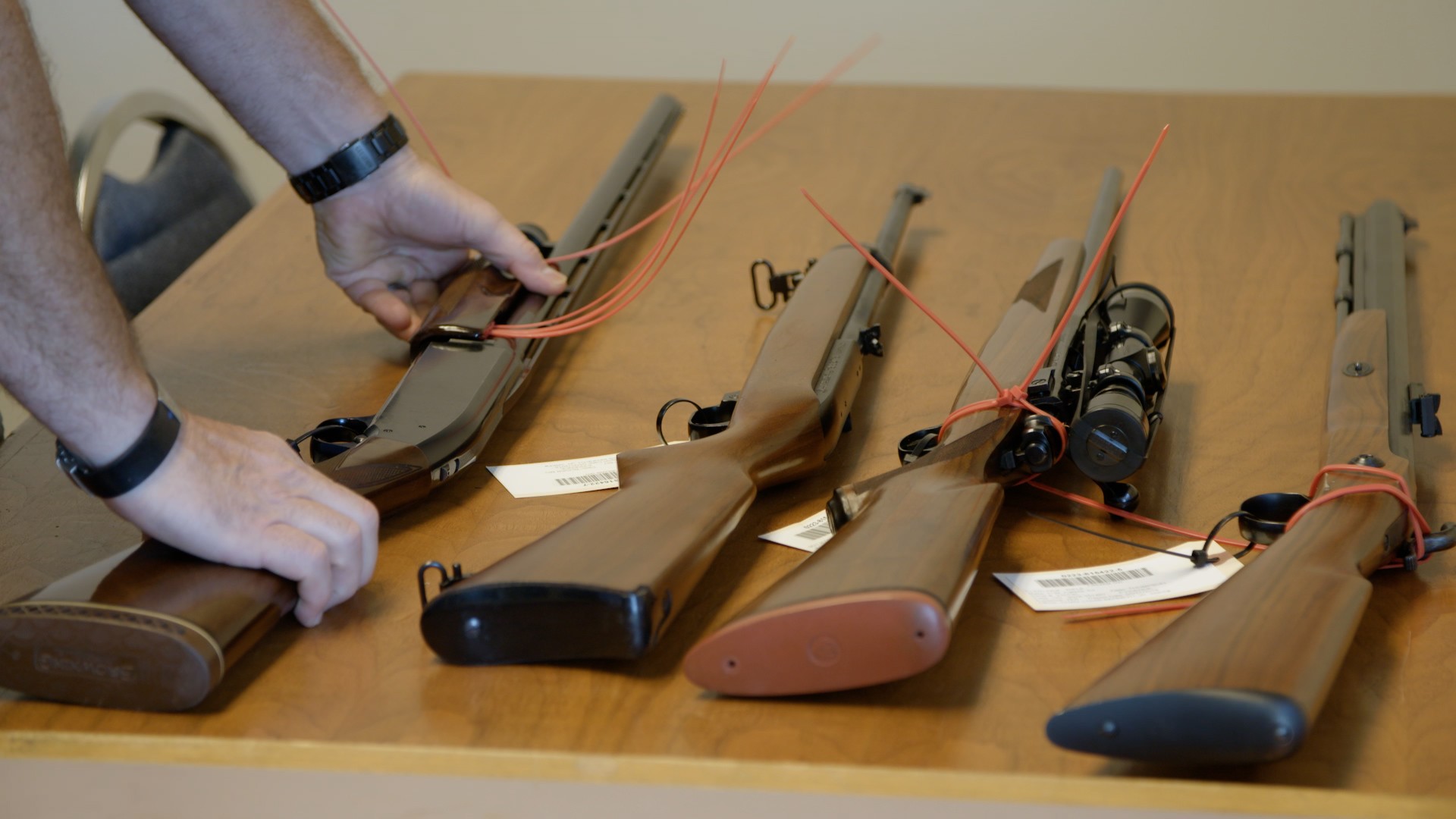 Cover: AR-15 rifles are displayed on the exhibit floor during the National Rifle Association annual meeting in Louisville, Kentucky, U.S., on Friday, May 20, 2016. (Photo: Luke Sharrett/Bloomberg via Getty Images)