The "Unite the Right" rally dissolved into chaos practically before it began. Around noon, a cornucopia of racists had gathered around a statute of Confederate general Robert E. Lee that was set to be removed, and their opponents surrounded them on the streets below. About 20 minutes before the rally's scheduled start time of noon, the two sides were already chucking rocks and water bottles at each other. The air was already so filled with pepper spray it tasted like snuff.
A few minutes later, shield-wielding riot cops from the Virginia State Police declared an unlawful protest and cleared the area around the Confederate monument. Protestors on both sides scattered, with the far-right extremists marching more than a mile and across a highway to another park. The Black Lives Matter protestors who opposed them eventually made their way to a strip mall at the center of town.
At McIntire Park, Eli Mosley wanted to know who had guns, and how many. "I need shooters," said the army vet and white nationalist who has claimed to be a sort of alt-right general. "We're gonna send 200 people with long rifles back to that statue."
Surrounding him were old men with Nazi lapels, a guy with chainmail, and a Texas branch of Vanguard America, a white nationalist group, who were joking with each other. Some people wanted to disperse, but Mosley wasn't having it.
He got inches away from the face of another white nationalist who had suggested the whole group head home to avoid arrest. "I'm the fucking organizer," he screamed, with veins bulging and spittle flying. "Listen to what I say, goddamnit!"
Thankfully, no one listened to Mosley. But the day ended horrifically shortly afterward nonetheless after a car plowed through a crowd of protesters, injuring at least 19 people and killing a 32-year-old woman named Heather Heyer. Police arrested James Alex Fields, a 20-year-old from Ohio and charged him with second-degree murder, three counts of malicious wounding, and leaving the scene of an accident.
In the aftermath, politicians from both major parties condemned the rally and the car attack, with Republican Texas Senator Ted Cruz calling it "domestic terrorism." (Fields has so far not been charged with terrorism.) But President Donald Trump avoided calling out white supremacists specifically, instead denouncing violence from "many sides."
That oversight seemed particularly galling given how alarmed many were by the imagery of the Unite the Right rally, which spread rapidly on social media. On Friday night, white supremacists bearing torches marched spookily through the University of Virginia campus in what looked like a Klan rally without the hoods. The next day, they were out in force again, openly waving symbols of Nazism and other far-right movements.
The rally was ostensibly about protesting the removal of the Robert E. Lee statue, but it really served as a convention for some of the country's most extreme white nationalists, as well as anti-fascists and others set on opposing them. For far-right leaders, it was a chance to see how many of their sympathizers would be willing to gather publicly, rather than in pseudonymous online forums.
Experts said that Charlottesville was set to be an inflection point for the "white identity" movement—not only the biggest American gathering of racists in at least a decade, but also a point at which various fringe groups would merge with the online trolls who became politically active during Gamergate to form a broad and unprecedented coalition.
For people like alt-right movement leader Richard Spencer and Daily Stormer site-runner Andrew Anglin, the goal was clearly to rope in people who might not be openly racist but who disagreed with "multiculturalism"—a view becoming more acceptable in mainstream discourse during the Trump era.
"They hope to be bigger than the sum of their parts by broadening their constituency from stoking the fears of an increasing and elastic pool of disenfranchised whites who feel politics has ignored them, during a time of unease at a changing demographic and cultural landscape that has left them behind," Brian Levin, the director of the Center for the Study of Hate and Extremism at California State University San Bernardino, told me.
Jason was one of those people. He told me at McIntire Park that he'd never been called to political action before but drove about five hours from western Pennsylvania to meet other extreme right-wingers for the first time. The 25-year-old, who works in business sales and did not want to give his name because he works for a Fortune 500 company and feared losing his job, had only one other friend who might have shown up at Unite the Right, but he decided to attend a wedding instead.
Jason is a 9/11 truther and started listening to Alex Jones as a young teenager but before Unite the Right he had been afraid to become active with the alt-right, even online. Still, he'd felt called to Charlottesville by increasing political tensions and what he felt was the need to defend himself against the left, who in his mind saw no difference between people with MAGA hats on and people with neo-Nazi flags.
He was disappointed that people were scattering out of McIntire, because he'd had hopes of everyone meeting up afterward to socialize—perhaps to grab a beer and celebrate what he thought had been a successful day.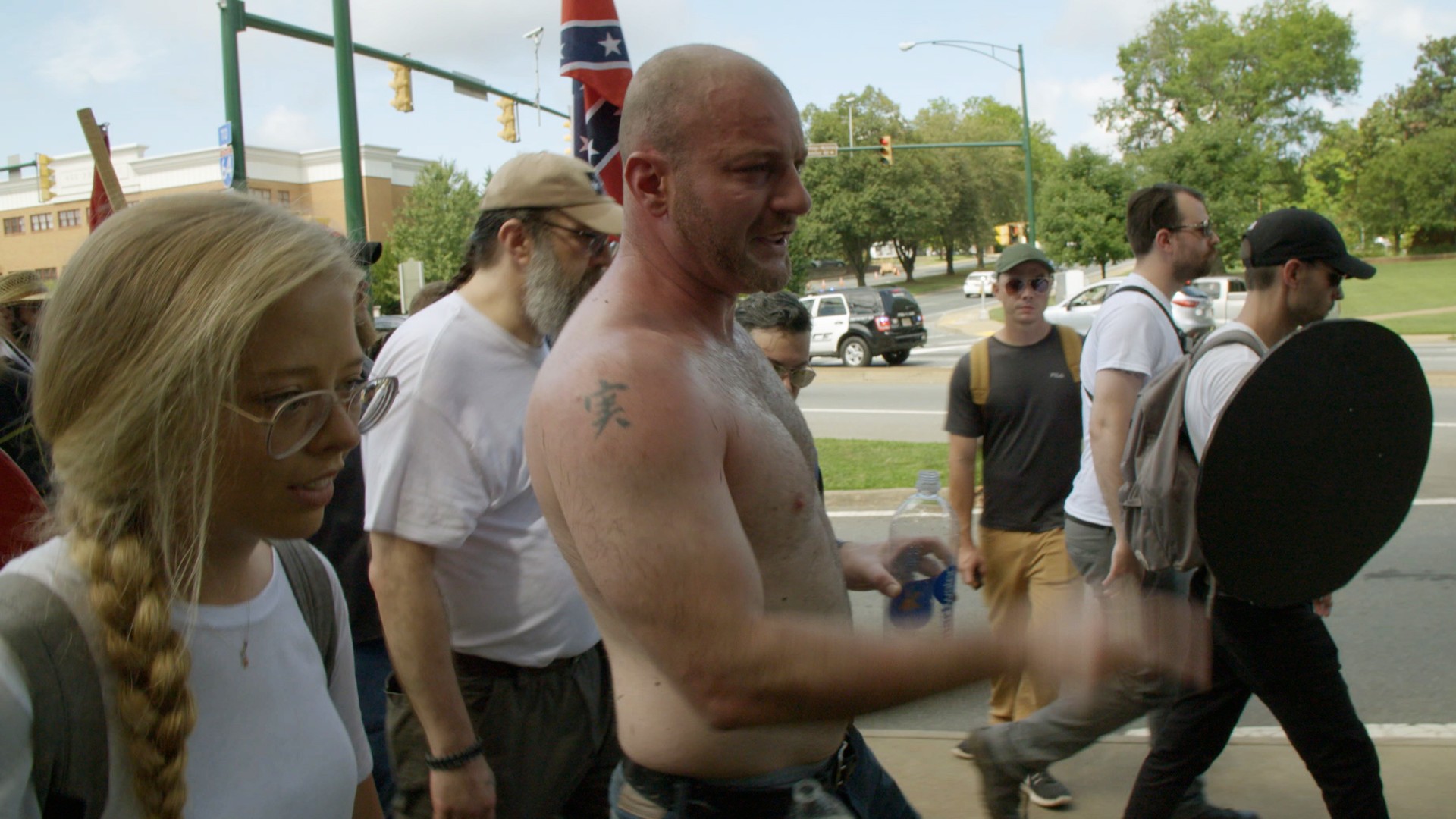 "National socialism, fascism, whatever you want to call it, this is real unity," he told me. "The multiculturalism and political correctness pushed by the media—you can put up all the stickers and the posters you want, but at the end of the day, the people you talk to at work, you make small talk with them, you talk for convenience, but this is actual real unity, it's class unity."
Chris Howell, on the other hand, seemed to show up mostly out of boredom. He was born and raised in New Castle, Virginia, which has a population of fewer than 200 people and zero traffic lights as he tells it. But this weekend, an uncharacteristic thing happened: A Facebook friend promised excitement in a college town about two hours away. For the 22-year-old railroad construction worker and his three friends, Unite the Right was the weekend's most promising entertainment on offer, as well as their chance to defend a piece of Confederate history from hordes of incoming coastal leftists.
Howell said his favorite part of the day was sitting down with a protestor who opposed the statue and sharing a dialogue—but when things got heated, he was attacked with a cane. As members of the National Guard and state police marched toward us from opposite sides downtown Charlottesville and a helicopter roared overhead, his friend nursed a bloody wound on his skull. The group was preparing for the trip back to New Castle but knew that there were more battles on the horizon—the deadly act of terrorism had practically ensured it.
"They don't help us at all," Howell said of the man who had just been taken into custody at the police station. "They make us just look worse. Everyone's gonna walk away with nothing but more hatred."
Follow Allie Conti on Twitter.