The name Dave is so innocuous, so everywhere, it makes me laugh and feel a sense of familiarity every time I remember it's the title of a British rapper. Part ridiculous, part a mononymous necessity ("I tried to go by a tag name and it went awfully", he told i-D in 2016), such a regular namesake allows him to be in some small part a reflection of countless folk named Dave and David that have been squeezed out onto the British Isles (so much so we have a literal TV channel with the same name, designed for yer average guys).
Of course, to relate Santan Dave (as he's often nicknamed) to another Dave—a dentist, a doctor, a lawyer, a father, whatever—on name alone is, however, partly stupid. Humans are individual creatures with individual interests and Dave's are thus: Dragonball Z and Naruto anime; the soundtracks of Hans Zimmer; playing those compositions on piano (Zimmer's "Like a Dog Chasing Cars", from The Dark Knight soundtrack is a particular fav); and making tunes, many of which in the past 12 months have propelled him into the orbit of superstardom.
What's important, then, is Dave—the rapper—is exactly what Dave—the next man scrolling through Spotify—needs. In the kaleidoscopic tidal wave of British rap that's come crashing across both sides of the Atlantic in the past few years—the afro bashment fusion of J Hus or Kojo Funds; the slow drawl of Giggs and Nines; the household names like Stormzy and Skepta—Dave is moving toward becoming a prodigious talent: the kind of artist every person named Dave and their mate should be aware of in the same way they know Kendrick Lamar as Kendrick.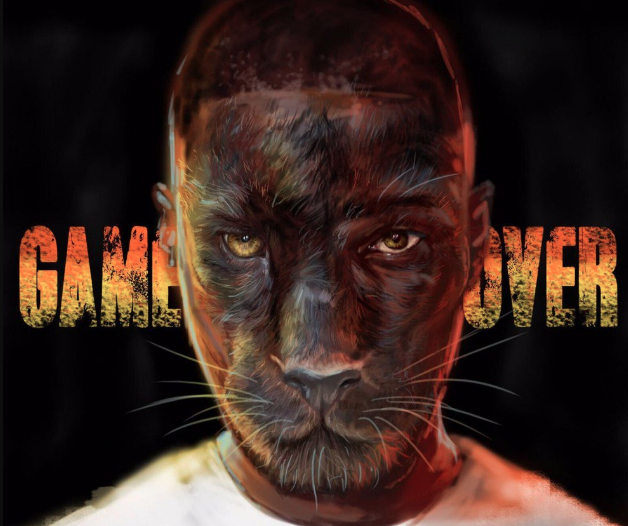 If you're reading Noisey and you're from the UK then you'll know Dave like you know Black Grape is the best flavour of KA. To list but a few notable achievements since the 19-year-old released his first freestyle two years ago: a Drake feature (on breakthrough track "Wanna Know"), a front cover with Crack, festival appearances from London's Wireless to Amsterdam's Applesap, a recent interview in our annual VICE Music Issue—it's been a journey lit via jet fuel. However, it's his latest EP Game Over that's sounding like the boost that will help get him to the moon—a place visible the world over—when his as yet unannounced but likely planned debut album drops.
Released last month, lead single "Question Time" is a special song—if you can call it that. Not so much a statement as it is the atmosphere of Britain, it captures the general malaise of a nation sat here thinking "WTF?" as each new political story breaks. "I've got a question for the new prime minister," he raps, "how'd you have a heart so sinister?", before going on to deliver—over seven minutes—a grand, poetic soliloquy on Syria, the cracks in the NHS, poverty, Grenfell Tower, the EU referendum. Even Jeremy Corbyn isn't spared.
Political songs can so often be heavy-handed but Dave's "Question Time" (below) is delivered with such poignancy and at such a specific moment in time, to listen to it is to hear the ghosts of the country, their families—their anger and frustration—all coming together, coalescing in Dave's voice. Despite their stark thematic differences, the track's vibrancy is in a similar league to that of Jay Z's "Song Cry" or 2Pac's "Dear Mama"—two songs that convey emotion with such clarity it's as though the listener is temporarily possessed by the artist. Or maybe Kendrick Lamar's "The Blacker The Berry" is a better fit, since both that song and "Question Time" speak as much about the artist as they do the tone of a nation.
As an ostentiously long (yet no less impressive) lead single, "Question Time" could have been an anomaly—the entry-route into an EP where every other song would clock in around the three-minute mark. However, of the seven tracks on Game Over, nearly half are more than seven minutes long. Including these marathon-like tracks is a bold move. To memory, no British rap artist has released songs of such length (The Streets "Stay Positive" being one of perhaps a rare few that spring to mind) let alone seamlessly placed three of them on one EP.
The release of "Wanna Know" in 2016 opened the floodgates and introduced Dave as an adept songwriter, the kind capable of writing not just a tune but an undeniable earworm of a hook. "Thiago Silva"—a collaboration with AJ Tracey released earlier that year—showcased Dave's versatility, his ability to cross-over and bump along a frenetic 140BPM tempo with as much ease as he glides across slower, piano-led compositions. Then there's "Samantha"—a stately team-up with J Hus that is easily one of the best rap tracks of the year – and "100Ms"; all of which solidified Dave as one of the guys who, more often than not, could deliver the full package—rolling onto Spotify with a diamond hook, underpinned with meticulous, impactful (and sometimes, as is integral to all great rap) humorous bars.
The consistency of Dave's output over the past year has been impressive, building him an ever-growing fan-base ("Wanna Know" currently has 45 million Spotify streams). But it's the transition from the hook-heavy single tracks and into the longer-players on new EP Game Over that position Dave as a critically-lauded, artistic monument in the making. As well as tracks like "No Words"—a dance-ready tune featuring MoStack—there's the other two seven-minute songs, "How I Met My Ex" and "My 19th Birthday."
Devoid of a beat and told over piano keys, "How I Met My Ex" is an expertly crafted monologue; one replete with intimate detail of meeting a new love and then losing it. Like "Question Time," to hear the song is to be placed in Dave's shoes; to feel the genuine and jittery excitement of each Whatsapp message arriving in his phone, the aligned meeting of minds, the eventual insecurity and pressure and passion and pleasure all congregating toward their heartfelt conclusion. The addition of piano in the song accentuates each emotion of Dave's story, the ivory keys highlighting every raw feeling. But it's also the words, how they're pieced together, how they flow. As Hans Zimmer said of the rapper in an interview with i-D, "I'm a fan of his because he can do what I can't do—he can use his voice."
Perhaps it's blasphemous—certainly, it's a load of pressure—but there are just a few rappers known by their first name only. And it's those same rappers who, like Dave, write effective pop hooks as impressively as they do poignant, stunning essay-like tracks. Those who have been following Dave since the beginning will be well aware of the personal, emotional pain that informs his lyrics – of his brothers being in prison, of the struggle of overworking, of all the other shit permeating through the life of so many people right now in the UK. Listen to the the first freestyle he uploaded to the internet, via Blackbox, and you'll feel those stories, almost living them no matter where you're from.
Now, with two years on him, Dave has evolved. The release of this new EP is living proof of this level-up, blending everything that made Dave such an exciting prospect in the first place—the combination of flawless hooks, an active flow, yet also an ability to be vulnerable—and into a concise, well-received project. To date, every song on Game Over is in Spotify's Top 100, proving there is a thirst for this menage a trois. But I can't help feeling like it's also a stepping stone, the EP before he makes that album. You know them ones: those rap projects that offer a taste, the starter dish before the grand entree. So tell a friend to tell a friend to tell a friend. Whoever he is, whatever he does, your man named Dave should know about Dave. What a great fucking name for a rapper.
You can find Ryan on Twitter.