Sense8 photo from Netflix.
When Netflix canceled Sense8 in early June, the internet was furious. Many saw the series—a Wachowski siblings joint exploring eight people suddenly linked by a powerful mental bond—as a bastion of gender, racial, and sexual inclusivity in the all-too-conservative media landscape. Suddenly, it had been ripped away from them—and on a cliffhanger ending, no less.
When another media company offered to produce a third season in mid August, far more than the two-hour finale Netflix caved to after a month's fan pressure, the 'net didn't rejoice. Fans instead largely grimaced, laughed, or just rolled their eyes. Perhaps understandable when you consider the company was xHamster, one of the world's premier porn tube sites.
It was easy to dismiss their offer, in the form of an open letter from xHamster vice president Alex Hawkins to the Wachowskis, as little more than a publicity stunt—like the time the site offered Sean Spicer a job after he left the White House. But this offer didn't totally come out of the blue. As Hawkins recently told me, xHamster has been looking to dip a toe into the warm waters of mainstream original content for some time.
Just last year, it produced Sex Factor. Originally pitched to mainstream producers and distributors, the reality show saw 16 contestants compete in explicit challenges for contracts with a major porn studio. Hawkins claims other sites have been exploring broader content offerings as well, or at least films that lean into the blurring lines between porn and cinema.
"In terms of the production of a mainstream film or television piece," Core Price, the vice president of leading porn tube site Pornhub, recently told me, "it's a possibility we won't rule out." "In a few short years," Hawkins said, "we've moved from a world that was largely controlled by a few large public corporations to one where anyone with a following can create original content and make money from it."
The point from each is clear: What seemed in August like a joke has turned into a very real question. Could a porn studio ever branch out to produce or distribute mainstream content? And could the adult industry birth a new media portal like Amazon, Hulu, or Netflix? The answer is a resounding maybe.
"Even if many consumers are untroubled by, or even receptive to" a show working with a porn company, said Kevin McDonald, co-editor of last year's The Netflix Effect: Technology and Entertainment in the 21st Century, "the production process still involves many different participants, e.g. financiers, agents, actors, who might take exception" to the association. So might advertisers or awards show organizations, which are often vital to propping up the costs of a major show's production or ginning up enthusiasm about a new producer or distributor.
"I would expect money to be the biggest issue," said Dr. Mareike Jenner, who teaches media and film studies at Anglia Ruskin University in Cambridge. To the doc's point, Sense8 is an ambitious show shot on location in 13 nations, that reportedly costs $9 million an episode to make—one of the reasons it's speculated Netflix ultimately gave it the ax. The budget for even an ambitious porno feature pales in comparison to just one of those episodes. The site's experiment with Sex Factor does not instill much faith in its logistical abilities. It took two years to bring it to fruition, with many false starts. The result took a drubbing from critics who watched it; its production values did feel stilted and awkward.
Still, Jenner acknowledges the digital media environment is malleable. There could well be space within it for adult companies that, she rightly acknowledges, have more experience with streaming content and digital delivery than most large media companies already.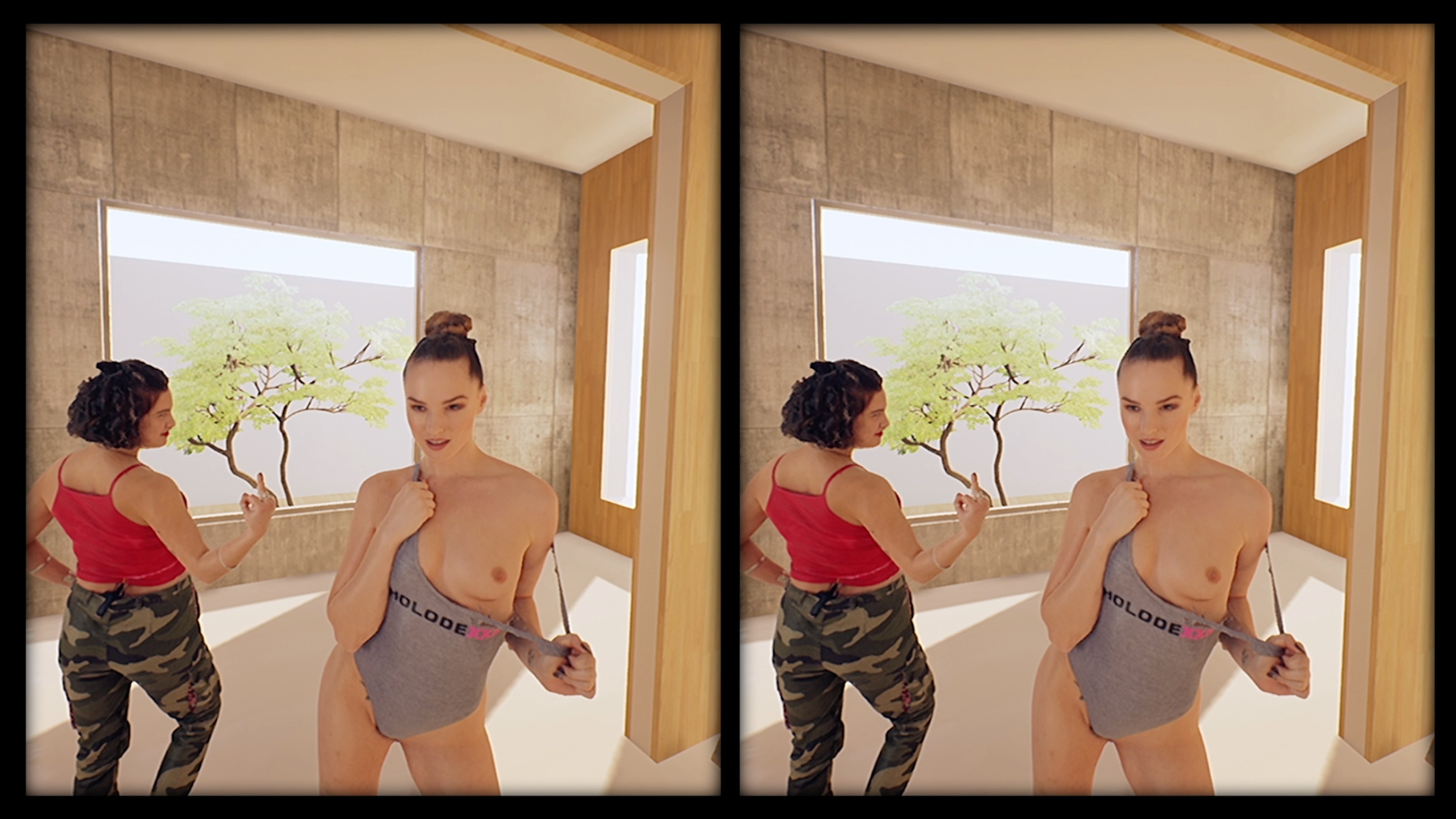 Consider too that taboos around porn and other explicit sexual content are slowly fading. Hawkins points to the fact that HBO's critically acclaimed The Deuce—a show about the porn industry—has shown erections, and Dr. Jenner notes that in parts of Europe, where porn is sometimes played on late night network television, the borders were never that extreme to begin with. So while some fans have been skeptical about what an alignment between a porn site and Sense8 would mean, others could likely make the jump. Viewers of shows launched natively through xHamster or competing porn sites might have no qualms at all.
Hawkins's letter also makes the fair point that, while the mainstream is more open now than ever, there are still boundaries of sensuality and relationships that most companies will not cross. A porn company, unrestrained by the mores of larger competitors, might be able to produce or distribute far more adventurous and bizarre content, whether it's sexually explicit or not.
Pornhub's Price also notes that, if they were to put out mainstream content, they'd probably start with "something more sexual or explicit in nature that would have trouble finding a home on more conventional video platforms." "I would expect there to be a number of niches where porn sites can make their mark as digital media producers," said Jenner, echoing Price's sentiments.
Hawkins says xHamster isn't that interested in producing something from scratch, but sees itself acting as a platform, funder, and distributor for people who, like the Wachowskis, have technical chops and a vision. That might give them a little more credibility and overcome some logistical issues. It also allows xHamster to focus on leveraging its main asset: its existing viewership. As of August when the Sense8 offer was made, the site was the 72nd most trafficked in the world. Price adds that, in addition to producing music videos, musicians have released their own tracks and videos on Pornhub just to get the exposure porn tubes can grant. They have the ability to push content to millions of people from a host of demographics daily. And porn tubes' data analytics can give them some powerful insights when it comes to rolling out shows and marketing them to their vast user bases.
It also doesn't hurt that porn sites have a strong incentive to experiment and diversify. Porn's profitability is in serious jeopardy. "The decision is, do we fight for the remaining market share with our competitors or do we grow as a business?" asked Hawkins rhetorically.
"Obviously, porn and adult content is what made us a success," he added. "We're not interested in abandoning that. [But our] demographic is only ever going to buy so much porn. It never made sense to me why adult companies would only limit themselves to adult products."
Testing out one or two mainstream shows, said McDonald, seems like "a relatively low-stakes opportunity to survey their customers' behavior and gather data for future reference." Ultimately xHamster or any other porn site's chances of crossing the mainstream divide may depend on how they go about it. Film studies and new media academic Gerald Sim points out that if they distribute mainstream content on the porn tube proper alongside hardcore images, that might not work so well, turning off advertisers and confusing viewers.
But if they treat mainstream content like its own business, with its own site and brand—one open to sensuality but not wedded to titillation—they could duck most challenges and focus on distribution and monetization. Hawkins told me this is what he'd have in mind for Sense8 or any future show. It's also what Pornhub's parent company, MindGeek, does for its mainstream tech branch. Scrub its web services site and try to find mention of its many porn-y subsidiaries. You can't.
Will fans get a third season of Sense8 on a new site run by a porn tube? Probably not. Netflix still owns the show's rights and may not part with them easily. The Wachowskis likely have other options as well. "But," said Sim, "the talks themselves are important."
The very idea signals a willingness to shake things up, one that could give weird and explicit shows new homes and resources while providing adult companies new revenue and viability. "Right now, it is difficult to imagine pornography and original quality content as complementary or interchangeable," said McDonald. But that, he admits, could change. Conceivably, all the public would need to get used to the idea is one show. Or Sense8.
Follow Mark Hay on Twitter.