In December, Renate Künast, a senior politician from Germany's left-wing party The Greens, was swamped with furious criticism after her remarks about a high-profile murder went viral on Facebook.
Her comments, according to a post shared on the right-wing Resistance of German Patriots' Facebook page, concerned the arrest of an asylum seeker for the rape and murder of a 19-year-old student in Freiburg – a crime that had shocked Germany and sparked a national debate about the potential threat posed by the country's migrant influx.
Künast reportedly said of the suspect: "The traumatized young refugee has indeed killed, but one must nevertheless help him."
The remarks proved incendiary, typifying for some Germans the weak-kneed and indifferent response of the liberal establishment to migrant crime.
Except Künast never said any such thing. The "report" in question ­was merely a doctored image of Künast along with a made-up quote, falsely attributed to the Süddeutsche Zeitung newspaper; it had apparently been created by a Swiss member of the anti-Islam movement PEGIDA (Patriotic Europeans Against the Islamisation of the West).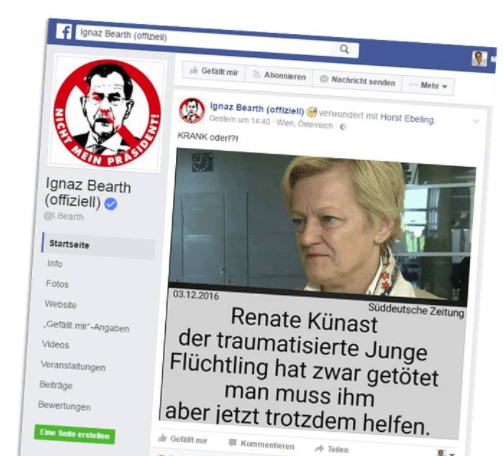 "People just shared it without checking," Künast told VICE News, adding that it took three days for Facebook to remove the fake content. "Three days is a long time for things going viral."
The post was an egregious example of fake news, false or misleading online reports spread virally through social media.
Germany has witnessed a proliferation of fake news in the past two years, as the country faces a growing populist backlash to Chancellor Angela Merkel's decision to welcome more than a million refugees into the country. The problem resembles the phenomenon that emerged in the U.S. during the recent presidential election – and, as in the U.S., there are concerns that Russia is behind some of it.
The migrant crisis – the country's most contentious political issue – is where Germany's fake news found its formula. Initially circulated largely among right-wing supporters of PEGIDA and the populist, anti-immigration Alternative for Germany (AfD) party, the fake reports have found a wider audience following a spate of violent incidents linked to migrants, most notably the mob sexual assaults in Cologne and other German cities during 2016 New Year's Eve celebrations.
The fake reports often invent crimes committed by the newcomers, or, as in the Künast example, accuse liberal politicians or authorities of turning a blind eye to migrant offending. One report falsely suggested that Merkel ­– along with the Greens, a favorite fake news target – had posed for a selfie with one of the terrorists behind the March 2016 attacks on an airport and subway station in Brussels.
The fake news comes in a variety of forms, including misleading or erroneous reports published by partisan blogs such as halle-leaks.de or unzensuriert.at – or bogus reports sourced to nonexistent publications or authorities. And while the false reports are often swiftly refuted by mainstream media outlets, as Künast's was, their rebuttals seldom gain as wide an audience as the original lie – lies which, if not deleted, can live on uncorrected in social networks like Facebook.
Is Facebook doing enough?
Given what many see as the threat posed to democracy by the distortions of a "post-truth" political environment, Germany is not taking the problem lightly. In an election year when the biggest challenge to the political establishment comes from AfD – post-war Germany's most successful right-wing populist party – the stakes are high; doubly so given the ailing fortunes of the European Union as it grapples with rising anti-EU populism across the bloc and the strain of an unending migration crisis.
Having witnessed the spread and influence of fake news in the recent U.S. presidential election, Germans fear that online disinformation campaigns could play a disruptive role when their country goes to the polls for crucial federal elections in September.
"Activists who engage themselves publicly are under constant fire," says Künast, who calls fake news "a threat to democratic discourse."
"In September, we will have general elections and we will not accept fake news to disturb our democratic system."
Politicians like Thomas Jarzombek, a German lawmaker from the center-right Christian Democratic Union, are threatening Facebook with tough penalties and mulling harsh new media laws to confront the problem. "We've seen a lot of fake postings going around," he said.
In response to intense scrutiny from German politicians, Facebook rolled out new measures last month aimed at countering fake news in the country, including giving users the ability to flag false reports, using fact-checkers to vet stories, and disrupting financial incentives for spammers "by eliminating the ability for them to spoof well-known news websites." It was the first time Facebook's fake news measures were introduced outside the U.S.
But lawmakers in Germany, known for taking a harsher approach on tech giants than other Western governments, are pushing for bigger changes. "It's not enough," said Jarzombek.
Far-right and Russia said to be behind fake reports
A year ago, in response to the surge in false or misleading stories about refugees circulating on social media, journalist Karolin Schwarz and software developer Lutz Helm started Hoaxmap, an online watchdog project to track and correct fake news reports. The project maps popular false stories, and presents them alongside accurate accounts, usually sourced from local media, but sometimes by contacting local authorities for their version.
The fake news reports are a form of far-right propaganda, said Schwarz. "Their intent is to push a populist, racist agenda and to poison any effort [at] sober political discussions, most of them surrounding asylum politics," she said.
There are also reports that Russia is responsible for a stream of fake news stories, as it seeks to drum up populist discontent over the refugee policy to influence the German elections as it reportedly did in the U.S.
The EU's East StratCom Task Force, set up in 2015 to counter Russian fake news, says Europe is facing an orchestrated "pro-Kremlin disinformation campaign." Since it was launched, the group has identified more than 2,500 false reports in 18 languages. "The disinformation campaign is a non-military measure for achieving political goals," it said in a statement. "The aim of this disinformation campaign is to weaken and destabilize the West, by exploiting existing divisions or creating artificial new ones."
False reports run by Russian state media have already caused problems in Germany. Last January, a 13-year-old Russian-German girl in Berlin went missing for 30 hours, telling her parents on her return that she had been abducted by Middle Eastern immigrants. Her account was not true, but that didn't stop Russian media from reporting extensively on the story, leading to protests by the far-right and members of Germany's ethnic Russian minority; even Russian Foreign Minister Sergei Lavrov criticized German authorities, blaming "political correctness" for supposed official inaction in the case.
Similarities with the U.S.
Germany's problem with fake news draws strong parallels with the U.S. Klaus Beck, a media professor at Freie Universitaet Berlin, said that the consumers and sharers of fake news reports tend to be far-right partisans who subscribe to the conspiracy theory that the liberal mainstream media colludes with the political elite to present a distorted, politically correct version of reality.
The German phrase "Lügenpresse," or "lying press," has been revived by right-wingers in both countries as a term of abuse against journalists. Most notably used in Nazi Germany to stir up hatred of dissidents, the phrase was heard at a Trump rally in Cleveland in October and is frequently yelled in the faces of reporters covering PEGIDA rallies, says Beck, adding that the phrase echoes Trump's use of the term "fake news" to discredit press criticism.
A notorious recent incident may have fuelled further distrust in the mainstream media and helped to give credence to the conspiracy theory that the liberal establishment was covering up migrant offending, says Beck.
Last January, Germany was jolted by reports that hundreds of women had been sexually assaulted by mobs of immigrant men in cities including Cologne and Hamburg, while out celebrating New Year's Eve. Though the mass assaults were unprecedented in their nature and scope in Germany – according to a leaked police document, more than 1,200 women reported being attacked – authorities and the media took days to acknowledge the crimes. The attacks only came to light through social media, before becoming a national scandal and souring public attitudes towards immigrants.
The incident provided fertile ground for the far-right press. Alt-right news site Breitbart was quick to seize on the story; the site repeatedly revisited the story throughout the year and now says it plans to open a German operation. Earlier this month, Breitbart ran a report that a 1,000-man mob had attacked police and set Germany's oldest church on fire in Dortmund during New Year's Eve celebrations there. Officials and local journalists said Breitbart's Dortmund report was inaccurate; Breitbart responded by saying the criticisms amounted to "fake fake news" reports.
In a country where state propaganda looms large in recent historical memory, opinion in Germany is divided on how best to approach the fake news problem. For Beck, the threat of fake news has been overblown by the media ­– he says fake news is unlikely to impact the majority of the public, who continue to get their news from the mainstream media.
He says that trying to solve the problem by introducing new laws or institutions – such as the "Center of Defense Against Disinformation" reportedly being considered by the Interior Ministry – would be overkill.
"You'd have soon a kind of office of censorship," he says. "They don't need a legal solution – they need more civil engagement to educate netizens to act as competent citizens with social media."
Jarzombek agrees that media literacy is vital. But like a number of other German lawmakers, he believes that social media outlets such as Facebook need to do more to combat fake news and notes that parliament is prepared to legislate if the tech giant drags its feet.
Politicians across the political spectrum have been talking tough against Facebook, with a member of the center-left SPD calling for fines of up to 500,000 euros ($540,000) against the website if it fails to delete flagged fake news or hate-speech posts within 24 hours. The European Commission also recently warned that Facebook and other social media companies would face penalties if they did not do more to address the problem.
One specific measure Jarzombek hopes to see Facebook introduce is a "right of reply" function that allows anyone mentioned in an inaccurate report to attach their rebuttal alongside the original post, in a way that would reach the same audience.
He said Facebook has been resistant to introducing such measures, but "if they don't start responding like this, we will make it by law." The consequences of allowing fake news to proliferate were too severe to allow the status quo to continue, he said.
"I'm not sure [the threat of fake news] is so big it can completely change the outcome of an election," he said. "But it can have an impact."