Over the past decade, Zanele Muholi has brought the world's attention to a community of black, queer, and trans people who had been otherwise silenced and invisible. "There is a lot of work to be done," admits the 45-year-old South African photographer.
Muholi, who describes herself as a visual activist, is best known for her Faces and Phases project, an unprecedented and ongoing visual document of the LGBTQ community in South Africa's townships. These portraits articulating the experiences of hundreds of queer women have been embraced by the international art world and shown at the Brooklyn Museum, the Venice Biennale, and the Sao Paolo Biennale.
"Visual activism is work that is aimed at documenting a political agenda, photography that looks at gender politics, sexual politics, politics in general," she says down the phone from Johannesburg. "It has less to do with fine art, it's about visuals that speak to a number of ongoing issues that affect human beings who are supposed to be protected by some rights, speaking from the South African point of view. That's my take."
Along with their portraits, Muholi has also recorded each individual's stories. Many of the people she has photographed have suffered prejudice, brutality, and sexual violence; some have since died or been killed. Yet her photographs speak their own truth: not of hate, but of pride and resistance. "We're still here," Muholi says wistfully.
---
Watch: The Land of No Men: Inside Kenya's Women-Only Village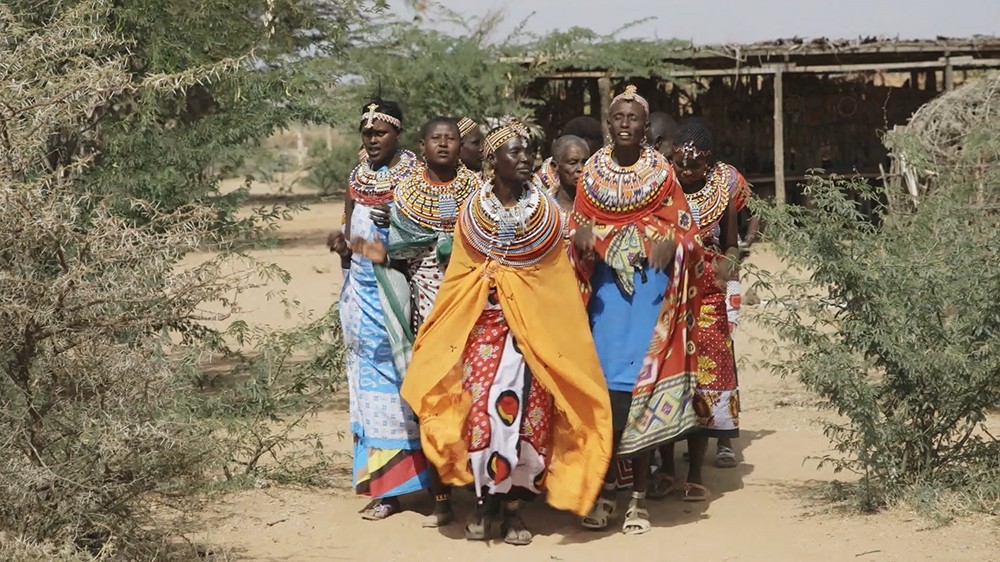 ---
In Muholi's latest project, she has turned her camera on herself. At Somnyama Ngonyama: Hail the Dark Lioness, her first London solo show, it is self-portraits that line the walls of Autograph ABP. It's her most personal work to date. Why was important to her to explore herself, now?
Read more: In Photos: Thousands of Lesbians Protest for Dyke March
"Sometimes you think: Who am I? Why are these people telling me all of these stories?" she explains. "The work I'm doing is hard; you lose your head along the way, you become nothing. You forget yourself. I wanted to remember me. I've produced a lot of photographs, but I felt that activism became too hard and harsh. I really needed to self-represent. To reconnect with Zanele."
In more than 60 photographs, Muholi dresses in accessories like cowrie shells and beaded fly-whisks, often portrayed in depictions of African people in Western art. Elsewhere she addresses persistent stereotypes concerning her identity as a black woman, from gender roles to the color of her skin.
It's the first time Muholi has started to reveal her own story. It was in part, she says, inspired by the "many unnerving experiences" she had of "ongoing racism [and] being racially profiled."
She explains: "The only way to address this was to look into the mirror and confront my own fears and vulnerability—and what forced me to become what I am—from a space of difficulty."
The process of self reflection hasn't been easy. What does it mean to her to be black, female, queer, and South African in 2017? "More pain, pain that never ends. It opens up a lot of wounds, it's hard. Sometimes I feel I haven't reached anywhere."
After hearing so many stories over the years from the individuals she photographed, the self-portraits have been a way of dealing with what she's seen—cathartic, to an extent. "It's for my own healing: I'm trying to reach that point… Yeah."
She adds: "Being black, queer, trans, identifying differently—I am trying to undo the idea that those things are un-African. My work becomes a legacy; it's not only my work, it's our work as a community. Whenever I'm in any international space I'm not there alone—I'm coming on board as a South African citizen, coming with many voices and phases, to contribute to our South African history. We're putting that queer flag on the map, we're putting that trans flag on the map—we're ensuring trans, lesbo [sic], queer, women's histories are part of the agenda."
Though raising awareness through international exhibitions is an important part of her work, she's quick to play the achievement down. "I don't like to keep traveling, I want to be home. But there isn't funding for queer art in this country. We need to share it with South African audiences. It's never-ending work!"
And while the constitutional rights for LGBTQ people in South African are among the best in the world, the reality is very different. "If perpetrators aren't respecting that [lega] document, it means people don't have a grip on it."
Muholi sees education as a fundamental step in her work. This week, she's in Amsterdam to attend the opening of an exhibition of young trans South African photographers she photographed for Faces and Phases and subsequently trained. The show is curated by another of her proteges. "We should continue to collaborate, to write our voices, so that the voice out there is stronger than one."
It's just one of many collaborative initiatives she's started. She also founded Inkanyiso, a media collective and platform for visual activism. "When you have no education, layered with your gender, you're truly displaced. We need to make sure that there's a trans-scholarship so we can equip people with information so they can speak for themselves, to draw their own narratives. Let our people be able to canonize, to transhistoricise their stories, because nobody could tell those stories better."
Somnyama Ngonyama: Hail the Dark Lioness is at Autograph ABP in London until 28 October.