Collage by Dico Rivan Firman
I've never tried to start my own company, but I believe it when some startup founders tell me that it's hard to get your business up and running in Indonesia. The reasons are varied—from tight business competitions to government bureaucracy. It takes a special kind of patience and resilience—that I don't even think I have, to be honest—to make it work.
A research institute called Value Penguin, recently released a list of ASEAN countries and ranked their "friendliness" to startup companies by looking at economic indicators of each country such as GDP growth and access to funding. Of the 12 countries, Indonesia placed 8th. Yeah, it's not something we can be proud of. But the three entrepreneurs I talked to didn't stop despite the challenges they have faced. To them, it's more important to just dive in and worry about the problems along the way. Hey, hats off to them!
So if you've been thinking about risking it all and starting a new venture, remember: you can't succeed if you don't start.
Andy Fajar Handika, CEO of Kulina.ID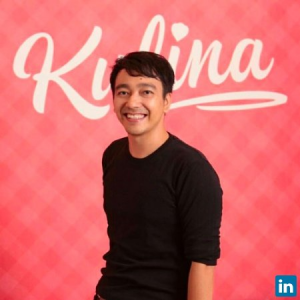 Kulina is an affordable lunch catering business that delivers anywhere in Jakarta.
VICE Indonesia: Hi, Andy. Kulina is getting bigger everyday. How did everything start?
Andy: Yeah it is! We're trying hard to make Kulina grow even bigger. It all started when me and the other founders used to prepare lunch together. In 2016, I decided to launch Kulina. It was very difficult to run Kulina at first. In our first month we only had two customers. It was a really bad year for food and beverage businesses. I wanted to focus on Kulina, so I closed and sold my restaurant. It's like burning the bridges. There's no turning back.
How many customers do you have now?
We have 43,176 customers from Jakarta.
That's a lot of people! What's your secret?
We started putting more effort on marketing, and by the end of 2016, we had hundreds of customers. Eventually we got to a point where we served thousands of people every day. But we still didn't have good system back then. Luckily, we got funding which really helped Kulina.
At the start, we offered many options, like all-organic meals. We offered dinner, too. But that also made it difficult for us to grow. So in mid-2017, we decided to make it simpler and started to offer only lunch. I think we're finally on the right track.
Have you ever gotten frustrated by the bureaucracy of doing business in Indonesia?
Yeah, we have. Restaurants here are taxed 10 percent. But if one restaurant also offers catering programs, will that part of the business get taxed as well? The rules are confusing.
There is also things like the halal certification. We had to check and make sure that all of our kitchens have the certification. But if there's one kitchen that has not been certified, even if the food is 100 percent halal, we can't put the halal logo on our boxes. Some people have asked us why there's no halal logo on our boxes, so we have to explain it to them. These are the kinds of things we have to deal with as a food business in Indonesia.
It's so complicated.
It's always like this in Indonesia, so nothing will change even if we complain. It's easier to apologize to our customers than to ask for the certifications from the officials.
Jezzie Setiawan, Founder and CEO of Gandeng Tangan
Gandeng Tangan is a microfinance marketplace. It's an online platform to invest and finance your money to small and medium-sized enterprises (SMEs).
VICE: When other businesses move forward to 'profit-driven', Gandeng Tangan still put forward its social mission. What made you do that?
Jezzie Setiawan: Fifty-five percent of Indonesians live on less than $2 USD a day. Poverty is still a really big problem. As someone who is lucky enough to get higher education and even pursued a master's degree abroad, I have responsibility to give back. I thought that what helped reduce poverty was more jobs. But I learned that 97 percent of jobs in Indonesia are created from micro businesses. In order to improve people's lives, Gandeng Tangan tries to be a microfinance marketplace that can help MSMEs in Indonesia grow.
What are the challenges of doing a startup like this?
Finding a solid team that is willing to do everything for the startup is the first challenge. Then, you need to refine your product and convince people to invest and develop your business. At the beginning, we received a grant to initiate the start up. We got too comfortable. But we can't always rely on grants. So we looked for investors. We made sure our business was investment ready. Back in 2015, we weren't quite there yet, but now we're more confident and feel that we're ready for some investors to come on board.
Another challenge is finding the human resources for digital startup, especially for IT, development, and programming. The competition to recruit the best people is so tight. And it's expensive. So that also presents a challenge.
What's the hardest thing about being starting your own company in Indonesia?
You have to do everything yourself. At first, usually you're high spirited and full of ideas. But when you get knocked down, you're often alone with no one to talk to. There were moments like that. With that said, I keep going forward. More than half of Indonesians live under the poverty line. So with all the advantages I have, why won't I keep trying to make an impact for those who are less fortunate? If we don't do it, who will?
Hanifah Ambadar, founder of Femaledaily.com
Female Daily is a media startup that focuses on beauty and and fashion.
VICE: Hello! Can you tell us about how Female Daily come to be?
Hanifah Ambadar: Female Daily started in February 2005 when I wanted to write and share about beauty and fashion in the United States when I was living there. I realized that many Indonesians women could relate. They wanted to find out more and created a lot of discussions in the comment section. So in 2007, we created a forum to facilitate that, to share experiences and connect to one another. There were many Female Daily readers who couldn't channel their love of makeup in real life for many reasons. Some women, for example, can't talk to their colleagues at work because they don't have the same interests. But on Female Daily, they can meet hundreds of new people with similar interest. So they feel like they belong. They don't have to be afraid of being judged and misunderstood.
What challenges did your startup face?
There's a lot of them! And there will always be challenges. Our current challenge is how to grow exponentially under a very limited budget.
What keeps you going?
I enjoy doing what I do. I've never doubted what I'm fighting for. Not a day in the last nine years. I do this because i see how we are progressing from the beginning and I very much enjoy the process. And what keeps me going is the benefit Female Daily gives to its readers. We're not only a source of information, but also an inspiration some people to start something— to find a new job, to start a new business, et cetera Everyday I get emails or messages from women saying how Female Daily has impacted their lives. I cannot be more thankful to have this privilege and opportunity to create something meaningful for Indonesian women.
What's the most annoying thing about running a startup?
Nothing overtly annoying, but the biggest misconception about running your own business is that you don't have to work a lot and just spend time with your feet on the table, that you have flexible time and make tons of money. Many view entrepreneurship as something glamorous. It's far from it, there's nothing glamorous about worrying wether or not you have enough money to cover the month's salary for your people. There's nothing glamorous about making big decision that will affect all 55 of the people in your company. It involves lots of sweat, tears, stress and sleepless night.
How do you overcome those challenges?
Focus on the solution and see it as a way to be more creative. Your only limitation is you, so don't use challenges as an excuse to not move forward.
'The Road' is a series by VICE x Tokopedia that presents profiles of seemingly "common" people who have the bravery to chase after their dreams despite doubts and obstacles, and who have become respected figures in their own field. #MulaiAjaDulu