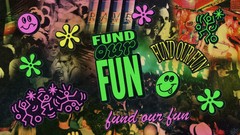 'Fund Our Fun': A series celebrating the UK's music and nightlife industries, and a rallying call to protect them.
It's been over a year since any of us have been on a proper night out, and the idea of getting off with a stranger on a sticky dancefloor seems like a bleak utopia of a life that once was. Yet one thing not to mourn about the clubs being shut is the dos-and-don'ts of what you can wear for a night on the town.
Up and down the UK, dancefloor dress codes plague nightlife. Forty clubs in central London admit to having specific on-the-door requirements (mostly consisting of a no sportswear, smart-casual policy), while 13 venues in Glasgow, 12 in Birmingham and eight in Cardiff will also turn you away for wearing a pair of trainers or donning your favourite trackie.
Although London is famous for its exclusive nightlife, where places in Mayfair give themselves names like 'Aristokrat' and charge £15 for a double-vodka mixer, getting into your club of choice in Liverpool is still no easy feat – especially if you're a lad. Despite its reputation as a top UK party spot, the city is famous for its outdated approach to nightclub dress codes.
"Disregarding the obvious types of clothes like tracksuits, waterproofs and looking like you're about to rob a bank, Hugo Boss has always been the brand to stay away from," explains 22-year-old Connor Fitz, formerly a regular club goer in the city.
Fitz explains that it's bizarrely common practice to have a strategy to get into places you're worried you might be turned away from, whether that entails splitting off into smaller groups or even turning your t-shirt back-to-front to hide any "forbidden" brand you might be wearing that night, which also includes the likes of Armani, Moncler and Lanvin.
Other no-gos include white trainers and anything by Nike, specifically the city's most popular style: 110s. Charlie McNally, 21, remembers being knocked back (or KB'd, as it's widely referred to) from a club called XOXO for wearing a pink pair of the signature shoes. "One of our mates asked if we could go in and the bouncer literally pointed to my feet and said, 'Not in them webs'," he recalls.
Although many Scousers will be gagging for a night out – and as much as dressing up is a fun part of Liverpool culture – there's certainly a lack of desire from the city's youngsters to get back on the town once the pandemic's over thanks to these archaic rules. While indie venues and smaller bars tend to me more lenient, 19 of the city's top clubs don't allow sportswear or anything with visible brand placement.
"Sportswear is a rite of passage in the city, from the love of Adidas and casual-inspired clothes to the ubiquity of the 110," says Jack Stanley, proud Scouser and Editor of Hypebeast. "These were the clothes and the shoes that all my mates wore day-to-day, but weren't allowed to wear to go out in the evenings."
As to why such brands are banned, Sam Thomas, a 23-year-old who lives in Huyton, puts it down to the association with gang culture. "[Clubs] think you're either a drug dealer or carry a blade," he affirms. "It's not a fair assumption because I work hard for my money and buy nice clothes, so why shouldn't I be able to wear them?"
A report into Liverpool's nightlife found that 1,663 crimes were recorded as taking place at or near clubs in 2019. A year prior, two major stabbings in the city – one fatality at club Maya and another attack outside Ruby Blues, where a reveller stabbed bouncer after being denied entry – has seen even tougher regulations implemented by clubs.
McNally says that although it's understandable for venues to be taking precautions, the blanket ban of certain brands seems extreme: "you can't ruin everyone's night on the basis of a few naughty fellas who happen to wear Hugo Boss."
In a similar vein that middle-class snobs would've seen the tracksuit as a symbol of lawlessness in the 2000s, semi-luxury clobber is seen as the new uniform for anarchy by many of Liverpool's clubs.
"It both reinforces the 'scally' stereotype of everyone from Liverpool, as well as the idea that wearing sportswear is inferior to putting on a shirt and some smarter shoes," concurs Stanley.
Fitz echoes this, stating that the likes of Hugo Boss have a "poor man's luxury" label attached to them. "Clubs will give themselves a standard to abide by and that is fine, but I think singling out certain brands is a ridiculous practice and quite disrespectful to Scousers."
Lorna Dougherty, manager at 24 Kitchen Street, one of the city's more progressive venues which operates with no dress code, believes the outlawing of specific labels is built on stigma.
"You can obviously make judgments about a person by what they're wearing – fashion is a form of art and expression after all – but in that same hand, misjudgements can be made. It can then become discriminatory and come across as a sort of elitism," she says.
On the back of now shuttered dance meccas Cream and Garlands, Liverpool has earned a strong reputation as being a prime partying destination in the UK. However, as Paul Robinson, Fashion Design Senior Lecturer at Liverpool John Moores University, points out, rigid dress codes stop club goers from "harmoniously mixing".
"Liverpool is a very working-class city, which isn't always communicated in its nightlife," says Robinson. "The city's wider nightlife lacks cultural diversity, which adds to the complexities of venues being seen as too narrow, too male dominated, or too white."
"I think there's more chance of winning the lottery than being able to go straight to town spontaneously from a local pub without somebody needing to go home with a taxi waiting outside while they change into another outfit," says Fitz. "I don't think it ever will move forward, it might not be Hugo Boss or Armani in 20 years, but something else will take its place."
It may well feel like the roaring twenties once everything opens back up again, but if trying to successfully get into your nearest Slug and Lettuce is akin to cracking morse code, ditching nights on the town entirely might be the way forward.
@pltnr