From L to R: Buffy the Vampire Slayer's Willow Rosenberg, The O.C.'s Marissa Cooper, and 13 Reasons Why's Hannah Baker
"It's feel good, it's sexy, and it's just the right amount of political," declared Kat in a recent episode of The Bold Type to a room full of old, white men. A lead character on the Freeform network's latest hit, the promising young social media editor was describing a story she wanted published—but the dialogue doubles as a list of reasons why The Bold Type is so exciting. As a queer woman of color, Kat is an all-too-rare character in television aimed at young adults today. If and when we see a queer female protagonist in a teen-oriented TV show, she's almost always white, and it's been that way since the dawn of the teen TV drama.
The past few years have seen a number of phenomenal, progressive and diverse queer female characters on TV writ large, from Orange is the New Black to Black Mirror. But when it comes to teen television, queer women of color are often hard to find in leading roles; when we do see queer women of color in dramas geared toward a younger audience, they're secondary or tertiary characters, or even killed off the show (following the infamous "Bury Your Gays" trope). Compared to regular, mainstream programming—in which representation for queer women of color still has a ways to go—teen TV has a lot of catching up to do.
Granted, it's hard to explicitly define what constitutes "teen television," because it's not a genre delineated by hard and fast lines. Sharon Marie Ross and Louisa Ellen Stein, the editors of Teen Television: Essays on Programming and Fandom, argue it's more of a cultural category defined by content, demographics, and reception. The WB (now The CW) emerged as a prominent purveyor of such shows, with hits like Buffy the Vampire Slayer and Dawson's Creek, which gave way to waves of 2000s teen dramas, like Veronica Mars, The O.C., and Gilmore Girls. And since the genre's rise, its shows have almost always at least touched on a prevalent struggle amongst adolescents: sexuality.
One of TV's most famous queer female protagonists was born as the genre came into its own; Buffy the Vampire Slayer gave us Willow Rosenberg (Alyson Hannigan), Buffy's queer ginger sidekick, a character who singlehandedly shifted the landscape of queer women on TV. The O.C. lead Marissa Cooper (Mischa Barton) started dating a girl on the show in 2004—the first time many queer millennials saw a prominent on-screen lesbian storyline. The CW's rebooted 90210 saw Adriana dive into a queer relationship, and in 2009, Emily of Skins (the British version) came out as gay.
But after these major storylines, all driven by white characters, things didn't get better for queer women of color on teen shows. In fact, over the last decade, the category has been overwhelmingly defined by whiteness. The CW's The 100 featured a nuanced relationship between protagonist Clarke and her star-crossed lover Lexa (but was scandalized for abruptly killing Lexa off). Chasing Life (2014) on ABC Family (now Freeform) featured Brenna, a white teenager grappling with her sexuality. FOX's Scream Queens (2015) featured Billie Lourd as Chanel #3, a sorority sister who has a dalliance with a lesbian pledge. While the pledge was played by Asian actress Jeanna Han, she was promptly killed off. In MTV's caustic dramedy Faking It (2014), Rita Volk plays Amy, the show's embattled queer (white) protagonist. In 2016, Syfy's supernatural drama Wynonna Earp revealed two of their white female leads to be queer. And last year, Netflix's breakout show 13 Reasons Why painted its white lead Hannah Baker as queer. She had a brief fling with Courtney, who was a groundbreaking queer Asian character, even though she wasn't top-billed.
Most recently, Marvel's Runaways, a teen show on Hulu, gave us Karolina Dean, a lesbian superhero who falls for her friend Nico. According to the comics, Nico rejects Karolina, but in the season finale of the Hulu series, which aired earlier this week, Nico changed things up and pursued Karolina back—a trailblazing moment which made Nico the first queer female Asian lead in a teen show.
And there are other exceptions to the rule, of course. In 2011, Naya Rivera's character came out as queer on FOX's flagship show Glee. Along with Heather Morris, the Latina actress was one of Glee's two queer female leads. Hulu's recently cancelled East Los High featured Camila, a Latinx queer woman. Pretty Little Liars, the long-running teen drama which shares a network with The Bold Type, featured Filipino actress Shay Mitchell as Emily, a lesbian protagonist. But these represent anomalies against the tidal wave of queer whiteness that has overwhelmed teen TV.
---
Watch as Broadly searches for America's last lesbian bars: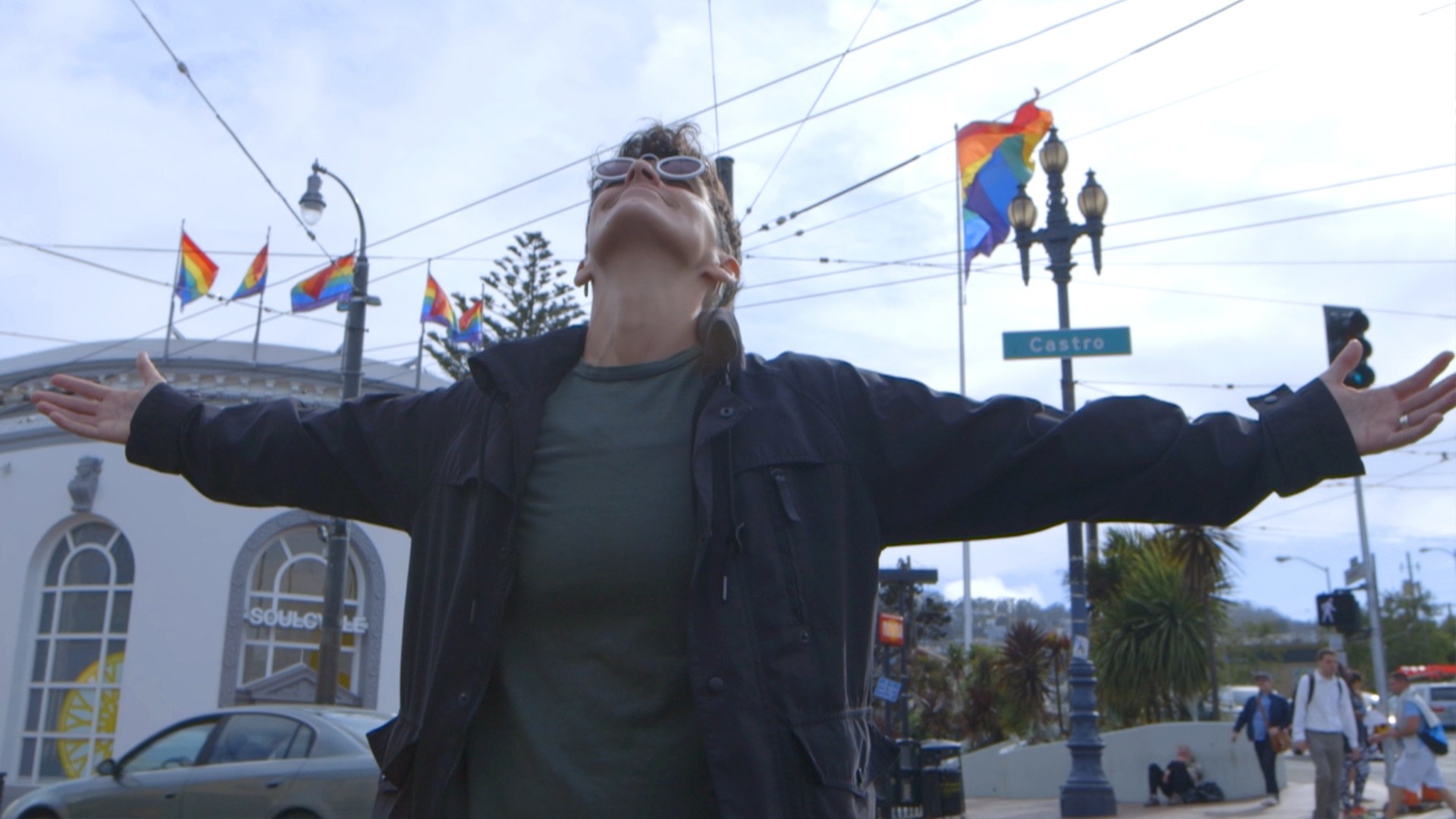 ---
But things may be slowly changing, as seen in shows like The Bold Type and Runaways. Freeform especially has taken strides to adequately represent a breadth of diverse female characters in their programming, with GLAAD reporting that the network remains the most LGBTQ-inclusive on cable, with 25 regular and recurring queer characters this season.
"Our job is to be reflective of our audience," said Karey Burke, Freeform's executive vice president of programming and development. "We need to represent their stories." Burke joined the network three years ago and has been an influential and propulsive force behind Freeform's diverse storytelling. She said she's very proud of The Bold Type and considers it to be a trailblazer in representation. Elizabeth Boykewich, senior vice president of casting and talent at the network, agreed. Boykewich cast Aisha Dee as Kat and Nikohl Boosheri as Adena, a Muslim lesbian character and Kat's love interest. "On Sex and the City, there was Mr. Big. For us, what feels actually modern, more interesting, and more empowered is this," said Boykewich. "This is our Mr. Big relationship."
Boykewich believes that writers often write what they know, which is why—until now—queer characters in young adult shows have often been white. As writers' rooms diversify, though, the hope is that change will soon come. Faith Choyce, a queer woman of color, comedian and writer at Autostraddle, agrees. "People create the worlds they're familiar with, so diversity in front of the camera can only come from diversity at every step of the production process, from the writers and directors to the showrunners," she said. "So many writers' rooms are still exclusively or mostly white, even if they're not exclusively male, which is how you end up with the ridiculous and inaccurate portrayals of characters of color." TV critic Ira Madison III echoed her assessment: "I think most TV writing jobs belong to white people, and sadly, when diversity extends to queer people, it's still white queer voices," he told me in an email.
Now more than ever, representation matters, and queer women of color need more visibility on television today, especially TV geared towards teens and young women. For many young queer people of color, seeing themselves and their stories represented on TV could be life changing—an assurance that you're not alone in this world. And that extends far beyond bi and lesbian representation; so far, transgender women of color have yet to be top-billed on a major teen show. This needs to change, and these shows should reflect the fraught nature of teenage gender identity, especially now that more young people than ever identify as queer.
"Queer women of color haven't been presented with the same opportunities to tell their stories on a platform like network or cable TV as white lesbians who fit Western ideals of conventional attractiveness," said Choyce. But she's optimistic about the future, and I am, too. As a queer woman who grew up with a general lack of queer female storylines on TV, I'm happy to see that young adult television is portraying these stories at all. Let's just hope things get better from here.
Follow Jill Gutowitz on
Twitter.