Israel is giving African migrants seeking asylum in the country an ultimatum — leave or end up in jail. The deportation plan, announced January 1, has stirred alarm among the international community and human rights groups, who say imprisoning asylum seekers goes against Israel's democratic ideals and is the latest example of the country shedding its responsibility to refugees. "Instead of jailing them, Israel should fairly identify and protect refugees among them," said Gerry Simpson, associate refugee director at Human Rights Watch, in a statement last month. He added that the latest crackdown is part of Israel's ongoing "quest to dodge its refugee protection duties." Prime Minister Benjamin Netanyahu denies refugees are being targeted at all by the new plan. "We are taking action against illegal immigrants who come here for work purposes," Netanyahu said at a recent cabinet meeting. He affirmed Israel would continue to shelter refugees and deport "illegal infiltrators." But the majority of Israel's roughly 40,000 African migrant population are believed to fit the refugee profile, having escaped conflict and repression at home in Sudan and Eritrea. As a result, rights groups say these migrants should be treated as asylum seekers and be eligible for special protections reserved for refugees. Typically, this is where the UN Refugee Agency (UNHCR) would come in to steer the process, but Israel took over refugee status determination from UNHCR in 2009. Since then, asylum applications have stalled and rejections have soared. Only 11 people have been given refugee status from Israel in nearly a decade.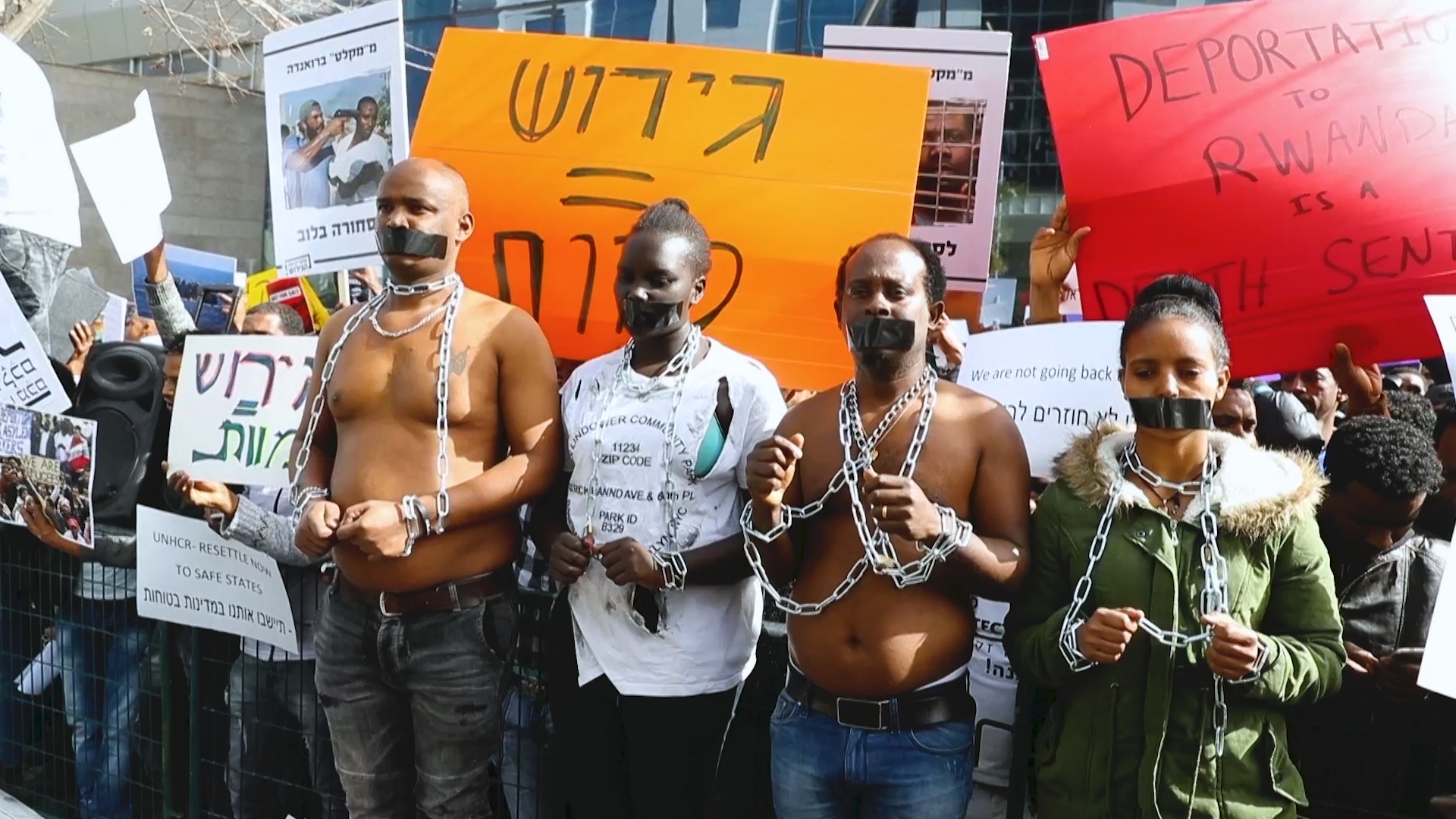 The current refugee policy follows Jerusalem's hard-line approach to immigration, which in recent years has included an open air detention center in the Negev Desert, and terminology that describes those who cross the Egypt-Israel border as "infiltrators."
The Israeli public hasn't been accommodating either. African migrants and black Israelis have borne the brunt of the country's sharp turn toward right-wing nationalism in recent years, facing repeated outbursts of violence, harassment and hate speech. And members of Israel's political parties, including Miri Regev of the Likud party, have played into the anti-migrant wave. "Today, I said in Parliament, the Sudanese are a cancer in our society," yelled Regev during an anti-migrant rally that turned violent in 2012.
African migrants and Israelis, in turn, have taken to the streets to protest the country's rising tide of racial discrimination.
Hoping to put an end to the saga, Israel's new plan incentivizes voluntary deportations, offering $3,500, airfare and travel document assistance for all those that leave by the end of March.
Now migrants face an impossible choice: return to the homes they fled in fear, or relocate to an unidentified third country through a relocation agreement. Israel says Rwanda and Uganda are two possible relocation destinations, but both countries have denied reaching any agreement on the matter. The prospects of staying are equally grim. The threat of jail time is real for 20,000 male asylum seekers, many of whom reported receiving deportation notices last week. According to Israeli officials, migrant families could also face forcible deportation in the future. The controversy surrounding the plan has reawakened a heated debate in Israel about the country's democratic ideals and Jewish identity in the 21st century. Hundreds of Israeli rabbis have pledged to hide migrants facing the threat of deportation. Some U.S.-based religious groups have also appealed Netanyahu to reconsider. "The sweeping nature of this deportation scheme, coupled with the extreme difficulty to access the Israeli asylum system, [..] betrays the core values that we, as Jews, share," they wrote in an open letter to the prime minister.