Twitter is full of porn. Automated accounts, some of which are designed to drag you off to a web of dodgy dating sites, overwhelm the social network, constantly clogging up mentions with insincere likes and retweets. But what actually sits behind Brianne's, Helen's, or Christina's account? Thanks to an apparently misconfigured bot, now we can see.
On Thursday, an account using the name Barbara Hughes tweeted out the usual seductive message and picture of a woman, but, presumably accidentally, also an IP address of a server the bot appears to be linked to. It's a bizarre glimpse into a part of social media that we likely see everyday, but rarely get to examine how it functions.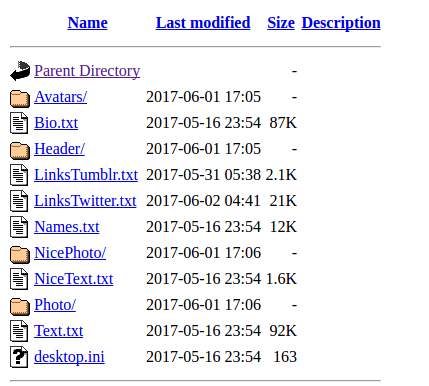 Much of the server's 4GB of data is sorted into eleven folders, with each of those storing sections for the various components of a Twitter profile. There are thousands of different avatar and header photos; hundreds of names to use; and a myriad of biographies to fill up accounts with. The Russian-based server doesn't appear to contain any code or scripts that would actually command a bot. Instead, it appears to be more of a repository that automated accounts can possibly retrieve necessary information from.
"if you like what you see try this you can see my naked boob here," one profile bio reads. "you sure can chat with me," reads another. One folder is simply called "NicePhotos."
It seems every one of the eleven main folders could be for a different porn bot campaign, with varying pictures, monikers, and bait for potential clickers: some include files of hundreds of ready-shortened Bit.ly links or posts. Most of the Bit.ly links redirect through to extinct, or perhaps dormant, Tumblr accounts. At least one ushered visitors to a girl's clothing site though, and had been clicked over 3,500 times since the beginning of May. All of the folders also include a file of phrases seemingly for the bot to engage in automated conversations.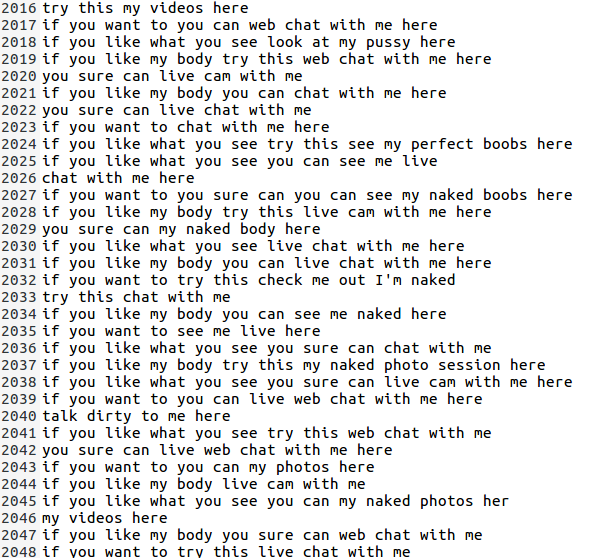 Barbara, the bot which leaked the data, didn't get that far. The only other tweet she had published on Thursday was of a photo with no text, and Twitter flagged the account as suspicious. On the same day, only one other bot had seemingly tweeted out the IP address. But by searching for phrases, links and names included in the exposed data, it was clear some of this operator's other porn bots are up and functioning as expected.
"Wanna have sexy fun, find me right here," one of the bots tweeted.
Subscribe to Science Solved It, Motherboard's new show about the greatest mysteries that were solved by science.