Julien Prévieux, What Shall We Do Next?, 2006-2011, film installation, 3′ 54", overhead projector and media player, dimensions variable. Courtesy of the artist and Galerie Jousse Entreprise.
In Julien Prévieux's three-part performance art piece, What Shall We Do Next?, centers on the growing catalog of hand-gestures patented for human interaction with present and future electronic devices. One part animation, one part choreography, and one part film, the artwork explores the ways in which people interact with their electronic devices, touchscreens and game consoles. Comprised of gestures collected from 2006 through 2011, Prévieux describes the work as "an archive of gestures to come."
This past Saturday, Prévieux was awarded the 2014 Prix Marcel Duchamp for What Shall We Do Next? A prestigious annual art prize totaling €35,000, the Prix Marcel Duchamp exists "to honour [sic] a French artist or artist residing in France, representative of his or her generation and working in the field of the plastic and visual arts: installation, video, painting, photography, sculpture."
To create the archive, the first part of the piece, Prévieux pulled gestures patented by the U.S. Patent and Trademark Office, and then rendered their actions with simple, grayscale hands. In the archive video's description, Prévieux notes that he was curious about the role technology plays in determining future gestural behaviors, especially because their inventors had to foresee the motions that would operate their devices long before their objects existed. For the second and third parts of the piece, Prévieux worked with a team of dancers using "a sheet gesture much like sheet music, based on the orignal gestural inventory." The final piece of What Shall We Do Next? takes the form of a film created from the performance.
Below, check out What Shall We Do Next? as an archive, an installation, and as a performance: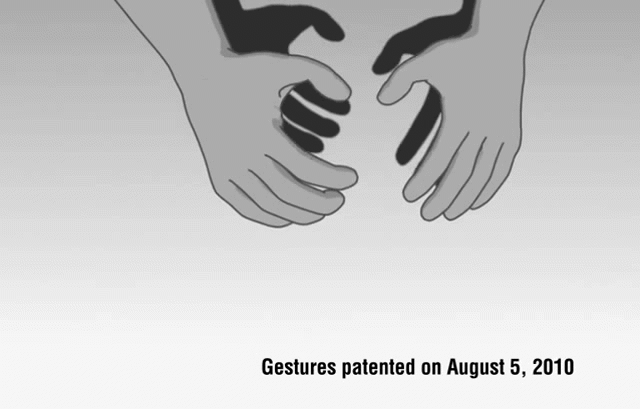 Media Mediums - 11 april 2014 - What Shall We Do Next? from Media Mediums on Vimeo.
Stay tuned here to see the final video of What Shall We Do Next? And to learn more about the project, visitJulien Prévieux's website.
h/t ArtNews
Related:
Counter-Surveillance Artist Trevor Paglen Honored With Internet Civil Liberties Award
An Urban Utopia In The Clouds Won The Shenzen Super City Award