There's a new breed of pirates searching the seas off the coast of Indonesia and Malaysia for a uniquely 21st century version of sunken treasure: scrap metal.
These deep-sea scrappers are dismantling sunken World War II warships for cooper, bronze, and steel. A single bronze propeller can be worth as much Rp 34 million-per-ton, according to a report by the Guardian. A whole ship can be full of billions of rupiah worth of scrap metal.
"Australia and the Netherlands have already complained about the disappearance of some of their sunken ships in the waters off Java," Susi Pudjiastuti, Indonesia's minister of maritime affairs and fisheries, said in a recent press conference. "We're considered a nation who can't protect its historical sites."
In a country of islands, it can be hard to find, and catch, these deep sea scrappers. But that's exactly what Indonesian and Malaysian authorities just did. On 20 April, the Indonesian Navy detained the crew of the Chuan Hong 68 off Riau Islands on suspicion that the ship was involved in dredging for sunken scrap. There were 20 crew members on board, including 16 Chinese nationals, three Indian citizens, and one Malaysian. All were detained.
But the bust quickly went south. The Navy dispatched a warship to the area to secure the ship, but while it was en-route, they only left a single man behind to guard the detained crew. He reportedly felt nervous being alone aboard the massive boat, so he decided to wait on a smaller 12-meter-long fishing boat that was anchored nearby.
"Our resources are limited and the ship is huge," Navy deputy chief of staff Vice Adm. Achmad Taufieqoerroch-man said at a press conference announcing the bust. "We secured the crew members first."
When the Indonesian warship finally arrived, the Chuan Hong 68 was gone. It had fled north to Malaysian waters. The ship left the 20 crewmen behind.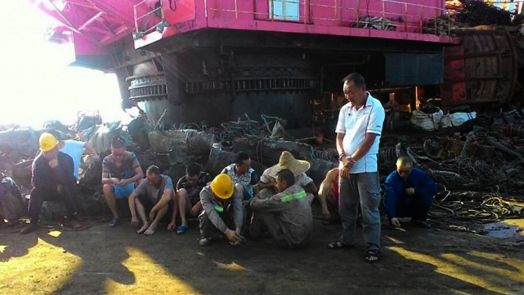 They've requested the ship and its crew from their Malaysian counterparts. "I have contacted Malaysian ambassador to hand over Chuan Hong 86," Susi told local media.
"We don't know the value of the stolen ships, we are going to investigate that, but, this is history, millions of dollar can't buy our history," she said. "The value equals the history of a nation. History is priceless."
Authorities initially believed the ship was from China, but there was only a Malaysian flag on board, according to initial reports. It was registered to "Shanghai Chonghe Marine Ltd." but Chinese officials later said that the vessel was actually chartered by a Malaysian company.
"From our initial information, Chuan Hong 68 is time-chartered by a Malaysian company called 'Accenture Strategy Sdn. Bhd.' and has been engaged in offshore engineering in the waters specified by the Malaysian side according to the contract," Chinese Foreign Ministry Spokesman Geng Shuang said in a press conference.
The shipwrecks involved in this instance were Japanese and Swedish. But other nations have expressed their concern over similar looting in the past. Historical shipwrecks of British, Dutch, Australian vessels have also been damaged by looters. It caused enough of a shock in the Netherlands to make the front page of De Telegraaf newspaper.
The UK government has called the looting a "serious concern" and said it would take "appropriate action to protect the sites from any further disturbance."
But without an increase in the kind of patrols that caught the Chuan Hong 68, the scavenging, and the destruction it causes, will likely continue.
"It's like a cottage industry, apart from the fact the illicit salvage boats are dealing with substantial wrecks," Andy Brockman, an archaeologist, told the Guardian newspaper. "Basically they use explosives and grabs to rip things apart.
"You get basis steel. In a single engine room you have a lot of non-ferrous metals, copper and brass, which have a premium on the scrap metal market."