Photo by Nick Turchiaro-USA TODAY Sports
On a wall at the west end of the Raptors' practice facility are two lists, updated regularly by staff after putting players through shooting workouts. One list has numbers into the 80s and was at one point topped by known sharpshooter Kyle Wiltjer, who nailed 89 of 100 stationary corner 3-point attempts. The other has less eye-popping numbers, denoting players' scores on 3-point attempts taken on the move from all around the arc.
At the end of training camp, the name atop that second list belonged to Bruno Caboclo, tied with Fred VanVleet with a score of 73 makes out 100 3-point attempts on the move. When catching and shooting in the corner, his score was 82, and he resembles Paul Walker in the pivotal scene of The Fast and the Furious when he claims he almost had Wiltjer.
Few Raptors shot the ball as well in training camp as Caboclo, but on Wednesday he found himself in Mississauga, tipping off his fourth season in the G League and third with Raptors 905.
---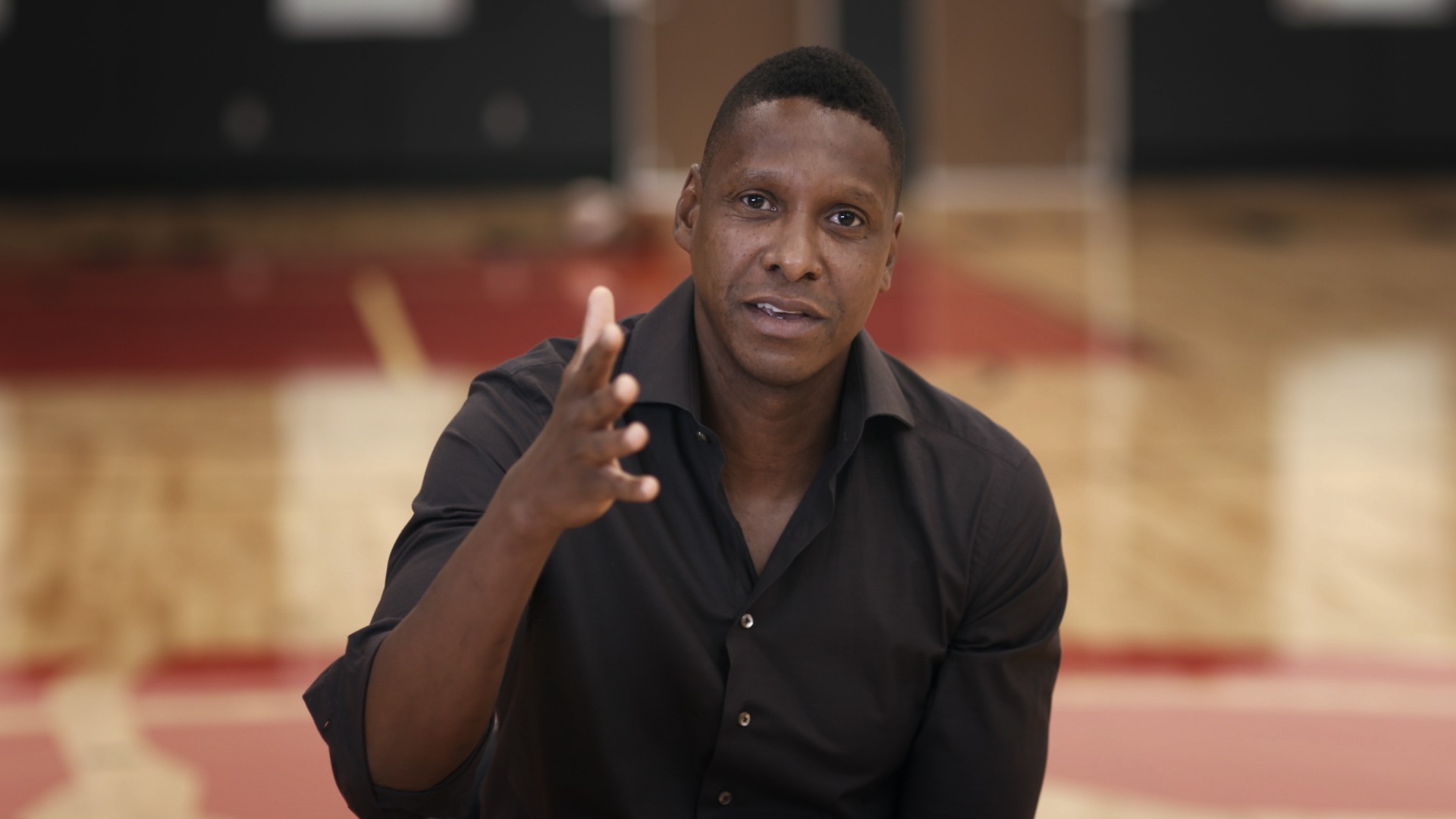 ---
Building off a strong performance to end the previous G League season, one in which Caboclo was pivotal in helping the 905 secure a championship, the expectation was that this year would represent an opportunity for him to finally fight for a chance in the NBA. He even started an exhibition game alongside most of the team's eventual starters. Despite the strong camp, Caboclo wilted when live game action started, shooting 2-of-14 on threes and 3-of-17 overall in 52 preseason minutes, committing seven turnovers and enough defensive miscues that the things he did well on the defensive end went largely overlooked. With OG Anunoby returning ahead of unofficial conservative timelines and Pascal Siakam showing up dramatically improved, Caboclo's leash was short and he was summarily shuttled to the bottom of the depth chart for the time being.
"I think, yeah, he came in this preseason and the hope was that he would maybe earn a spot within the rotation," 905 general manager and Raptors assistant GM Dan Tolzman said. "And he didn't shoot the ball great in the preseason, everyone knows that, and I think that probably hurt his confidence a little bit and maybe set him back in terms of where he's at mentally compared to the other guys that he was fighting against.
"He shot the ball really well in the camp portion, and then the games started and it just didn't carry over. Had that translated into the games, it'd be a whole different story."
The story as it played out put both player and team in a difficult position. With three years of NBA experience under his belt, Caboclo would have to approve any G League assignment, and the Raptors were unsure during the summer whether or not they'd ask. Following the G League Finals, Caboclo quietly felt like he had graduated from that level, eager for the chance to start contributing in the NBA.
The preseason went as it did, though, and on Tuesday, Caboclo showed what may be the best sign of his growth as a prospect yet: He requested an assignment to the 905, taking a tough conversation out of the hands of the Raptors' brass.
"I just think I need to play," he said. "So if I stay on the bench, I'm going to the 905 so I can have playing time. I think it's better for me, so there I can have a chance to show myself and maybe coach can see I can play and maybe help the team. I'm excited."
The request was an easy one to grant. The Raptors have never put a firm timeline on Caboclo's progress after drafting him 20th overall in 2014, but he's not at a place where the team can confidently put him in the rotation. Considering he's spent three years making major strides on his body, his grasp of the language, and his skill development, the sticking point really does seem to be playing time, and the 905 are his best path to that.
"I think that it shows a lot of growth in him not only as a player but as a person, in terms of realizing this is the best thing for him to continue to get better as a player," Tolzman said. "He came to us and said I would much rather do that than just sit around. And we're all for it, totally."
The team is also hoping he'll get a little stronger mentally, where he's still been inconsistent and has often worn his disappointments in his body language. Even his remarkable Game 2 and 3 performances in the G League Finals were spurred on by a profane reminder from Siakam after Caboclo was upset with his involvement in the offense in Game 1. Those inconsistencies continued during his summer stint with Brazil at the FIBA AmeriCup tournament, where Caboclo was dismissed from the team midway through the tournament for refusing to re-enter a game, upset with being frozen out by veterans who hadn't been the most welcoming of the 22-year-old.
---
---
If there's anyone who can help with that mental toughness, it's probably 905 head coach Jerry Stackhouse.
"Bruno, he's ready to come back home. We talked about it this offseason, it's huge, we don't want our guys sitting for long stretches of times when they're with the Raps," Stackhouse said Wednesday, the same night he started Caboclo at center out of necessity. "Any of those guys could come down here if it seems they're out of the rotation, and right now, it's a good fit for Bruno to get in and play. We still are high on his ability and his talent, and now it's just you gotta play. I think it's gonna be really good for him."
The expectation is now for Caboclo to go down and dominate, and he got off to a nice start with 17 points and a plus-18 mark Wednesday, hitting all three of his 3-point attempts. He also shook off a rough start Sunday, bouncing back to score 22 points on 8-of-14 shooting in a comeback win for the 905. He's hit 7-of-12 3-point attempts over three appearances, averaging 16.3 points on 63.2-percent true shooting. The Raptors don't want Caboclo to play a role too dissimilar from the one he'd play in the NBA, where the team still hopes he can develop into a long, rangy, switch-everything defender who can hit enough threes with a sweet-looking stroke to keep a defense honest.
Results the last two years have been mixed. Caboclo's second season saw him take a dramatic leap forward in terms of defensive awareness and effectiveness, and he transitioned smoothly to primarily playing power forward. His offensive role shrunk some on a deeper team, though, and his scoring efficiency declined. Over 79 games across four partial seasons now, his pretty and unblockable release has produced only a 33.8-percent 3-point mark. At a certain point, those shots will need to drop with greater regularity and the defense will need to show it can translate to the NBA level, though the opportunity to prove as much could be hard to come by.
Where Caboclo is on the development curve right now is a matter of opinion. The grand experiment never had a high certainty, and there are what-if questions that can be asked about how it was deployed (Should he have played a year overseas? What if the 905 existed in his rookie year?). The team will tell you they've considered his last few years akin to a player going through college, given his extreme relative lack of basketball experience prior to being drafted.
"He's just not ready yet. Some day," head coach Dwane Casey maintains. "The kid's got too many tools not to be a player, he just needs to continue to play. He missed the college experience, he missed the AAU experience—that's good and bad—he's got so much time to make up for playing. You can drill a guy to death but there's nothing like getting out there against live competition, referees, and to get better. That's what he needs to do."
It's hard to say whether a player is ahead, on track, or behind when his potential growth was always largely theoretical.
What is clear, though, is that the clock is ticking for Caboclo to make a case that the project timeline should extend. He'll be a restricted free agent at the end of the season, the Raptors let the deadline to work out an extension with him pass, and their financial situation will almost surely preclude them from tendering him a qualifying offer, rendering him an unrestricted free agent. This season, then, is as much about trying to crack the Raptors rotation as it is signaling to potential employers this summer that he's improved enough to take a chance on a 22-year-old with a nice shot, a 7-foot-6 wingspan, and all of the defensive potential in the world.
For the first time, it seems Caboclo has more of his fate in his own hands. There isn't the safety net of a guaranteed contract beyond this year, a team direction for him to be with the 905, or any sense of an opportunity coming borne of entitlement or investment. After three years of patience and development, it's now incumbent on Caboclo to carve out his next opportunity with the team. Requesting an assignment of his own accord to keep developing and getting better is as good a sign of progress as his three 3-pointers Wednesday.