A young person possibly enraged by insane student-loan debt. Anass Bachar / EyeEm / Getty Images
Over the centuries, America has bestowed generous, state-sponsored privileges upon select classes of its citizens. Veterans and old people get free socialized healthcare—and, for the most part, they love it. Corporations (who count as people, look it up) get sweet tax breaks and, in the case of defense contractors, no-bid deals to build extremely expensive weapons unlikely to be used in the near future. And young people get thousands and thousands of dollars of student loans to pay for college, putting them in a hole they might spend the rest of their lives digging out of.
Obviously, one of these things is not like the others—the United States has put many students in the position of making decisions that can determine their financial futures when they're teenagers. This has nightmarish consequences: Some 44 million people have $1.5 trillion in student loan debt on the books. And even when young people do get through college and find a decent job, many can't fathom possibly buying a home or taking on other trappings of adulthood when faced with decades of monthly loan bills.
The worst part is that those who sought an elite education on the widely accepted notion that it would help them later in life were basically sold a bad bill of goods.
---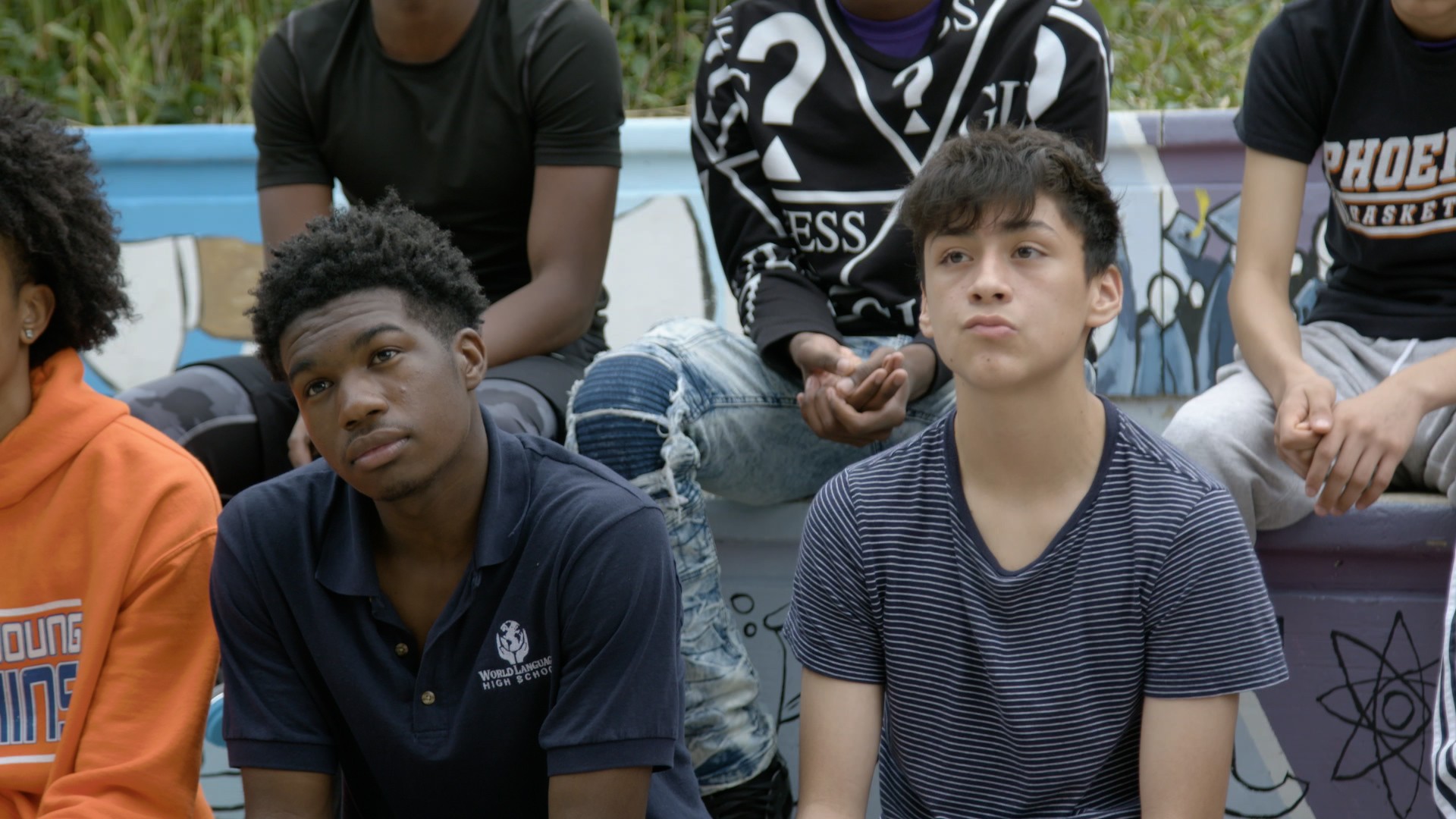 ---
All that debt provides awfully little payoff in terms of boosted wages, even as it ensnares more and more people and hits youth of color especially hard, according to a new paper released Tuesday by two researchers at the left-leaning Roosevelt Institute. Research fellows Julie Margetta Morgan and Marshall Steinbaum concluded that more and more debt hasn't significantly boosted income for college grads—it just seems that way because high school grads without BAs are making less than they once did. They also found that looking at decent rates of repayment by student debtors is a misleading way to look at the scale of this crisis. And thanks to workers lacking the power they once enjoyed in an increasingly skill-obsessed economy, young people are often being pressured into getting extra degrees on their own dime (which is to say by taking on more debt) for minimal payoff.
For some perspective on how America let student loans get so out of control, why taking on debt is so often a mistake, and what we can do about it, I called co-author Julie Margetta Morgan for a chat. This conversation has been lightly edited for length and clarity.
VICE: Why do you think this has been allowed to get so bad, to the point not only that it's widely known as a crisis, but one that gets worse and worse?
Julie Margetta Morgan: We have seen the overall amount of student debt grow and we've seen some of the industries around repayment get worse over time, although default rates recently got a little bit better. But I think that the reason why it's sort of been allowed to exist as this quiet crisis is that there's not a lot of agreement among experts that, on the whole, student debt is getting worse. I think that's because experts primarily look at measures around successful repayment of the loan as the target. And in this paper we try to take a slightly different look. First of all we interrogate those questions around repayments themselves—so we have a section around, like, experts have said that student debt is not a bigger burden now than it was a generation ago. And yet if you delve into the figures a little bit deeper you can see that, in fact, it is worse—the burden is worse but the repayment plans are slightly better, which masks the burden on students.
So part of what we're trying to do here is combat some of the common wisdom in the higher education policy world—what we tend to hear is: Yeah, students are taking on a lot of debt but ultimately that debt is worth it because their degrees are paying off in the long run. And we're finding that that's not necessarily true.
Is the most radical conclusion you reached here that the increased debt burden people are bearing is not paying off in terms of boosted income? Or is that already well known?
That higher education is not paying off in terms of overall changes in the distribution of income is definitely apparent to labor economists but not necessarily apparent to higher education policy experts and those who advocate on behalf of students, because we are so often fed the college earnings premium as the single measure of whether college pays off over time. Yes of course college still pays off, but it pays off because it's becoming less and less viable for someone to make a living with just a high-school diploma. It's no longer this thing of, I'd like to earn a higher income, I guess I'll go to college. It's like, I have to go to college in order to not end up in poverty—and I'm also forced to take on debt to get there.
Is there any evidence that, thanks to income growth in the last year or two, college debt is paying off more than it did?
It remains to be seen, but I'm not sure that it's a good idea for us to tie higher education policy—how we fund college—to the swings of the labor market. Our focus should be on taking the risk off of the individual and spreading it across the public, because the public is getting a lot of the benefit of college degrees.
Have you seen any indicators that people—including the communities hit hardest by college debt—might actively be avoiding college because of the specter of endless debt?
We have lower levels of college attainment already among African American and Latino populations and we do see polls that suggest people are more and more skeptical of the value of college. And that's exactly the result we don't want to see. We don't want to see the people already discriminated against in the labor market avoiding going to college.
The other trend that comes to mind is this trend of programs that we would have previously considered trade programs, whether they're now being offered at for-profit colleges or as industry credentials that are trying to become part of the mainstream higher education system and get access to the loans. So there's a world in which people are trying to avoid getting the loans but the loans are actually following them to these trade programs.
But given that discrimination, is it not rational to—in some cases—calculate against attending college given the massive debt burden and how it hits some communities extra hard?
I think it's absolutely at an individual level a rational decision that we're seeing people make. And at a national level we ought to be concerned about that and looking to change policies so people don't have to make that decision.
I know one of your aims here was to reinforce that this is a worse crisis than people think, but isn't the problem that Republicans just don't care?
There's obviously a group of policymakers who don't want to deal with it. But I think there's another subset of policymakers who are looking at the student debt crisis through the lens of repayment—that the goal is to ensure that people can repay their loans. Keeping people out of default shouldn't be the biggest goal we set for ourselves.
If student debt is a crisis, is the answer that we should have less student debt? Or just that people are able to make their monthly payments? Our answer is that we should have less debt overall.
Part of your paper is about how workers keep getting pressured to gain new degrees and credentials that load them up with debt—all because they have no power. Is this about unions disappearing, or what would help there?
Certainly the declining power of unions is one part of it. The lack of say for average workers in the decision-making at the companies they work for, the increase in corporate concentration within the economy—the rise of monopoly power makes it harder for workers to have a say, because there are fewer employers. And back during the recession, the scarcity of jobs made it harder for employees to have power and negotiate for themselves.
It's hard not to read the paper and feel like taking on student loans is maybe (very often) a mistake or even that the larger system is a scam. Even when students are not being preyed upon by for-profit schools or predatory lenders, the whole seems flimsy or even fraudulent. Is that unreasonable?
I don't think it's unreasonable. I think of it as a failed social experiment that young people are caught in the middle of. It wasn't intentionally sold like a scam, but the way young people experience this is they were told: You go to college, you study, don't worry so much about how much it costs, it's going to be worth it in the end. And they get out on the other side, they have a ton of debt, they are working as hard as they can, but they're not getting ahead—they're treading water. They're making payments on their debt, but not able to buy a house, they're not able to save for retirement. You were sold on a promise, you come out on the other hand that that promise was false, and everybody looks at you like, What's wrong?
One of the things I thought was so exciting about writing this paper is it puts data to that deep frustration that we see in younger generations right now.
It doesn't seem likely that we'll see a major overhaul of the system in DC right now, with unified Republican control. But what can and should be done, the next time Democrats have control of the government, or in the meantime?
There are things we can do right now. it's encouraging to see what's happening in the courts—some great student advocates and lawyers have taken action to make sure the [Education Secretary Betsy] DeVos administration at least enforces rules on the books to help get student loan cancellation for a smaller group of borrowers and limit predatory practices at for-profit schools.
As we look to the future, we have to think a lot bigger. We should be looking at both free and debt-free options for college. Free college at public universities and more debt-free options for students. That's how we take care of generations moving forward.
But we also need to do something about borrowers stuck with debt right now. My sense is we should be taking a really hard look at ways to cancel at least some of the existing debt.
Sign up for our newsletter to get the best of VICE delivered to your inbox daily.
Follow Matt Taylor on Twitter.