The third star: The Golden Knights' Twitter account. The league's newest franchise might not be very good at managing its blueline, but you have to admit its Twitter presence is pretty solid. Let's enjoy it while it lasts, before there's a joke that offends one person and the account ends up posting generic GIF reactions like every other team.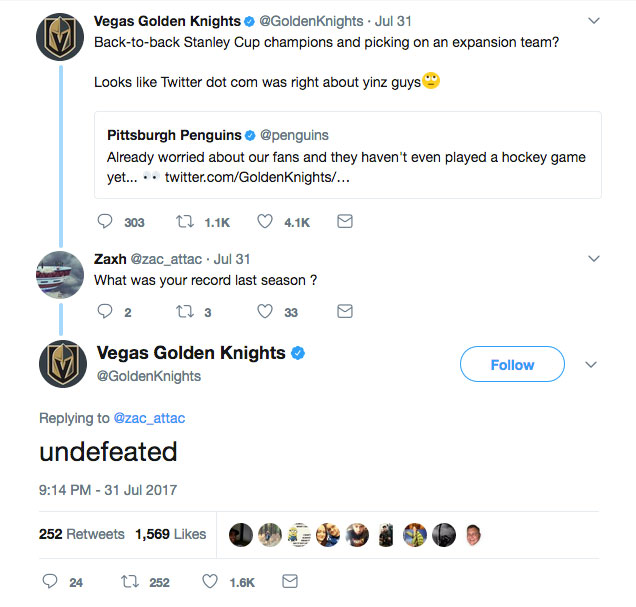 The second star: Roberto Luongo's sadness. News that Cubs fan villain Steve Bartman would get his own World Series ring made for the feel-good sports story of the summer—but not for everyone.
The first star: Sidney Crosby's cake. The Penguins' captain had his day with the Cup this week, and celebrated with an epic cake that recalls the family dryer he once used for target practice in the basement.
This week's debate: The NHL Network released a list of the top ten goaltenders in the league right now. And as with any attempt at a ranked list, plenty of fans didn't agree with their choices. Was it a good list?
In favor: I mean, I guess it was OK. It was fine.
Opposed: What? Are you crazy? That list was terrible. Everyone says so!
In favor: Was it though? I mean, this is all subjective, and there were a few picks that were questionable, but I didn't see anything that bad.
Opposed: You weren't looking very hard. Carey Price at No. 1 is fine, I guess, and Braden Holtby is a good pick for No. 2. But then the whole thing goes completely to hell. Matt Murray in the top five? He hasn't even played two full seasons. Jonathan Quick is overrated as always. And Pekka Rinne in the top ten? Is it 2012?
In favor: Well, they're clearly factoring in playoff success with those guys, and sure, that may not be wise. But that's the whole point of these lists, right? Generating some fun debate for fans.
Opposed: There's nothing fun about it, and there's no debate. The list is wrong, period. Whoever put it together clearly never watched a hockey game in their lives.
In favor: OK, so if their list is so bad, what does your top-ten ranking look like?
Opposed: I mean, Cam Talbot is already ahead of Henrik Lundqvist? Come on!
In favor: Cool. So your list would be…
Opposed: Martin Jones? Get out of here!
In favor: Right, got it. Their list is bad. What does your version look like?
Opposed: Oh trust me, my list would be way better.
In favor: Great. Let's hear it.
Opposed: I mean, you have to find a spot for Corey Crawford, right? Not to mention Tuukka Rask and Cory Schneider. Maybe even Craig Anderson after the year he had last season.
In favor: And who do they bump off the list?
Opposed: I don't know, but they've all got to be there.
In favor: That's not how top-ten lists work. See, the key word is "ten," meaning you're going to have to limit yourself to—
Opposed: Wait, maybe John Gibson, too. And Roberto Luongo deserves some credit for long-term consistency, right?
In favor: But where? In what order?
Opposed: Oh, my list would be in order, don't you worry.
In favor: And that list would be…
Opposed: Way better than theirs.
In favor: OK, see, this is the problem with ranked lists. You spend all this time putting one together, and then everyone rips on a single pick here or a specific ranking there. But nobody ever says, "Here's my list that's better," because then that would open them up to criticism, too. They just want to complain as loudly as possible about whatever's been put in front of them.
Opposed: But isn't the whole point of making these lists to spark debate?
In favor: Sure, but debate isn't "What an idiot." That's just kneejerk negativity. You're never going to agree with every single pick on a list, so why not engage a little more intelligently than just typing "LOL"?
Opposed: Yeah, but nobody's going to make a whole list of their own just so they can—wait a second. Do you get the sense that the author is projecting a little bit here?
In favor: Oh yeah, absolutely.
Opposed: Honestly, he's laying it on a little thick for my tastes.
In favor: Yeah, we get it already.
Opposed: LOL, what an idiot.
The final verdict: This is the 27th best debate section ever featured in this column and there's no arguing it.
Obscure Former Player of the Week
Do you still have "Hrudey on Duty" stuck in your head? Oh, you finally got rid of it a few days ago. Well, it's back now. Sorry about that.
For this week's obscure player, let's go with a guy who had some decent years as Kelly Hrudey's backup in Los Angeles: Robb Stauber.
Stauber was picked by the Kings in the sixth round of the 1986 draft, one pick ahead of future heavyweight champion (for like a week) Troy Crowder. By 1992, he'd appeared in just two NHL games, and was sporting a not-fantastic career GAA of 7.95.
That year, though, a 25-year-old Stauber ended up earning a roster spot behind Hrudey, and he played well. He appeared in 31 games that season, winning 15, and also wore cool goalie pads with playing-card kings on them. With Hrudey struggling in the playoffs, Barry Melrose had Stauber start three straight games against the Flames. He won all three, sending the Kings on to second round of what would end up being a run all the way to the Stanley Cup Final.
He returned as Hrudey's backup for the 1993-94 season, and while his save percentage and goals against improved, his record dipped to 4-11-5. It would be his last full season in L.A., as he was traded to Buffalo midway through the 1994-95 season as part of the deal that brought Grant Fuhr to the Kings. He appeared in just six games for the Sabres, and then spent the next five years in the minors (where he once scored a goal) before retiring in 1999.
Three last things you need to know about Robb Stauber:
He spells his first name with two "B"s, so he's not to be trusted.
He's the subject of a fantastic comment section on this random YouTube video, in which two guys start insulting each other, realize there's been a misunderstanding, and then bond over a shared love of Robb Stauber.
You're going to see a lot of him at this year's Olympics, where he'll be the head coach of the U.S. women's national team.
(Special thanks to Kings blogging legend PumperNicholl for helping me track down a shot of Stauber's goalie pads.)
Any lingering hopes that the NHL will head to the Olympics appear to be officially dead, with the league announcing this week that even minor-league players with NHL deals won't be allowed to play. Why? Nobody knows, but this is the NHL, so there you have it.
So after five straight Olympics of seeing the absolute best in the world going head-to-head, this year's tournament will feature… well, not that. The teams will be made up of some combination of amateurs, pros from the KHL and other leagues, and NHLers who are out of work or retired.
It will still be good hockey. And no doubt, the guys playing it will be putting it all on the line. The NHL is expected back for the 2022 Games, so this will literally be the one and only chance for most of these guys to win a gold medal for their country. It's still the Olympics, and it still matters.
But it won't be the same.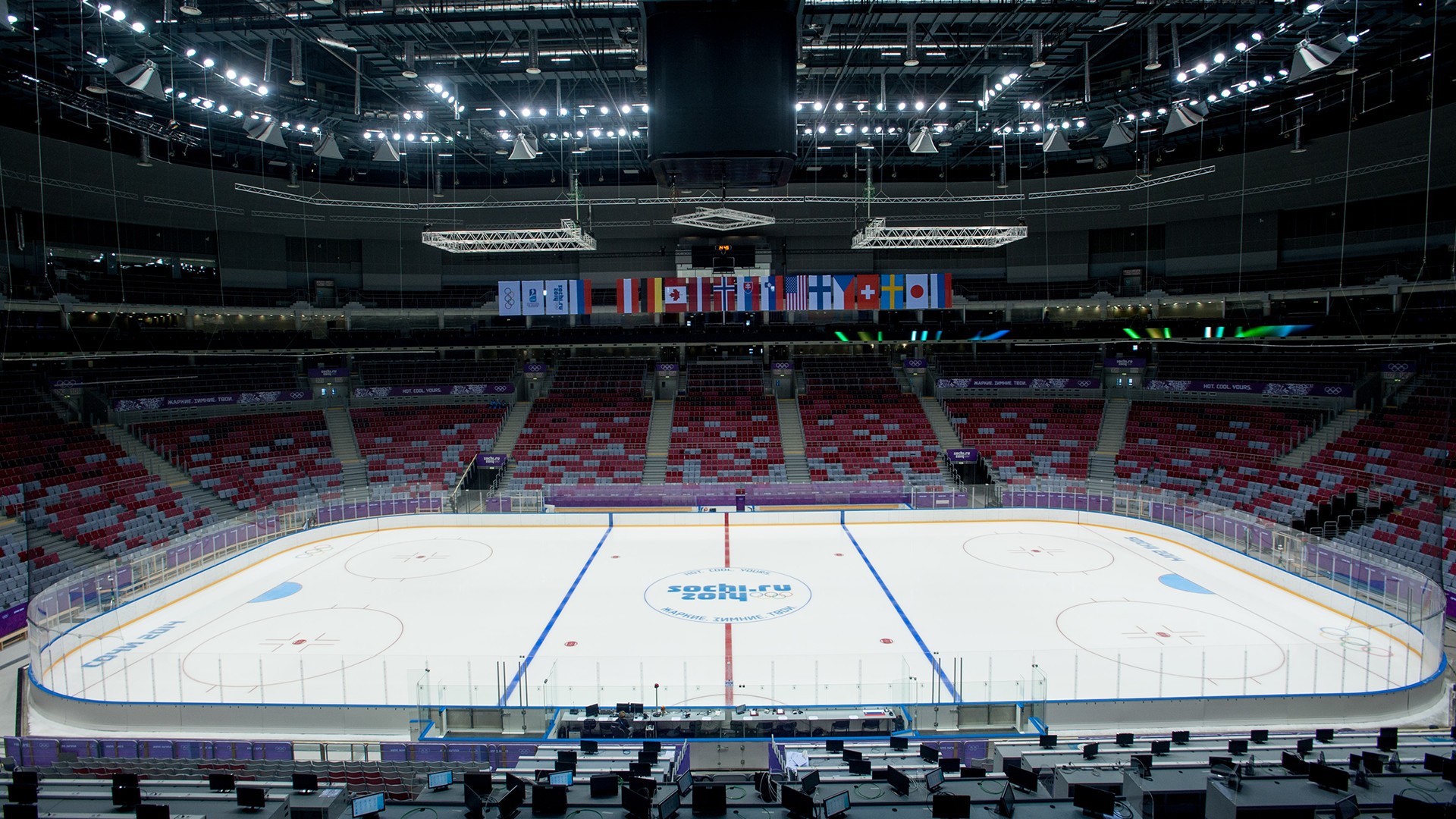 I hate writing that, but it's true. After spoiling us with legitimate best-on-best competition for two decades, the 2018 tournament will feel like the Olympics in name only. That reads like an insult to the guys who'll be taking part (and I do mean guys, since the women will still be the best in the world). It's tempting to pretend that it's still the same thing, and that the tournament will mean just as much as it did when it was Crosby vs. Ovechkin or Gretzky vs. Hasek or Oshie vs. everyone. But for most fans, it won't. If we're being honest, purely in terms of the talent involved, this will be a big step down from even the World Championships.
It's like if I spent my whole life wanting to win a Pulitzer, and then one year they changed the rules so that Pulitzer was an award for making jokes about things that happened in the NHL 30 years ago, and then I won it because all the best writers in the world weren't eligible anymore. I mean, it's still a Pulitzer, so I've kind of achieved my dream, but we all know it's not the same thing.
That doesn't mean you can't enjoy the 2018 Olympics. Heck, some of you will enjoy it more—the old-school amateur spirit, and all that. But not everyone is going to be rolling out of bed in the middle of the night to see their country's B team go for gold.
So let's try this: Be it resolved that we all just agree that you're allowed to feel however you want about the 2018 Olympic hockey tournament. If you ignore it, fine, but don't roll your eyes at those who watch. If you love it, great, but don't lecture those who can't get into it. Watch it or don't, as much or as little as you think it deserves. There are no right answers here.
Well, there was one, but the NHL decided not to give it to us.
Classic YouTube clip breakdown
Here's the bright side of this Olympics mess: At least it restores some of the suspense. Let's face it, these days we all know who's going to win these things. It's Team Canada, every time, and the only question is whether anyone manages to even win a game against them along the way. (Spoiler alert: Nobody ever does.)
It might be kind of neat to go back to a format where Canada was always an underdog, the Americans had a fighting chance, and the European teams could honestly claim they had a shot at gold. So today, let's celebrate that sense of optimism in the way we love best: through late-80s hockey team rock anthems.
Welcome back to 1989. The World Championships are about to take place and Team Sweden is pretty fired up about it. They're hosting the tournament this year, and they want to let the world know that they're ready to kick some ass. But how?
Luckily, somebody has slipped them a copy of the Washington Capitals Greatest Hits, and after checking their "What Would Neil Sheehy Do?" bracelets, they've decided to put on matching outfits and lip sync some music magic.
In Swedish, by the way. Trust me, that makes it all roughly ten times better.
So we start off with some small Swedish children clapping and singing, and I'm so tempted to pretend that one of them grew up to be a famous NHL player just to see if you'd all buy it. Like if I said that one kid on the end with the good hair was a seven-year-old Henrik Lundqvist, at least a few of you would believe me, right? Because if so, he 100 percent is.
We get an extended segment where the kids just clap occasionally while yelling "hockey," which is fine because that's all most Flyers fans can do, too. But then we get to players themselves, who are wearing matching sweaters that say "ice hockey" on them. Needless to say, I want one of these very badly.
We also meet the star of our video, a redheaded fellow who seems to be the only one bothering to lip-sync the actual words. This is Håkan Södergren, a national team veteran who never made it over to the NHL but put up decent numbers in the Swedish Elite League. He's also, I think we can all agree, an excellent lip-syncer. Like, eerily good. The Capitals could learn a thing or two from this guy.
Via Wikipedia's entry on this song: "The B-side was 'Här kommer grabbarna' by Lotta Engberg." How much Engberg? Lotta Engberg.
Next comes a bunch of highlights of Team Sweden scoring goals, including one in which the referee appears to be sitting in the stands. European hockey is weird.
Is anyone else hearing "OK! They're tall enough, they're tall enough. OK! They're hot enough, they're hot enough?" No? Just me? OK, forget I brought it up.
By the way, this song is actually called "Nu tar vi dom," and apparently these are the lyrics. It was written by Lasse Holm, a Swedish musician who competed in the 1986 Eurovision Song Contest. Don't ever say I don't do research for these things.
And we're back to the singing players. Man, Södergren is just a hell of a lip-syncer. He seems to really know the song intimately. It's almost as if… nah.
No, I don't know why Peyton Manning is in the back row either.
Next we get some intimidating shots of Team Sweden warming up. But wait, there's a twist. The goaltender takes of his mask to reveal that he's… a lady! Is that Lotta Engberg? I'm not sure, but I'll point out that this is one of the worst "Goalie removes a mask for a surprise reveal" shots ever. The real goalie is wearing a plastic glove and using his right hand, while this lady uses a bare right. Come on, people, it's not like we haven't seen this done perfectly.
My favorite moment comes around 1:55, when half the Swedish roster realizes they're the same height as the children in front of them and start hopping up and down so they can be seen.
That includes Södergren, who continues to be so good at lip-syncing that I'm going to have to turn to Google to find out if… yes. Yes indeed. Håkan Södergren actually sang this damn song. This isn't some shady case of players lip-syncing a studio musician's vocals at all. This is actually Södergren's real voice. The man is a hero.
Seriously, how did the 1989-90 Capitals not immediately sign Södergren to an NHL contract? I'm literally angry that this never happened.
The song winds down, and I'm enjoying it so much that I won't mention that the rhythmic clapping at 2:15 is a blatant rip-off of the Bay City Rollers' "Saturday Night." We close out with like 30 full seconds of credits and an extended fist pump. That was fantastic. I enjoyed it thoroughly.
By the way, Team Sweden finished fourth, getting swept in the medal round. The Soviets won, and the tournament is probably best remembered for Randy Carlyle failing (but then passing) a steroid test.
But really, none of that matters. Here's hoping that Håkan Södergren, little Henrik Lundqvist, and the rest of Team Sweden inspired you today. You're tall enough, you're hot enough, and you, too, could play international hockey.
(Seriously, the way the NHL is going, you might be on an Olympic team roster right now. Check your voicemails.)
Have a question, suggestion, old YouTube clip, or anything else you'd like to see included in this column? Email Sean at nhlgrabbag@gmail.com.
Correction: While discussing the NHL Network's top-ten list of goaltenders from this year, 'Debating the Issues' originally linked out to last year's top-ten list. The link has been updated.