Image by author via Mike Pont/Getty Images and Wikimedia Commons
"If you're ready for Stormy Daniels, make some noise," the announcer commanded. Gossip, the aptly named Long Island strip club hosting the event, was crawling with just as many journalists as regular patrons, and the audience did not, actually, make much noise. Even if we did, it would've been awfully difficult to hear us over the blaring music, an eclectic selection of club remixes of everything from Eminem's "The Real Slim Shady" to AC/DC.
Out of guilt, I gave a half-hearted clap for Daniels, born Stephanie Gregory Clifford, the porn star who Donald Trump's lawyer reportedly paid $130,000 to keep quiet about her alleged 2006 extramarital affair with Trump. She has kept quiet about it, but in 2011 she talked to InTouch in rather too much detail about the tryst—according to that interview, Trump loves Shark Week and hates sharks, and she was worried that he would try to pay her for sex.
Under any other president, a story that includes lying, cheating (on a wife Trump had a newborn child with at the time), and payoffs would be a defining scandal that would dominate the news cycle for weeks on end. But this is Donald "Grab 'Em by the Pussy" Trump. Thanks to his administration's nonstop stream of controversy, flubs, general incompetence, and ostentatious corruption, never mind the 19 allegations of sexual misconduct against the president, the Daniels story has faded into the background. But Daniels, 38, has been doing her darndest to make sure America didn't forget about her, going on a "Make American Horny Again" stripping tour that is the only stripping tour in recent memory to get coverage in the mainstream press.
"If you're ready for Stormy Daniels, make some noise," the announcer repeated before introducing the performer going on before her. Again, no noise was made.
I asked one of the strippers walking around the club what she thought of Stormy's upcoming performance, but she could barely hear me over the blasting music. I asked her how if she liked Trump. She smiled, shook her head no, and walked away. When I asked another stripper about Daniels later that evening, she cryptically told me, "The past is in the past."
---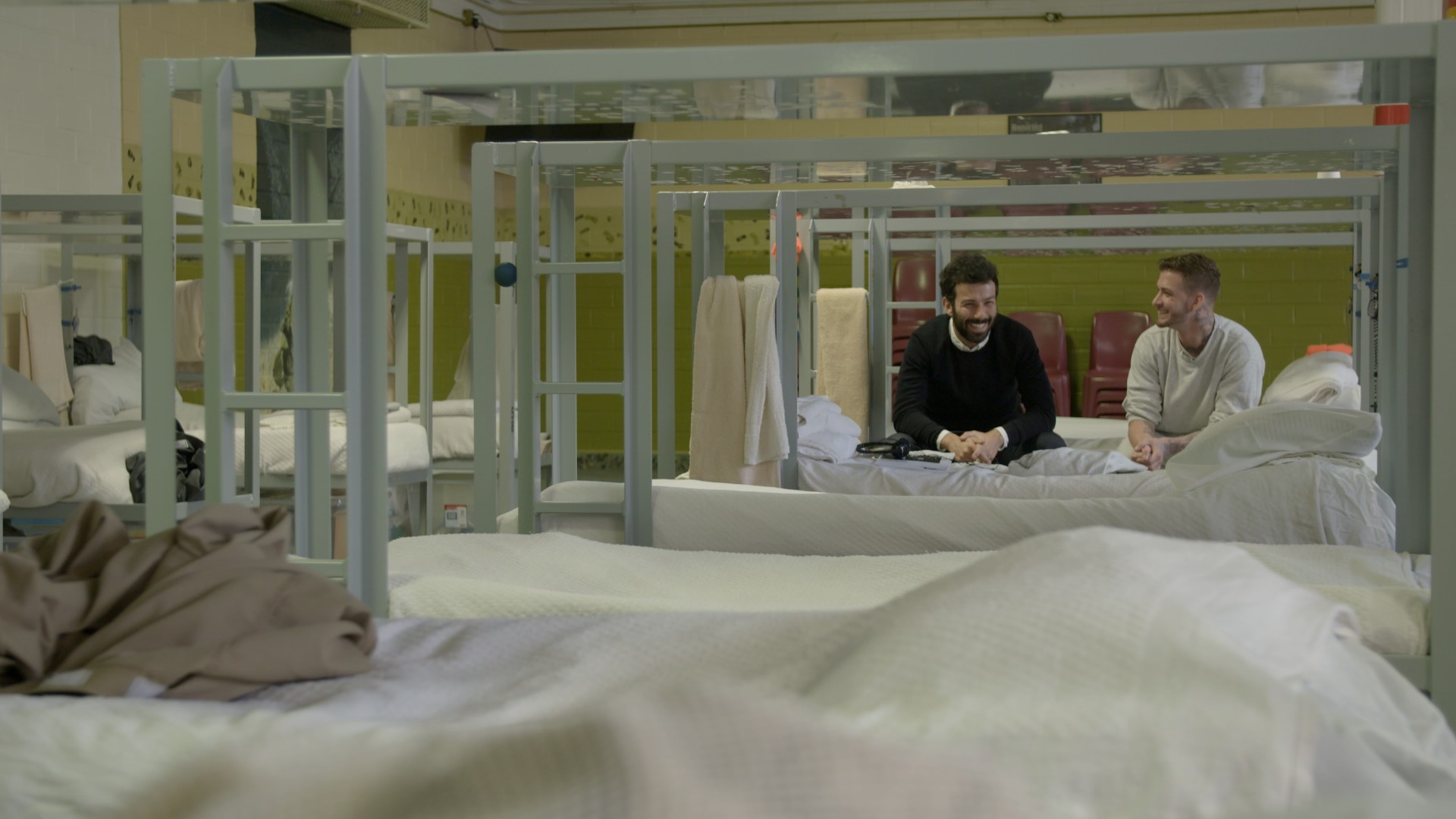 ---
Gossip is in Melville, New York, just far enough outside the city that you feel like you're in a different world. (The county went for Trump by a margin of 51,450 votes in the 2016 election.) The club is exactly what you'd imagine when you hear the words "strip club," minus the buffet. Amid the strobe lights and smoke were seven or eight beautiful, impeccably made-up and scantily clad women, all either standing alone on their phones or looking for would-be paying customers amid the hordes of journalists.
A club regular told me it was actually less crowded than a normal Thursday, a sentiment echoed by a stripper I spoke to later that evening. "When Christy Mack was here, you wouldn't have been able to get in the door," the regular said, referencing the former porn star and domestic violence victim, unimpressed by the president's alleged mistress scheduled performance.
Another patron, a white man with a beer belly who looked like he was in his mid 50s, told me he wasn't here to see Stormy, that he goes to a strip club maybe once a year and tonight just happened to be his annual outing.
"Are you a Trump supporter?" I asked.
"Well, I like some of his ideas," he said, pulling me a little too close to him as he attempted to explain, over the music, that Trump's unfaithfulness to his wife has no impact his professional life, asking me again and again to come downstairs with him to the cigar lounge. The easiest way to discern which men in the club were patrons and which were journalists was examining how they greeted their friends—the patrons eagerly put their arms around the people they spoke to, holding them close. The journalists ambled around awkwardly.
I managed to find a couple of patrons who had specifically come to see Daniels. Fred, a 32-year-old Long Island Trump supporter and the only man I spoke to who offered up his name, told me he isn't bothered by the president's alleged infidelity with Daniels, who he called "today's version of Marilyn Monroe."
"At least it wasn't in the White House like other presidents," Fred said.
"If you're ready for Stormy Daniels, make some noise," the announcer said again. Somebody, please, make some noise, I silently begged. An automated voice boomed through the speakers detailing Daniels's adult film credits, mentioning her recent appearance on Jimmy Kimmel Live, and that's she currently surging in Pornhub searches. The announcer pleaded, once again, "If you're ready for Stormy Daniels, make some noise." The crowd did their best to appease his request, but it was still underwhelming.
Daniels finally took the stage, and her act, no longer than ten minutes, was pretty anticlimactic. Though I'm no stripping critic, if that's a job, it was obvious Daniels wasn't a professional stripper. She began in a little red riding hood costume, which was on the floor within minutes, and lingered around the pole and rubbing it between her breasts—she didn't swing around it or do any acrobatics that makes stripping so great.
When the first song ended, she laid out a small tarp on the stage and began to grind on the floor, holding a clear bottle of lotion that she squirted into the crowd and onto her breasts. As she got up, shaking her breasts and hips, as she pranced to the edge of the stage, I couldn't help but think she looked a little lost. Opening her arms like Jesus, she stood smiling as patrons stuck $1 bills between her breasts, mouthing, "Thank you, baby," to a man who gave her a ten.
Don't get me wrong—Daniels is a pro. She's the type of person who oozes warmth and charisma, even from afar. Smiling and blond, she was totally engaged with whoever she was speaking to, whether it be scoop-hungry journalists or fans willing to pony up $20 for a picture. She has a politician's gift for schmoozing, in other words. I get why Trump was drawn to her, I thought.
After her performance, she stood by the stage with a spread of merchandise—sexy signed photos, DVDs, a T-shirt with an image her amid an explosion of milk with the words "GOT MILF." "She's sooo sweet," a drunk girl excitedly told me after she got a picture with Daniels. "You have to meet her, just push your way to the front. All those guys [waiting for pictures] are assholes."
After Fred got a chance to meet her, I asked him if she had met his expectations. Yes, he told me, remarking on how nice she was and proudly showing off the autographed picture he'd bought from her.
I watched a journalist eager for a selfie with Daniels finally get her moment, then walk away looking a little shook. "I asked her if she slept with Trump and she said no," she told me.
That's the weird thing about the porn star who allegedly slept with the president doing a heavily promoted stripping tour—she's doing all this without admitting that she actually did the (alleged) deed that made her famous. Daniels's rep, Gina Rodriguez, told the Associated Press earlier this month, "Everything is off now, and Stormy is going to tell her story." But Daniels has nevertheless kept mum about the incident.
Figuring I'd get the same answer if I asked her about the affair that the other journalist got, when I finally got the chance to meet Daniels, I asked her if she liked Shark Week.
"Of course I do! Who doesn't?" Daniels said with a laugh, before explaining to me that "it's funny" because in porn, "shark week" means having sex with a girl while she's on her period.
"What's your favorite part of doing the 'Make America Horny Again' tour?" I asked.
She clarified that she didn't coin "Make America Horny Again," and that's just how clubs have been marketing her shows, many of which she booked before the InTouch story came out. "Make American Horny Again" strikes her as "opportunistic," she told me, and she doesn't like that.
"Are you still a Trump supporter?" I asked her.
"Was I ever a Trump supporter?" she replied.
"I thought I read that you were," I said.
"I've read a lot of things about myself. I've read I have a penis," she said with a laugh. "Which is funny because I've given birth."
After I parted ways with Daniels, the announcer informed club-goers that Daniels would go on again at 2 AM. I hope they make some noise for her then, I prayed. Somebody should be paying attention to her.
Sign up for our newsletter to get the best of VICE delivered to your inbox daily.
Follow Eve Peyser on Twitter.