CORK, Ireland — Just 11 hours before polling stations opened on Friday morning for Ireland's historic vote on abortion legislation, a new Facebook page popped up, buying ads aimed at undecided voters.
Titled MiddleIreland, it claims to bring "balance and common sense" to the debate, and links to a website that purports to give neutral information about the referendum and that "practising barristers have independently reviewed its accuracy, at the service of you, the voter."
The website and Facebook page are, in fact, very much pro-life, arguing that it would be "profoundly unjust to withdraw the existing constitutional protection from the unborn child."
What we don't know however is who runs the page, how much money they are spending, who they are targeting or where they are located.
The page is one of dozens of anonymous accounts that have been buying ads on Facebook in the run-up to the vote, with most claiming to be neutral while advocating to retain the restrictive abortions laws in Ireland.
Facebook has made several attempts to protect the integrity of this referendum, but as Irish citizens head to polling stations, experts and lawmakers say its efforts have fallen well short of the mark. The campaign has seen foreign groups illegally buy ads, anonymous pages posting graphic images of fetuses, and untraceable groups buying ads featuring demonstrably fake medical evidence. With the race much tighter than people expected, and a significant spike in the number of dark ads being placed on the platform in recent days, some are worried that Facebook may have played a role in altering the outcome of the election in the same way it did with Brexit or the election of Donald Trump.
"Even after the attempts at self-regulation by Google and Facebook we're still seeing money spent to target Irish voters online — in many cases the location, identity and intent of advertisers remaining unknown," Liz Carolan, co-founder of the Transparency Referendum Initiative, said this week. "This shows that self-regulation does not work."
Facebook rolled out its View Ads tool in Ireland in an attempt to make it easier to see all the ads a particular account had paid for. However the tool fails to reveal any information about who is behind the account, where they are located or how much money they have paid for the ads.
According to the Transparency Referendum Initiative (TRI), there has been an enormous uptick in the number of ads on Facebook related to the referendum in the last week as campaigns on both side ramp up their efforts to sway undecided voters. Since launching on Feb. 14, the project has captured 1,300 ads from 280 unique advertisers — but more than 400 of those have been captured in the last four days alone.
While that was somewhat expected, what the group didn't expect was a spike in new and anonymous accounts paying for ads containing dubious information and targeting specific subsets of the Irish population.
"We are seeing pages that are popping up and there is little to no information about who they are…and with that comes the potential for manipulation," Craig Dwyer, co-founder of the TRI, told VICE News.
In a bid to circumvent scrutiny, many of these new pages claim to show unbiased facts and information about the referendum, but upon closer inspection they show a significant bias in favor of the pro-life argument, according to Killian McLoughlin, a researcher at the Geary Institute in University College Dublin, who analyzed the dataset collected by the TRI.
"We have no sense of where this money is coming from, it could be people in completely different jurisdictions," McLoughlin told VICE News.
Because both sides are banned from advertising on television and radio during the campaign, social media has played an outsized role in this election. The Together for Yes group said social media was a "key component" of its election strategy, but that a lack of transparency from the other side had confused the situation — and that is something that needs to be addressed.
"I think there is a wider question for us as a society about the role and reach of social media, and this referendum has put a spotlight on that issue," Sinead Kennedy, a spokesperson for Together for Yes, told VICE News.
No one from either the Love Both or Save the 8th campaigns were available to comment.
Earlier in May, Facebook announced that it was banning ads related to the referendum from accounts based outside of Ireland. The decision came just two weeks after VICE News reported that hundreds of U.S. religious and political groups were using Facebook to meddle in Ireland's historic vote through a mixture of ad buys, misinformation campaigns, and fearmongering. The platform has an estimated 2.5 million users in the country.
Dwyer said TRI's database has not picked up any foreign ads on Facebook since the company implemented the ban. But openDemocracy showed just how easy it still is for foreign groups to get around the ban and target their ads to undecided Irish voters.
After manually changing the account location to Dublin, the group was able to buy the ads using a non-Irish address and bank card, and without using any software to mask its true location.
When asked about the apparent loophole, Facebook would not comment directly, but a spokesperson for the company's Irish headquarters told VICE News: "Since introducing the policy, we have rejected and removed many ads which were in violation of our foreign ads policy. We use both machine learning and human review to identify ads that should no longer be running."
Facebook said it could not put a figure on the number of foreign ads it had removed or rejected since the ban was introduced two weeks ago.
Ireland has among the most restrictive abortion laws in the developed world, but Friday's vote could pave the way for the introduction of abortion upon request up to 12 weeks.
In January, opinion polls showed that 56 percent of people were in favor of changing the law, with 29 percent in favor of retaining it. Last week, an IrIsh Times/MRBI poll showed those figures had changed to 44 percent and 32 percent respectively, with 17 percent of voters still undecided.
There are a lot of people worried that the proliferation of anonymous ads, disinformation and unregulated spending will alter the outcome of the election, especially given the tightening of the margin in last week's opinion poll.
James Lawless, an Irish lawmaker currently trying to get a bill to regulate the use of political advertisements online through parliament, agrees that social media campaigns will have altered the vote, though unlikely enough to change the overall outcome.
However he believes these companies are "making it up as they go along" when it comes to implementing the new rules they have put in place, and that is simply not good enough.
"They really need to sit down, away from any big vote or campaign and work out what the rules should be, how they should manage it," Lawless told VICE News.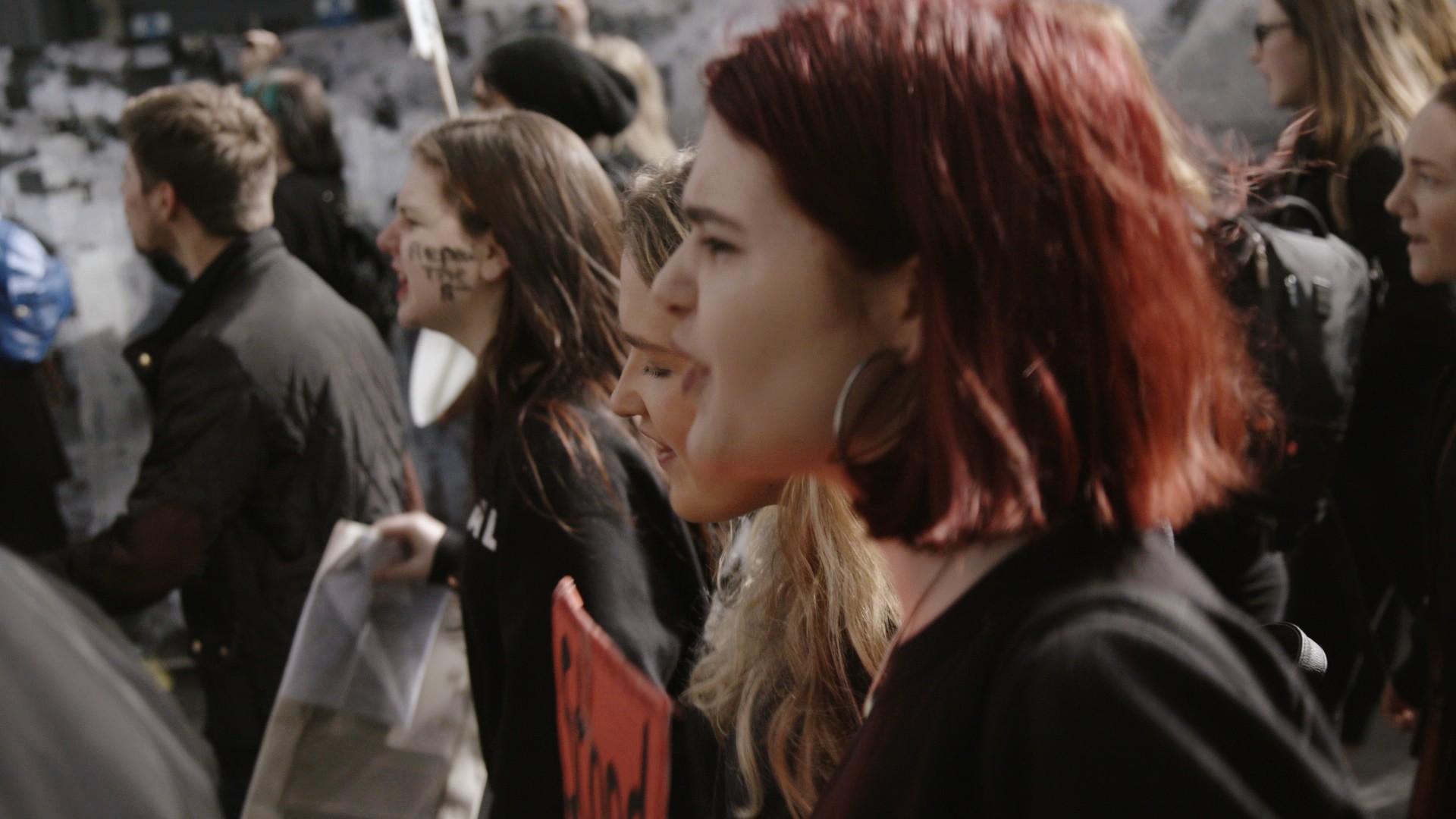 Cover image: A woman interrupts volunteers from Reproductive rights, against Oppression, Sexism and Austerity (ROSA) on O'Connell Street in Dublin, calling for a 'Yes' vote in Ireland's Abortion referendum on Friday, whilst dressed as 'Handmaidens'. (Niall Carson/PA Images via Getty Images)