Image: Tumblr
A swarm of users on hyper-popular blogging platform Tumblr are uploading, sharing, and trading so-called creepshots: close-up, revealing images of women, typically taken in public and seemingly without their consent. The problem on Tumblr is rampant, with creepshot-focused Tumblr blogs appearing in just a cursory search. Other sites, including Reddit, have cracked down on creepshots, but Tumblr's community is thriving.
"No one is safe," the tagline on one creepshot Tumblr found by Motherboard reads.
Simply typing 'creepshot' or related terms into Tumblr's built-in search function returns a steady stream of tagged posts, and Google queries easily reveal links to relevant Tumblr blogs. Motherboard found just under 70 Tumblr blogs focused on sharing creepshots, most with a bevy of content. In some cases, the Tumblrs also host 'upskirt' photos or videos, where a camera is deliberately, and stealthily, positioned to look up an unsuspecting person's skirt. Some of the subjects of these images, as well as many of the clothed creepshots, appear to be young, possibly teenagers.
"This is only the tip of the iceberg, there are probably hundreds of these accounts filming in high schools, college campuses, in malls, and on the streets. And Tumblr seems to not care at all about the problem," an anonymous tipster, who first alerted Motherboard to the issue, wrote in an email.
One of the most popular creepshot Tumblrs has some 11,000 followers, and one of its posts has over 53,000 interactions linked to it, including reblogs, where the video or picture then appears on the user's own Tumblr, spreading the content further.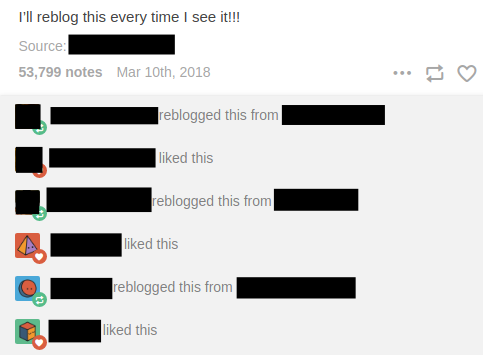 Some of the Tumblrs are localized. One uploads and solicits submissions of creepshots taken only at Disney World, while another focuses on the state of Ohio; others are for photos from Mexico and Ireland. While a number of the blogs curate content from across the web and other creepshot Tumblrs, some explicitly state that their images are taken by the blog creator themselves. Others request that viewers submit their own videos.
One Tumblr provides a detailed guide on how potential stalkers can get better quality photos, with sections on iPhones, Android devices, and DSLR cameras. A Google search of phrases in the guide suggest it is not available elsewhere online.
"What is a good camera to use? I'm a college student and would like to submit videos, but my GoPro doesn't get the job done," one Tumblr user writes on their blog.
Other creepshot sharers offer to sell their large video collections—one user advertises a cache of around 20GB, for "a donation of your choice. No lowballers please," to be paid via PayPal. A second user asks for $50 for three years worth of clips.
Some accounts do offer to delete photos if contacted by someone who has "cause for removal," but it is unclear how responsive each particular blog might be.
Only a handful of Tumblr blogs Motherboard found were flagged as "sensitive," in which users have to turn off "Safe Mode" to view the blog's content. And Motherboard found remnants of only two creepshot accounts that have been deleted, although it wasn't immediately clear if the owner of the account had closed it themselves, or if Tumblr had done so.
Got a tip? You can contact this reporter securely on Signal on +44 20 8133 5190, OTR chat on jfcox@jabber.ccc.de, or email joseph.cox@vice.com.
Tumblr's Community Guidelines say users must not "post or solicit anything relating to minors that is sexually suggestive." Although it is difficult to determine the age of their subjects, some of these videos and images may be violating Tumblr's own rules. The guidelines also say "don't engage in targeted abuse or harassment," but many of the clips show whoever is filming the video stalking women through public spaces. Some also record the subject's face. Yet, the dozens of blogs remain, and can be easily found by anyone, including, presumably, Tumblr's own moderators.
On Friday, a Tumblr spokesperson told Motherboard in an emailed statement, "There are constantly evolving forms of cyber exploitation that can infringe on our users' privacy and also act as a vector for public shaming, bullying, and other harassment. We do not condone these behaviors. As with any questionable content, we encourage our users to report it to us either via our dedicated abuse form or by flagging the post in-product. Our Trust & Safety team will investigate each and every claim and take action as appropriate." Tumblr is part of Oath, a company recently formed from Yahoo.
However, at the time of writing, it seems Tumblr has not removed any of the nearly seventy blogs Motherboard found.
Other social media giants have also had to deal with the issue of creepshots. On Reddit, users would share creepshots before it finally closed the related sub-reddits in 2012. The move signalled a significant cultural shift for the platform, although it still battles offensive and potentially illegal content.
Rather ironically, around the time Reddit banned creepshots, a blog on Tumblr called Predditors was dedicated to outsing those who upload non-consensual images of women. Tumblr banned that blog in 2012, then reinstated it.
"All original post are 100% new freshcreep shots I've taken," a message on a creepshots Tumblr blog reads.
Get six of our favorite Motherboard stories every day by signing up for our newsletter .