UPDATE May 3, 2018, 10:22 a.m.: After the publication of this story, the Randy Bryce campaign provided a statement from his ex-wife Faye Boudreaux on the topic of his delinquent child support. It reads in part:
Randy is a loving father. Randy has not hidden from the public that he fell on hard times in the past. And when he did fall a little behind on child support, he reached out to me and we worked things out among ourselves, just like millions of other families do…. I ask that this be the last attack regarding this issue and that instead we move forward all focus on issues that will affect us all.
ORIGINAL STORY:
Is the "Iron Stache" fool's gold? It depends who you ask.
Randy Bryce, aka Iron Stache, became a darling of national Democratic organizations and Twitter-addicted progressives last June with a well-produced web video announcing his candidacy to take on House Speaker Paul Ryan in Wisconsin's 1st district in the midterms.
"Paul Ryan, you can come work the iron, and I'll go to D.C.," said the mustachioed ironworker in the ad, confronting the Republican liberals love to hate.
He went viral. The 52-year-old Army veteran was a relieving figure for disoriented liberals who lost big in 2016; in the aftermath of Donald Trump's election, he presented the perfect avatar to win back some of the "white working-class" voters who had fled the party.
Endorsements from the likes of Bernie Sanders and NARAL rolled in. Comedian Sarah Silverman had him on her Hulu show, he was a guest on the Pod Save America podcast, and he still regularly goes on MSNBC. He even began buying ad time on MSNBC and CNN in San Francisco and Seattle despite there being no Wisconsin voters there.
"Randy and I look out at this great country that we love, and we are determined to create an economy and government that works for the working families of this country," Sanders said at a rally with Bryce in February.
But for all the media fawning, his candidacy is driving a wedge between national progressive groups and many local liberals who aren't ready to anoint him the savior of the party, especially when Bryce has never won elected office and is facing a viable Democrat in the primary: Cathy Myers, a teacher who's twice been elected to the Janesville School Board.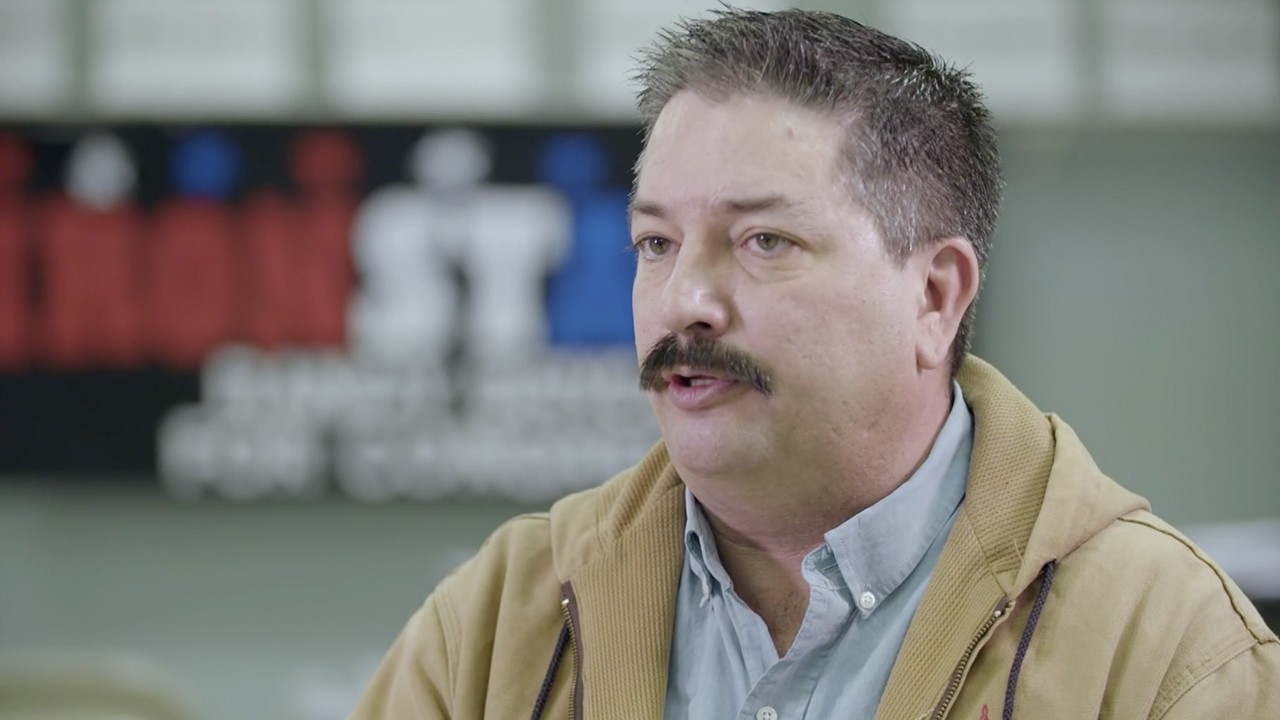 The national attention has made Bryce's campaign formidable. He's now raised $4.8 million and counting, the second most of any congressional challenger in the country (the top is Maryland Democrat David Trone, a beer and wine magnate who has donated over $5 million to his own campaign). More than 98 percent of the donations came from outside Wisconsin, with California and New York donors ponying up over half a million dollars.
Yet Myers has raised nearly a million dollars herself, according to her campaign manager, and she too has relied heavily on out-of-state donors, with more than 95 percent of her donations coming from outside Wisconsin.
When Ryan suddenly announced his retirement in April, Bryce lost his main foil and suddenly his biggest opponent was Myers instead of the Speaker of the House. And with that, some people began noticing that the shine on the 'stache was wearing off.
The Democratic Party's congressional arm bypassed Myers in March and officially embraced Bryce's campaign by putting him in the "red to blue" program, which provides "top-tier candidates with organizational and fundraising support." NARAL Pro-Choice America, one of the country's leading abortion-rights groups, also endorsed Bryce over Myers.
The local and state party organizations, however, are staying strictly neutral, and many local party leaders are angry at the national party for getting involved in the primary.
"You gotta be fair to both of them, and Cathy has a lot of support," Evelyn Pizzala, the secretary of the Kenosha County Democrats, told VICE News last week. "It presents a disadvantage to Cathy whenever the Party does that."
Pizzala emphasized that she had not decided who to vote for in the August primary.
Martha Laning, the chair of the state Democratic Party, echoed the sentiment, telling VICE News, "I strongly believe that it is important for our candidates to have an opportunity to have good campaigns and that we treat them both fairly and equally and that we let the voters decide who's going to be our nominee."
Local women's groups have also been frustrated with Iron Stache mania at the expense of a viable woman candidate, especially given that much of the progressive activism in the Trump era has been driven by women.
"It's frustrating that Cathy Myers has been dismissed by some in the Democratic establishment because she is a qualified woman, currently holding a local office," said Sarah Pearson, state co-chair of Women's March Wisconsin. "She is a labor leader like Bryce, and she embodies the progressive values of the Women's March."
So far there's no public polling on the primary race, but the local caution comes in part because Bryce is perhaps more politically vulnerable than his liberal fans realize. He has run for office three times previously—state Senate, state Assembly, and Racine Unified School District—and fared poorly in each attempt.
Bryce also got into hot water when his 2016 tweet calling Ivanka Trump a "succubus" surfaced.
And last November, the Milwaukee Journal Sentinel reported that Bryce had been delinquent on child support payments for years and only paid the $1,257 balance two months after he announced his bid for Congress.
Bryce now says he fell on hard times and worked with his ex-wife to ensure that their son had the resources he needed. "This is exactly why I'm running, because we have dads and moms that do get behind their child support through no fault of their own," he said in an interview with VICE News last week.
Myers, a single mom who says her own ex-husband fell behind on child support payments, told VICE News that Bryce couldn't duck the issue. "I think that the women who have talked to me about this race and have talked to me about my primary opponent have said that the child support issue is a real problem for them," Myers said. "It suggests to them that he doesn't understand necessarily what their lives are like, what it means to be a single mom."
Financial records show that Bryce wasn't cash-strapped when he began paying a child support rate of $471 per month in April 2014. In July of the same year, Bryce loaned his campaign for the state Senate $5,000 and the New York Times reported that he bought Twitter followers in 2015. The Bryce campaign estimates he spent only $10 to $20 on Twitter followers, but they could not find the receipts to confirm.
Bryce has also made a series of exaggerations in this race. Last August while speaking to Kenosha County Democrats, he claimed that Sen. Kirsten Gillibrand of New York had endorsed him. She made no such endorsement, and his campaign now acknowledges Bryce made a "mistake."
That mistake, however, was not an isolated incident. Bryce's website also claimed that Rep. Joe Kennedy of Massachusetts, Rep. Adam Schiff of California, Rep. Barbara Lee of California, and Rep. Mark Takano of California had endorsed his candidacy.
When contacted by VICE News, Kennedy's office said the congressman had not made an endorsement.
"Congressman Kennedy believes Democrats in Wisconsin's 1st district are lucky to have two strong candidates on the ballot this year," said spokeswoman Emily Kaufman.
After being contacted by VICE News, Bryce's campaign scrubbed the Kennedy endorsement from its site. VICE News asked the campaign if any other listed endorsements were inaccurate. The campaign did not respond to multiple inquiries, but the endorsements from Schiff, Lee, and Takano were soon removed from the site as well.
Given the child support delinquency and past campaign losses, some national progressive groups have been reluctant to fall in line behind the Iron Stache.
"We are watching this race closely, and we're excited about Cathy Myers' candidacy," said Maeve Coyle, a spokeswoman for the progressive group Emily's List, which focuses on electing women and has yet to endorse her in the race. "She has been running a strong campaign, and we'll continue to monitor the race as we get closer to the August primary."
Myers' campaign manager said Emily's List has been helpful "behind the scenes" but declined to elaborate.
It wouldn't be the first time political reporters and the professional political class misunderstood local political dynamics. Democratic Virginia Gov. Ralph Northam was thought to be in big trouble in last year's gubernatorial contest only to thump Republican Ed Gillespie 54 percent to 45 percent. The day before the election, a four-person panel on MSNBC's "Morning Joe," a cauldron of elite opinion, unanimously predicted that Gillespie would win.
Reached this week, Northam's campaign manager, Bradley Komar, said he doesn't know much about the Wisconsin congressional race but said his own race demonstrated the danger of buying into the national narrative. "The Twitter Beltway conversation is often not a reflection of the political reality or public opinion on the ground," he said.
Evan McMorris-Santoro contributed reporting.
Cover image: Randy Bryce, Democratic U.S. Representative candidate from Wisconsin, during a campaign rally in Racine on Saturday, Feb. 24, 2018. (Daniel Acker/Bloomberg via Getty Images)