Photos courtesy of Matt Lucas
Yodsanklai Fairtex has hung up his gloves and that's official.
One of the greatest nak muay (Thai kickboxers) of the modern era, "the Yod" announced his retirement from competition last week via social media.
The reasons are perennial: creeping age and nagging injury.
"I am getting older," he said on a Facebook and Instagram post, "and my body is not well."
This isn't a fighter's sabbatical. After a trio of nasty knee and hamstring injuries, this time it's goodnight sweetheart and no big super fight with the man they call Buakaw.
Yodsanklai last took a fight breather in October 2015 and returned to the front in February 2017 defeating Sayfullah Hambakhadov at Kunlun Fight 57 in China with wrecking ball round kicks and surface-to-air upper cuts. The comeback was so far, so good. Yodsanklai went on to fight on three more occasions this year, making an April fool out of Masoud Minaei, and mugging Cedric Manhoef and Soichiro Miyakoshi in the merry month of May.
Alas, time off from high-level competition was not rehab enough for the 31-year-old southpaw king.
"I made a break for over a year after an operation on my knee," he said in his statement last week. "After I came back to training and fighting, I feel my body isn't the same. I am constantly in pain even at training. I can't stand it anymore."
And with that, the hero boxer with the koi fish and dragon tattoos threw in the towel on a glittering and accomplished career. He wasn't bitter or thankless. But he did stress the point about his departure.
"So I'm here to tell you, I am retiring from Muay Thai today."
It's not just a sad day for Yodsanklai and Fairtex Gym; it's a sad day for the sport of Muay Thai boxing. A pro-league pug since 1993, Yodsanklai was a multi-weight Lumpinee champion as well as a former WMC and WBC title-holder at middleweight and welterweight. He was also the winner of the 2008 edition of The Contender, which boosted his profile in the West as "the Mike Tyson of Muay Thai".
But the Far East is where the Yod made his rep. Fighting under the flag and monikers of Petchyindee Gym, and later the Fairtex camp in the seedy resort town of Pattaya, the boy from northeast Thailand beat up all movers and shakers.
The collection of Thai heads mounted in the trophy room is note worthy. He ring robbed Nopparat Keakhamtorn with a fusillade of upper cuts at Lumpinee Stadium in 2003; exchanged chain-shot knees, and whiplash head kicks, with the aging-yet-dangerous Samkor Kiatmontep in a 2005 ring war; KO'd the knee flying Malaipeht Sasiprapa and Lamsongkram Chuwattana in 2008 respectively, and beach mugged Kem Sitsongpeenong, his old mate from Fairtex, with an upper cut elbow at Pattaya in 2012.
When there were no Thais around to bash up and/or make bleed, "the Boxing Computer" dispatched various big name nak muay farang (foreign kickboxers) to lick their wounds in half-lit dressing rooms. The hero from Fairtex Gym emerged victorious against the gun-slinging likes of John Wayne Parr with the 154llb WBC belt in 2005 and defended it the following year with a Round 1 KO of Mark Vogel in Germany.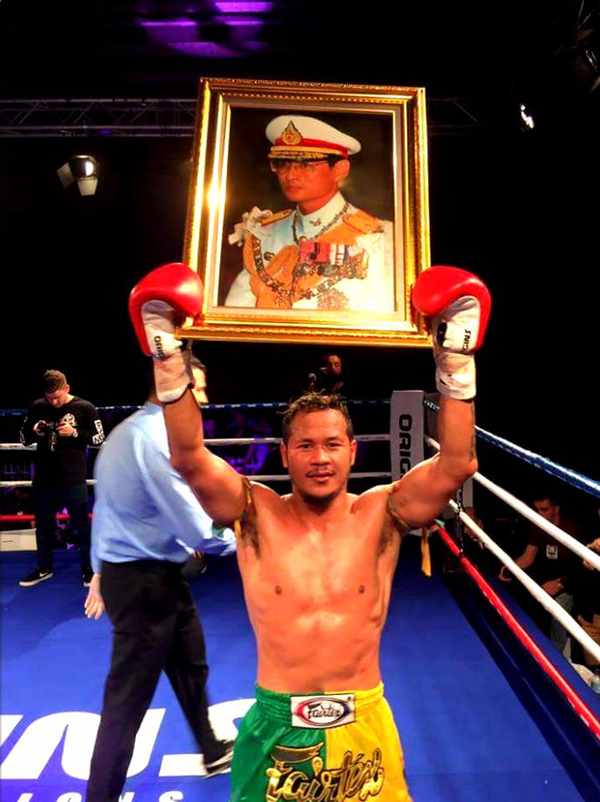 Beating on pumped up farangs for King and Country, Yod outpointed the dangerous Frenchman Yohan Lidon, bested Cosmo Alexandre, number crunched Marco Tentori, cruised to victory on the cards against the quick-draw American fighter Chike Lindsay, and outpointed my old mucker from Rompo Gym in Bangkok, the Dagestan pit bull himself, Dzhabar Askerov.
There were notable losses, too. One jinx early in Yod's career was the superlative Orono Wor Petchpoon who defeated him on two occasions in 2004 (elbows) and 2005 (knees). And there were many bouts lost by decision. Yod lost on the cards against the venerable Singdam Kiatmoo9 in 2004, to Andy Souwer in 2008 and John Wayne Parr down under in 2010.
No roaring crowd. No surge of adrenalin. No lucrative payday bout with a past-his-sell-by Buakaw. The glory fades. Retirement sucks. What next? Rest and a reboot for the YodBook in the first instance, that knee injury sounds awful. What about schooling up his own posse of pugs with the killer bytes that made him the boxing Super Computer? There's always that gig. But what big time genius of a champ wants to evolve into a broke-ass pad holder with an ever-bulging pompooey (pot belly) on the sly? No fear of that. He's already on the PT at home and probably all booked up on the international seminar circuit for the foreseeable.
Does the Super Computer have the bullshit personality to become a know-it all boxing commentator on the TV like old Jim Watt back home in the UK? After all those punches, elbows, knees and kicks, does he have enough brain cells left to perhaps write a memoir or a weekly boxing column for the sporting press in Bangkok? Norman Mailer, the late American author, and part-time pugilist, once remarked that a boxer writing is "equal to an intellectual throwing a good punch." Then again, it's not a tall order. Brian Moore, the former England rugby player with the skinhead and cauliflower ears, is doing one on his ball game for the Daily Telegraph in London.
They're also making a lot of silly and violent action films these days in Thailand. In between beating on farangs on the seminar circuit, Yod could always do some R&R at the Lee Strasberg Academy in New York and return to Thailand as a method actor (with optional perfect English) and corner the market in monosyllabic bad guy roles (because bad guys always have the best lines).
And there's the theme restaurant business. However, old glove fighters, who go into that lark, usually with their friends and family, invariably end up broke and drunk on the karaoke machine. Realistic and silly fantasies aside, maybe this retirement thing is just a marketing ruse to generate buzz, and the Yod will come back for one last outing against Buakaw in China or the USA. Maybe.
The glory might be gone. The crowd may be absent. But Yod's record and achievements are carved in stone. He retires from the fighting sport of Muay Thai boxing with an astounding record of 272 fights, 197 wins, 77 knockouts, 71 losses and 4 draws. A master boxer, his ring pyrotechnics will be studied and dissected by practitioners and keyboard warriors for decades to come. After all those years of eight-limbed carnage, early retirement was probably the best option for the dynamo lefty.
The Super Computer has logged off. And that's official.