Chiquita Melvin in Charlottesville. All photos by Matt Eich
In August, I returned to my old college town of Charlottesville to witness the now-infamous Alt-Right rally organized by two fellow University of Virginia alumni, Richard Spencer and Jason Kessler. The night before that deadly spectacle, the neo-Nazi wing of the Republican Party took over a slice of the campus for a sort of pregame pageant of hate, where they chanted anti-semitic slogans in unison. By the time cops cancelled the officially-approved event the next morning, I was about two blocks downhill of its intended site, Emancipation (formerly Lee) Park. Scores of white supremacists streamed past me, and a couple dozen counter-protesters shouted back at them.
The whole affair seemed like a surprisingly white one on both sides: Downhill of the rally, I initially only ran into one other black person, an old friend from the local arts scene, whom I'll call Mekhi Chiles. (He told me he's been doxxed—and his family threatened online—by Alt-Right types and asked to use a pseudonym for this story.)
---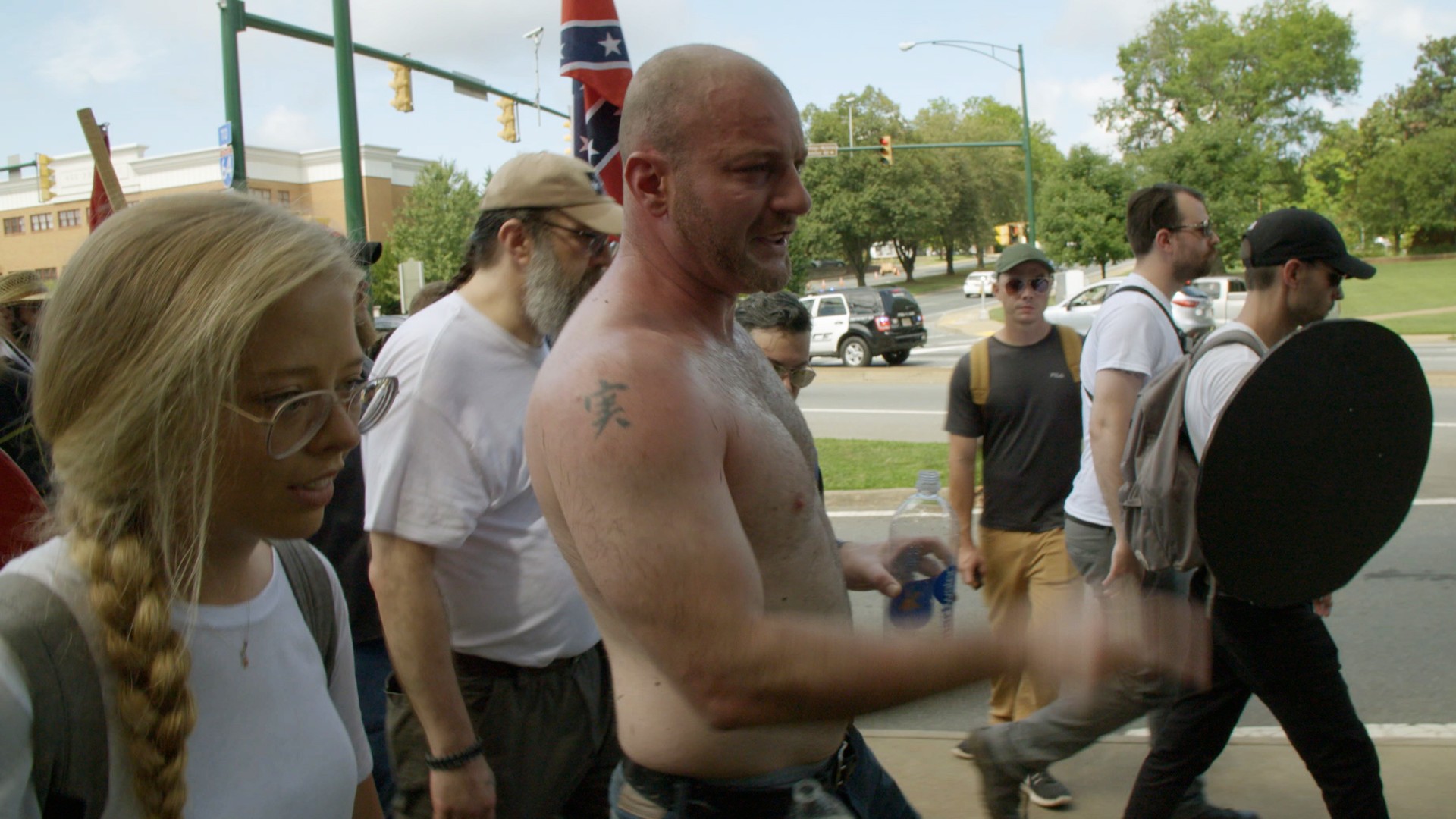 ---
I reached the scene of Heather Heyer's death on Water Street about 20 minutes after a car roared through, passing along the way bloody survivors and broken glass and a stunned-looking Cornel West. The scholar aside, seeing so many whites victimized by white Supremacist anger reminded me of the Wednesday morning after Trump first won the presidency. Some of the moms at my kids' progressive charter school in Brooklyn were openly weeping, and I felt oddly happy about that, at least for a moment. Now they know what it feels like to be called a nigger by your neighbors, I thought, when powerful white men can mock your genitalia and scorn your intellect and still win at the polls.
But after the rioters had dispersed and Trump expressed his sympathy for white supremacists, I worried for my old home. So I spent time over the last several months visiting C-ville and talking to longtime residents, citizens, students, and professors about the mood in town after the national spotlight had faded. Among other things, I wondered whether the Alt-Right's negative energy could be converted to positive, community action.
What emerged were competing impulses of hope and despair, along with a consensus that much of the town and campus was dealing with something resembling collective PTSD.
As Assistant Dean of Students Kirt von Daacke told me, "Students that are Jews, students of color, anyone who lived on The Lawn were pretty traumatized."
Last fall, I caught up with then-City Council candidate Nikuyah Walker about that strange, violent weekend, which local activists refer to as "A12" nowadays, for August 12. I didn't see her at the rally, but we were both there that day and traded stories. Stories we'd heard of Alt-Right ralliers menacingly driving through black neighborhoods that weekend, of neo-Nazis stalking the lone synagogue downtown. We quipped that many C-ville blacks stayed home because, when you deal with racism every day, you don't need to make a weekend activity of it. Walker, a lifelong C-ville resident and now the town's first ever black female mayor, told me, "We're used to being abused—the black, brown, poor community here."
Blacks have historically made up around 20 percent of Charlottesville's population yet accounted for north of 70 percent of stops by local cops. This is a familiar American story. Black folk didn't need the A12 weekend's reminder of white supremacist lethality any more than we needed the advent of cellphone footage to know police fear, beat, and shoot us with impunity. But Nikuyah noted that there was newfound awareness of the danger of American hate after A12 because "now, you had white people, of all different income levels, being abused, too."
Chiquita Melvin is a graduate school actor earning a Masters of Fine Arts at UVa. When she was a little girl on the south side of Atlanta, she said, she "knew from an early age there were people that didn't like me because of the color of my skin," and that the the Ku Klux Klan was active nearby. When I spoke to her a couple weeks into the fall semester, she was not fearful, but she did feel the need to remain vigilant.
"I'm very watchful now, even just the cars that drive by, because a car was used as a weapon," she said, referring to Heyer's murder.
Mekhi Chiles's hair sits in dozens of small twists, his furrowed brow and lively eyes making it seem like he's always in on a secret. Chiles told me that, in the first days and weeks after the deadly protest, "the mood around town was rather somber" and the violence had "hit a lot of people with a shock." There were competing voices. "I told you so, why didn't you do anything?" and plenty of "I can't believe this happened, what do we do now?'"
A self-described military brat, Chiles's father retired from the US Air Force but remained in Germany; he will "really never come back, because of racism," according to his son. Chiles has lived in Virginia for 20 years now and said that, if nothing else, at least for a moment after a summer marked by domestic terrorism, "eyes were opening up a bit." Some residents who had previously been content to sit out local politics argued the community needed to "really look at these problems we've buried for 100 years."
But when we touched base again four months after the town's outburst of Trumpian political violence, Mekhi worried about "a large contingency of people just back into their day-to-day; [for whom] life is resumed as it were."
Professor van Daacke, for his part, told me he was unearthing "the hard stories" about when slaves "built and ran this place." He co-chairs the UVA President's Commission on Slavery and the University and noted there was a bit more interest in his work after the summer's gross exposure of extant American racism. Still, van Daacke voiced skepticism: "As a historian, we've come to these crossroads time and time again." Last generation, he added, "it was film footage of dogs sicced on peaceful demonstrators…[and] we're back again. What we've always struggled with is the white moderate."
These days, I still think sometimes about the Brooklyn moms crying about Trump, wondering what to do next. I think about the self-described progressive folk in Charlottesville and the striking sight of Nikuyah Walker's campaign signs, dropping their Pan-African color motif of black, red and green on the grassy lawns of even the white neighborhoods. I think about Mekhi Chiles telling me, "People have to decide passivity is not an option anymore." He was wise enough to note the naivete of asking people "who benefit from the current system to work to change it." He said, "If I've got a skateboard with four wheels on it, [and] that other guy has one with two wheels on it, do I really wanna have a non-operational skateboard to help that guy out?"
But Professor van Daacke was cautiously excited. The commission on Slavery was building a memorial that will include thousands of names of the slaves who built and maintained my alma mater. When I visited last September, he gestured to the window of his office on the second story of Monroe Hall and intoned, "Everywhere you walk around here is a slavery site. Let's tell that story!"
As our chat meandered to local politics, the history professor interjected, "You have to understand the local government is a Jim Crow structure that was always designed to minimize black participation." Indeed, when Nikuyah Walker won her five-year term on City Council last November, she became only the eighth person of color ever to serve on the Charlottesville City Council. In its first session of 2018, the City Council appointed Walker to the mayoralty, a somehow fitting coda to a summer of racism. As Walker told me, "Charlottesville has had a very obedient group of black people in it and for the first time… people are voicing their concerns the way they are."
She, too, noted the difficulty of convincing beneficiaries of status quo to accept change. But she expressed confidence that the trauma of A12 opened some eyes, and was "hoping that some true change can happen as a result."
Just about a hundred yards from from The Lawn, where Trump's Alt-Right fans had rioted and screamed about Jews, I stepped quietly out of Professor van Daacke's office into the warm, wet air of Virginia in autumn. I walked through the grounds, past a preserved dorm room with a stuffed Raven in it where Edgar Allan Poe was said to once live. Beyond that stood the proud Rotunda, perhaps UVa's finest building, one designed by an American who got to be president—and built by many people who still await real recognition as great Americans, too.
Amdé Mengistu is an attorney raising two boys in Fort Greene, Brooklyn.