The A'Court brothers when they were small town boys. All images supplied by Kiwiseeds.
Kiwi brothers David and Tim A'Court set up camp in the early 90s by growing "some massive outdoor buds" in their hometown of Kaitaia. Some 20 years later their business—Kiwiseeds—is recognised globally. But as cannabis is increasingly legalised across the world, you won't find their product available in their homeland. You have to go to Amsterdam for it.
The national conversation around cannabis legislation, is changing with two medicinal cannabis bills up for debate in parliament this week. But for now it's still illegal in New Zealand to grow, sell or consume weed. Casual growers like the A'Court brothers could have faced a 14 year prison sentence. They eventually did get busted for supply, much to their mum's discontent, and got a sentence of community service and rehabilitation.
"We never panicked or freaked out," David says, "it wasn't like we didn't know what we were getting into! Do the crime, do the time (or pay the fine)".
The brothers say they started growing weed illegally in the 90s because horticulture runs in the family.
"Our family comes from an extensive horticultural background including propagation and production of several commercial crops. It was a simple transition of knowledge from one plant type to another," Tim tells VICE.
---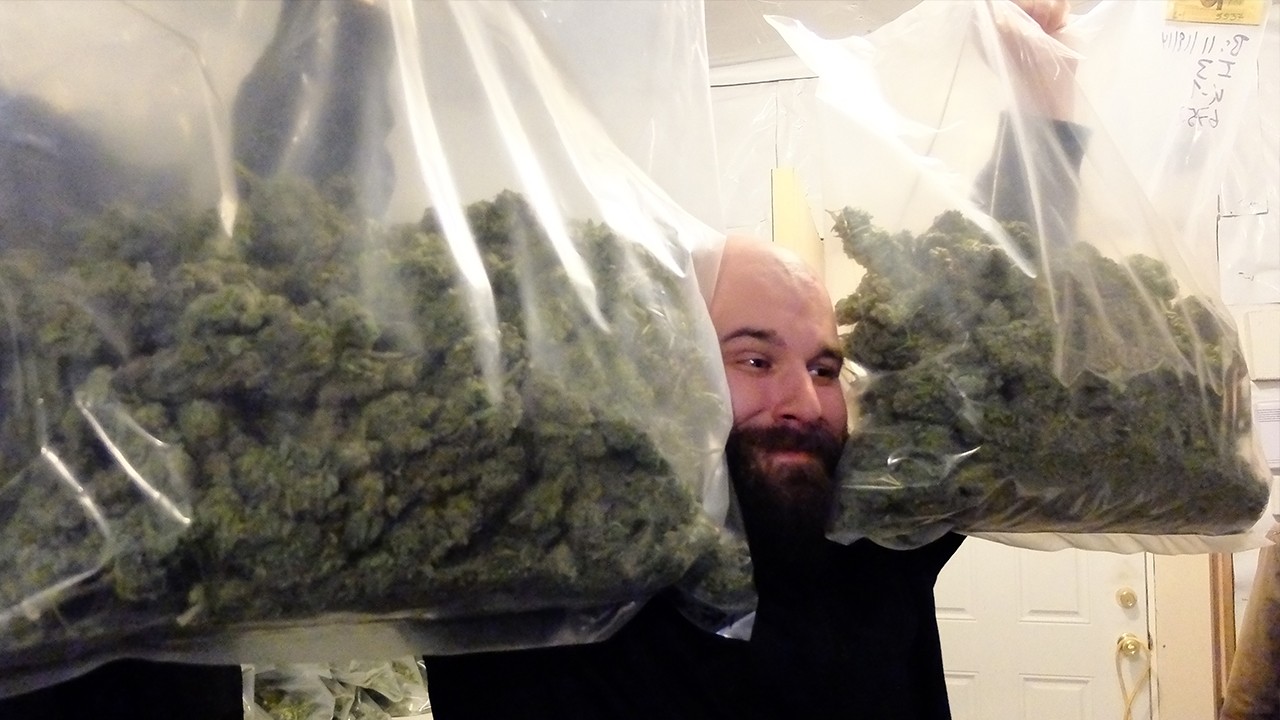 ---
After an intense set of police raids on outdoor crops in Kaitaia during one season, the brothers noticed the impact on the local community. "The spirit and prosperity of small communities fluctuated with the cannabis season, as a result of the influx—or lack—of capital from cities in exchange for weed. Many small local businesses depend in part on "criminals" harvesting successful crops," Tim says.
Following the raids, the brothers decided to pack up shop in favour of greener pastures in the Netherlands. They brought with them some unusual hybrid strains, which were later to form Kiwiseeds—consisting of new Indica types, combined with typical New Zealand generated strains.
"The speed with which they flowered was remarkable in the genetic landscape of strains available at the time," Tim says.
In fact, growing cannabis is a criminal offence in the Netherlands just like in New Zealand, but the sentences are much more lenient, he says. Kiwiseeds operates in secrecy as a result.
Tim notes the essence of Dutch jurisprudence is harm reduction and believes that New Zealand would benefit from a similar approach.
"Imagine the benefits to tourism and the revenue that this shift would bring. This initiative would reflect our progressive and innovative spirit, while connecting with our relaxed laid back identity as Kiwis," Tim says.
When the pair entered the Amsterdam market, they soon realised that because of their background in outdoor growing as opposed to indoor growing—which allows greater control and environment manipulation—they were able to grow better weed than most of what was being produced in Europe. Eventually their quality was noticed by the industry, winning best Sativa in the High Times Cannabis Cup 2006 for the 'Mako Haze'. They followed this with a Sativa second place in 2007 for Tasman Haze and then Best Indica in 2008 for a strain called Mount Cook.
"It became an interesting contrast for us—the secretive life of indoor growing versus the fame and notoriety for growing award winning cannabis," Tim says.
Then there's medical marijuana. "Its health benefits can no longer be denied. It would be exciting and wonderful to be a part of this consciousness shift in our home country and we believe that any change in legislation is a big step forward."
For now, there's no drive for the brothers to move back to New Zealand. For David, "I do miss fishing and nature, but there is far more of a rich/poor split in New Zealand from when we grew up—and I only see it getting worse".
David's got no beef with New Zealand per se, for him it comes down to the fact Amsterdam is a vibrant European city, while New Zealand is an island in the deep Pacific. "Ask yourself, where do you get a beer after 12 AM in downtown Hastings? There is more on offer here."
Follow Sasha on Twitter.
This article originally appeared on VICE NZ.