Photos via Myspace
By the mid-2000s, "emo" had taken an entirely new form from what it was in its beginnings. The bands at the top of the scene, selling out mid-to-large sized venues around the country, were a far cry from the dramatic hardcore of Indian Summer or the weirdo punk of Cap'n Jazz. A few of those bands, like Brand New and Taking Back Sunday, broke through with some mainstream success.
The only problem was that the direction of the music and its popularity had made the bands somewhat inaccessible and more than a little sexist, which Jessica Hopper outlined in "Where The Girls Aren't." Bands were creating soundtracks for friend-zoned "nice guys," and it was, all things considered, pretty brutal. Songs about broken friendships and laments on relationships turned into metaphors about killing or wishing death or worse on ex-girlfriends and sworn enemies. "Let's just see what happens when the summer ends," became "You can lead a whore to water and you can bet she'll drink and follow orders."
In the midst of all of this, there were a few bands that popped up which, instead of moving with the lyrical flow towards self-destruction and the romanticization of murder, stuck to the formula established by Braid, American Football, and the Promise Ring, and foreshadowed the current explosion of emo "revival," as it's referred to by mainstream music outlets. They were just in the wrong place at the wrong time; too late for Texas Is the Reason, and too early for The World Is. One of those bands was Cherry Hill, New Jersey's the Progress.
The Progress in 2005.
The Progress is now best-known as the first band of Evan Weiss, better known as Into It. Over It. Weiss is this generation's Norm Arenas, or maybe even Aaron Cometbus; a recording and touring machine in five-plus bands at any given time, owner of a small label, who has put records out on just about every good record label going right now, and now, a producer, who worked on You Blew It!'s new record Keep Doing What You're Doing. After the Progress broke up, he eventually moved to Chicago and became a major player in that scene, while other members stayed on the East Coast; guitarists Mike and Eric McNelis are now in a pair of criminally underrated bands, Belgrade and Sleep In, respectively.
The Progress put out three records; a self-titled EP that's now hard to find even in the annals of internet purgatory, the excellent five-song Golden State, and their swan song and only full length, Merit. Mathy guitar parts that were no doubt influenced by years of listening to bands like Converge and Botch, blended with the same Midwestern sound that's popular as ever today and a tightness that can only be achieved by four people who played in a band together from the time they were in middle school, the Progress was a wholly unique band in a sea of bullshit that wanted to be the next Senses Fail or Hidden In Plain View.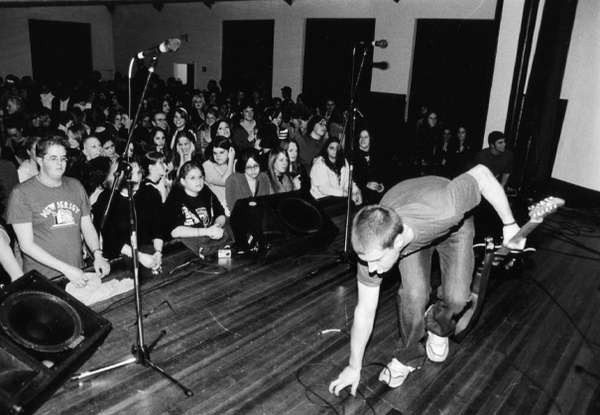 For those of us who were either old enough to remember Braid, or young enough to think Destination: Beautiful was a classic, the Progress was an important band on a personal level. I saw them in 2007 at the end of a day-long fest in Wilmington, Delaware; about 15 people who had been religiously listening to Golden State stuck around for their set. To this day, I talk about that set with people who were there but I otherwise never keep in touch with like they're people I went to Burning Man with and then never saw again. Ruben Polo of Philly band Secret Plot to Destroy the Entire Universe and DIY label Kat Kat Records had a similar story: "The Progress (then known as "J.A.R") was the first emo band I ever saw. It was at a small hole in the wall club in Roselle Park called "The Cove." I was 14 and into nu-metal and they blew me away. If it wasn't for them and Hey Mercedes, I'd probably be a metalhead." Even the current wave of "pop punk" bands like the Wonder Years and Such Gold cite the Progress as an influence. They probably have the same stories to tell, of the band that was ahead of their time and kind of just faded away rather than breaking up.
The Progress' 2012 reunion show.
For most of the country, however, the Progress was an unknown band. I don't want to go as far to say they influenced musicians in other areas, who had their own versions of the Progress that inspired them to start their own bands: for example, upstate New York had The Bell County Silence, while Florida had My Hotel Year. All of these bands had varying degrees of popularity, but the fact that no one cared or everyone cared didn't really matter; all of them forged the kind of deep connection with their fans on an almost-spiritual level which not only served as the soundtrack to our late summers, but the inspiration for a lot of us to pick up our instruments and create something of our own.
On "Straight Shot To St. Louis," the first track on Golden State, Weiss announced, "We're starting something new." That song was probably about the Houlihan's at the Cherry Hill Mall, but I like to think that it was a eureka moment about what would come today, where I feel luckier than ever that I've seen this style of music get popular again in the right way. Where kids raised on DIY ethics and American Football hit the Billboard Heatseekers chart, where you don't have to cater to the lowest common denominator to get big, and where we don't need to pay $400 for a ticket on StubHub, because our religious experience took place, or is taking place, in our respective Arden Gild Halls, where we saw the local band save emo from itself.
Paul Blest is gonna go listen to Nothing Feels Good in the dark. Follow him on Twitter - @pblest