Beyoncé has teamed up with H&M for their summer swimwear campaign, officially entitled: "Beyoncé as Mrs. Carter in H&M." For this major money commercial Bey absconded to the Bahamas to shoot with Swedish music video director Jonas Åkerlund. Once there she spent some time panting. Hey, it's hot out there and heavy breathing is a vital tool when trying to seduce an expectant audience into purchasing swimwear. She also spent a couple of days writhing around on the beach and in the water, as well as an evening hanging out with fire poi dancers, smizing just like Tyra Banks taught us. Here are some things we like about this Mrs. Carter for H&M ad.
1. Bey is blessed with great genes, we all know that. But she is also the master of sucking it in, popping it out and modeling right down to her tippy toes. She knows how to do this because she records, watches, and rigorously makes notes on every single one of her live performances. She knows herself from every angle. She is truly a freak of nature.
2. This swimwear range cleverly caters for all kinds of body types. Feeling a bit flat? Don't worry, that black string bikini boasts fringing up front which will sway with every step, thus hypnotizing whoever you're with into thinking you're packing curves. Eat too much rice recently? That squidgy soft spot just below your belly button can be camouflaged by some high-waisted tie-dye bikini briefs.
3. She is the only woman who can look both deadly serious and seriously sexy with sand stuck all over her face.
4. A special shout out to her dancers who probably spent half the shoot pouring water in their eyes, trying to flush out all the grit their synchronized flicking and flailing deposited in their eyeballs.
5. Her new song's pretty good. Tropi-pop R&B with just the right amount of hi-hat ratatats.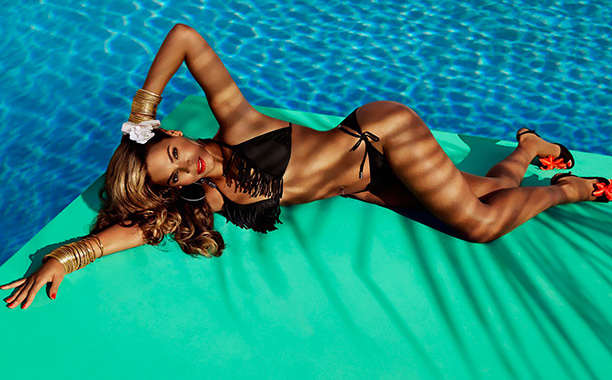 Reclining. Casual.
Style Stage is an ongoing partnership between Noisey & Garnier Fructis celebrating music, hair, and style.