Fat White Family
Next time you are at your desk preparing the monthly meeting report it's best that you don't spare a thought for Neelam Khan Vela. While you take screenshots of spreadsheets, Neelam spends her time travelling between London, Glasgow and Barcelona taking photographs of bands such as Hinds, Iceage and Savages.
She just got back from Primavera with a tan. You just got back from Subway with a six-inch Chicken Teriyaki.
As well as appearing on the pages of NME and numerous music blogs, Neelam is about to publish …but why would I choose a thing like that? a 36-page magazine of her work that captures all the energy and debauchery that occurs on stage and off.
She's also preparing for her first solo exhibition in London.
Take a look at some of Neelam's shots and read a chat we had with her.
Noisey: When did you first pick up the camera and start shooting bands?
Neelam Khan Vela: I started taking photos when I was very young, probably when I was 10 or 11, I would take photos of everything around me so when I started to go to gigs I realized how much I enjoyed shooting them.
Who were some of the first bands you shot?
They were all garage punk bands from Barcelona like Mujeres, Aliment or Fuckin' Bollocks that I would see often in small venues, I would sneak in my camera in bigger venues when I had the opportunity too.
Your pictures capture a fun live spirit.
In my photos I try to capture the spirit and vibes of the bands that are onstage, whatever those may be, so if the gig is fun the photos will capture a fun live spirit, but I don't think 'fun' is what my photos would described as, when speaking of my shooting style in general.
Twin Peaks
Do you have a favourite image?
One of my favourites is the shot of everyone sitting at the top of Kelvingrove Park at sunset. That had been the warmest and sunniest day in Glasgow in months so it was a very unique and special day, everyone spent the day drinking in the park and enjoying the weather.
Savages
You've shot in London, Glasgow and Barcelona. Does each city have a different feel as far as taking band photographs?
I think I approach each city differently for the different connection I personally have with each city and its people, and aesthetically they all look different, but when it comes to taking photos at a gig or portraits it depends more the gig itself, the venue, the crowd and the bands.
How did you end up shooting for NME?
When I moved to London three years ago I started interning at the photo desk at the NME office, and after a while of shooting several gigs every week and improving my portfolio I finally asked if I could start shooting for them.
The Garden
Iceage
Do you prefer shooting smaller gigs/parties or bigger shows/fests? Do you approach them differently?
Definitely smaller venues and house parties, the crazier the better. I feel that when you shoot in big venues, specially festivals, unless you have permission to shoot the whole show and/or shoot from the side or back of the stage, all the photographers in the pit end up with almost the same photographs. I prefer shooting smaller venues because normally there's no three songs restriction, the closer the better, and specially if it's a wild crowd it's great to have photos of the bands interacting with it.
Hinds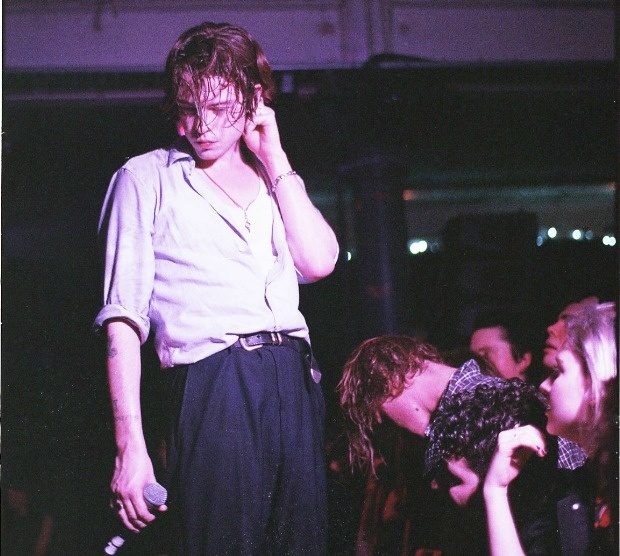 Iceage
How did the book come about?
The photo documentary is my final major project for my university degree. Ever since the first few times I visited Glasgow I knew I wanted to stay there for a longer time: it's a very exciting city with a lot of young talented people and I felt I wanted to document what was happening up there; so since I had to shoot a photo essay for uni it was the perfect excuse to finally move there for few months.
'…but why would I choose a thing like that?' is availabel for pre-order here.