It's always funny to me when the MMG girl says, "What is this shit?" as if she doesn't know, as if it's a new dish she has yet to try. No. Even with the truffle oil and the gold flakes and the zillion-dollar price tag, it's still a hamburger. Over the years, the super-group's members have changed up more than its sound: the biggest variation between tracks is whether a gun is held in a white glove or a black one. That being said, Self Made 3—the upcoming release by Rick Ross' Maybach Music Group on September 17th—once again shows the importance of routine. Yes, almost every song is built for rooms where champagne bottles come hand-delivered by dead-eyed girls with sparklers; half of the tracks sound like they were left off Wale's album or kept from Mill's or Ross'. (This might not be 100% true: as A&R Dallas Martin says of the process, "We all go down to Ross' house in Miami. He structures the whole thing in his mind." Ugh, he'd make so much money if he offered tickets to this.) It should also be noted that the album is EP'd by MASTERMIND in all capital letters, that's how serious this whole thing is.
There are some songs you'd swear you've heard before, under different titles. But without this cushion of support, the most crucial song would never have been heard…because it's by Rockie Fresh, who on "What Ya Used To" channels mixtape-era 50 Cent, 1997-type Ma$e, and makes you never want to doubt Rockie Fresh ever again. Well, at least for now. So, no, the collective won't be remembered as a bunch of envelope-pushers, but there's merit in reliability. If Barry Sanders painted masterpieces with his feet, Emmitt Smith colored by numbers. They both ended up in the same place. 1.) Lil Snupe – "Intro."
On June 13, Lil Snupe—an 18-year-old kid coming off the streets of Baton Rouge—was shot dead for stupid reasons, more stupid than most. (It's been reported different places as either video games or dice games.) An upcoming talent in the mold of Lil Boosie's shadow, he'd been in the process of signing to Meek Mill's DreamChasers imprint. Martin says, "The day Snupe passed, his deal was going through to his lawyer." Portions of "Happy I Made It" open the album, with Snupe saying lines like, "Finally made it out the gutter, made it to where my mama and my granny don't have to suffer." If only.
2.) Gunplay feat. Rick Ross and Yo Gotti – "Gallardo"
There are a bunch of men on this song, but Trina's is the voice that you remember. (For some reason, she remains uncredited.) Gunplay's verse includes the line "Them monkey n***as some Care Bears," which makes zero sense but once again shows why Gunplay might be the most fascinating rapper these days. A video trailer was just released; it's Lambo porn in the midst of ads for Cîroc, Bel Aire rosé and upcoming MMG projects. If Wikipedia is to be believed, it's the fifth single off the album, which is to say that MMG knows the Internet better than anyone. This might be the first LP since, like, Olivia Newton-John's Physical to give every song the video treatment.
3.) Meek Mill feat. Omelly & Young Breed – "The Plug"
I took a lot of notes about this song, but almost all of them are related to the fact that Spiff TV—who shoots videos and picks beats for Ross & Co.—was recruited to do a Scarface impression. He's screaming through his nose, the part not filled by cocaine, barking orders like he's the Charlie to these angels: "They're trying to take my gold! I got a ticket waiting for you in Miami!" Meek adopts this roadrunner flow where he runs toward the edge of the cliff and then stops, which is pretty thrilling to hear.
4.) Meek Mill – "Levels"
It's not just a rallying cry, it's not just a lifestyle, it's a meme, a catch-all that comes out like a flash flood and makes you wonder if there was ever a time it didn't exist. His best work since the intro to his album, both of which are designed to set stadiums on fire. (See: his surprise walk-on at Hot97's Summer Jam, this year, where he had the most potent performance.)
5.) Rick Ross feat. Lil' Boosie and Young Breed – "Lay It Down"
Lil Boosie—who's still in jail, last time I ran my #FreeBoosie search—makes an appearance as an homage to Snupe. It's not certain when this verse was recorded, but he's name-dropping Jackie Joyner-Kersee and promising to push wigs back (all while rasp-yelling over what sounds like a sprinkler system). What will make news, though, is Ross saying, "All black hoodie, Trayvon Martin n***a, put 100 grand on Trayvon Martin's killer." Not that it'd ever happen, but it's something to say.
6.) Rick Ross feat. Wale, Whole Slab and Birdman – "Stack on my Belt"
Was 2005 just eight years ago? This nostalgic look back at Ross' mixtape days is unexceptional but catchy: everyone says "spend a stack on my belt" the way Juvenile uses "ha!" The line "spend a stack on my belt so you can see my boxers" is repeated a bunch; no one ever brags about a good belt that just does its job. (Birdman doesn't rap a verse, at least as far as I could tell. Maybe he does! Who knows. Leave a comment below when you find out.) Lil Wayne was slotted to be a part of this, but didn't get his verse in on time.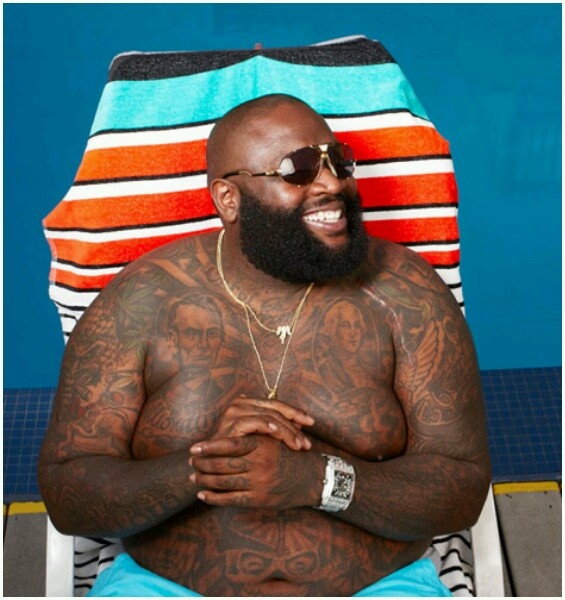 7.) Wale feat. Meek Mill, Rockie Fresh & J. Cole – "Black Grammys"
Ross opens up with the line, "If Michael Jackson was still here, he'd want us to smoke one," and I just don't think that's true. I have no idea what #NewBlackSoul means, but Wale says it too often for it to not be a thing. It's got a great JJ Barnes sample, a snippet torn from the beginning notes of the little-known "Call On Me." (He also says "I'm literally unfuckwittable with these syllables," so there's that, and Rockie says, "If you're an angry bird, there's an app for that.") But forget that: Meek tears into Hurricane Sandy, screams "When I ran outta gas, I had to push that car / 18 when I took that charge" and then compares himself to Brett Favre. It's awesome. Cole's verse was—supposedly—freestyled, so forgive its mediocrity.
8.) Stalley – "Coupes & Roses"
Poor Stalley, the blue-collar worker surrounded by a bunch of no-collars. It's hard to say anything about Stalley without sounding like a jerk, because he's very good at what he does. What he does, though, is write super-regular rhymes about super-regular things. Here, as elsewhere, it's about shoes: "white and black-tops, I used to wear the high socks" just doesn't do it for me. The most interesting thing he raps about is getting floor seats from A'mare Stoudamire, which…I dunno, even with me being a Knicks fan, that also doesn't do much for me. He seems like a nice guy. He once shook my hand because he thought I was someone else. The song sounds jazzy? People might like it, I dunno.
9.) Omarion feat. Fabolous & Pusha T – "Know You Better"
This song is okay for okay's sake. Martin, when playing the album, made sure to note how much he believes in Omarion, whose vocals are the only ones worth listening to on this song. Even so…
10.) Omarion – "Say Don't Go"
…wasn't previewed for us. Maybe it was for lack of time. A mistake or a gift, who knows.
11.) Rockie Fresh feat. Hit-Boy – "What Ya Used To"
Over a beat that sounds like classic LOX and N64 rumblepacks, Rockie Fresh takes your expectations and demolishes them. Like, guys. Guys. I barely took notes because I just kept writing, "AAAAAAA WHAT????" I heard the song twice and have begged for the mp3 ever since; haven't gotten it, but it's been stuck in my head regardless. It sounds like running down hallways with lasers; it sounds like the best parts of Bad Boy. Sure, the lyrics are fairly empty—they're no good for embroidering on pillows—but it's the sound, the feeling that is so good. With A$AP running around in No Limit tanks and everyone fetishizing faux-FUBU jerseys, this song is so on-trend as to be ahead of it.
12.) Rick Ross feat. Gunplay and Fabolous – "Great Americans"
These are a lot of features for a not-that-hot Fab right now, and while – the fire underneath him remains unlit – he's still got some good lines: "Give me a young Tahiry" and "Silence is golden, duct tape is silver." Ross says a bunch of ridiculous things, like, "Rest in peace to every genius that never made it" before shouting out "every ho in my iPhone." Gunplay steals the show – obviously, once again – with "Mommy poor, Daddy poor, what's the antidote? Gun through the window pointed at the cantaloupe." Quick question: how are any of these people friends with one another?
13.) Meek Mill feat. French Montana, Yo Gotti & Louie V Gutta – "Kilo"
This song is really loud. It sounds like "Ocho Cinco" only more needy for attention. Meek's voice is so strained it's to the point of being distorted; he rhymes "Pyrex / projects / she all that / all that / Artest / hard hat" and there are probably words in between. French, before doing a Project Pat impression, says, "I got me a kilo, rocking that Versace shit way before the Migos." Uh oh! Hope this doesn't turn into Miguel vs. Lloyd! (Related: Yo Gotti closes out with, "No receipts in the streets, all sales final, so if you lost something that's your fault.")
14.) Wale feat. Rick Ross & Lupe Fiasco – "Poor Decisions"
The fourth single off the album, but I'm not sure why. Lupe sounds like a PowerPoint presentation.
15.) Meek Mill feat. French Montana, K Kutta, Torch & Iceberg – "Bout That Life"
The liner notes read "Ric Flair appears courtesy of World Wrestling Entertainment." Pusha T won't like that! (Martin says, "We had to pay for the sample. A decision was made; it was worth it.") Flair grumbles, "Last year, I spent more money on spilled liquor…than you made" before turning into stew. The song goes from big to bigger, the kind of escalation that probably isn't noticeable in the Rocky Mountains. Meek berates those who hang out of their cars screaming YOLO. Big fan of the sentiment.
16.) Rockie Fresh – God is Great
This cut is Rockie back to his old trick(s), and it's okay-ish. It's the kind of song that probably would sound better in a different context. The beat—done by Drake's go-to guy, Boi-1da—is as empty and cold as always; so go the lyrics. Rockie says, "I got bitches, I got cake / Wake up every morning and I say 'God is great'." It's amazing how I see the lyrics in front of me—I know they're on the computer screen—but they're so instantly forgettable as to have never been there at all. Just listen to "What Ya Used To."
Jeff Rosenthal lives inside a champagne bottle. WIth his brother Eric, he performs hip-hop sketch comedy as It's The Real. Find them on Twitter — @itsthereal