Photo by Kristy Liebowitz While it was incredibly hard to focus on anything but the fucked up judicial system this week, some events of note happened in the art, fashion, and music worlds. From Art Basel to the British Fashion Awards and the Victoria's Secret Fashion Show, celebrities let their fashion freak flags fly. It felt like everyone showed up for everything this week. From Miley showing her disco nips, to Madge just blatantly baring her nipples, there was plenty to talk about. Check out the highlights from this week in music and fashion.
Art Basel Is The New SXSW
Photo via PacificCoastNews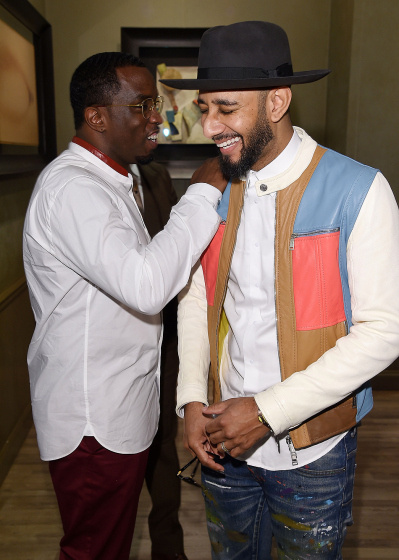 Remember way back, when Art Basel was that thing in Miami that only the super artsy fartsy types would attend? Well, not anymore. Like most things that are loved on a smaller scale and then erupt into weird things for famous types, Art Basel 2014 proved to be quite the pleasant shit show. DJ Paris Hilton stood in front of machines that played music (we call that deejaying…that's hot), while guys like Swizz Beatz, Rick Ross, and Diddy showed up and sort of talked about art. Let's focus the lens closely on Miley Cyrus, though. Homegirl performed wearing disco ball pasties and a silver thong with a wig made out of the tinsel on your mother's Christmas tree. Miley felt totally in her element as she lit up a joint on stage, like IDGAF. It's that level of surprise we've come to know and love about Miley, and now she let it all hang out for South Beach. She definitely put the "Base" in Art Basel. Photo via Venturelli/Getty Images Photo by Getty Photo by Seth Browarnik
Photo via StarTraks
Photo by Getty Photo by Getty
BFA Brought Out The Fash-Holes
Photo via Timms/Xposurephotos.com The British Fashion Awards, or BFA if you're 'bout that life, happened this week, and a lot of your favorite people showed up. Rihanna, Rita Ora, Ellie Goulding, Harry Styles, Kendall Jenner, Cara Delevingne—they were all there. As for the winners, Cara D took home the Model of the Year Award, the late Alexander McQueen got best Red Carpet Designer, Louis Vuitton won for the best Creative Campaign, Victoria Beckham for Best Brand (what does that even mean?), and Anna Wintour got the Outstanding Achievement Award for her fash-hole Bible Vogue. If you want to channel your inner teen gossiper, Harry Styles presented Emma Watson the British Style Award and now everyone on the interwebs wants Harry to wife Watson. The coolest thing about the evening was Rihanna, who wore nothing but a giant men's suit jacket and some stockings. The world has seen Rihanna naked at this point, so why even bother wearing a real outfit? Throw on some dude's jacket and you're good to go. Get 'em girl.
Photo by Getty Photo via Ian West/Doug Peters/ Empics/PA
ARIANA GRANDE GETS SMACKED AT THE VICTORIA'S SECRET FASHION SHOW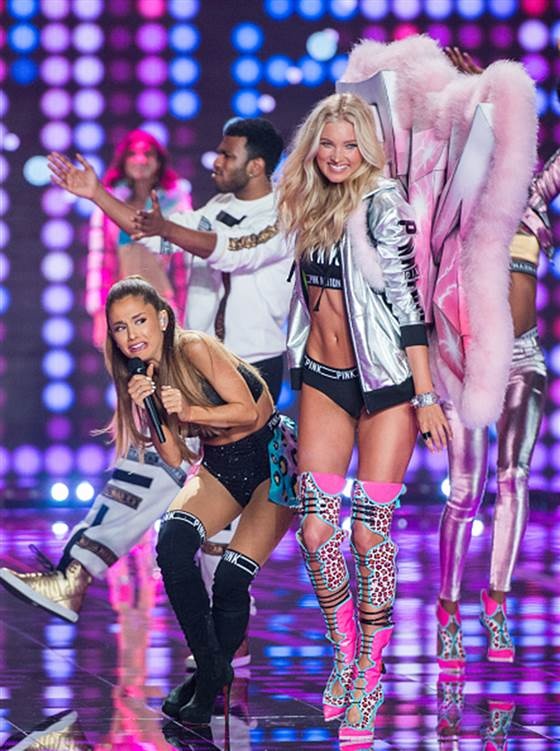 Photo by Getty Photo by Reuters In other "London is cooler than we are" news, The Victoria's Secret Fashion Show happened this week. Taylor Swift, Hozier, and Ed Sheeran performed while Victoria's Secret models (or "angels" — whatever the hell they're called these days) rocked their wings on the runway. The greatest moment, though, happened during Ariana Grande's performance. The five-foot-tall singer was performing, when Elsa Hosk did her walk. At 5'10, Hosk was over six feet tall in her stiletto boots and accidentally whacked the mini Grande in the face with one of her angel wings. A photog captured the moment beautifully, with a freeze frame of Grande looking disgusted and horrified. Of course Ariana wasn't going to be like, "Fuck you, supermodel!" so she went on Twitter to be all "tee hee" about it. Check out the tweet:
a Victoria's Secret angel accidentally smacked me in the face with her wings and it was awesome #goals #bangbangintomyface

— Ariana Grande (@ArianaGrande) December 3, 2014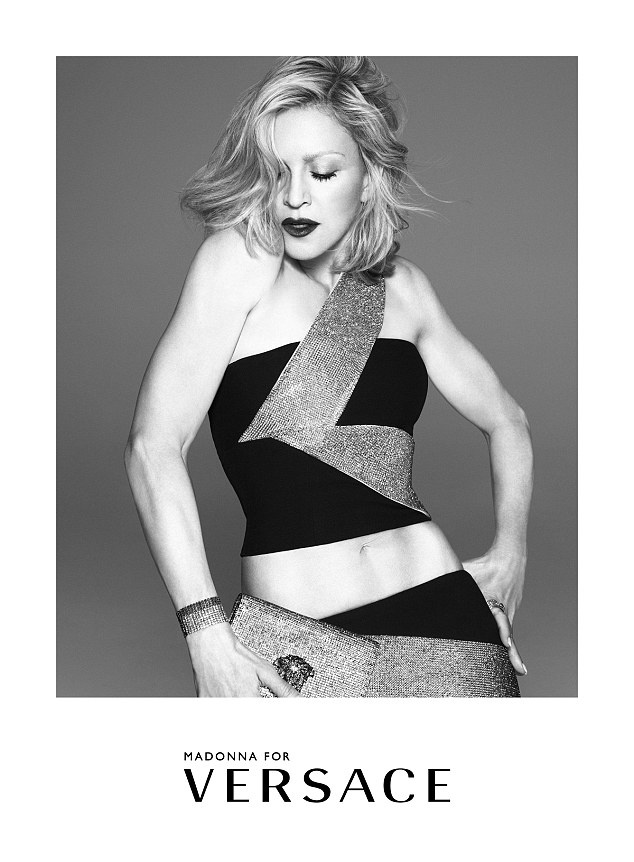 MADONNA HAD HER CLOTHES ON AND PRACTICALLY OFF
Photo via Versace's Instagram At fifty-six years old, Madonna looks better than you do after a master cleanse and three months of Crossfit. You can Paleo your fucking face off, but Madge will still be the fiercest bird in the nest. She replaces Lady Gaga (shots fired?) as the face of Versace for the Spring/Summer campaign. Donatella referred to Madonna as one of the "true icons" of Versace, calling her a friend. The B&W photos show the Queen Of Pop in sexy poses doing her thing. Earlier this week, though, Interview magazine revealed their cover story with Madonna and she was all about the boobs. Her interview, conducted by David Blaine, arrived with photos that had M in bustiers and S&M masks adorned with flowers. The most "controversial" (if that word even applies anymore when it comes to Madonna), was a photo where her nipples are in full view. If you're almost 60 and you find yourself looking as good as she does, consider just walking around topless all day. This advice applies to both men and women.
Cara Delevingne And A$AP Ferg Have A Walk-Off
Stop, this was adorable. So A$AP Ferg recently dropped his mixtape Ferg Forever, and on the track "Dope Walk," he says "I'm on my gangster lean like a dope fiend / My walk's meaner than Cara Delevingne." Cara hit Ferg on Twitter with, "I CHALLENGE YOU TO A WALK OFF." Ferg replied, "Let's walk it out!!!" After some back and forth, it felt like it was just going to be that cute thing two famous people talk about on Twitter (Cara even tried writing some odd rappish limerick to Ferg), but Cara wasn't going to let it die. In some high-top Chucks, she walked it out, flipping several birds to Ferg via Instagram. Ferg replied in a burgundy smoker's coat doing some hotel walk and flipping birds back. It really feels like Cara won, since Ferg-alicious just basically paced around a room, but you be the judge. This played out like a deleted scene from Zoolander, minus Blue Steel.
Cara's walk:
IT'S A WALK OFF @asapferg AND I WON! #DONEANDDUSTED

A video posted by Cara Delevingne (@caradelevingne) on Dec 12, 2014 at 8:47am PST
Ferg's Walk:
just KiLLED YOU @caradelevingne #DOPEWALK

A video posted by asapferg (@asapferg) on Dec 12, 2014 at 9:44am PST
2 Chainz Drops Designer Denim Via PRPS
So not only has 2 Chainz conquered music and food (he's released a cook book with Chef Aleem), but now he can add fashion designer to his resume. Chainz recently announced his capsule collection with high-end denim company PRPS. The collection will include a limited run of t-shirts and jeans that have (surprise surprise) two chains attached at the belt loop with a fringe. Considering PRPS sells product valued at over a grand, be prepared for an insane price point for 2 Chainz's line. X apparently marks the spot.
The 2015 Grammy Nominations Are Here
There's really not too much to say about this other than, "Hey, the list is here," and you either care or you don't. If you do care, the list is below. The only comment to offer is that the Bey Hive can rest easy knowing Beysus aka Beyoncé is nominated. Last year she broke Dolly Parton's record as the most nominated artist ever, and she continues that streak. Clap for Yoncé!
Album of the Year
Beck, Morning Phase
Beyoncé, Beyoncé
Ed Sheeran, x
Sam Smith, In the Lonely Hour
Pharrell Williams, Girl Best New Artist
Bastille
Iggy Azalea
Brandy Clark
Haim
Sam Smith Record of the Year
"Fancy," Iggy Azalea ft. Charli XCX
"Chandelier," Sia
"Stay With Me (Darkchild Version)," Sam Smith
"Shake It Off," Taylor Swift
"All About That Bass," Meghan Trainor Song of the Year
"Chandelier," Sia
"All About That Bass," Meghan Trainor
"Shake It Off," Taylor Swift
"Stay With Me (Darkchild Version)," Sam Smith
"Take Me to Church," Hozier Best Rap Album
The New Classic, Iggy Azalea
Because the Internet, Childish Gambino
Nobody's Smiling, Common
The Marshall Mathers LP2, Eminem
Oxymoron, ScHoolboy Q
Blacc Hollywood, Wiz Khalifa Best Pop Duo/Group Performance
"Fancy," Iggy Azalea ft. Charli XCX
"A Sky Full of Stars," Coldplay
"Say Something," A Great Big World ft. Christina Aguilera
"Bang Bang," Ariana Grande, Jessie J & Nicki Minaj
"Dark Horse," Katy Perry ft. Juicy J Best Rap Performance
"3005," Childish Gambino
"0 to 100/The Catch Up," Drake
"Rap God," Eminem
"i," Kendrick Lamar
"All I Need Is You," Lecrae Best Alternative Music Album
This Is All Yours, alt-J
Reflektor, Arcade Fire
Melophobia, Cage the Elephant
St. Vincent, St. Vincent
Lazaretto, Jack White Best Rock Album
Ryan Adams, Ryan Adams
Morning Phase, Beck
Turn Blue, The Black Keys
Hypnotic Eye, Tom Petty & the Heartbreakers
Songs of Innocence, U2 Best Rock Song
"Ain't It Fun," Paramore
"Blue Moon," Beck
"Fever," The Black Keys
"Gimme Something Good," Ryan Adams
"Lazaretto," Jack White Best Country Album
Riser, Dierks Bentley
The Outsiders, Eric Church
The Way I'm Livin', Lee Ann Womack
12 Stories, Brandy Clark
Platinum, Miranda Lambert Best Rap/Sung Collaboration
"Blak Majik," Common ft. Jhené Aiko
"The Monster," Eminem ft. Rihanna
"Tuesday," I Love Makonnen ft. Drake
"Studio," ScHoolboy Q ft. BJ The Chicago Kid
"Bound 2," Kanye West & Charlie Wilson Best Rap Song
"Anaconda," Nicki Minaj
"Bound 2," Kanye West & Charlie Wilson
"i," Kendrick Lamar
"We Dem Boyz," Wiz Khalifa
"0 to 100/The Catch Up," Drake Best Country Song
"American Kids," Kenny Chesney
"Automatic," Miranda Lambert
"Give Me Back My Hometown," Eric Church
"I'm Not Gonna Miss You," Glen Campbell
"Meanwhile Back at Mama's," Tim McGraw ft. Faith Hill Best Country Duo/Group Performance
"Gentle On My Mind," The Band Perry
"Somethin' Bad," Miranda Lambert with Carrie Underwood
"Day Drinking," Little Big Town
"Meanwhile Back At Mama's," Tim McGraw ft. Faith Hill
"Raise 'Em Up," Keith Urban ft. Eric Church Best Country Solo Performance
"Give Me Me Back My Hometown," Eric Church
"Invisible," Hunter Hayes
"Automatic," Miranda Lambert
"Something In the Water," Carrie Underwood
"Cop Car," Keith Urban Best Pop Vocal Album
Ghost Stories, Coldplay
Bangerz, Miley Cyrus
My Everything, Ariana Grande
Prism, Katy Perry
x, Ed Sheeran
In the Lonely Hour, Sam Smith Best Urban Contemporary Album
Sail Out, Jhene Aiko
Beyoncé, Beyoncé
X, Chris Brown
Mali Is, Mali Music
G I R L, Pharrell Williams Best Dance/Electronic Album
Syro, Aphex Twin
while (1<2)< i="">, Deadmau5
_Nabuma Rubberband, Little Dragon_
_Do It Again, Röyksopp & Robyn_
_Damage Control, Mat Zo_ Best Dance Recording
"Never Say Never," Basement Jaxx
"Rather Be," Clean Bandit ft. Jess Glynne
"F for You," Disclosure ft. Mary J. Blige
"I Got U," Duke Dumont ft. Jax Jones
"Faded," Zhu Best Latin Pop Album
_Tangos, Ruben Blades_
_Elypse, Camila_
_Raiz, Lila Downs, Niña Pastori & Soledad Pastorutti_
_Loco de Amor, Juanes_
_Gracias Por Estar Aqui, Marco Antonio Solis_ Best Compilation Soundtrack for Visual Media
American Hustle
Guardians of the Galaxy
Frozen
Get On Up: The James Brown Story
The Wolf of Wall Street Best Music Video
"We Exist," Arcade Fire
"Turn Down for What," DJ Snake & Lil Jon
"Chandelier," Sia
"Happy," Pharrell Williams
"The Golden Age," Woodkid ft. Max Richter Best Music Film
_Beyoncé & Jay Z: On The Run Tour, Beyoncé & Jay Z_
_Ghost Stories, Coldplay_
_20 Feet From Stardom, Darlene Love, Merry Clayton, Lisa Fischer & Judith Hill_
_Metallica: Through The Never, Metallica_
_The Truth About Love Tour: Live From Melbourne, Pink_ Best Pop Solo Performance
"All of Me," John Legend
"Chandelier," Sia
"Stay With Me," Sam Smith
"Shake It Off," Taylor Swift
"Happy," Pharrell Williams Best Reggae Album
_Ziggy Marley, _Fly Rasta__
_Lee "Scratch" Perry, _Back on the Controls__
_Sean Paul, _Full Frequency__
_Shaggy, _Out of Many, One Music__
_Sly & Robbie & Spicy Chocolate, _The Reggae Power__
_Soja, _Amid the Noise and the Haste__ Best Traditional Pop Vocal Album
_Cheek to Cheek, Lady Gaga & Tony Bennett_
_Sending You a Little Christmas, Johnny Mathis_
_Nostalgia, Annie Lennox_
_Partners, Barbra Streisand_
_Night Songs, Barry Manilow_ Best Americana Album
_The River & The Thread, Rosanne Cash_
_Terms of My Surrender, John Hiatt_
_Bluesamericana, Keb' Mo'_
_A Dotted Line, Nickel Creek_
_Metamodern Sounds in Country Music, Sturgill Simpson_ Best Spoken Word Album
_Actors Anonymous, James Franco_
_A Call to Action, Jimmy Carter_
_Carsick: John Waters Hitchhikes Across America, John Waters_
_A Fighting Chance, Elizabeth Warren_
_Diary of a Mad Diva, Joan Rivers_
_We Will Survive: True Stories of Encouragement, Inspiration and the Power of Song, Gloria Gaynor_ Best Gospel Album
_Help, Erica Campbell_
_Amazing, Ricky Dillard & New G_
_Withholding Nothing: Live, William McDowell_
_Forever Yours, Smokie Norful_
_Vintage Worship, Anita Wilson_ Best Rock Performance
"Gimme Something Good," Ryan Adams
"Do I Wanna Know?", Arctic Monkeys
"Blue Moon," Beck
"Fever," The Black Keys
"Lazaretto," Jack White Best Metal Performance
"Neon Knights," Anthrax
"High Road," Mastodon
"Heartbreaker," Motörhead
"The Negative One," Slipknot
"The Last In Line," Tenacious D Best R&B Performance
"Drunk In Love," Beyoncé ft. Jay Z
"New Flame," Chris Brown ft. Usher & Rick Ross
"It's Your World," Jennifer Hudson ft. R. Kelly
"Like This," Ledisi
"Good Kisser," Usher Best R&B Song
"Drunk In Love," Beyonce ft. Jay Z
"Good Kisser," Usher
"New Flame," Chris Brown ft. Usher & Rick Ross
"Options (Wolfjames Version)," Luke James ft. Rick Ross
"The Worst," Jhené Aiko Best R&B Album
_Islander, Bernhoft_
_Lift Your Spirit, Aloe Blacc_
_Love, Marriage & Divorce, Toni Braxton & Babyface_
_Black Radio 2, Robert Glasper Experiment_
_Give The People What They Want, Sharon Jones & The Dap-Kings_
Kathy Iandoli will be your new favorite weekly dose of fashion and music. She's on Twitter.