A prime example of a perfect record cover. No one in their right mind would pass this by in a record shop.
So you and your pimply band mate buddies have decided it's time to take your recordings, slap 'em on some vinyl, and let the world hear what you're made of. But how can you be sure that anyone will actually listen, and be confident that your black gold won't sit on a shelf somewhere collecting dust? The first step is to write and record quality music, but there are so many more ways to ensure the success of your record. Here are a few simple tips to encourage the appreciation you deserve for your hard work.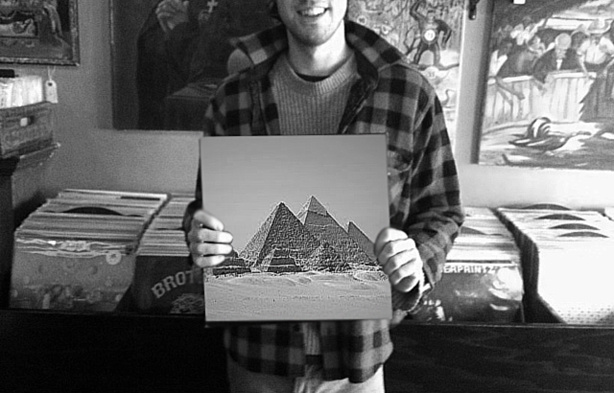 PUT YOUR BAND'S NAME SOMEWHERE ON THE RECORD
Look how cool that record looks up there! I'm guessing its some spooky 15-minute ambient soundscapes. But you know what would make it even cooler? If the band remembered to put their name on it.
This is one of the first things I'll mention because it's the most obvious blunder and the most common offense committed by indie groups. Not including your group's name anywhere on your record is like asking your potential fans to adopt a child with amnesia. Unless your plan is to only sell your records at shows that your group performs at, this is an incredibly stupid idea. Even if the songs blow people away, they won't be able to tell anyone, thus tanking the entire concept of making a physical record and attempting to move forward as a successful band. Frustrated music journalists will pass on your record, and record shops will sit on your album until your cousin just happens to roll through from Detroit and becomes the only person ever to actually recognize it.
ALWAYS INDICATE THE SPEED YOUR RECORD IS TO BE PLAYED AT
You want people to hear your music the way it was written and recorded, unless of course this is the intentional dynamic of your experimental group. Chances are that it's not your mission to mislead your listeners and the standard of 33 1/3 RPMs for LPs and 45 RPMs for 7" records was lost about thirty years ago. Save yourself and your potential listeners some embarrassment and dissatisfaction, and label the RPMs on each side of your record. It should also be mentioned that it is a wise idea to do your best to press both sides of your record at the same speed.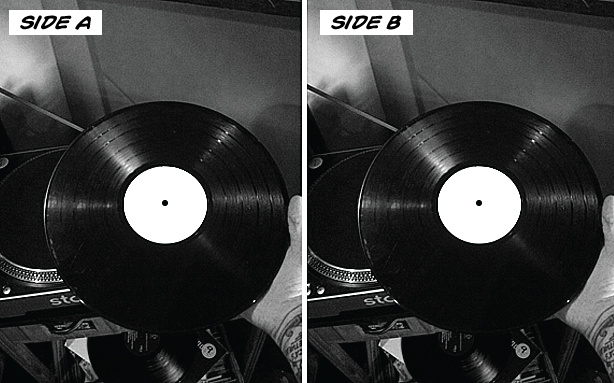 MARK SOMETHING, ANYTHING ON YOUR CENTER LABELS
Do you understand my frustration with this one? Ok, so you've ignored my suggestion to label the speeds on each side of your record. The very least you can do now is provide your end user with a graphic or some text to help distinguish the A-side from your B-side. it is extremely annoying to acquire an LP that has blank labels on both sides. It causes your listener to count the track breaks on the actual vinyl. The determined record identity sleuth may go as far as to checking the catalog number which is microscopically etched into the runoff deadwax of all albums if you don't label your cover OR your labels, but it's not something you want to have to count on someone doing. Blank labels should be reserved for test pressings and 70's bootlegs.
DON'T PRESS A ONE SONG, ONE SIDED 12-INCH SINGLE
There is nothing worse than shelling out more than a few bucks for a 12" record that appears to be an album and learning the hard way that you just scored yourself an oversized single. If your group is interested in putting out only one song then you need to work harder. If you are planning on putting out a single, you could at least satisfy the expectations of 99% of record buyers and include a B-side. Unless your songs are longer than five minutes a piece and you are incredibly concerned about super-sonic sound quality, press the record on a 7" or just wait until you have more songs to fill an LP. A buyer who feels ripped off will most likely dismiss you and your group as a bunch of amateurs.
TAKE THE TIME TO HAVE A REAL RECORD JACKET PRINTED
If you can't afford that, the least you could do is glue your handmade jacket together. After all, this is your baby, your record, and you want people to respect it as much as you do. The packaging is important and needs to justify the music inside. Having a half-assed record jacket would be like buying a "cheeseburger to go" from a fast food restaurant and having them slap a rubber band on it and throw it in a paper bag. Presentation is extremely important, as is functionality. Avoid making plastic poly bags part of your jacket layout as well. Most people will throw away the outer bag that may include your band's sticker either immediately or once it becomes inevitably fogged out and ruined. A record should stand on it's own without a bag to hold it together.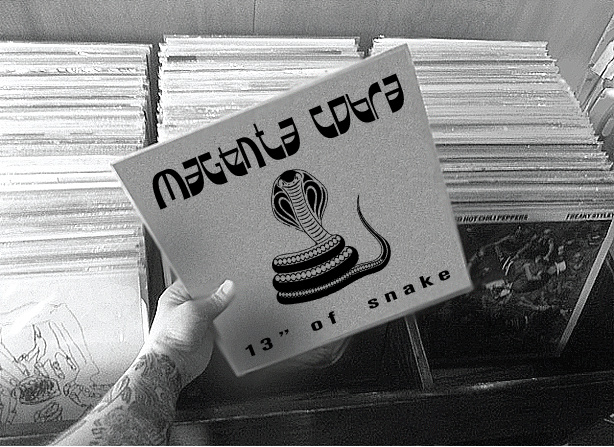 DON'T PRESS A RECORD THAT IS LARGER THAN 12" IN DIAMETER
Magenta Cobra's new LP looks great, but it won't fit in my browsers or my shelving unit. Fatal Error. Recent technologies have allowed vinyl lovers to have even more choices concerning the size and shape of the records they create and purchase. This privilege is wonderful, however you should be warned of the dangers of such modern day marvels. Pressing a record that isn't 7", 10", or 12" in size already puts you in category the industry calls "silly sizes" and it' may not be a label you want your group to obtain. My personal opinion on the matter is that a group should be able to press a record of any shape and size desirable, just keep it under 12" in diameter. A record any larger than that becomes difficult to store, annoying to ship, and pointless to display in a store.