Since forming in 2010, Dublin-based duo I Am The Cosmos, comprised of Ross Turner and Cian Murphy, has quickly added another vital strand to the critical musical mass aggregating in Ireland over the last several years. Their brand of electronic dance music is crystalline and melancholic—"tears on the dancefloor," as they describe it. As hypnotic as it is beautiful, their debut full-length Monochrome finds I Am The Cosmos making a bold push for one of the best albums of 2013.
The duo have known each other since their early teens, but only had one or two prior "musical encounters"—that is, until Ross started running a Dublin recording studio. At which time the two began writing together in earnest.
"The band had been a solo project for Ross up until then," says Murphy. "We had similar ideas in terms of the music we wanted to make, so we started putting tracks together." When the project was up and running, I Am The Cosmos found the musical ferment of Ireland the perfect place to find their sound.
"What Ireland is going through at the moment has forced people to dig deeper and work fearlessly," says Murphy. "Musicians here tend to be very supportive of each other, too. We have a huge amount of respect for Irish music and those [bands] around at the moment, so it's very encouraging if you get positive feedback from these people. We play on other projects so we're luckily in the company of some great musical peers, too, who gave us huge help and support making the album."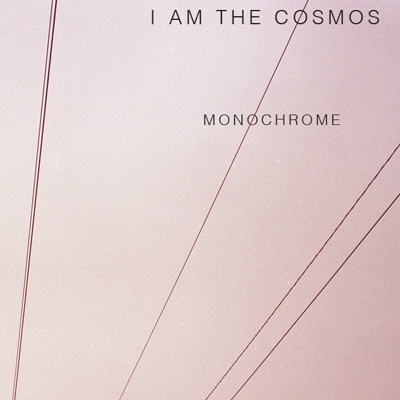 Album art by Dorje De Burgh
When asked of the principle sonic impetus behind Monochrome, Turner is quick to credit a somewhat obscure group halfway around the world. "There is one song in particular I feel is responsible for a large part of the album sounding like it does," says Turner. "And it's called 'Shinzo No Tobira' by Mariah, a Japanese band from the early 80s. That one track gave us a huge amount of inspiration." Listening to I Am The Cosmo's title track and "Yves Klein Blue," as well as a few others, it's easy to hear Mariah's aesthetic framework embedded in Monochrome. Other musical touchstones include the Durutti Column, Talk Talk, Brian Eno, and the Chromatics.
Though there's a definitely strain of melancholy permeating the album, Turner notes that neither he nor Murphy are particularly dark. "We are very optimistic people," says Turner. "[But] you can't fight or argue with what comes out when writing lyrics or music. It often occurs that it's not until you sit down to work something out that you realize what mood you're actually in. I have always counted myself lucky to have an outlet for dealing with anything on an emotional level."
"[Melancholy] seems to be natural for us and is also the preferred tone, especially in dance or electronic music—tears on the dancefloor," Murphy adds.
When building the sublime tones of Monochrome, I Am The Cosmos mostly used analog gear. "Any digital sounds we used were put through an amp in a room to put some air or breath around them," says Murphy. "It was really important that we fleshed out ideas manually, and tone was key. We have plenty of musician friends who would lend us bits and pieces [of equipment] as we needed it. One synthesizer in particular that we own, a Crumar Performer, was used in every song. It has a tone that we found tied the album together. It's from the 70s and has grit, a hiss, a texture that can not be emulated. It's older than us—we respected it. While we were making the album we spoke a number of times about how the music should sound modern. You can't help but be referential if you're using old gear and listening to older music, but we tried to avoid being overly nostalgic."
And I Am The Cosmos certainly succeeds on that front. Melancholia can sometimes superimpose itself on nostalgia, or rather provoke it. But with Monochrome, I Am The Cosmos have created an incredibly beautiful and urgent record that avoids the nostalgic color of so much electronic music these days. If Ireland hasn't exactly been on the musical map in the first decade of the 21st Century, Monochrome should do much to fix some attention on that island.
Also check out our exclusive stream of Dublin-based Ships' track "Places," a band in which Cian moonlights as keyboardist.
D.J. Pangburn is an editor at Death & Taxes, as well as a contributing writer for Boing Boing and Makeshift. Follow him on Twitter - @djpangburn